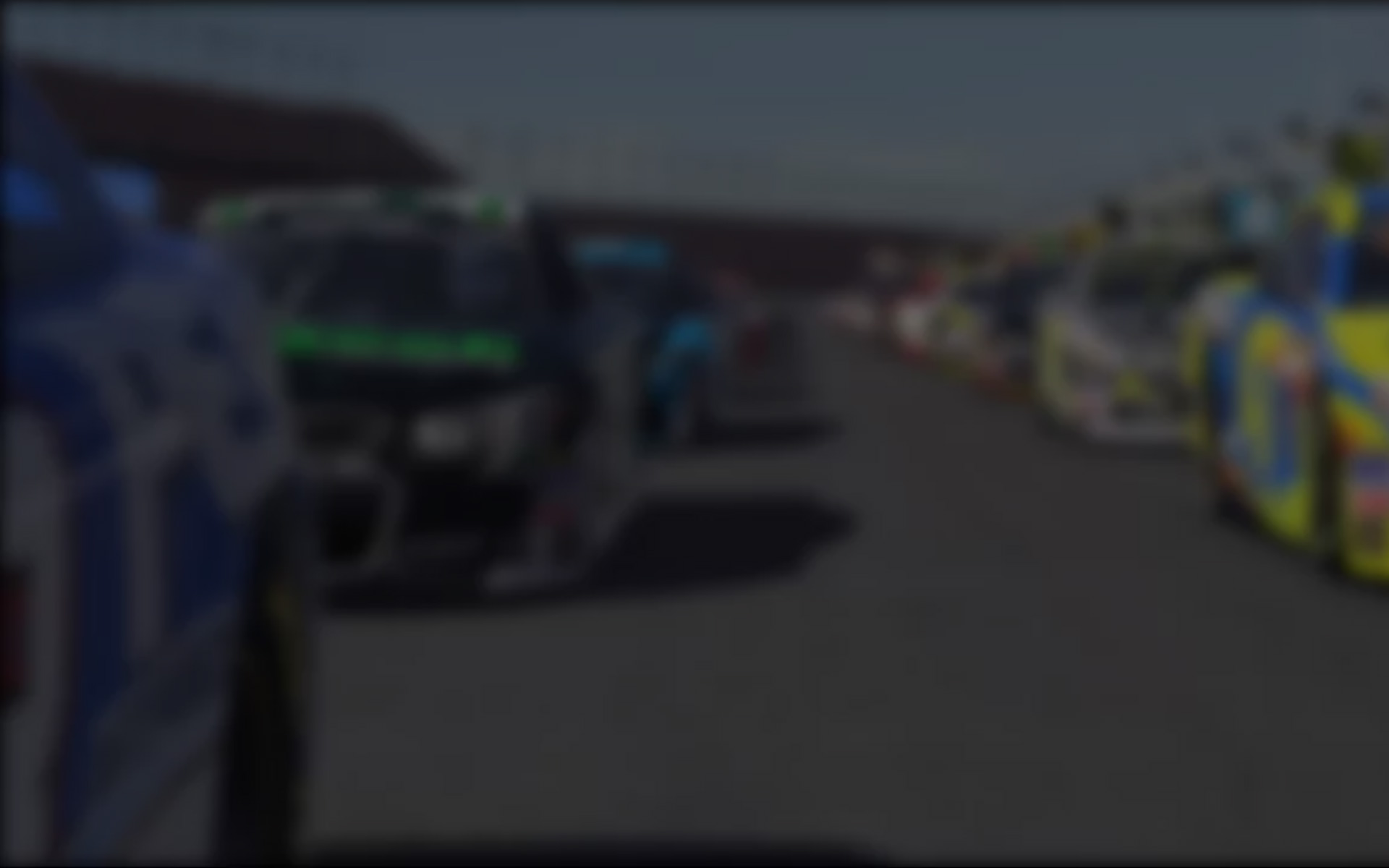 Memorial Day weekend is a time to reflect upon those who served in the military and gave the ultimate sacrifice for their country. Auto racing also takes the stage on this weekend, as this is considered the biggest weekend in racing. For NASCAR, Memorial Day weekend means a homecoming to Charlotte, North Carolina and the season's longest race, the Coca-Cola 600. In iRacing, the NASCAR iRacing.com Class A Series (fixed setup) also came home to Charlotte during Week 4 of the season. Drivers took to their Chevrolet SS and Ford Fusion Class A machines for 50-lap sprints around Charlotte Motor Speedway under the lights. Although drivers of the series left Rockingham and didn't leave the state of North Carolina, they certainly moved closer to NASCAR country when driving on the 1.5-mile D-oval in Charlotte. The track is quite popular on the iRacing service; Charlotte is part of the basic content available to all drivers, and so it is one of the tracks that drivers tend to have a lot of experience on.
Qualifying: A few big names among iRacing's oval drivers topped the charts in qualifying this week. Former Pro driver and fellow inRacingNewscontributor Kenneth O'Keefe (Canada) took top time with a 27.844 second lap. NASCAR iRacing.com Series World Championship (NiSWC) driver Joey Brown (Texas) was second best at 27.854s. The rest of the top five qualifiers were also NiSWC competitors: Marcus Lindsey (Indiana) was third at 27.877s, Brandon Kettelle was fourth at 27.881s, and Brandon Schmidt was fifth at 27.882s.
High SOF Race: O'Keefe backed-up his quick qualifying lap with the "W" in the week's highest strength-of-field race. This 4120-rated event featured the top three qualifiers for the week: O'Keefe, Brown and Lindsey. A late-race caution set the stage for a seven-lap shootout, and the last laps came down to a side-by-side battle between O'Keefe and Joey Brown, who made the move to the bottom of O'Keefe with four laps left. The two then ran mano-e-mano for the next three laps, neither driver gaining any advantage. Coming to the stripe, O'Keefe's momentum from the outside line kept his nose just ahead of Brown's by a margin of just 0.034 seconds as he captured the win. Lindsey finished 0.074 second back, and was in position to capitalize on any mistakes made by the top two. Brodie Kostecki (Carolina) finished fourth and NiSWC driver Peter Bennett (New England) was fifth.
After the race, inRacingNews caught-up with O'Keefe to talk about his week at Charlotte.
iRN: In the high-SOF race, what was going through your mind as you battled with Joey Brown for the win in the closing laps?
KO: I was just thinking about the caliber of drivers I was racing against and focusing on 'no mistakes' while running against Joey on the top groove.
iRN: You have plenty of experience in the old Class A car, the Chevrolet Impala COT. What are the biggest differences between it and the new and current Class A Gen6 car?
KO: The Gen6 is much easier to drive. The old Class A COT was much less forgiving when overturning the wheel or using too much brake or gas.
iRN: What does a driver need to do to be successful at Charlotte?
KO: In order to be successful at Charlotte, you must be sure not to over-work your RF tire while still keeping good pace.
iRN: Will you be running for points this season in Class A fixed, or do you race just for fun?
KO: I will just run for fun whenever I feel like it to better my racecraft for the upcoming Pro Series.
Points Update: Brown topped the charts this week in total points with 250, which he earned for his second place finish in the high-SOF race. Josh Berry (Mid-South) had the second most (241) after taking two wins in three starts on the week. O'Keefe ran nine races and still averaged 238 points among his best three finishes, which included four wins. He tied for the third most points on the week with Lindsey. Casey Tucker (Georgia) was fifth with 234 points. Cullen Brown (Texas) still holds the overall lead in the series with a total of 881 points.
Division Points Leaders (After 4 of 12 Weeks):
Division 1: Cullen Brown (Texas)
Division 2: Nate Chodur (Midwest)
Division 3: Jason Berg (Northwest)
Division 4: Joshua Hanner (Carolina)
Division 5: Chris Chambers (Michigan)
Division 6: Nicholas Maxwell (Texas)
Division 7: Thomas Beane2 (Carolina)
Division 8: Thomas Hines Jr. (Ohio)
Division 9: Nicholas Winzurk (Georgia)
Division 10: Mike Burnell (Midwest)
By the Numbers: Participation at Charlotte is usually high, and this week was no abnormality; 834 drivers took to the track this week. John Atkinson (Texas) started a week-high 23 races, collecting three wins and 11 top-fives. Logan Cathcart (Carolina) had a lot of success at Charlotte, as he won the most races for the week (six) and tied for the most top-five finishes (13) with Jordan Werth (Florida). O'Keefe's quick qualifying time earned him the pole in every race he ran (nine) and also helped him lead the most laps (219), both of which topped the charts in their respective categories. Doyle Harrington (Texas) completed 905 laps, which comes out to be over 1357 total miles, more than two Coca-Cola 600s!
NEXT ON THE SCHEDULE: Next week, the NiCAS (fixed setup) will travel northeast to Delaware and the Dover International Speedway, rightfully known as "The Monster Mile."
---
You may also like...
---