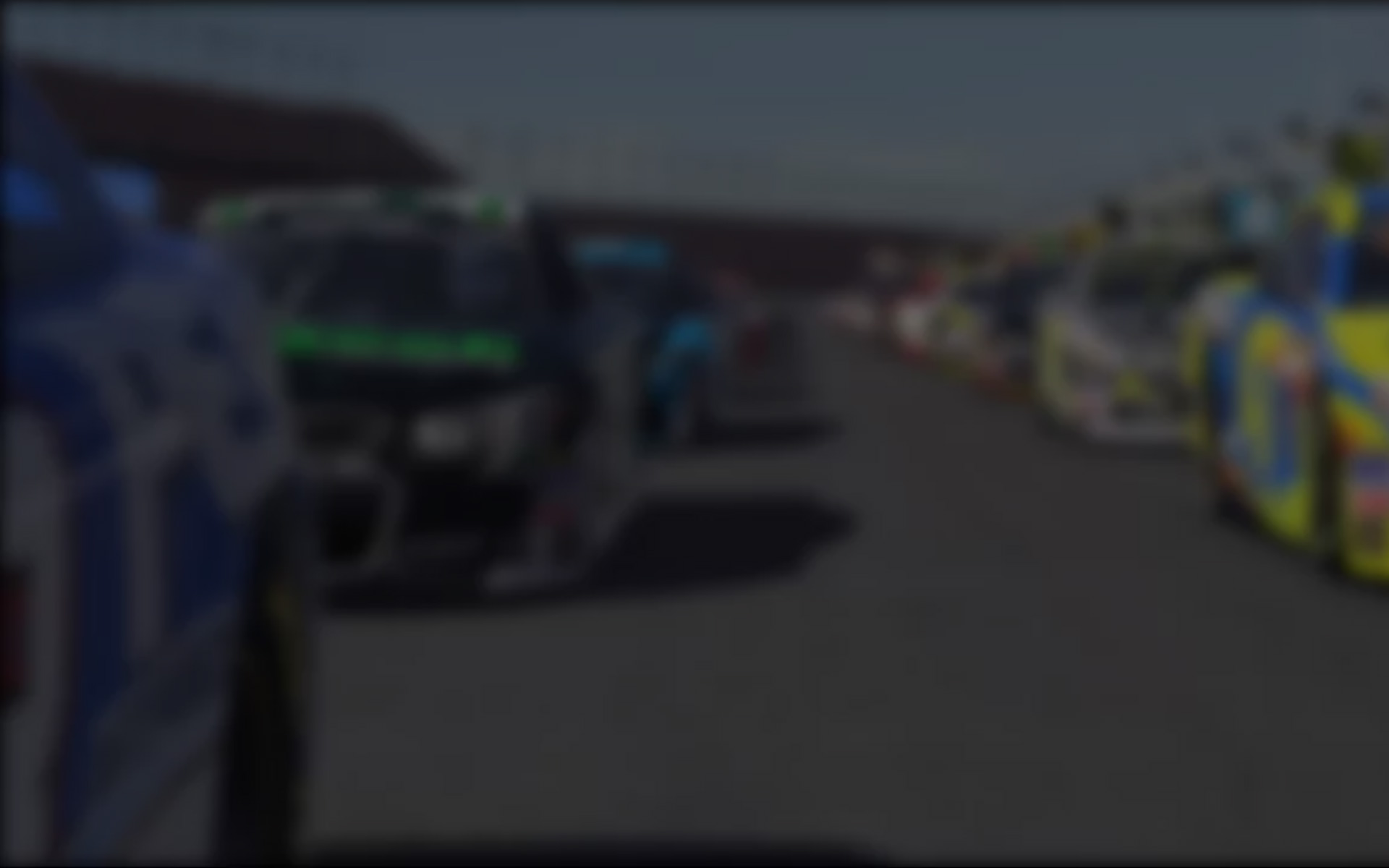 September 25th, 2013 by JaimeB
Nick Ottinger earned his fifth win of the 2013 NASCAR iRacing.com Series World Championship at Kansas Speedway, holding-off Tyler Hudson on a green-white-checker finish. Ottinger led 120 of 167 laps and was clearly the class of the field, masterfully working through traffic on a track which may be the toughest to pass on in the whole series. The championship also tightened-up as Hudson's runner-up finish came after point leader Ray Alfalla sustained heavy damage in a crash on Lap 36.
Hudson finished second one week after scoring his first NiSWC victory. Byron Daley was third for the second straight week, Jake Stergios was fourth and Matt Bussa rounded-out the top five in a race slowed by 14 cautions for 55 laps.
Joey Brown started from pole, but quickly relinquished the lead to Ottinger eight laps into the race. From there, Ottinger pulled-out to a comfortable lead until the yellow flew for the first time of the evening at Lap 33. Ottinger kept the lead during the first round of pit stops of the race as every driver opted for four fresh tires.
On the ensuing restart, disaster struck for Alfalla when Brown got into Patrick Baldwin, sending Baldwin into the wall and spinning in front of the field. Alfalla, along with Chad Laughton and Brian Day, had nowhere to go and sustained heavy damage. Alfalla soldiered-on with his damaged car and finished three laps down in twenty-second place.
Ottinger gave-up the lead by pitting on Lap 49 under the third yellow flag of the contest, hoping fresh tires would trump track position even though passing had proven to be extremely difficult. Despite that fact, Ottinger quickly worked his way by Michael Conti and Brian Schoenburg to regain the lead just as the yellow flew once again for Danny Hansen's spin on Lap 60.
With the pit window open to make it a one stop race, most of the field chose to pit for tires and fuel on Lap 61, but Ottinger opted to stay out, hoping for more cautions to help him stretch his fuel mileage. Once again, Ottinger looked to have made the right call as another crash unfolded just after the restart. This time, Brown and Nicolas Morse were the two who suffered the worst damage after Tyler Laughlin got turned around by Michael Johnson.
After another quick caution the race started to have a green flag look to it, which would have doomed Ottinger as he could not make it to the end on one stop. But a caution on Lap 99 saved him, as everyone would have to pit for tires after such a long green flag run. During the stops, Kevin King tried two tires and came out with the lead in front of Ottinger, but could not hold it as Ottinger quickly dispatched him to reassume the lead.
The rest of the race was full of short runs broken up by several cautions. Ottinger chose to keep fresh tires on the car, pitting on Lap 111 and again on Lap 128. On both occasions, Ottinger found himself back in traffic but he was not to be denied. After the Lap 128 stop, Ottinger was sixth on the restart but only took three laps to drive up to second place behind Hudson. On the following lap, Ottinger used a big run down the back straightaway to take the lead in Turns Three and Four.
Ottinger looked to be in control on the restarts, but the last one proved interesting. With two laps remaining Hudson got a good restart and pulled a great slide-job on Ottinger, clearing him as they exited Turn One. Unfortunately for Hudson, the slide-job robbed all of his momentum and Ottinger regained the lead with a crossover move down the back straightaway. The final lap and a half was clear sailing for Ottinger, whose margin of victory was 0.636 seconds.
Alfalla's troubles coupled with Hudson's strong run tightened-up the championship battle with just two races left in the season. Alfalla (557) had his lead cut to 27 points over Hudson (530) with Schoenburg still third after last night's fifteenth place finish, 52 points behind. Ottinger closed-in on Schoenburg and now is only 19 points in arrears, but Ottinger needs to watch out for Marcus Lindsey, who is just nine points farther back despite a disappointing P20 at Kansas.
With another short break between online races, Alfalla will have to bounce back quickly if he hopes to take a comfortable margin in the standings going into the last race of the season. Luckily for Alfalla, Dover International Speedway is next up on the schedule, a track where he has done very well at the past two seasons. If he can stay out of trouble on the Monster Mile and keep Hudson in his mirrors, Homestead will be much less stressful. However, do not expect Hudson to roll over easily. He has been on fire the past month and a win at Dover combined with another unlucky break for Alfalla could put him within striking distance when the series rolls into South Florida.
With the championship on the line, be sure to catch the action from Dover next Tuesday on iRacing Live and MRN.com!
---
You may also like...
---