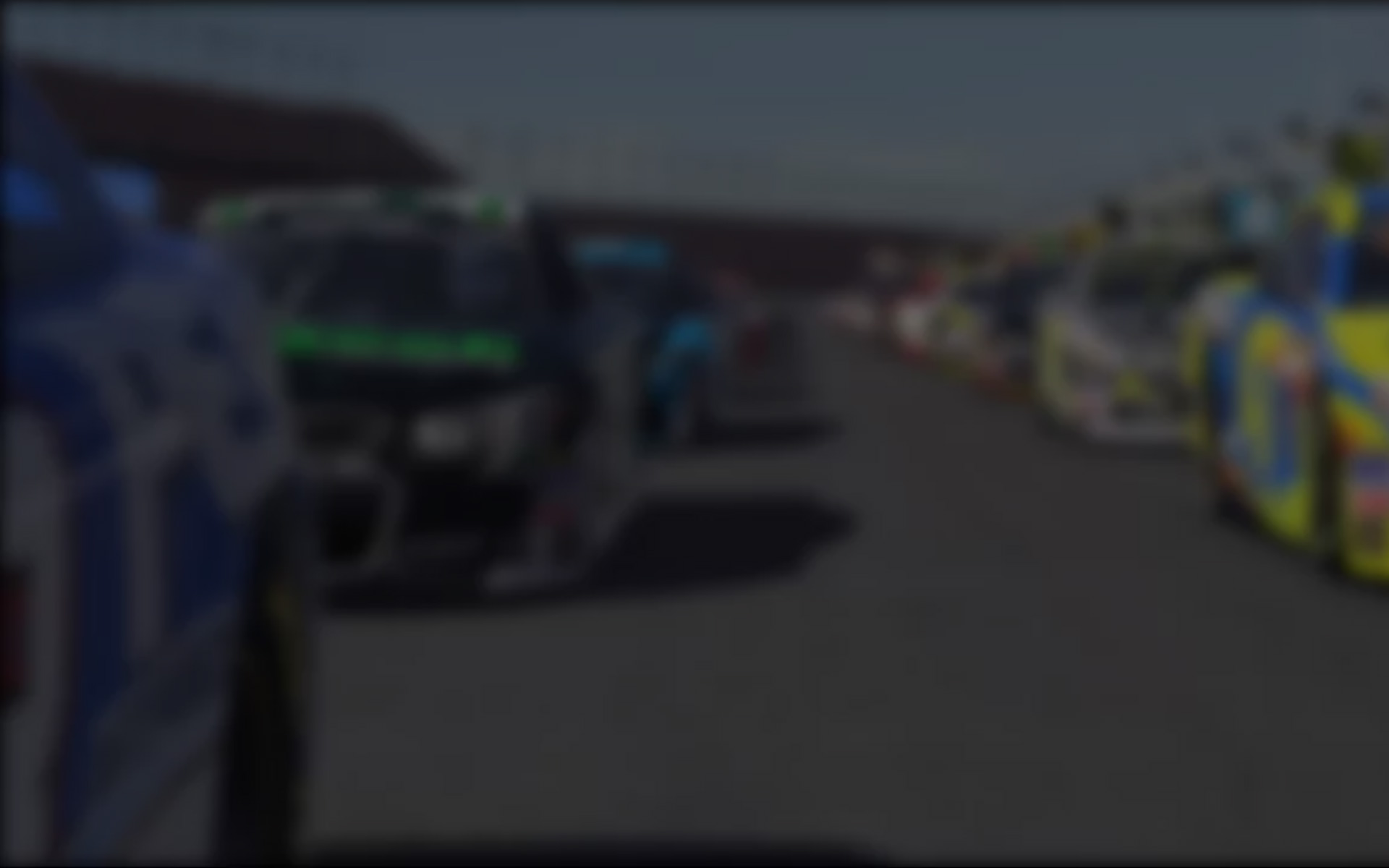 May 30th, 2017 by Richard J. Clarkson
Larry Pace won Sunday night's 5:15 p.m. top-split iRacing NASCAR Camping World Truck Series event at the digital Rockingham Speedway in dominating fashion.
The Canadian started on pole and led all but five laps en route to the 203rd oval victory of his iRacing career, bumping-up his iRating to an impressive 5773.
Pace had to withstand a final two-lap shootout for the win. But his digital Chevrolet Silverado pulled away with ease, besting second place runner, Jarret Schwarz to the checkers by four truck-lengths. Jordan Ashelin finished third, followed by Allen Anderson and Will Norton rounding out the top-five.
Pace led the sim-race's opening 11 laps until the second yellow flag flew for contact between Hiroshi Shimizu and Rick Walker. A lap earlier, Walker's Oreo Toyota Tundra ran in the 13th position. Shimizu was attempting to overtake. He barreled off into One and showed his nose to the inside of Walker. The two virtual race machines bounced off one another and spun out of control.
Pace's androids on pit road didn't make a mistake. But Dylan Terlinde didn't need a mistake. He opted to change only two tires. Terlinde made computer generated smoke and rocketed down pit lane, past Pace's truck, its left side still hanging.
By lap 16, however, Pace had already reassumed the lead. Terlinde's Toyota washed high exiting Four. The eventual race winner pounced and motored past.
The race went green until nine to go, Pace out front, Schwarz's race machine following the leader's tire tracks five truck-lengths back.  The rest of the field? Out of touch.
Shimizu and Walker found each other once again on track for the race's third and final yellow.
Walker limped around on the high side, the front fenders of his virtual Camping World Truck disfigured and smashed up. Entering One, Shimizu ran up on the slow truck of Walker; Jason Brizic, piloting another truck to his inside—a battle for position. Shimizu turned brave and tried to shoot the gap in the middle. But there wasn't enough room.
Contact again. Smoke and sparks and confused sim-racers. A four-truck pileup.
Walker summoned race chat and appeared to be confused and a bit agitated: "Are you kidding me?" he said.
Norton simply replied: "Holy cow!"
But not all sim-racers were down in the dumps.  The young Georgian, Clay Thompson, welcomed the break. "Oh, man," he said, "I needed that."
Thompson rolled down pit lane and changed his virtual rubber.
So did Ricky Hardin and From A Dig Motorsports's entry driven by Scott Smith6.
With only two laps to go, the racing from sixth on back was highly competitive, bumpy, and a little ugly; some drivers even found it to be "idiotic."
Smith6's The Black Dahlia Murder/Snap-on Chevy restarted from 11th. But it didn't take him long before he was making moves and chopping up the field like a Slap Chop 3000.
Exiting Four, after already blowing the doors off one virtual race truck in the high line, Smith6 found himself stuck behind three trucks with old tires. He mashed the skinny pedal and closed the gap. His truck beeped its chrome horn and shouted at Blake Griffith: "I need to get by," it said, snarling its grille and revving its engine. "I've got fresh rubber! Pardon me, bud."
Coming to the white flag, Thompson made contact with the back of Griffith's Camping World Silverado. Griffith got squirrely and had to check up. A gap opened. A gap in the middle. Smith6 went for it…
After crossing the start/finish line, Smith6 found his truck in clean air, plenty of room to run. He tried to catch the lead pack, but he ran out of time.
There was also contact in the "highly competitive" gaggle of race trucks between Hardin and Griffith, and Hardin and Ryan Ayers.
More sim-racers appeared to be confused, mashing their radio buttons and taking aim.
Hardin tried to fight back, rather pleasantly, I might add: "I missed the entry," he said, "and that's my fault… I'm sorry about that. I just had a bad angle and misjudged."
Smith6 was also testy after the race, but for a different reason. On the final pit stop, there was befuddlement in the From A Dig Motorsports camp as to whether or not they were black-flagged for passing under yellow.
"I ain't know what them damn fools is talkin' 'bout," Smith6 said. "Shoot… I ain't pass a damn one of'um under yella. Hell, I know the rules."
He continued: "I'z watchin' the flagman. Hell, that fellar never waved to me or never did signal'ur nothin'. I'z ready to git it, son. Know what I mean? Hell, I'z ready to slice 'em up like thin meat at the deli. I'z doin' it, too. We finished sixth. Ain't no way in hell we finished 14th like they'z'uh sayin'. I won't go quietly. Stupid penalty ain't mean nothin' to me. It's fake! A hoax! Shoot, I need a break… summer vacation time, ain't it?"
After rolling the dice early in the race for two tires and receiving minor damage in Shimizu and Walker's second incident, the officials awarded sixth place to Terlinde. Hardin finished seventh, followed by Griffith, Thompson, and Brizic completing the top-ten.
iRacing NASCAR Camping World Truck Series Results – SOF: 2642
Sunday, May 28, 2017 5:15 p.m. race from the virtual Rockingham Speedway (starting position in parenthesis):
1. (1) Larry Pace, Chevrolet, 40 laps, 158 points.
2. (2) Jarret Schwarz, Toyota, 40, 148.
3. (17) Jordan Ashelin, Toyota, 40, 139.
4. (16) Allen Anderson, Toyota, 40, 130.
5. (3) Will Norton, Chevrolet, 40, 120.
6. (4) Dylan Terlinde, Toyota, 40, 111.
7. (6) Ricky Hardin, Chevrolet, 40, 102.
8. (10) Blake Griffith, Chevrolet, 40, 92.
9. (12) Clay Thompson, Toyota, 40, 83.
10. (9) Jason Brizic, Chevrolet, 40, 74.
11. (14) Oliver Patock, Toyota, 40, 65.
12. (7) Dwight Summerfield, Chevrolet, 40, 55.
13. (5) Ryan Ayers, Chevrolet, 40, 46.
14. (8) Scott Smith6, Chevrolet, 40, 37.
15. (11) Rick Walker, Toyota, 39, 27.
16. (13) Hiroshi Shimizu, Chevrolet, 33, 18.
17. (18) Chris Walmsley, Chevrolet, 25, 9.
18. (15) Joseph Pisciotta, 0, 0.
---
You may also like...
---