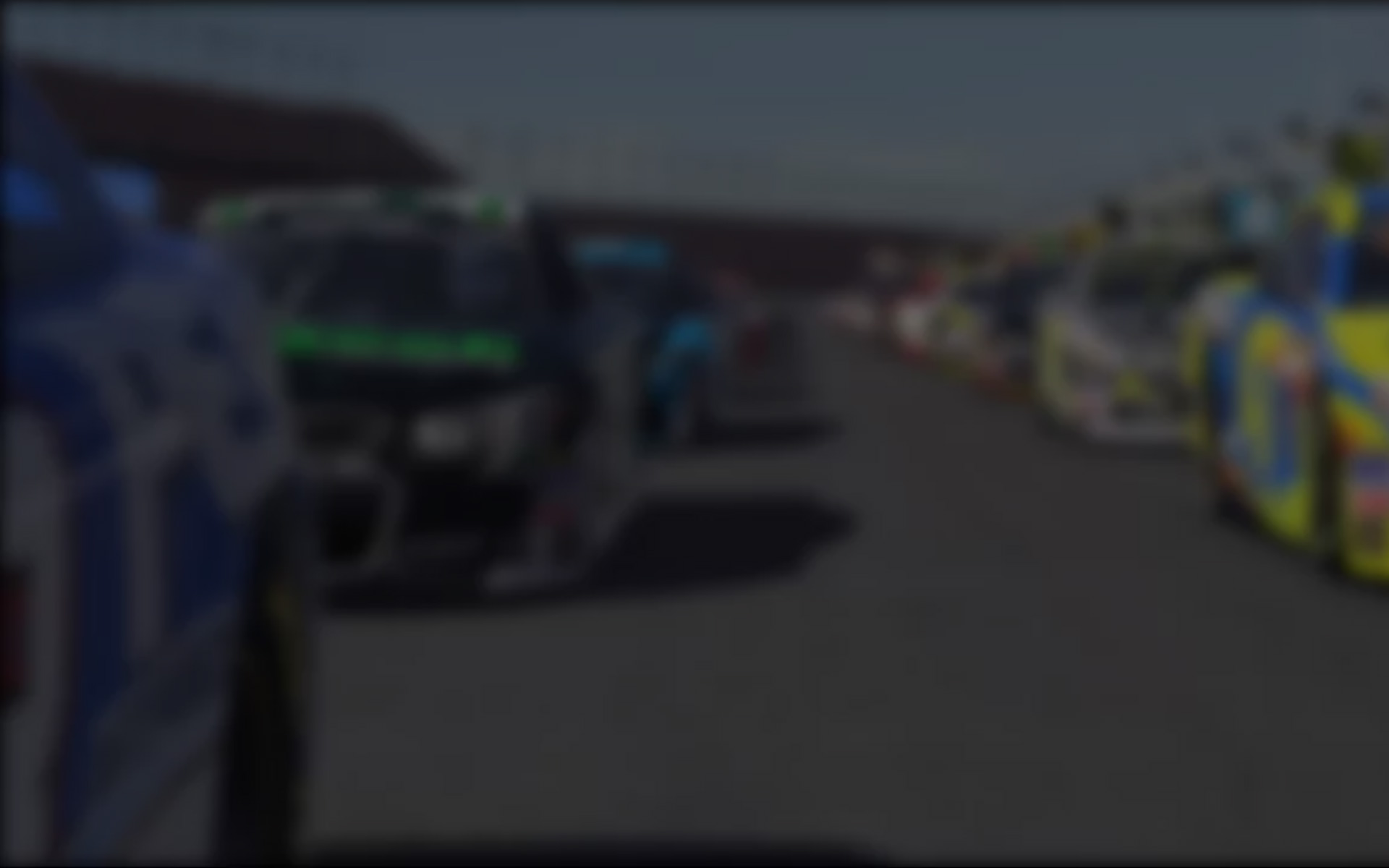 The Rumblestrip Racing mixed class GT season came to a finale this week as drivers visited one of the most underrated tracks on the iRacing service – Oulton Park.  For many this was their first visit to the venue which is known for its rapid elevation changes and tight, blind corners.  In some cases, such as with the last turn at Lodge Corner, you get both in one package!
After a 15 minute qualifying session John Paquin, the current season's point leader, put his Ford GT3 on pole with Jason Gerard a mere one hundredth of a second behind him in a BMW.  The second row went to the home team, at least in terms of manufacturers, as Troy Harder and Mikah Barnett took P3 and P4  in McLarens.  Yassine Bebert, Troy Schuster and Paul Hesla took the top three grid positions in the RUF C-Spec class with only about two seconds separating all seven drivers in that class.
The grid was nearly at capacity as everyone rolled into Old Hall Corner and Cascades on cold tires and with heavy traffic for 45 minutes of friendly but hard racing.  Jason G, with the outside line was able to snatch a first lap lead from John, but John had been in this position before and he settled in for 32 laps of racing.  At several points, cars were two and three wide but in typical Rumblestrip fashion, everyone used sound judgment and made it through without incident.
"Accidents happen but we pride ourselves on not having the first lap shenanigans you sometimes see elsewhere" one driver was heard telling RumbleSports 1 commentators in the post race briefing.
Having clear road ahead of them, Jason G and John P both opened up several car lengths of lead.  Farther back, during the first few laps of the event, several cars were battling hard.  Matt Quinn and Jason DeVriese sped through Knickerbrook corner side-by-side in a thrilling display of racing for the fans in the grandstands.  "I bet they could feel the ground shaking as far away as Winsford 10km away!" quipped one fan in typically understated British fashion.  Several of the C-Spec drivers had also paired up to fight their own battles with many of them roaring down the back of the course either alongside a rival or less than a car length away.
As is often seen in races, people began to settle in after a handful of laps.  However, with the battle for points being close during this last race of the season, the pressure was high and there was no letup between Laps Two-Seven.  On Lap Two, Matthew "Ting" Cottingham pushed his Flying Avocado Racing Team McLaren just a bit too hard at Druids and began mowing grass – a move we don't often see with him behind the wheel.  He managed to a keep the car off the wall but it cost him 20 positions since the pack had still not separated enough to give him an easy opening to resume racing.
Elsewhere, Mark Schindel, Darren, Kuehn and Ryan Arroyo weren't waiting to see if one of them would make a mistake the other could capitalize on, or for their tires to heat up for that matter.  The three of them traded positions nearly every lap.  Ryan Arroyo came out on top for a while but would eventually give the positions back after a bobble on Lap 12.  At the front of the pack one of the first big surprises occurred as Jason Gerard misjudged the dip at Lodge Corner.  He spun into the wall, giving up his lead and he was eventually forced to retire.
The battle in the C-Spec class was particularly fierce.  That group, while being a recently introduced to the Rumblestrip grid, consists of some of the more experienced drivers in the league and they pounced on every mistake their opponents made whether in the same class or in GT3.  Scott Zigman, Kevin Binkley and Dries Nys all gained more than seven positions in the opening laps of the race.  Troy Schuster, who had started at the front of the C-Spec pack now found himself deeply embedded in the middle of the GT3 field and within sight of the top 10 overall!
Due to the 50% fuel limit imposed by Rumblestrip, all of the drivers knew they would have to make a single pit stop.  This feature often results in a shuffling of the traffic and some incredible lead changes as some drivers choose to take tires and others choose to take a chance.  Mikah Barnett chose to make his stop early on Lap 14 hoping to use a bit of strategy to get past Troy Harder in third.  Up to this point Troy, Mikah, and Leif P (in fourth) had battled within a second of each other for the duration of the race.  It took the entire race to play out but in the end the strategy wasn't enough for Mikah who later commented to RumbleSports Channel 1 "three of us were within a second of each other for something like the first 10 laps. I was disappointed to see Troy H. get past me in the pits somehow, I had every intention of being the widest 12C in the world and trying to hold on until the end!"
Next, the C-Spec wave needed to pit.  Troy, Dries and Scott Zigman led the group and all chose to pit on Laps 17 or 18 so that no lead changes occurred.  Several other C-Spec drivers were still battling hard with traffic up to this point.  The only exception was Kevin Binkley who had suffered a network issue shortly before the pit cycle began. He too was forced to retire.
Those of you who have raced long with John Paquin know that he's not just fast, he's consistent. So if he has clean air he's going to build up a lead unless you run an error free chase.  Tonight was no exception and after 22 laps John pitted with just enough margin that he was able to maintain his lead over Troy Harder.  John left the pits only a couple seconds ahead of Troy, who had pitted on lap 20.  With nearly identical lap times up to this point Troy would have to work to catch him.
Thirty five minutes into the event, fatigue started to take its toll.  The late stoppers who had taken their glimpses at the front end of the pack now began to relinquish positions they'd gained by delaying their pits.  Others had battled back from earlier bobbles, making up ground at the expense of fellow racers who were feeling the strain.  Ed Voras, Ting and Jason DeVriese had put on solid late stage drives and fought back into the top 10 only to find their advance stalled or to again give up a few positions in the closing laps due to small mistakes. Both Ed and Ting were trading positions right up to the final laps of the race.
In the end it was John Paquin, Troy Harder and Mikah Barnett who conquered the GT3 podium at Oulton.  This was enough for John and Troy to also win the season although it was Matt Quinn who took the third step for the season results.
In C-Spec Troy Schuster, Dries Nys and Scott Zigman took the top three podium steps.  This is a particularly big accomplishment for Dries because he is driving from Benelux in the middle of the night!  Final C-Spec season standings however put Riley Adams on the third step.  While his Oulton race had been rough, his consistent racing earlier in the season had been enough to give him three more points than Scott. Congratulations to our champions and to everyone who participated in the racing this season!
———————————————-
Join us for our next event:
Jan 27th — Star Mazda racing visits Long Beach and then Barber Park for the first time
Many of you know Rumblestrip Racing from its great race recaps found in the Private and Hosted Racing forum.
Rumblestrip Racing is open to ALL clean drivers regardless of skill level and our current members range from old to young, and very fast to almost brand new to iRacing.  Our 200+ members pride themselves on running clean, polite and competitive races twice per week while freely sharing setups and tips.  Private message an admin if you want more details.  Our goal is to get more sim racers on every grid and maximize the fun for everyone.
All races begin at 10PM eastern and are 45-60 minutes long.  Additional details can be found on the  League page and events are hosted on the League Sessions page.
For more great pics of the Rumblestrip seasons as well as Twitter and news updates go to:
http://simwits.tumblr.com/
---
You may also like...
---