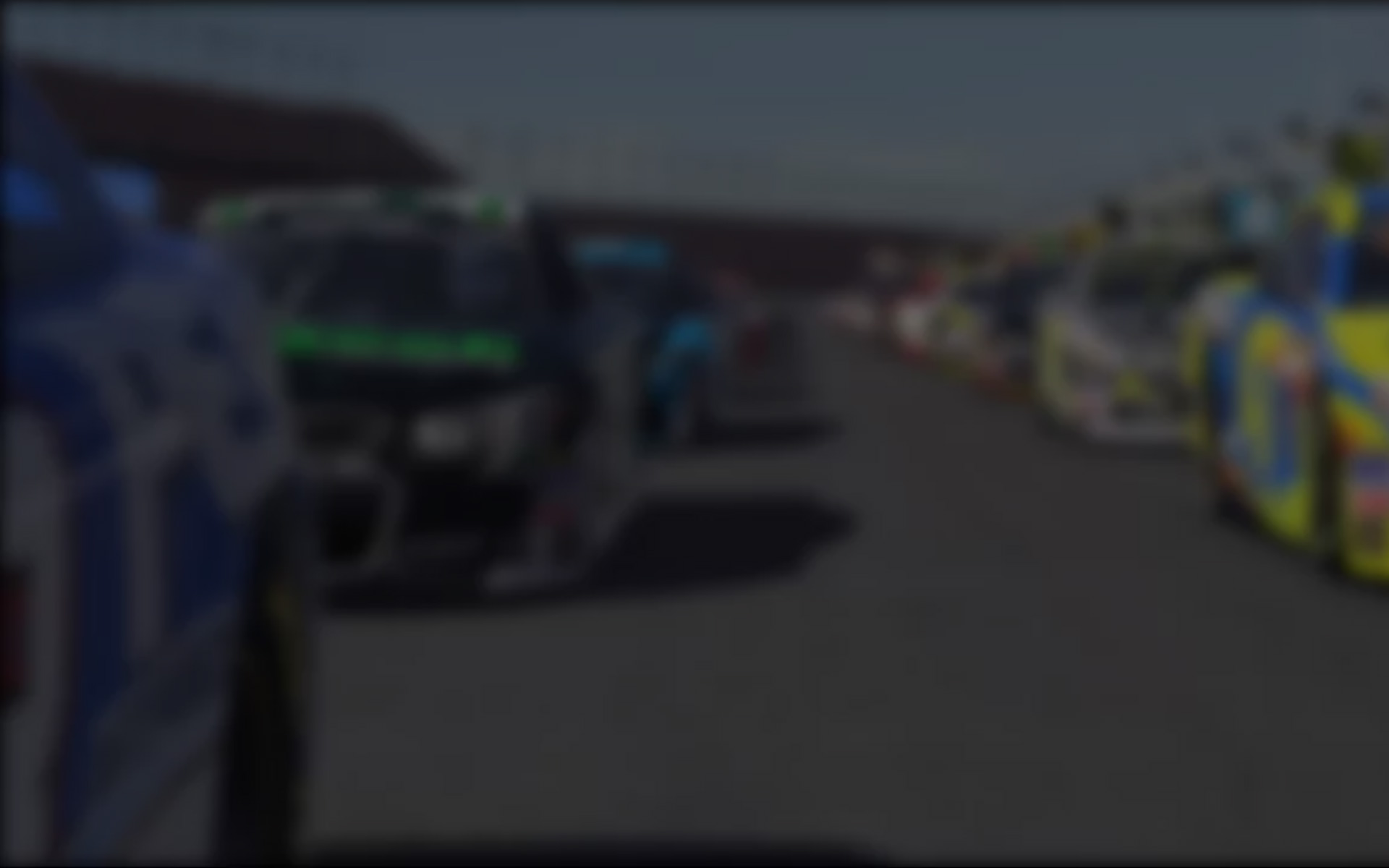 August 10th, 2016 by Jason Lofing (French translation by Renaud LACROIX follows)
PJ Stergios (ineX Racing) came out on top at Watkins Glen in one of the most exciting NASCAR PEAK Antifreeze Series races in recent memory, passing both Michael Conti (Team Conti) and Nick Ottinger (Gale Force Racing) on the final lap to take his fourth win of the season.
Stergios took the white flag in third behind Conti and Ottinger but had fresher tires due to his pit strategy. He quickly closed on Ottinger heading up through The Esses and made his move exiting Turn Four when Ottinger got loose and lost momentum, allowing Stergios to pass without a fight.
With Ottinger out of the way, Stergios set his sights on Conti as the two made their way around Turn Five. Like Ottinger, Conti got loose on exit but was able to take a defensive line, giving him the preferred line into Turn Six. Conti held the lead through Six and again took a defensive line entering the final corner, Turn Seven. This time Stergios got into the back of Conti under braking, moving the #5 car up the track and into the outside wall allowing Stergios to move past for the victory with Ottinger taking second.
Conti had to settle for third after leading 23 laps and coming ever so close to his first victory of 2016. Jake Stergios came home fourth ahead of Logan Clampitt (High Performance Motorsports) and erstwhile championship leader Ray Alfalla (Slip Angle Motorsports).
The thrilling finish was made possible in part by differing pit strategies among the leaders. The Stergios brothers chose to stop twice for tires while Conti, Ottinger, and much of the rest of the field opted for only a single pit stop.
Ottinger started on pole but was passed in Turn One by PJ Stergios, who then quickly moved away from the field during the opening laps. His gap was short-lived though as Conti had moved up from fourth position on the grid to challenge for the race lead. The 2014 series champion looked to have the faster car but Stergios drove mistake-free before relinquishing his lead on Lap 16 to make his first pit stop.
Conti was not due to pit until Lap 22 and used the clean track in front of him to maintain his gap back to Ottinger, who visited pit road on Lap 24, effectively splitting the race in half.
After completing their service, the two were once again chasing PJ, now joined by his brother Jake who was on the same strategy. Conti quickly closed the gap thanks to his fresh tires – and some nifty moves in traffic — to draw alongside PJ Stergios into Turn Six on Lap 33. Stergios did not put up a fight as he was due to pit.
The pass put Conti in the lead with 17 laps remaining; seven seconds clear of Ottinger and nearly thirty ahead of the Stergios duo. With his fresh tires, it was a foregone conclusion that PJ and Jake would start closing the gap, but time was not on their side. However, the Stergios brothers caught a break with six laps to go when Allen Boes and Clampitt made contact trying to pass in Turn Five. Their battle continued into Turn Six and when the dust cleared, the brothers were clear of both Boes and Clampitt with nothing but clean air between themselves and Ottinger once The TEAM's Kenny Humpe dropped-out with connection issues.
With the win, Stergios passed Alfalla in the series points standings and now leads by three points with four races to go. Jake Stergios is third, 67 points back while Dylan Duval and Chris Overland, are tied for fourth, 24 points behind Jake.
Week 13 sees the NASCAR PEAK Antifreeze Series return to ovals with Michigan International Speedway the next stop on the schedule. The wide two-mile oval offers room to pass and brings some interesting pit strategy into play should the race go green. With only three points separating the front two in the championship, look for Stergios and Alfalla to be strong once again. Can last year's Michigan winner Humpe spoil the party, or will Stergios and Alfalla be battling for the win once more? Find out in two weeks on iRacingLive when the NASCAR PEAK Antifreeze Series visits MIS!
PJ Stergios écarte Conti et remporte Watkins Glen
traduit par Renaud LACROIX
PJ Stergios (ineX Racing) a remporté l'épreuve de Watkins Glen au terme de l'une des courses de NASCAR PEAK Antifreeze Series les plus palpitantes de ces dernières années. Il a passé Michael Conti (Team Conti) et Nick Ottinger (Gale Force Racing) dans le dernier tour pour décrocher sa quatrième victoire de la saison.
Stergios passait sous le drapeau blanc en troisième position, derrière Conti et Ottinger, mais disposait de pneus plus frais grâce à sa stratégie de ravitaillement. Il se rapprochait rapidement d'Ottinger en arrivant dans les S et portait son attaque dans le virage 4 quand Ottinger survirait et perdait son élan, permettant à Stergios de le dépasser sans effort.
Débarrassé d'Ottinger, Stergios avait alors Conti en ligne de mire tandis que les deux hommes abordaient le virage 5. Comme Ottinger, Conti survirait mais parvenait à prendre une ligne défensive et entrait dans le virage 6 avec la meilleure trajectoire. Conti gardait la tête dans ce sixième virage et prenait à nouveau une ligne défensive dans le dernier. Cette fois-ci, Stergios percutait l'arrière de Conti au freinage, dégageant la n° 5 dans le mur extérieur et ouvrant la porte à Stergios qui filait vers la victoire devant Ottinger.
Conti se contentait de la troisième place après avoir mené 23 tours et manqué de peu sa première victoire de 2016. Jake Stergios finissait 4è devant Logan Clampitt (High Performance Motorsports) et l'ex-leader du championnat, Ray Alfalla (Slip Angle Motorsports).
Cette arrivée passionnante avait été rendue possible en partie grâce aux différentes stratégies au sein des pilotes de tête. Les frères Stergios avaient choisi de s'arrêter deux fois tandis que Conti, Ottinger et la plupart du peloton avaient opté pour un seul ravitaillement.
Ottinger partait en pole, mais se faisait passer au virage 1 par PJ Stergios qui se détachait du peloton dans les premiers tours. Son avantage ne durait toutefois pas car Conti remontait de la quatrième place sur la grille pour lui disputer la tête. Le champion 2014 semblait avoir une voiture plus rapide, mais Stergios ne faisait aucune erreur jusqu'à son premier arrêt aux stands au 16è tour.
Ayant prévu de s'arrêter au 22è tour, Conti profitait du champ libre devant lui pour conserver son avance sur Ottinger qui rentrait au 24è tour, à la mi-course.
Après leur ravitaillement, les deux hommes se retrouvaient encore à chasser PJ, désormais rejoint par son frère Jake qui avait la même stratégie. Conti refaisait vite son retard grâce à des pneus plus frais (et quelques belles manœuvres dans le trafic) pour se porter à la hauteur de PJ Stergios dans le virage 6, au 33è tour. Stergios ne défendait pas sa position car il était attendu dans les stands.
Ce dépassement propulsait Conti en tête à 17 tours de la fin, sept secondes devant Ottinger et presque trente secondes devant le duo Stergios. Avec leurs pneus plus frais, il était évident que PJ et Jake réduiraient l'écart, mais le temps ne jouait pas en leur faveur. Cependant, les frères Stergios avaient un coup de chance à six tours de l'arrivée quand Allen Boes et Clampitt s'accrochaient dans le virage 5. Leur bagarre continuait jusque dans le virage 6 et les deux frères en profitaient pour passer. Ils avaient alors le champ libre pour chasser Ottinger, après le retrait de Kennu Humpe (The TEAM) pour cause de problèmes de connexion.
Grâce à cette victoire, Stergios passe Alfalla au classement général pour trois points, à quatre courses de la fin. Jake Stergios est troisième, à 67 points, tandis que Dylan Duval et Chris Overland sont à égalité en quatrième position, 24 points derrière Jake.
La 13è semaine voit le retour sur les ovales avec une prochaine étape prévue au Michigan International Speedway. Cet ovale large de deux miles offre des opportunités de dépassements et d'intéressantes stratégies de ravitaillement entrent en jeu. Avec seulement trois points d'écart entre les deux leaders du championnat, gardez un œil sur Stergios et Alfalla. Humpe, le vainqueur de l'an dernier, viendra-t-il gâcher la fête ? Ou alors Stergios et Alfalla se disputeront-ils encore la victoire ? Découvrez-le dans deux semaines sur iRacingLive quand la NASCAR PEAK Antifreeze Series visitera le MIS !
---
You may also like...
---