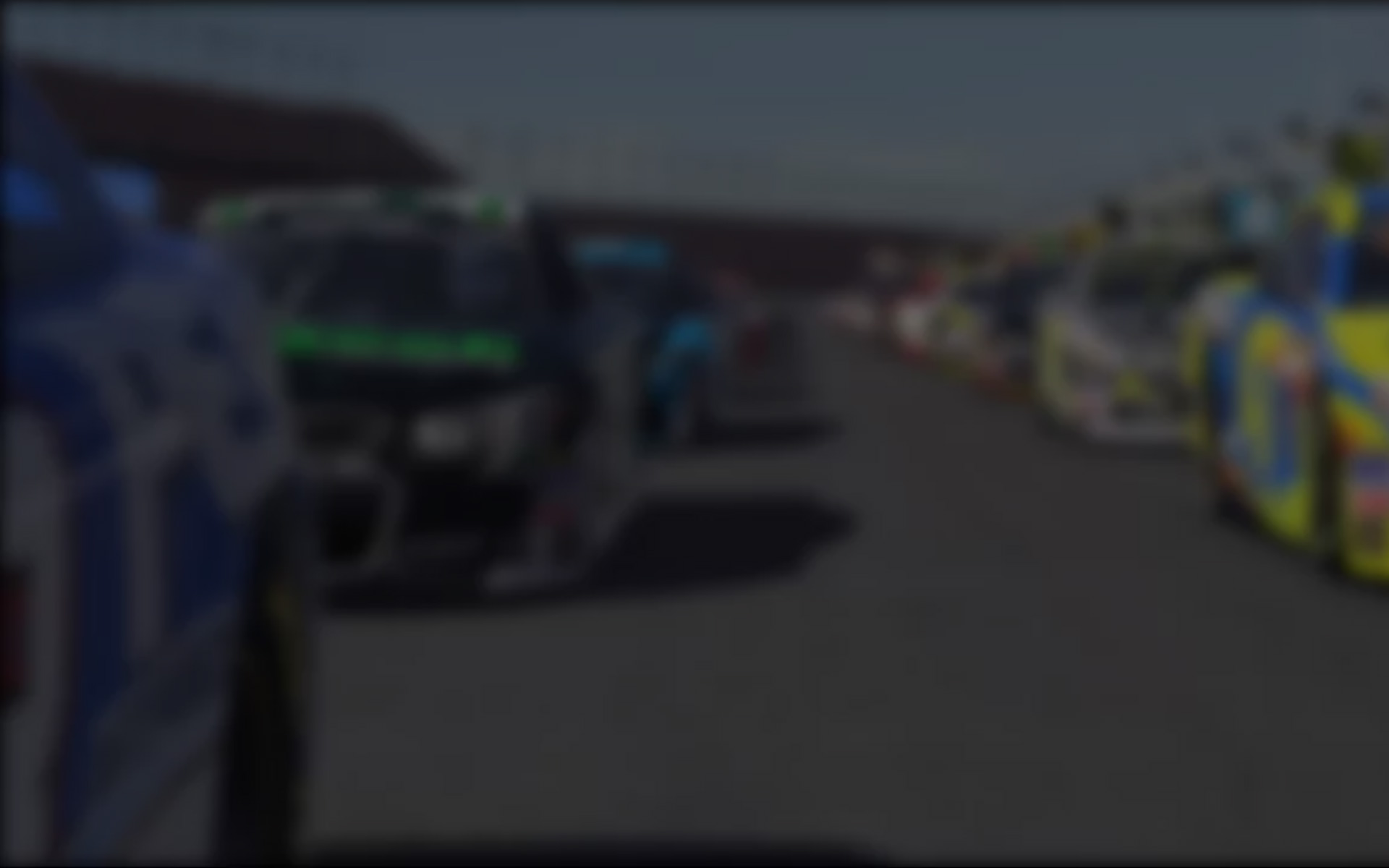 The NASCAR iRacing Class B Open Series took to the flat one mile oval in Loudon, New Hampshire for the next-to-last race on the 2014 Season 2 schedule with Lowline Racing's Trent Ringler clinging to a precarious points lead in the championship fight.  Gone were the super-speedway heroes from the week before at Daytona, leaving the series regulars to fight amongst themselves for those valuable championship points.
Ringler entered the week 45 points ahead of BRB Motorsports, Anthony Price while RPM Race Team's Johnny Reed Foley was still stalking Ringler in third 78 points back.  With only 14 events at New Hampshire going official for the week, it would be very important to make the most of all the races entered by the three as well as others fighting it out for division titles.
Ringler and Price went head-to-head on the week's opening night in the 10:00pm EST feature race.  With a full 30-car field and a SOF of 2521, coming out with the needed points would be a matter of survival as well as speed.  Sure enough, the 100 lap event was scarred by 10 yellow flag periods consisting of 38 laps.  Safety ratings took a bigger beating than Germany dished out on Brazil in the World Cup as 27 of 30 entries racked- up 204 incident points.
"BRB was absolutely superior at New Hampshire . . ." – Anthony Price
Price's BRB teammate, Brian Lovingood, started the race from the point and led 59 of the first 63 laps while Price himself worked his way up from fifth to second place by Lap 16.  Meanwhile, Ringler, who started the race third, found himself in the middle of the pack most of race beating and banging with the rest of the field.  Price grabbed the lead for good on Lap 64 leading a BRB sweep of the top two spots with Lovingood.  Ringler, who had fallen as far back as 24th place, rallied back to a third place, limiting the damage to his points lead.  Jeff Baki Jr. and Roger Wagner rounded- out the top five for the race.  Lovingood set the fastest lap of the race at 31.254s and led the most laps with 59.  Price, Lovingood and Timmy Logwood Jr. were the only three drivers who escaped the race incident free.
"BRB was absolutely superior at New Hampshire," said Price.  "We won eight out ten races that we participated in.  Tim Marlow worked hard on our qualifying set-up and put us up front and the strategy was maintaining track position with the difficulty of passing.  Shannon Segler and Brian Lovingood put us in a great setup for this track.  We should be strong going into Chicagoland because we have been working hard on that set for the past two weeks.  Hopefully it will be enough to grab a big SOF win because I'm on the heels of the leader and every point is going to be critical."
Price earned three wins in his four starts while taking one pole and weekly high points total of 162.  Lovingood grabbed two wins and thee poles in four starts and got second for the week with 156 points.  Ringler's rally in the feature race got him 150 points earning one win in two starts.  Jeff Dukehart, who has been in and out of the top five in points all season, grabbed fourth place points for the week with 148 earning one win, two poles, in three starts.  Jeff Baki Jr. rounded-out the top five for the week with his fourth place run in the feature race with a total of 145 points.
Ringler's points lead over Price dropped to 26 points heading into the season finale at Chicagoland.
"New Hampshire is such a tough track to get a good race in," said current points leader, Trent Ringler.  "The cautions just killed it.  If we had seen a race split, we may have been able to get a good race in with a few longer runs.  I really had a good car and needed a race to split, but it didn't happen.  I really expect Chicago to be a big week with the NASCAR iRacing Series having the week-off.  With some of the pros popping in, I really hope to see a few three-split races with huge strength of fields."
"New Hampshire is such a tough track to get a good race in . . . I really had a good car and needed a race to split, but it didn't happen." — Trent Ringler
While Ringler and Price will settled-out the championship between themselves, Foley seems to have locked-up third place overall trailing Ringler by 78 points.  Lowline's Brian Ammerman has and outside shot of catching third place and is trailing Foley by 67 points.  Dukehart holds down fifth place and will be trying to fend off the BRB pair of Segler and Lovingood holding a 32-point lead on Segler and 61 over Lovingood.
Division winners for week 11 at New Hampshire were: 1 – Anthony Price 162 (Virginias).  2 – Shannon Segler 141 (Mid-South).  3 – Andrew Moser 135 (Illinois).  4 – Danny McCune Jr. 116 (Virginias).  5 – Steven Pearson 128 (Mid-South).  6 – Ryan Greenlee 49 (Indiana).  7 – David Isaac  80 (Canada).  8 – Terry Ridner 49 (Indiana).  9 – Ted Ruminski 40 (Ohio).  10 – Nicholas Winzurk 6 (Georgia).
Heading into the final race at Chicagoland, here is the status of the division battles:
Division 1 – Ringler and Price will duke it out for the title with Foley having a long shot of sneaking into the fight.
Division 2 – Segler overtook the points lead from Galen Gidman and now holds a 52 point lead.
Division 3 – Joshua D Baker has a lock on the division with an 85-point lead over Randall Drake.
Division 4 – Danny McCune Jr. has it pretty much locked up.
Division 5 – Trey Wagner has taken the lead in this close battle with Loren Arden and now holds a 33 point lead.
Division 6 – Justin Hirst is the division champ here already.
Division 7 – David Isaac holds a commanding 99 point lead over Richard Stallings.
Division 8 – James Hollern is back in the lead by 17 points over Dario Ricov.
Division 9 – Noel Koewers leads by three points over Ted Ruminski. Christian J. Pitman and Jackie Stovall are 16 points back, with Lyle Wright still in the hunt at 21 back.
Division 10 – Ken Wood still holds a 21 point lead over Scott Martin.
It should be a busy week as the NASCAR Class B Open Series heads to its final stop of the season.  90 laps around the virtual 1.5-mile Chicagoland Speedway in Joliet, Illinois will decide the 2013 Season 2 champion.  With the NASCAR PEAK Antifreeze Series having the week off, expect some of iRacing's top drivers to make an appearance and push the strength of fields to some of the highest levels of the season.
---
You may also like...
---