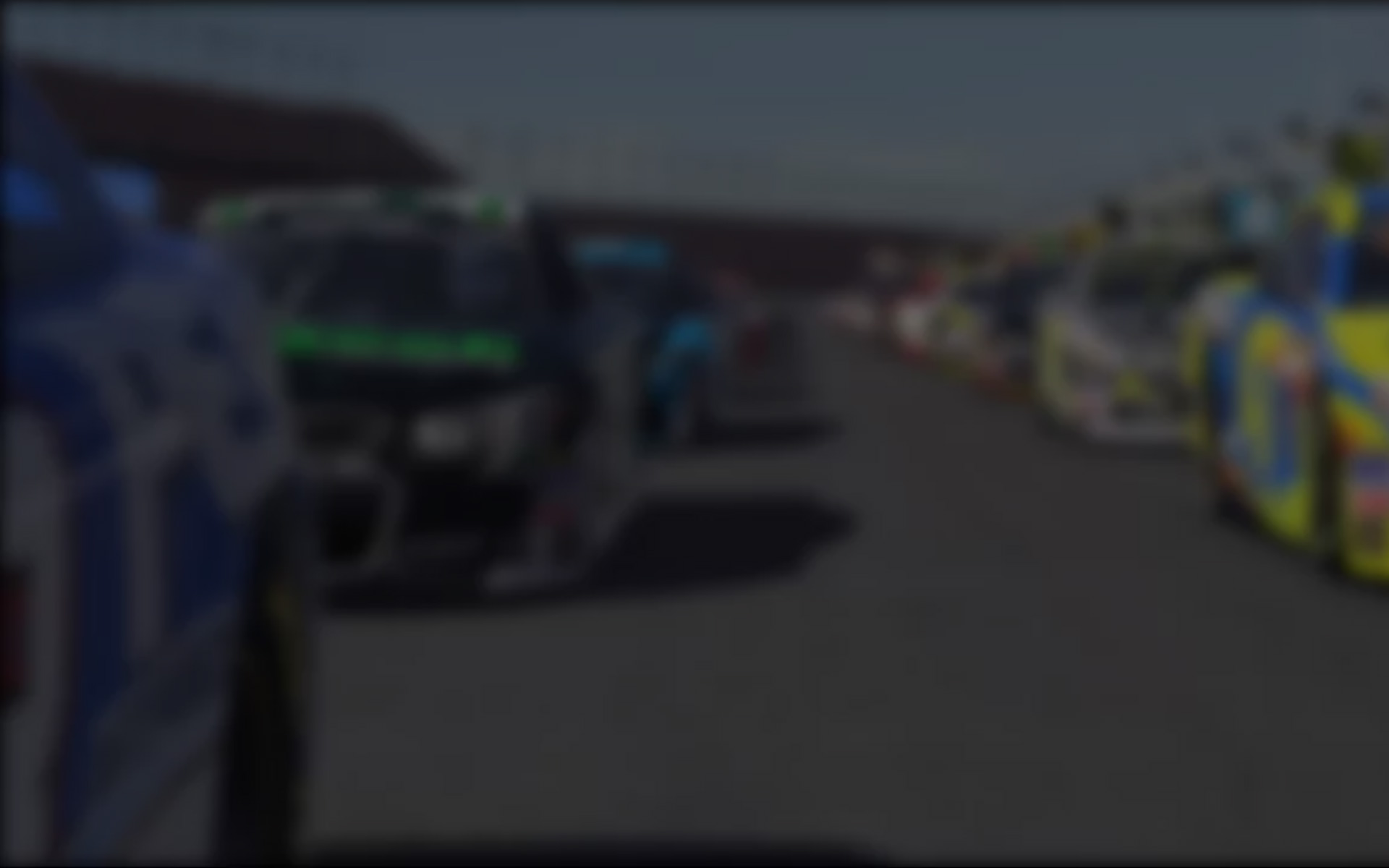 Week Nine of the NASCAR iRacing.com Late Model Series took to the tarmac of South Boston Speedway. The track was originally built as a dirt track before being converted to a .357 mile paved track in 1962. Finally in 1994 the track took to its current 0.4 mile configuration. The four turns with 12 degrees of banking and 10 degrees in the straights of SoBo allow for drivers to hit lap times in the quarter of a minute region. The history and tradition of SoBo runs deep in the veins of NASCAR greats such as Ward Burton, Jeff Burton, Elliot Sadler, Geoffrey Bodine as well as others. Such a track was the proving grounds for many talents we see today, so it would only make sense that sim-racers have the opportunity to cut their teeth on it as well.
In this week's 3458 Strength of Field race, the short lap times proved to be too much of a factor to keep the battles close.  On pole started the Radical, Kevin Myers, followed by Ron Hagolin in second and Landon Sciacca in third. In first place came Hagolin, who outpaced Sciacca with a margin of 11.383 seconds. In third position finished Ben Hancock who clocked-in one lap down followed by Corey Hefley. In fifth and two laps down came Mike Budzien followed by Ben Kilcrease. In seventh and four laps down came pole-sitter Myers.
Myers managed to lead 34 laps as well as setting the fastest lap at 15.362s. However Hagolin led the most important lap, the last lap, as well as 35 others. The fact that all drivers in the top five captured a fastest lap of at least 15.5s is a true testament to the close pace of the sim-racing.  No wonder the entire field was involved in at least one major incident with no single driver managing to gain safety rating and all but two competitors taking pretty substantial "hits" to their SRs.  As a result of these incidents Michael McLain, Jeff Rogers, Aleksi Elomaa, and Lewish Crisp Jr. failed to finish the race and Paul Shafer Jr. crossed the line a hefty 37 laps (!) behind.
As for the weekly standings, Hagolin showed his dominance and claimed 214 points with two wins in three starts, and a third finish in second position. Hagolin started on pole once, and led 106 of 210 laps. In second for the week came Ty Majeski with 190 points as well as a clean sheet. Majeski took home four wins and poles in the same number of starts at Hagolin while leading every single lap of the 280 he completed. Rounding-out the weekly podium with 184 points was Sciacca who captured three victories in eight starts, as well as three other top fives. Sciacca also managed two poles, and led 195 of 433 completed laps at SoBo.
Fourth place in the week was Ben Hancock who took home 182 points. Hancock made a dozen starts, capturing four wins, 12 top fives, four poles, and led 290 of 837 laps. And to finish off our weekly top five comes Jeffry Tanghe with 176 points in four starts, all of which produced top five finishes. Tanghe captured a sole pole position and led 61 of 279 laps.
Kollin Keister has battled his way back on top of the standings again with 1361 points while being closely followed by Hagolin with 1323 points. Majeski is not too far out of the running either with 1295 points. Just outside of the top three and banging on the door is Logan Sheets with 1288 points. Crisp Jr. rounds out the top five with 1197 points.  Other notable mentions this week include Myers who moves to sixth with 1179 points and Tanghe who takes seventh with 1136 points.
As the Late Model Tour moves on to the high banks of Iowa Speedway, will we see some new front runners for the strength of field race?  Will Keister continue to hold off Hagolin on his pursuit for the NASCAR iRacing.com Late Model Series championship?  Check back with inRacingNews for the answers!
---
You may also like...
---