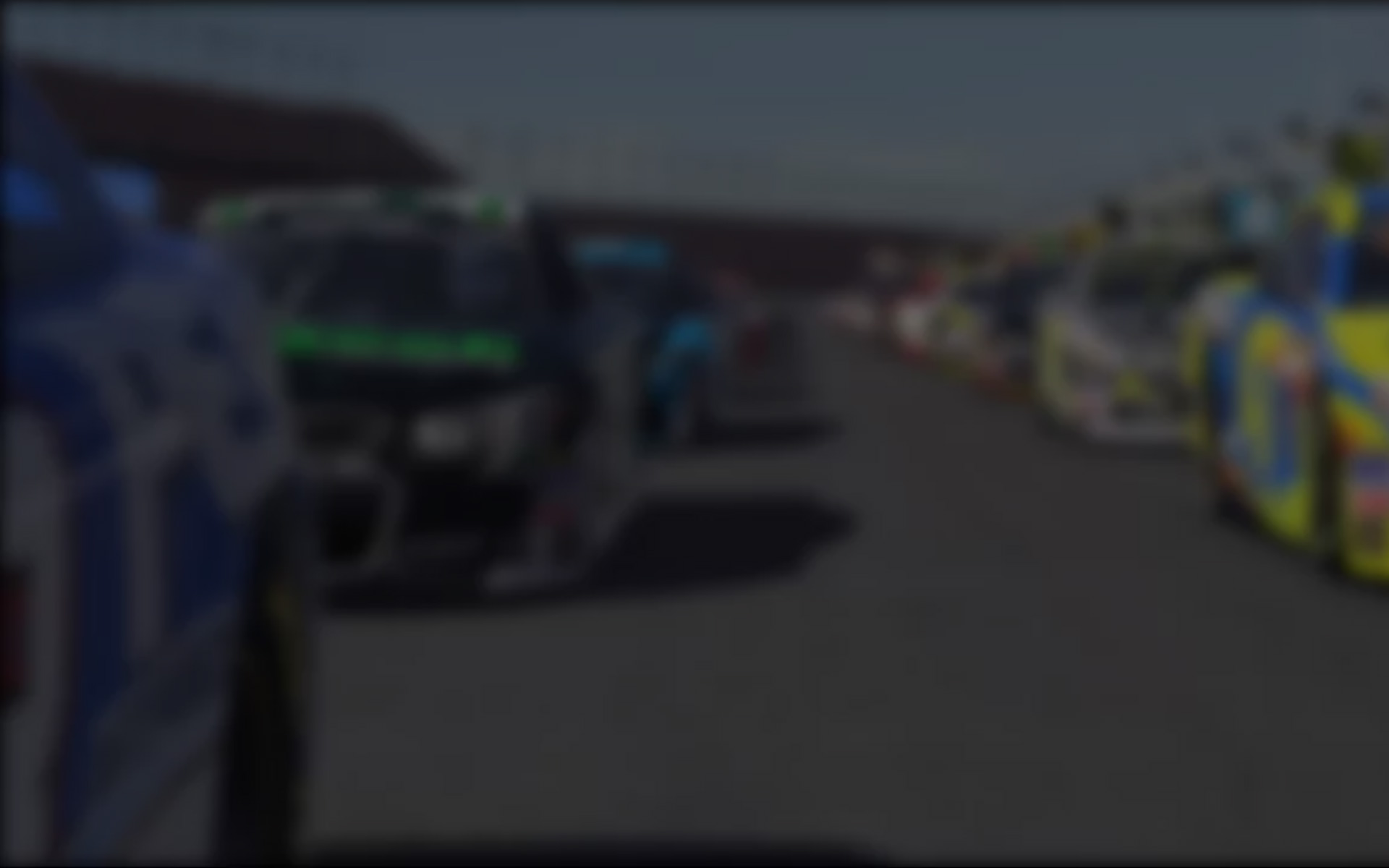 What is arguably iRacing's most unique short track in their library, Concord Speedway is .5 miles of pure adrenaline highlighted by its signature feature – three distinct turns that each differ in their respectable banking. A favorite visit of many in the series, the track hosted Week 8 of the iRacing Sprint Car Series for the second straight season in 2013. What originally started out as a dirt track, Concord is still a perfect fit for the sprint cars on iRacing, as drivers are able to blaze laps around the paved course at a little under 14 seconds. With the race for the championship reaching a critical level, a significant turnout was expected throughout the week, and many exciting shows were anticipated.
Qualifying times were led by Alan Binder, who put a time of 14.353s on top of the board. Behind him was another name famous within the iRacing community; Rusty Greer, known for his prominence in the iRacing SK Modified series, got the second best lap of the week, just one one-hundredth of a second behind Binder's time. Greer would not go on to grid in a race during the week, but it appears that his qualifying run was a test of sorts, and a powerful one at that. Gridding next to Binder would be Steve Linder, who set a fast qualifying lap just one one-thousandth of a second behind Greer's time. In a week that saw 67 gridded participants spread throughout five official races, Binder and Linder were sure to be the ones to watch during the week's festivities.
A field of ten drivers made it to the track on Monday to partake in the first official race of the week. Marred by four cautions, the race was certainly rough, but Binder was able to keep himself in front of the mayhem to win his first event of Week 8. Steve Linder finished in second, with Michael Willard2 in third to complete the podium. Eddie Walczyk proved that his racing program is once again up to par with the top runners by finishing  fourth, earning himself a respectable jump in points. David Cumbo Jr. finished fifth, starting off a very promising week for himself.
Tuesday featured the single largest field of the week with 18 drivers taking to Concord's ever-changing banked turns and straights. Leading the field to the green flag once again, Binder took off, leaving the field behind him, but was stopped shortly on Lap 2 after Alex Haase lost control on the front-stretch. On Lap 9, shortly after the restart, Ryan Steele caused the caution after his car broke loose and received damage, but he showcased his skill when he was able to save it from spinning across the track into the rest of the field. A long green flag stretch took place after the second restart of the night, with the field able to put down laps all the way until Lap 34, when the third caution came out. Racing for the fifth spot, Cumbo was closing in on Scott Kelly and was primed to take over the position, but he closed the distance too fast in Turn 3, tapping the rear of Kelly's car and sending him for a spin. Although he was still able to drive the car after lightly tapping the wall, Kelly was able to continue, but was sent to the rear of the pack. After a thrilling dash to the finish, Binder was seen in victory lane once again after he crossed the finish line .601s ahead of iSCS points leader Vinnie Sansone. The Linder Brothers, Steve and Michael, finished third and fourth respectively, with Cumbo completing the top five.
Wednesday saw a small field of eight drivers go for 50 laps with only one caution displayed. Binder was again crowned victorious, beating series veteran Fred Lampela to the finish line. Nicholas Howard found himself a respectable podium finish with his third place result, and Leila Wilson was scored in fourth position after the checkers. Eric Nordhoff finished in fifth, two laps down.
"Concord was a lot of fun, [and] really hard to pass." – Cap Henry
Along with showcasing the highest SOF race of the week (3404), Thursday was a day of high participation, fast action, and somber reflection. Series promoter and regular Eddie Walczyk was able to formally recognize the passing of one of USAC's finest, Jason Leffler, in iRacing's official sprint and Silver Crown series. A week after Leffler's passing, Walczyk was able to provide "Lefturn" hats (Leffler's nickname in the motorsports world) to the winners of Thursday's events, as well as a random drawing to encourage participation across the board. In the iSCS, Thursday saw a top split featuring 16 drivers, and a second split featuring 15, making that date one of the highest shows of participation seen in the season so far.
In the top split, Alan Binder led the field of 16 drivers to the green flag. Shortly afterwards on Lap 3, Steve Linder spun in Turn 2, bringing out the yellow. Although he spun out low and near other drivers, everyone showcased fine driving skills by being able to avoid his car without causing a multi-car incident. Shortly after the restart on Lap 9, Brandon Otto and Randall Faulks collided, with the incident spreading to other victims such as Nicholas Howard and Dustin Herner.
In much of the same manner as Tuesday's event, drivers raced for a significant time under the green flag before the next incident happened on Lap 34. While racing hard for second place in a three-way battle for position, Lampela, Sansone, and PJ Stergios all experienced significant trouble. Racing down the frontstretch, Lampela and Sansone experienced a "netcode" incident which drove Sansone's and Lampela's cars together in an odd fashion. Stergios tried to avoid the incident, but ended up clipping Sansone's machine. With all three drivers suffering damage to their vehicles, they were able to continue around the track, but on Lap 35, Lampela unexpectedly slowed very suddenly, and Stergios had no time to react. Stergios' machine collided into Lampela and drifted up the track, blocking the high lane, which Sansone was taking as he was limping around the track. Sansone plowed into Stergios, ending the nights of both drivers.
The last restart of the night happened on Lap 41, and it was smooth sailing from there with Binder out front. Binder took his fourth consecutive win of the week, finishing his dominating sweep of Week 8. Michael Linder crossed the line in second place, with Cumbo scoring his third top 5 of the week in third place. Coon Landry was scored in fourth position, and Dustin Herner was able to recover from his earlier incident and a 14th starting position to finish fifth.
In the second split, there was just as much action to be seen. On the pole was Scott Kelly, looking to capitalize on a better finish than how his race unfolded on Tuesday. Racers barely got up to speed, as the first yellow of the event was displayed on Lap 2 after Justin Bankowski crashed with Jonathan Carrigan. Green flag status was brought back again in a few laps, and on Lap 12, a new driver was placed at the top of the leaderboards. Unfamiliar to the iRacing sprint car community but popular within Florida's pavement and dirt sprint car scene, Collin Cabre took the lead away from Kelly. As the race went on, Cap Henry also tried to find a way around Kelly, but on Lap 29, Henry spun out while the two raced for position.
Cautions breed cautions, and two more restarts were given. The first after the Lap 36 incident of Carrigan's second spin, and the second after an 8-lap shootout was set up for a dash to the checkers. Cabre took off on the final green flag wave of the night, and Kelly simply couldn't keep pace with the experienced wheelman. After the yellow was shown on Lap 49 after Michael Scott Parker's spin, the race ended under caution, giving the well-earned victory to Cabre. While it was his first win in the iSCS, it was also Cabre's first official start in the sprint car series – a feat that hardly anyone accomplishes in their iRacing career. Kelly finished second, with Walczyk completing the podium in third. Craig Mintz and Cap Henry, also two iSCS drivers with real-world sprint car racing experience, finished fourth and fifth respectively.
I'm not in victory lane but it feels like a win to me." – Scott Kelly
"You'll hear a lot of people say that second place is just the first loser, and while that's factually correct, it's not essentially true," said Kelly, upbeat after his run. "To start on the pole and to finish less than a second behind a driver with real-world experience… I'm not in victory lane but it feels like a win to me."
Cap Henry was also feeling positive after Week 8 concluded. "Concord was a lot of fun, [and] really hard to pass. This was also the second track I tried building my own setups, kinda gratifying when you get decent finishes!"
With racing completed for the week, the championship standings have tightened up even more. With Alan Binder hot on the trail of the top spot once more, Vinnie Sansone still leads Fred Lampela even after Sansone's tough week. Will Sansone continue to lead after the iSCS visits New Smyrna for Week 9, and Richmond International Speedway for Week 10? Find out next time on iRN!
---
You may also like...
---