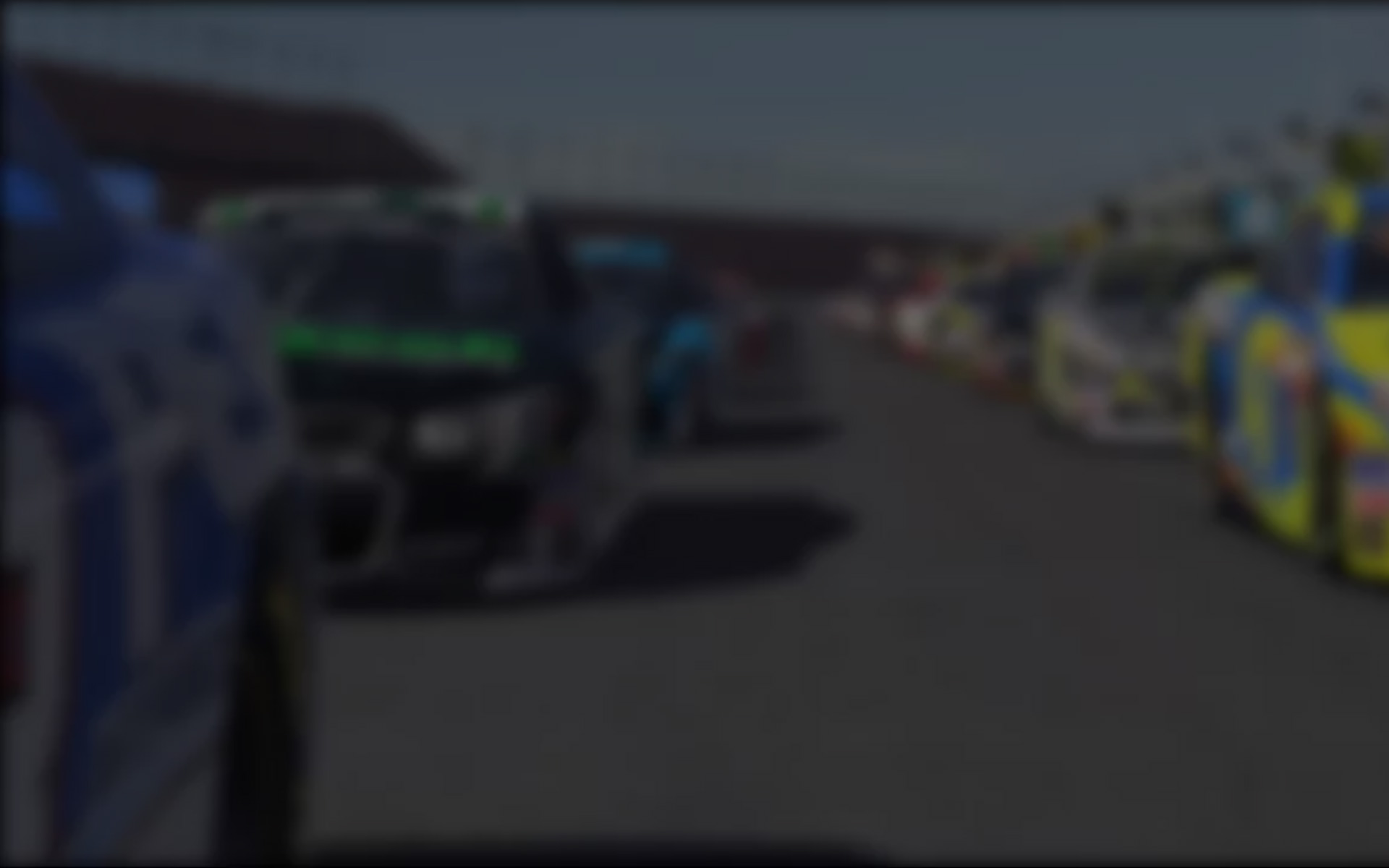 MONTREAL, QUEBEC, CANADA – A little over a month ago, a chapter of the Red Sox Racing League closed with the final race of the McLaren Turbo Challenge, powered by identical McLaren MP4-12C GT3 spec cars. In its place enters a new challenger – the RUF Rt-12, Track edition. Much like Callaway does for Corvettes, and Saleen with Mustangs, RUF automobiles start with Porsche chassis, and builds up from a great foundation. The particular machines lined up for the new season start their lives as Porsche 997 chassis and end up hungry, 500 horsepower beasts ready to take to the tarmac with a knife and fork.
It didn't take long to sell the teams on the new vehicle. After only two open test and tune sessions, over forty entrants signed up for the new season, prompting officials to cut off the signup period shorter than expected, for fear of running out of space in the paddock. Also exciting for the upcoming season is the introduction of open tire competition. While many teams decided to continue existing relationships with Michelin carried over from seasons in the Mclaren, some have opted to run on brands like Continental, Falken, and Yokohama, and reps from Dunlop and Hoosier have been rumored to be in talks with potential teams. Though each tire manufacturer will have their product thoroughly tested to ensure a competitive balance, it's a definite goal to gain exposure as part of a winning team.
That exposure is set to increase in a big way this season as for the first time Red Sox Racing plans to broadcast each race live on YouTube, as compared to the highlight shows of the past. For this weeks race, the 24 Laps Du Montreal, cameras are set-up all around the 2.71-mile, 15 turn road course, ready to capture the race from green flag up to the checkered. Yet, for all the changes coming into the season, fans attending the series debut race saw something very familiar at the front of the 37-car field when they lined up after qualifying. Three-time McLaren Turbo Challenge champion Brad Vincent earned 9 Wil-Trans Pole Position Awards last season, and he quickly adapted to the new RUF race car to take the prime spot here again in Montreal. Vincent's time of 1:34.874 was the only one to break the 1:34 mark, nearly a half second faster than second place starter Paul Hesla filling the front row. Row two sees Andrea Ventura start alongside John Paquin, followed by Dustin McGrew and Justin Kirby in row three.
Starting Lineup
Row 1 – Inside Brad Vincent Outside Paul Hesla
Row 2 – Inside Andrea Ventura Outside John Paquin
Row 3 – Inside Dustin McGrew Outside Justin Kirby
Row 4 – Inside Troy Harder Outside Brian Irby
Row 5 – Inside Patrick Guerin Outside Joseph Jordan
Row 6 – Inside Ricky Hardin Outside Andrew Humphrey
Row 7 – Inside Tony Duffey Outside Reed Rundell
Row 8 – Inside James Prostell Jr. Outside Les Turner
Row 9 – Inside Tommy Rhyne Outside Dean Moll
Row 10 – Inside Cyril Roberts Outside Gerald Livingston
Row 11 – Inside Terry Daul Outside Dennis Griffen
Row 12 – Inside Scott Husted Outside Tim Trayhan
Row 13 – Inside Andrew Feldman Outside Chris Weidner
Row 14 – Inside Kevin Kyle Outside Gary Jorgensen
Row 15 – Inside Ed Sutcliff Outside Divina Galica
Row 16 – Inside Kurt Clark Ouside William Kabela
Row 17 – Inside Karl Mumbower Outside David Holzwarth
Row 18 – Inside Greg Harris Outside Jeff Thomas
Row 19 – Inside Dean Ayer
Race
Things are looking up for Red Sox Racing these days. A new car has brought new teams and sponsors to the grid, and the only thing fuller than the paddock are the stands. In fact, only one problem was seen on the lineup; due to some minor clerical issues in the midst of setting up a new season, some cars had the wrong number plates applied to their cars. Officials found the source of the issue and plan to have it fixed before next weeks race at Road Atlanta, but it was a little too late to fix the error before the race was set to start. Outside of a few confused looks from fans comparing their program spotter guides to the grid in front of them, no one had any trouble figuring out who was out front. Brad Vincent leads from the drop of the green flag, and breaks away from most of the pack, with the exception Empty Keg Racing driver Paul Hesla. Hesla was strong early on, and even gave Vincent a mirrorful on multiple occasions, but he slipped back a bit before pitting on lap eight.
The track's wall-lined, slick racing surface had no problem tripping up a majority of the field. No fewer than 25 instances of car contact, wall contact, spins, or some combination of the three were seen on track as the drivers searched for performance limits. Thankfully, most of the altercations were relatively harmless, only bending sheet metal and egos in the process, but a couple spectacular incidents grabbed a lot of attention.
Fresh out of the pits, John Paquin was working his way back through the field, much like Brian Irby who himself pitted a lap early as they closed in on the halfway point of the race. 23rd at the time, Caribbean Food Delights Racing driver Gary Jorgensen had the best view when the two got together near the end of lap nine as a result of brake issues for Irby. "John [Paquin] got by me a couple turns before the hairpin, but getting by me slowed him up a bit. We're slowing down for the hairpin, and next thing you know, Brian [Irby] is flying by me and couldn't get slowed down enough without getting into John, and boom, John's rolling over!" Despite the low speed, which was estimated at 45 – 50 miles an hour, Irby's contact with Paquin sent Paquin's RUF on its roof before flipping right side up again.. Irby continued on to finish ninth, but Paquin would have to retire from the race with suspension damage, awarded 35th.
A little later, Paul Hesla would end up on the wrong end of one of Circuit Gilles Villenueve's most unique features. At most race tracks, a trip to pit lane involves slowing down and moving off the racing line. However, here on Ile Notre Dame, those pitting can rocket through the normal braking zone before needing to slow for the pit speed limit, essentially making pitting cars much faster at a critical point on the track. Hesla happened to be right at that point when the Arrested Development Racing team called their driver Andrew Feldman in for service. Feldman expected Hesla to turn in by the time he got there, but when that didn't happen, a massive impact occured, lifting the rear of Hesla's car high in the air. Hesla's front bumper scraped across the ground for quite a distance before coming back down to earth, but damage to the front of the car was nothing compared to the repairs needed for the back, and the incident essentially ended the day for both drivers. Lengthy repairs did bring both back to the track, though, Hesla finishing 32nd, and Feldman 34th.
With troubles for Hesla and Paquin, Dustin McGrew assumed second position for the latter half of the race, but he could improve no further from his fifth-place starting position as Brad Vincent's 10-second and growing gap was too much to overcome. Vincent continued his championship-winning form in style, leading from flag to flag, joined on the podium by Dustin McGrew and Troy Harder. Justin Kirby and Ricky Hardin fill out the top five.
Sixth place went to Patrick Guerin, followed by Andrew Humphrey, Joseph Jordan, Brian Irby and James Prostell Jr. for the top ten. Eleventh through twentieth went to Tommy Rhyne, Les Turner, Gerald Livingston, Dennis Griffen, Reed Rundell, Cyril Roberts, Terry Daul, Tony Duffey, Chris Weidner, and Scott Husted. 21st Andrea Ventura was the final driver to finish on the lead lap, followed y Kevin Kyle, Ed Sutcliff, Tim Trayhan, Gary Jorgensen, Karl Mumbower, Dean Ayer, David Holzwarth, and Divina Galica, 22nd through 29th, each one lap down. Kurt Clark finished 30th, followed by Greg Harris, Paul Hesla, William Kabela, Andrew Feldman, John Paquin, and Dean Moll 31st through 36th. 37th went to Jeff Thomas, who missed the start.
Video coverage of today's race can be found at:
http://www.youtube.com/watch?v=Y5LIlWasU6c&feature=share
Next week, the Red Sox Racing League visits Braselton, Georgia for Round 2, the Hall County 30 at Road Atlanta.
Awards
Wil-Trans Pole Position Award Winner – Brad Vincent, 1:34.874
Michelin "Better Way Forward" Best Start Award (Most positions gained lap 1)
Troy Harder gained two positions, from seventh to fifth on the opening lap.
Amazon.com Incident-Free from A to Z Award (Incident Free Race)
Seven drivers were able finish the race without any incident points. Troy Harder, Patrick Guerin, Les Turner, Dennis Griffen, Scott Husted, Divina Galica, and Ed Sutcliff each earned a bonus championship point.
Bosch Spark Plugs Hard Charger Award (Most positions gained start to finish)
Dean Ayer gained 10 spots through the race, starting 37th and finishing 27th.
Competitor Post-Race Comments
James Prostell Jr., Caribbean Food Delights Racing – "I Couldn't be any happier with the performance we got out of the #16 Team Caribbean Food Delights with TeamLTD RUF in Montreal today! We have had results like this before, and runs at Daytona and Mid-Ohio come to mind, but no part of this race felt like a fluke – there wasn't some huge accident that took out half the field, or a small turnout. The only things that went wrong was getting a incident point for taking a turn a little too aggressively and having a very close call closing in on a competitor in the hairpin, but overall all positives. Felt very competitive, had good speed, and hope this is the sign of things to come this season!"
---
You may also like...
---