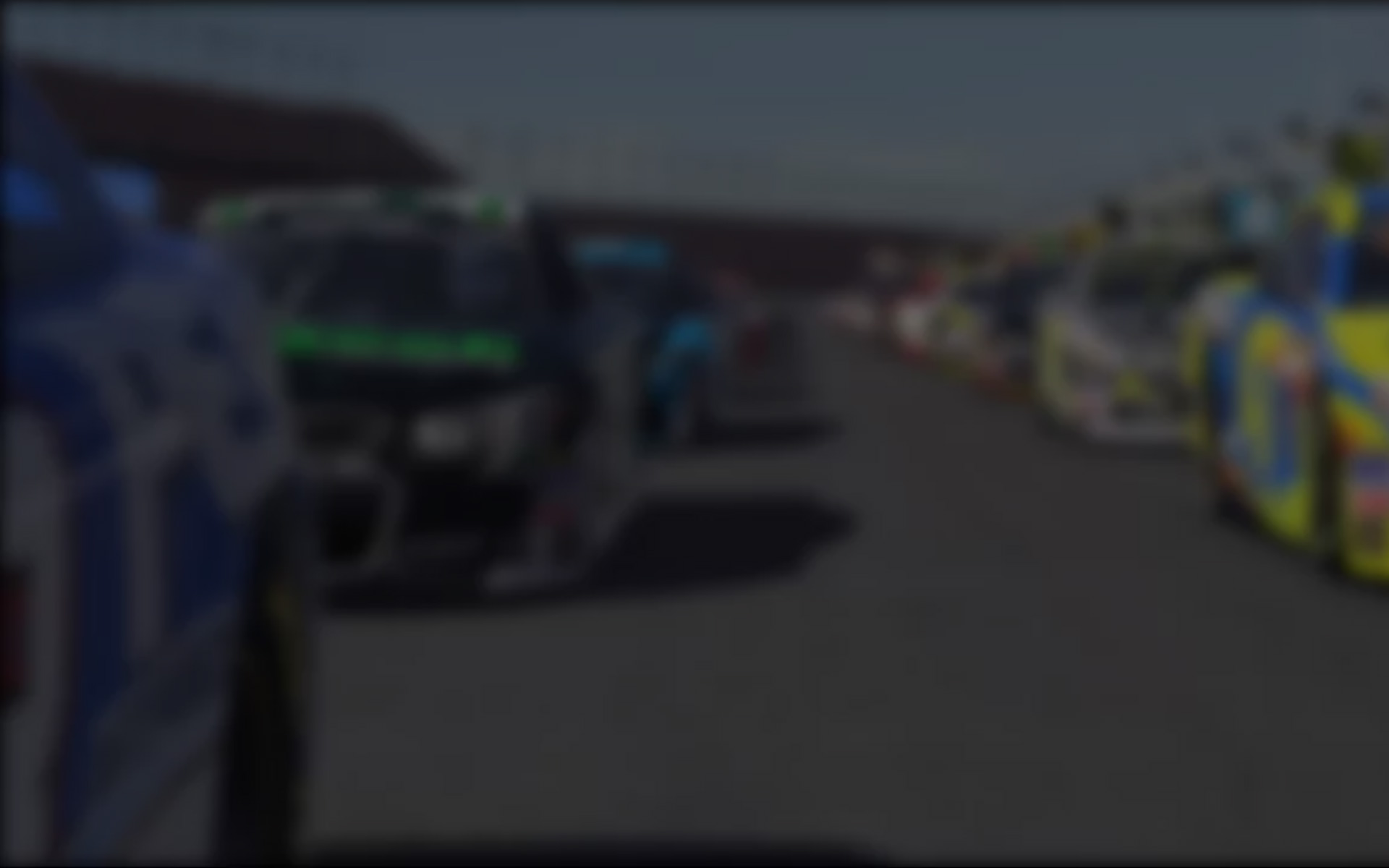 MONTREAL, QUEBEC, CANADA – Well, ladies and gentlemen, this is it. After eleven weeks of intense racing, the Red Sox Racing League's McLaren Turbo Challenge competitors now have the final checkered flag in their sights. Somehow, despite all the twists, turns, ups and downs the season has thrown at them, series leaders Brad Vincent and Troy Harder come into the final race with their points battle almost as tight now as when it started 0-0 at Daytona. Vincent does arrive in Montreal with a slight points advantage, but with Harder looking to take that away and speedster Dustin McGrew possibly playing spoiler, there's little margin for error.
Diminishing that margin even further is Circuit Gilles Villeneuve. Built on a man-made island that was once home to the World's Fair, Ile Notre Dame is a little less hospitable as a race course. The island circuit's combination of slick public roads and concrete walls that line virtually every inch outside of the intended racing surface can make a race here seem more like a cage match than anything else.
Could there be a better backdrop for a final showdown?
Vincent landed the first blow by picking up another Wil-Trans Pole Position Award, besting both Harder and McGrew by over four tenths of a second. It'd be another half-second before reaching Brian Irby in fourth, putting the top three in a class of their own on paper at this point. But then again, there was still a race to be run
Starting Lineup
Row 1 – Inside Brad Vincent Outside Troy Harder
Row 2 – Inside Dustin McGrew Outside Brian Irby
Row 3 – Inside Dean Moll Outside Joseph Jordan
Row 4 – Inside Les Turner Outside Tim Trayhan
Row 5 – Inside Gerald Livingston Outside Andrew Humphrey
Row 6 – Inside Cyril Roberts Outside John Koscielniak
Row 7 – Inside Reed Rundell Outside Scott Husted
Row 8 – Inside Alan Hesebeck Outside Dennis Griffen
Row 9 – Inside Terry Daul Outside Tony Duffey
Row 10 – Inside Andrew Gantman Outside Andrew Feldman
Row 11 – Inside Jeff Thomas Outside James Prostell Jr.
Row 12 – Inside Kevin Kyle Outside Ed Sutcliff
Row 13 – Inside Divina Galica
Race
Everything that has been built up over the past eleven weeks came down the these twenty four laps once the green flag dropped, and this fact was not lost on Brad Vincent who turned his ninth pole position into a nearly two second lead by the end of the first lap. With clear track ahead, and a tough battle between Harder and McGrew behind him, Vincent found himself as comfortable as one can be in a race car early on. Unfortunately, a few bobbles lead to a slower lap six, putting Vincent's #18 McLaren right back in the clutches of McGrew's #87 machine. The challenge of weaving through lapped traffic and keeping McGrew at bay made an intense battle that came to halt at the end of an unlucky lap 13 for Vincent – McGrew made contact with Vincent as the pair slowed for the lap ending chicane, sending McGrew to the pits, Vincent into a spin, and Harder into an inherited lead. Harder ran away with his present until pitting three laps later on lap 16.
Shockingly, for a track well-known for car-to-car contact, things stayed relatively calm for an outing that was shared by 25 drivers. Calm, but not necessarily clean. Slides for Tony Duffey, Andrew Gantman, James Prostell Jr., Alan Hesebeck, Brian Irby and Ed Sutcliff resulted in contact with the wall for each, but all would reach the end of the race except Duffey and Sutcliff both retiring early. Outside of Vincent and McGrew's get together, the only other multi-car incidents were found on the tight hairpin leading to the crucial backstraight. First, Andrew Gantman got into and spun Divina Galica early in the race, and later fans had a seat ringside to see Tim Trayhan barge his way by Gerald Livingston with some light contact to take home a ninth place finish.
Despite a great effort to make a bid at recovery, the unexpected spin and stop was too much for Brad Vincent to overcome, ending up second after whittling an eleven second deficit down to seven. Troy Harder cruised home to the win leading the final seven laps of the race. Harder walks away from the season with his league leading sixth victory of the season, while Dustin McGrew fought back from the mid-race mishap to finish third. It's fitting that the only three drivers to take checkered flags for season took to the final podium in order of races won (for the record, Harder had six wins, Vincent took home four, and McGrew earned two of his own).
TeamDraft teammates Joseph Jordan and Les Turner round out the top five, followed by Andrew Humphey, Reed Rundell, Cyril Roberts, Tim Trayhan and Gerald Livingston who finished sixth through tenth. Finishing 11th through 15th were John Koscielniak, Brian Irby, Dennis Griffen, Terry Daul, and Scott Husted, followed by 16th through 19th placed Alan Hesebeck, Andrew Feldman, Jeff Thomas, and Kevin Kyle finishing on the lead lap. Andrew Gantman, Divina Galica and James Prostell Jr. were awarded 20th through 22nd, one lap down, while Dean Moll was credited for 23rd, five laps behind the leader. Ed Sutcliff and Tony Duffey failed to finish, ending up 24th and 25th for the race.
As it turns out, Troy Harder won the battle here in Montreal, but for the third straight season, Brad Vincent has won the war. Only seven points separated the two, as bonus points earned from nine pole positions, laps lead, and clean races were enough to overcome a two-race win deficit. Vincent also takes top honors in the inaugural ITT Engineered For Life Endurance Challenge, with three pole positions, and a win in the opening race at Daytona. Also sweeping the season and endurance championships in the team division were TeamDraft racers Les Turner and Joseph Jordan. The duo took the season by storm running away with a near 100-point lead by season's end, and took the three-race endurance trophy by over 30 points over sponsor ITT-backed StormFront Racing drivers Terry Daul and John Koscielniak.
The checkered flag at Montreal closes not only a chapter, but a book entirely as the series moves away from the spec McLaren MP4-12C GT3 racer. After a tough decision and a series of off-season practices, it was decided that participants would get behind the wheel of the newly minted RUF RT 12-R Track car, for a series slated to start January 9th, 2014. "We really wanted to run both cars," stated league director Les Turner. "But McLaren made it known they had some updates in store for the MP4-12C towards the end of January, which meant for us that some drivers could have been facing a huge change in performance three or four weeks into a season where we were already fighting to keep a balance, and in the end we all agreed that it wouldn't be fair unless we gave it some time to sort itself out. Hopefully the following season we'll be able to re-introduce what has been a great car for us the past three go-rounds!"
Awards
Wil-Trans Pole Position Award Winner – Brad Vincent, 1:35.201
Michelin "Better Way Forward" Best Start Award (Most positions gained lap 1)
James Prostell Jr. gained four positions, from 22nd to 18th on the opening lap.
Amazon.com Incident-Free from A to Z Award (Incident Free Race)
Nine drivers were able finish the race without any incident points. Troy Harder, Joseph Jordan, Les Turner, Cyril Roberts, Gerald Livingston, Dennis Griffen, Terry Daul, Scott Husted, and Ed Sutcliff each earned a bonus championship point.
Bosch Spark Plugs Hard Charger Award (Most positions gained start to finish)
Reed Rundell gained 6 spots through the race, starting 13th and finishing seventh.
Competitor Post-Race Comments
James Prostell Jr., Spirit of McLaren Racing Team – "I don't know how many people want to hear it, but here goes – What we've seen this season, participation wise at least, is what happens a lot of times when a spec series is going away. There's two 'booms.' The first boom is that there's a ton of starters at the beginning of the season, mainly because the cars are cheap, or at least cheap as far as the racing world goes anyway. You've got established teams letting go of an extra car or two they want to get rid of while people still want it, and manufacturers don't want or need the inventory so they don't mind knocking some dollars off if it means they don't have to look after them anymore. And then, sooner or later, the second boom starts to hit, which is when the cars literally go 'boom' and you're stuck with trying to repair cars with crash or mechanical damage, reducing the mid-season car count. At this point it become not only a matter of supply and demand, but also a question of ability and willingness on either side. Is McLaren able to make replacement parts? Sure, but are they willing to invest the resources in something that'll be obsolete in a month? Not so much. Could teams pay enough to entice McLaren to change their minds? Yeah, but is the extra cost worth a full replacement if you're stuck with a car you can't race after six weeks? That's why we're here damned near duct-taping whatever we can to get through inspection and race. I've been fortunate enough to avoid any huge incidents, and am proud to say that the same chassis we started with in Daytona we raced all the way though and finished with here in Montreal, but it took all we had to get here. To top it off, my poor teammate Gary (Jorgensen) missed over half the season with such a scarcity in parts. For all the trouble, though, I'm really going to miss working with the guys at McLaren. You can tell straight away why they operate at the upper echelon of the racing world through their work ethic, attention to detail, and years of knowledge and experience. We tried as hard as we could to hold on to the relationship, but with the car going away, we'll have to move our separate ways too. After all, who could blame them for wanting nothing to do with a car they have nothing to do with? At this point I'm not sure how we'll get there, but for better or worse, you'll see me in some capacity when the season starts up next January for sure!"
---
You may also like...
---