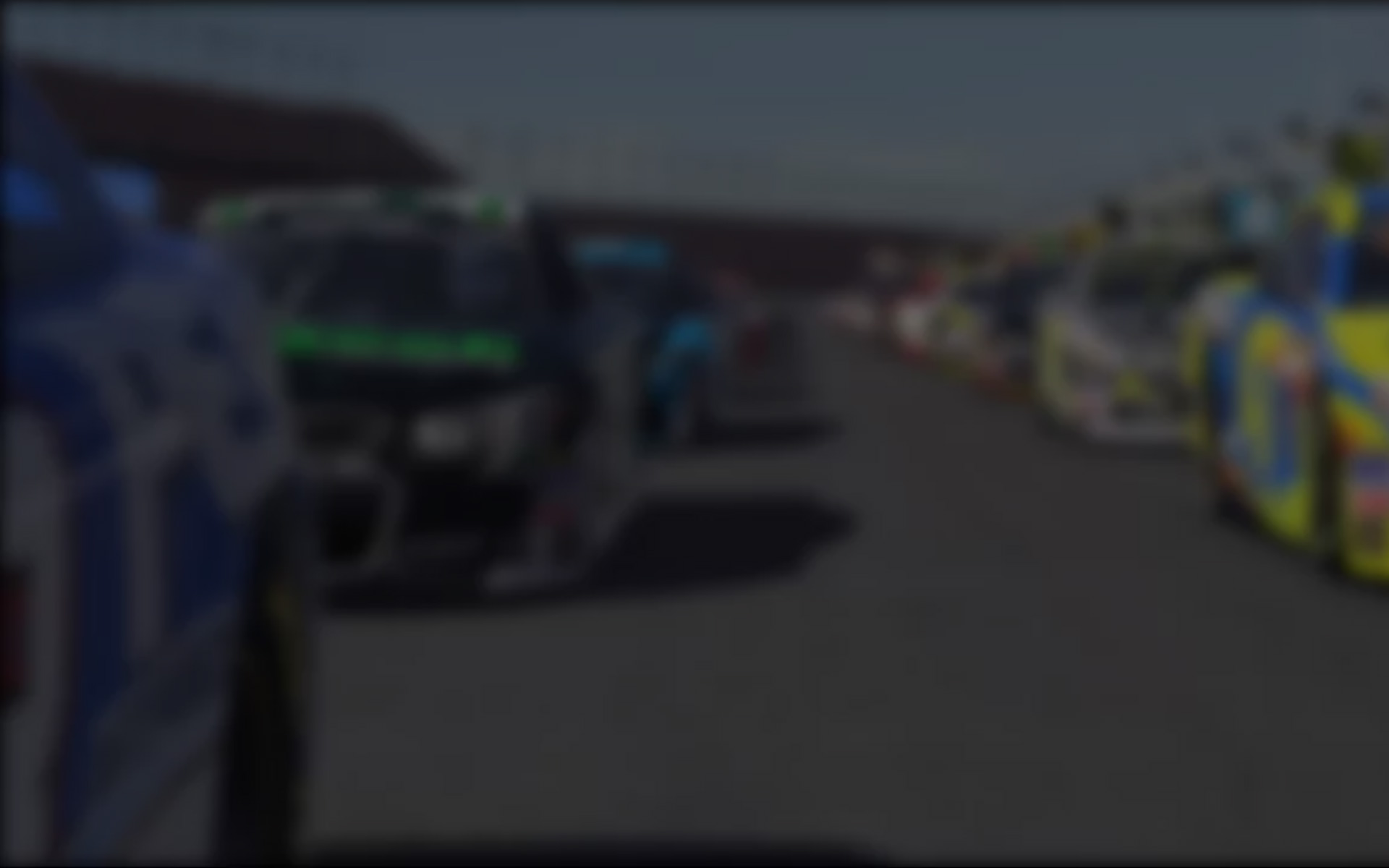 Les Turner once again demonstrated why he is regarded as the "Jimmie Johnson" of the Red Sox Racing league's 2010 schedule.  After winning the Season One championship with a total of 723 points, Turner upped the heat on his online racing competition with 841 points in Season Two.  The Canadian-based sim racer not only averaged 105 points per race in Season Two, he reeled off six wins along the way.   Those victories, combined with a second place and ninth place finish, were enough for him to outpace the 2nd place finisher, Ed Sutcliff.
Turner's impressive season began with a dominating victory at Zandvoort.  He started on the pole and led every lap while managing to avoid any penalty incidents on the challenging course.  The race was not as easy for the champion as the stats would suggest however, as last year's runner-up Ed Sutcliff, and newcomer Michael Baley, both served notice they would be giving Turner a run for his money. Both drivers were able to keep Turner in their sights throughout the race, but were not able to overtake him.  Sutcliff (second) and Baley (third) joined Les on the podium.  Turner left the race with a 15 point lead in the championship.
RSR league members thought their luck might change when they arrived at Watkins Glen for Race Two.  The always dangerous Darren Kersey earned the pole, while Turner was forced to start in fifth place after a poor qualifying effort.  Although Kersey's night ended early, Barry Blocker quickly moved into the top spot and looked to have things in hand.  His luck didn't last however, and Turner inherited a lead he would not relinquish.  Les led the remaining 20 laps en route to his second victory of the season.  Sutcliff tried to keep pace in the points as he once again finished in second place.  Kevin Kyle finished third to join the point leader's on the podium.  Turner's effort extended his overall lead to 20 points in the championship race.
Week Three saw the league returning to The Milwaukee Mile for the first of two oval races on the schedule.  Bill Hadden grabbed the pole, but gave up the lead when Turner passed him on Lap 10.  Terry McCuin did his best to pressure Turner into a mistake, but the seasoned driver maintained his composure on each of the restarts to maintain the lead.  Turner's lead in the championship increased to 44 points with the victory.  McCuin finished the race in second place.  He was joined on the podium by third place finisher, Jeff Thomas.
Turner's third win of Season Two was also his sixth in a row on the RSR 2010 calendar as he had concluded Season One with three straight wins.  While most drivers would not admit it in public, pit road sources reported that several were beginning to question their ability to keep pace with Turner on the track.
Their fears were heightened after Turner won his fourth race of the season (and seventh in a row) at the tricky Mazda Raceway Laguna Seca.  Les regained his early season qualifying form as he earned the pole with a lap time of 1:22.855.  Only second place qualifier Robinson Shields was able to join Tuner in breaking the 1:23 barrier.  Demonstrating how quick they were on the track, the third place qualifier (Chad Tracy) posted a qualification lap time of 1:24.217.  Turner was never seriously challenged as he went on to lead all 44 laps of the event.  Robinson Shields and Chad Tracy earned their first podiums of the season with second and third place finishes.  Sutcliff lost second place in the overall points to Jeff Thomas after he missed the Laguna race.  Turner's lead in the overall standings increased to 148 points after the event.
Darren Kersey was the first driver to penetrate Turner's "Superman" suit when he took the checkered flag in Race Five.  Kersey started on the pole and led all 28 laps at Road America as he became the first driver not named Turner to drive his car to victory lane in Season Two.  Turner did not give up his spot on the podium easily.  He began the race in second place and hounded Kersey for the entire race.  Scott Husted earned his first podium of the season with a third place finish.  Turner's lead in the championship race increased to 172 points after the event, while Sutcliff leapfrogged Thomas to regain second place.
Kersey repeated his winning performance when the league traveled to Silverstone for Race Six.  His victory was not easy though, as Turner looked to have a shot at regaining his winning form after earning the pole position with a blistering lap time of 1:45.728.  Turner led the first eight laps of the race.  Kersey took the lead after electrical problems forced Turner to pit out of the lead and retire from the event.  Darren put on a great show for the fans as he checked out on the field en route to a 33 second margin of victory over Jeff Thomas.  New RSR driver Barry Blocker earned his first podium of the season with a third place finish.  Turner's early retirement saw his lead in the championship cut to 109 points.
Turner's team recovered from their electrical issues with a resounding victory at Barber Motorsports Park in the seventh race of the season.  Once again starting from the pole position, Turner dominated the race and led all 40 laps of the event on his way to an 11 second margin of victory.  Jim Albertson was the only driver able to keep Turner in sight, but he suffered a late race spin and eventually finished in fifth place.  Barry Blocker and Ed Sutcliff finished in second and third places respectively.  Despite the podium finish, Sutcliff lost ground as Turner's lead in the championship race increased to 127 points.
Turner continued to build his championship lead over Sutcliff when the league visited Phillip Island for Race Eight.  Showing off the lightning quick setups which have earned him eight poles in his short RSR career, Turner once again started the race on the pole.  He was the only driver to break the 1:28 barrier in qualifying.  Turner put on a driving clinic for the fans while leading all 35 laps and crossing the line a full 10 seconds ahead of  Bill Hadden.  He was the only driver to break the 1:29 barrier during the race.  Ed Sutcliff netted his fourth podium finish by crossing the line in third place, just ahead of the hard charging Wilbur Gildersleeve Jr.  Turner's dominating performance earned him enough points to increase his lead over second place by 140 points in the championship.
Ed Sutcliff was the next driver to earn a victory in Season Two when he found his way to victory lane in RSR's first ever event under the lights.  Held at the Richmond International Raceway, the night race was exciting for both the fans and drivers.  Michael Baley started on the pole and led the field on a blistering pace for the first 45 laps.  Turner began the race in third place, but his plan to overtake Baley by saving tires and forgoing pits stops was thwarted when his car was heavily damaged in a mid-race incident with Husted.  Sutcliff was hungry for a victory and a chance to cut into Turner's point lead, so he opted to drive a very aggressive race.  His effort paid off when he was able to pass Baley on a restart.  Sutcliff managed to lead the remaining 105 laps as he nursed his fading tires around the track.  Eric Porterfield charged through the field on fresh tires to take second place, and was joined on the podium by third place finisher Jeff Thomas.  Sutcliff's victory, combined with Turner's early exit from the event, saw the championship points close up for the first time in weeks.  Turner was leading by 58 points leaving Richmond.
Duplicating Kersey's earlier repeat performance, Sutcliff won back-to-back races when he took the checkers at Mosport in Week Ten.  Turner earned the pole position with a qualifying time of 1:15.042, but his night ended before the green flag flew when electrical problems forced him to miss the starting grid.  His team tried hard to get the point leader back in the race, but their efforts did not pay off.  Kersey inherited the pole position for the start of the race, and then saw his lead evaporate after a spin on Lap Two.  Sutcliff jumped on the opportunity to take the lead, but he and everyone else believed Kersey would quickly recover from his mistake.  Their fears were almost realized as Kersey slowly climbed his way back towards the front before suffering a race-ending accident.  Robinson Shields finished the race in second place, while Jim Albertson earned his first podium of the season with a third place finish.  The championship battle between Sutcliff and Turner grew more exciting as Turner left Mosport with a slim 27 point lead.
Turner's electrical problems appeared to be fixed by the time RSR drivers took to the track for Race Eleven at Brands Hatch.  Kersey was the fastest in qualifying as he and Turner were the only drivers to break the 1:23 mark.  Kersey led all 40 laps of the race and won by remaining calm as the rest of the field was involved in several incidents.  Turner set the tone for the excitement when he spun at Dingle Dell Corner on Lap One.  Like a cat with nine lives, Turner somehow managed to do a 360 without hitting anything and kept touch with the lead pack.  He remained in good position until a gearbox issue later in the race forced him to pit out of second for repairs.  Scott Husted took advantage and crossed the line in second place, followed by third place finisher Jim Albertson.  Albertson gained the spot after a late race incident with Wilbur Gildersleeve Jr., so despite his back-to-back podium finishes, "Gentleman" Albertson decided to park the POW/MIA Mazda for the last race of the season at Lime Rock Park.  Turner's lead in the championship grew to 40 points after his performance at Brands.
Season Two of the RSR 2010 schedule wrapped up with a 55 lap test of endurance at Lime Rock Park.  After watching three different drivers post back-to-back victories in the first 10 events, nobody was surprised when Kersey duplicated the feat to earn his fourth win of the season.
Kersey set the tone at Lime Rock by laying down a qualifying lap time of 46.767.  Turner wasn't far off pace, but had to settle for fourth on the grid after missing the last 15 minutes of qualifying.  Electrical problems reared their ugly head again though, and the point leader was forced to pit for 10 laps while the crew replaced his car's onboard computer.  Sutcliff tried hard to catch Turner in the points, but his third place finish in the race was not enough.  Turner returned to the track and finished in tenth place to ensure he would capture his second consecutive RSR championship.  Turner's final total of 841 points (scored in 8 races), led Sutcliff's by a mere 38 points.
"I was pushed hard this season," said Turner.  "Darren, Ed, Jeff, David, Jim, Wilbur, Andy, Michael, Chad; there was always someone giving me fits every week.  I've got to thank the folks at TeamDraft for all of their support over these past two championship seasons.  Without their help, I'd be watching you guys interviewing someone else right now.
This season is dedicated to my best friend and spotter Koffee, who passed away shortly after the race at Barber Motorsports Park. We had a lot of good times together over the last 10 years and she was right beside me for most of my races.  I am going to miss her a lot."
Asked about his future plans, the talented driver wasn't sure what type of racing he would venture into next.
"RSR has a couple of weeks off," he offered, "so I might test my skills in a few of the other cars iRacing has to offer.  I prefer road course racing, but we also proved this season we can get to Victory Lane on the ovals as well, so we will see where things shake out".
This was Sutcliff's second consecutive season as the bridesmaid in the RSR championship.  He and Turner entered the league at the same time, so he is just happy to have participated with such a talented group of drivers.
"I'm really proud of my finishes this season," he said.  "We averaged over 100 points a race to total 803 this season.  That would have won it last season.
Les simply raised the bar to another level, so we'll have to double our effort next season.  Congratulations to Les on his championship."
Jeff Thomas finished third in the final standings.  His final total of 725 points would also have been enough to win the Season One championship.
"TeamDraft did a lot of work to prepare for this season," he said.  "We had a good car at every track, and we were in position to sweep the podium at most any event.  I'm very happy to finish the season scoring eight top-10, and six top-five finishes."
Thomas was also quick to acknowledge his temmate's dominating season.
"Les was unstoppable this season," he said.  "He practiced hard every week, came to the track as prepared as anyone could have been, and stayed out of trouble to ensure he would finish well.  I'd hate to have seen how many points he would have scored without the ongoing electrical problems in the second half of the season!"
---
You may also like...
---