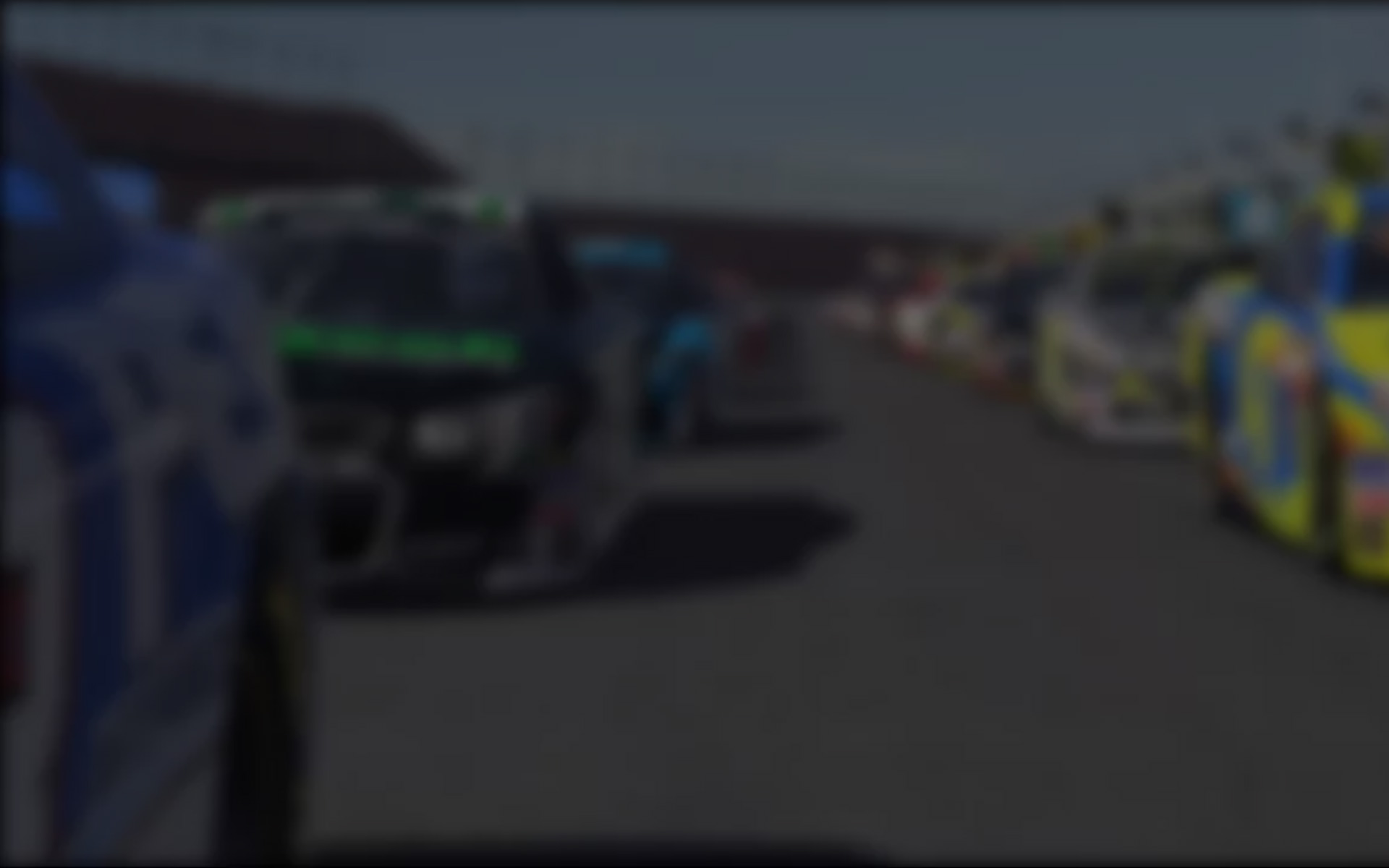 Versão em português abaixo
Halfway to the finish, Brasil Lemans Series had their 3rd race at February 26th. The series has a total of six races for this first season of the year and with three more to go, Zolder was the choosen track for their last one. SuperGT had the biggest field so far, counting 29 registered sim-racers for the one hour race that had 40 laps and eight lead changes between five different drivers.
The race started with one more pole position of Renato Silva, his 3rd consecutive one, dominating the qualifying sessions. Renato, one of the newest members of iRacing among the SuperGT drivers shows a great potential.
By Renato's side, on the 1st row, Alex Belão came on the 2nd place. Andrew Lauret, the winner of Brands Hatch race, started on the 7th place, facing serious problems with his connection to the server. But he would not be the only one.
At the green flag, Andrew Lauret jumped to the front of the pack, but before turn 1 he was betrayed be his connection, disappearing of Zolder. That took him out of the competition, hurting his fight for the championship. Now Andrew needs to wait something unexpected to happen with Renato to have a better chance to come back for the top of the charts.
With Andrew leaving the race early, Alex Belão and Renato Silva started to have a intense battle that didn't took long to make them get away from the rest of the field. Renato got the lead on the start but without any rest on his cockpit, while a persistent and quick Belão was closing in his mirrors. With lap times really close (Alex had only a 0.085s difference for Renato's pole time, 1:26.238s), they did their best times on each new lap. Their pace was like if they were qualifying as them did an almost identical time at lap 13th, when Renato got a 1:27.834s and Belão, 1:27.832s.
The racing for the lead was very close until lap 16th, when Renato came to the pitlane for his 1st stop. Belão sticked on the racing line and stopped on the following lap. Belão did a pitstop 6 seconds faster than Renato, what gave to him the 1st place, leaving Renato behind. But unfortunately for Belão, who haven't good results due incidents involving him, his connection fails for a moment, making his victory chances disappear. Belão had returned after a moment for the server, but he was already one lap behind of Renato, now owning the 21st place. Alex would finish the race only at 15th position.
Anderson Mota, Fernando Santii and Fabio Sakita also were on the lead for a couple of laps. But Sakita seemed to dare with a different strategy. SuperGT series has a limitation on the fuel tanks, which forces the drivers to stop on the pits for refuelling and optionally tires changes, and normally drivers stops two times each race. So Sakita apparently had an strategical upperhand, having stopped only once (at lap 20) until only the last 4 minutes of race.
Sakita, who started 11th, tried to save fuel and did a few driving mistakes that probably took away his chances to a podium finish. Leading for 4 laps with Renato at 2nd place, Fabio had to stop at lap 38, leaving the lead again for Renato. His strategy was not in vain, as he maked to finish at 4th place driving his Mclaren number 30. Closing the top 5, André Fermac, who started 9th.
Reanto wins his 2nd race on the series, having now a good advantage on the points standings and keeping his lead. Interviewed on the end of the race, the 3 top drivers (Renato Silva, Anderson Mota and Fernando Santii) told their impressions of the championship and a few strategy secrets.
Fernando Santii, 3rd place:
iRN: After you had a accident on the 1st race, a 5th place on the 2nd one and now a podium finish, what's your aim for the SuperGT Championship?
FS: There are many fast drivers on this Championship. I'm trying to be consistent, making use of endurance techniques. I'm not as fast as the others so I'm hoping for a top 5.
Anderson Mota, 2nd place:
iRN: You are always having a top 5 finish and now a podium. Do you think that you can come up as the SuperGT Champion?
AM: When I start a new Championship, my focus is always to be among the top 5. We have many strong drivers this seasons, like Renato, Andrew and Belão, so to be able to race them is very good already. My objective is the top 5, but if I make a 3rd place on the standings and win some trophy, will be even better.
Renato Silva, 1st place:
iRN: You came as a surprise (Renato is less than 1 year at iRacing) and now you won your 2nd race and leads the Championship. We would like to know what made you choose the RUF as your car for the SuperGT and how you have been working on yours setup and strategies for the race, to achieve such results.
RS: I Chose the RUF mainly because he is a new car on the service. I don't have a personal preference by it, I like to drive any car, but I'm trying to keep focused on only one. RUF is very pleasurable to drive, it's updated and i've been enjoying it very much. For the strategy, i try to split equally the amount of fuel needed for the pitstops, so I can achieve constant lap times. So far it had worked pretty well, but I'm ready if any McLaren make to do a one stop strategy and get the upperhand. – he laughs.
Watch the full race on the following link: https://www.youtube.com/watch?v=HSRxt51H46c
Renato Silva lidera campeonato da Brasil Lemans Series
Chegando ao meio da sua 2ª temporada e a 1ª do ano, a Brasil Lemans Series realizou no dia 26 de fevereiro sua 3ª etapa, em Zolder. A corrida teve o maior número de inscritos da temporada até este momento, contando 29 inscritos. Foram 40 voltas em 1h de corrida e 8 trocas de liderança, entre 5 diferentes pilotos que estiveram na 1ª posição.
A prova começou com mais uma pole position de Renato Silva, sua 3ª consecutiva. Dominando as sessões classificatórias, Renato, que é um dos mais novos membros do iRacing entre os participantes da categoria, tem mostrado grande potencial.
Ao seu lado, na 1ª fila, Alex Belão largou ao lado de Renato. Andrew Lauret, vencedor da etapa de Brands Hatch, largou em 7º, enfrentando sérios problemas em sua conexão. Mas ele não seria o único.
Na largada, Andrew Lauret pulou para frente do grid mas antes da 1ª curva foi traído por sua conexão, sumindo da pista. Isso o tirou da competição, o que não só prejudicou sua corrida como seu campeonato. Agora Andrew precisa contar com o inesperado da parte de seu rival, Renato, para ter uma nova chance de chegar no topo da tabela.
Com a saída prematura de Andrew, Alex Belão e Renato Silva começaram uma disputa intensa que não demorou muito para distanciar os pilotos do restante do grid. Renato ficou com a liderança no começo da prova mas sem ter qualquer momento de descanso, com um rápido e persistente Alex em seu retrovisor. Com tempos de volta muito próximos (Alex teve uma diferença de apenas 0.085s do tempo de pole de Renato, que marcou 1:26.238s), os pilotos faziam de cada volta as suas melhores da prova. Disputando praticamente em ritmo de qualificação, chegaram a fazer quase um tempo idêntico na 13ª volta, quando Renato virou 1:27.834s e Belão, 1:27.832s.
A briga pela liderança ficou muito próxima até a volta 16, quando Renato entrou no pitlane para sua 1ª parada. Belão seguiu e parou na volta seguinte. Seu tempo de parada, 6 segundos mais rápido, o fez ficar na 1ª posição, deixando Renato para trás. Mas infelizmente para Belão, que não tem conseguido ter bons resultados por ter sido envolvido em acidentes, sofreu uma queda de conexão que acabou com quaisquer chances de continuar brigando pela vitória. Belão conseguiu retornar à pista, mas já com uma volta a menos do que Renato, voltando na 21ª posição. Alex finalizaria a prova no 15º lugar.
Anderson Mota, Fernando Santii e Fabio Sakita também estiveram na ponta durante algumas voltas. Porém, Sakita parecia ousar com uma estratégia diferente dos demais. O campeonato SuperGT, que utiliza de limitação no tanque de combustível para que hajam paradas de reabastecimento e opcionalmente, troca de pneus, forçaria a maioria dos pilotos a optarem por duas paradas para reabastecimento, mas Sakita procurou vantagem estratégica e ficou na pista até os últimos 4 minutos de prova parando apenas uma vez, na volta 20. O piloto, que havia largado na 11ª posição, aparentemente tentou economizar ao máximo seu combustível, mas cometeu alguns erros de pilotagem que provavelmente o tiraram de um possível pódio.
Liderando por 4 voltas com Renato Silva em 2º, Sakita teve de voltar ao pit na volta 38, deixando a liderança novamente para Renato. Mas sua estratégia não foi em vão, conquistando o 4º lugar com o Mclaren 30. Fechando o top 5, André Fermac, que largou da 9ª posição.
Renato venceu sua 2ª prova no campeonato, obtendo grande vantagem na tabela com isso e mantendo sua liderança. Entrevistados ao final da prova, os 3 pilotos do pódio (Renato Silva, Anderson Mota e Fernando Santii) contaram suas impressões sobre o campeonato e alguns segredos de estratégia.
Fernando Santii, 3º colocado:
iRN: Após um acidente na 1ª etapa, um 5º lugar na 2ª  e um pódio na 3ª etapa, qual é a sua meta para o campeonato da SuperGT?
FS: Tem muitos pilotos rápidos no campeonato. Estou tentando ser consistente, aplicando técnicas de provas de Endurance. Não estou tão rápido quanto os outros e almejo um top 5.
Anderson Mota, 2º colocado:
iRN: Você está sempre no top5, agora teve mais um pódio. Você acha que ainda pode ser o campeão da SuperGT?
AM: Sempre que entro em um campeonato meu objetivo é estar entre os 5 primeiros. Tem muitos pilotos fortes nessa temporada, como o Renato, Andrew e o Belão, então estar disputando com eles já é muito bom. Meu objetivo é o top 5, mas se eu conseguir um 3º lugar e ganhar um troféu, será ainda melhor.
Renato Silva, 1º colocado:
iRN: Com sua 2ª vitória, você que veio como uma surpresa (Renato está há apenas quase 1 ano no iRacing) e está liderando o campeonato, gostaria de saber qual foi a razão de ter escolhido o RUF como seu carro para a SuperGT e como você tem trabalhado seu setup e estratégias para a corrida, para ter estes resultados.
RS: Eu escolhi o RUF principalmente por ele ser um carro novo. Não tenho uma preferência pessoal por ele, gosto de andar com qualquer carro, mas estou tentando focar em apenas um. O RUF tem uma tocada muito gostosa, é atualizado e acabei gostando muito dele. Para a estratégia, eu tento ver dividir igualmente o combustível para todas as paradas, para sempre ter um tempo mais constante. Até agora tem dado certo, mas estou preparado para caso alguma McLaren consiga fazer uma estratégia de uma só parada e tenha vantagem nisso (risos).
Confira a corrida na íntegra no link abaixo: https://www.youtube.com/watch?v=HSRxt51H46c
---
You may also like...
---