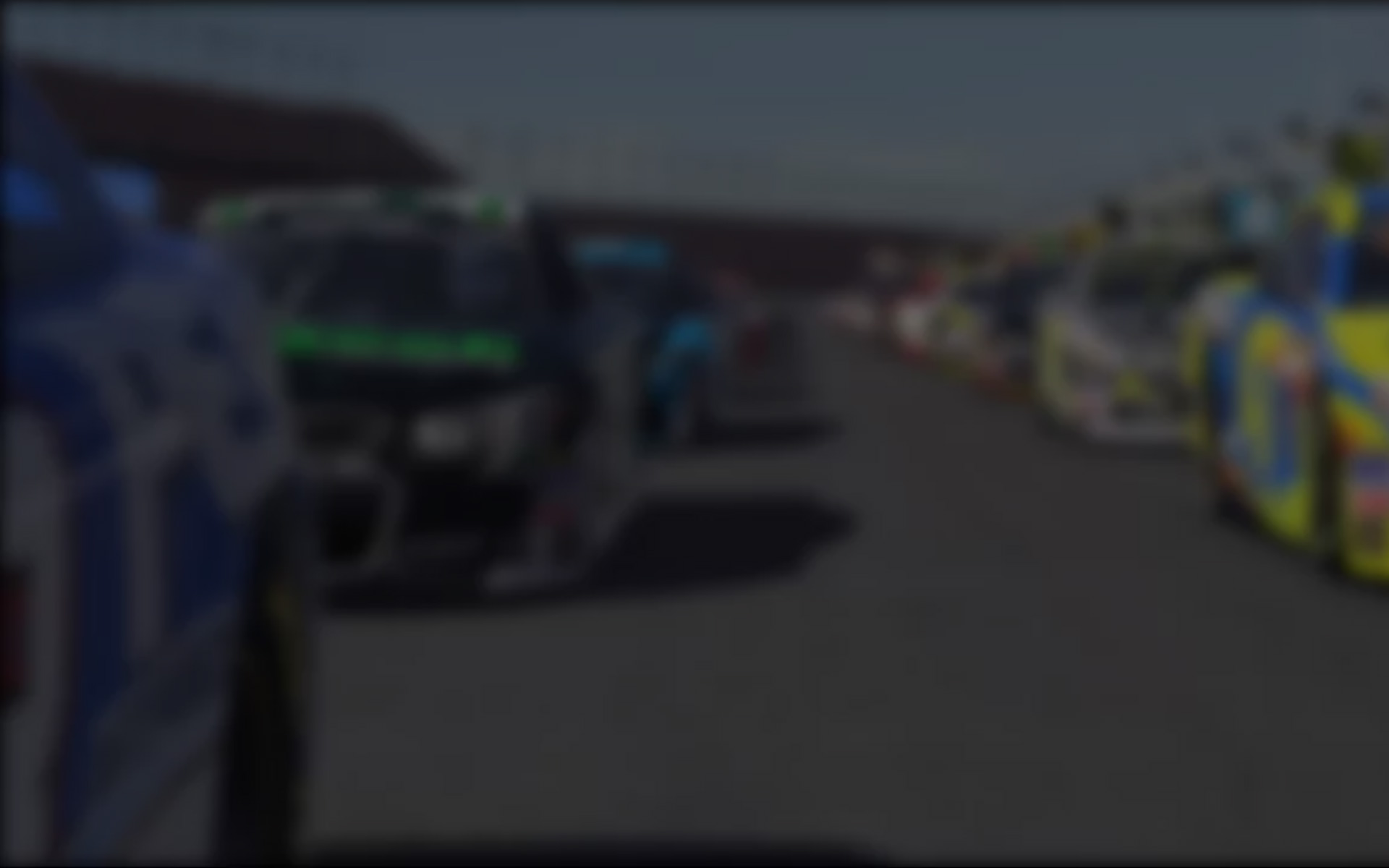 After kissing walls last week at Darlington Raceway, the NASCAR iRacing.com Class A Series (fixed setup) traveled to Rockingham Speedway for Week 3 of the season. Races were set for 50 laps around the famed 1.017 mile oval. Located in North Carolina, NASCAR enthusiasts love Rockingham for its nostalgia; the track held Sprint Cup races from 1965 to 2004, and was known for providing good, hard racing. After an eight-year NASCAR hiatus, the NASCAR Camping World Truck Series returned to "The Rock" in 2012, creating a buzz among fans who were excited to see racing back at Rockingham. Although racing in any higher NASCAR series may not be in its future, iRacers were able to relive the glory days of Rockingham by racing there this past week.
Similar to Darlington, "The Rock" is a line-sensitive track, but it is a bit more forgiving than "The Lady in Black." Drivers enter Turn One low and off the gas as they let the car float up a bit in the center, essentially "diamonding" the corner to get a straight drive off Turn Two. Some drivers would compare Turn Two of Rockingham to Turn Two at Darlington, as they are both quite difficult to navigate for an entire race without clipping the outside wall. For Turn Three, drivers enter low and keep it pinned to the yellow line all the way until the exit of Turn Four.
Qualifying: Nexxus eSports driver Alan J. Elwood (Ohio) was quickest in qualifying with a 22.776 second lap. Eric Hoggarth (Plains) was second best with a 22.786 second lap. The rest of the top five were Jordan Westfall (Canada) at 22.805s, Tom Moustakas (New York) at 22.857s, and Nicholas Goertzen (Canada) at 22.858s.
High SOF Race: The highest strength-of-field (SOF) race of the week was rated at 3036. Former oval Pro driver Tommy Rhyne (Carolina) took the checkers in the caution free event by 2.167s. Rhyne led the final 32 laps en route to his win and 189 championship points. Robin Williams (Virginias) started from the pole and led the first 18 laps, but couldn't hold off Rhyne; Williams came home second. Keith Elliott (Canada) finished third, followed by Ricky Hardin (Carolina) and Thomas J. George (Virginias).
inRacingNews caught up with Tommy Rhyne to ask him about his successful week.
iRN: What do you like most about Rockingham?
TR: Rockingham is a driver's track, and you have to understand where you have to put the car to be fast.
iRN: What types of skills does a driver need to drive well at Rockingham?
TR: You're going to need really good car control; after just a few laps your tires are gone and you gotta have real patience getting back to full throttle.
iRN: Are you running for points this season in the Class A Fixed series? If so, do you think you have a chance at winning the overall title?
TR: I'm not taking points seriously, so I just run it for fun. I don't track other drivers around me or choose which races to get in based on points.
iRN: Which tracks are you most looking forward to on the upcoming schedule?
TR: Looking forward to any track that lets the driver make his own luck!
Points Update: Like last week, the winner of the high-SOF race went on to claim top championship points for the week; Rhyne's 189 points topped the charts for the week. Mike Daniel (Texas) finished second in points for the week with 186 points after claiming a win in his only start of the week. Williams (176 points), Elliott (163 points), and Jason Patterson (Midwest; 162 points) rounded out the top five points-getters for the week. Rhyne's big week also vaulted him to 2nd overall in the standings, just behind new overall leader Cullen Brown (Texas).
Division Points Leaders (After 3 of 12 Weeks):
Division 1: Cullen Brown (Texas)
Division 2: Thomas J. George (Virginias)
Division 3: David Clymer (California)
Division 4: Joshua Hanner (Carolina)
Division 5: Arthur Pelchat (Florida)
Division 6: Cody Lipstreuer (Midwest)
Division 7: Thomas Beane2 (Carolina)
Division 8: Thomas Hines Jr. (Ohio)
Division 9: Nicholas Winzurk (Georgia)
Division 10: Mike Burnell (Midwest)
By the Numbers: In all, 342 different sim-racers challenged the bumpy Rockingham Speedway racing surface. Two new point leaders in their respective divisions, Thomas J. George (Div. 2) and Nicholas Winzurk (Div. 9), tied for the most starts this week with eight.
Next on the Schedule: This coming week, the NiCAS (fixed setup) will travel "home" to Charlotte Motor Speedway, nestled in the heart of NASCAR country, for 50-lap races under the lights.
---
You may also like...
---