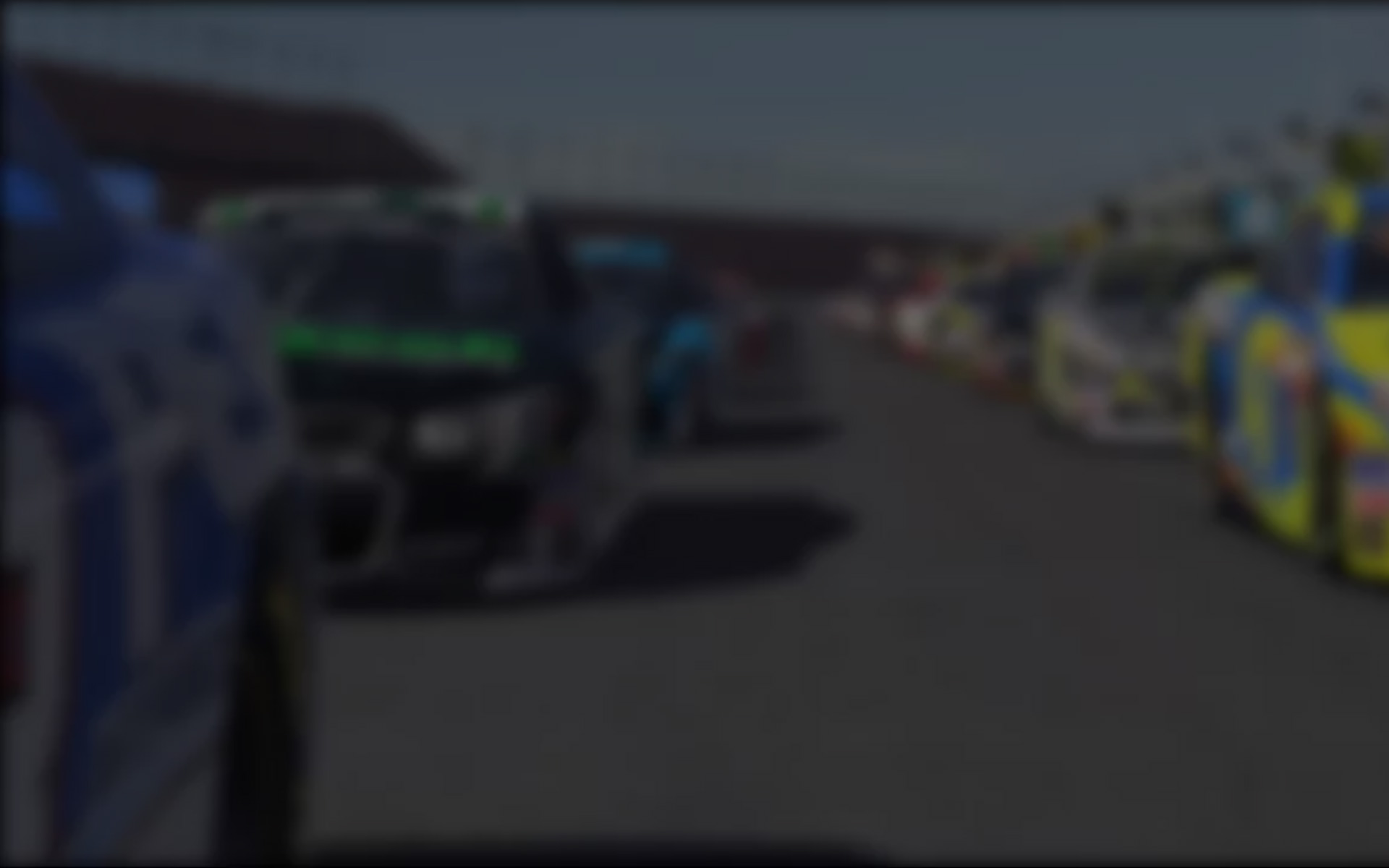 Portuguese translation below
After a great first week, Classic Lotus Grand Prix kept rolling on a high note. Road Atlanta, site of the second week of sim racing, had 11 official races, two less than Silverstone, and 10 different winners. Kalle Ruokola, Jean-Francois Boscus, Michel Dudognon, Sean Wiltshire, Gernot Fritsche, David Wormald, Mattias Anreus, Henri Salminen and Gabriel Linden Amaral, won races that preceded Sunday's main event with Henri Salminen the only repeat winner.
The sim racers' main challenge at Road Atlanta was to keep the classic Lotus 79 away from the majority, if not all, curbs of the track. Depending on how the car was set up, any careless move approaching the edge of each corner could cause a loss of control on the car and the sim racer would have to deal with the consequences. Given the track's bumpy surface, the ground-effects cars could also suffer damage to the sidepods during the race, depending on their ride height settings. This could take a bit of the straight speed, but would not be a problem when cornering.
"Everything went as well as I could hope, although I had a couple of scary moments with all that traffic around." – Tapani Linnaluoto
Sunday's main SOF race filled all the spots at Road Atlanta. A total of 42 participants were registered for the event that went-off without any additional splits. The large number of cars on the short road course where the average lap was of 1:14.0 (for not so fast simracers) caused lots of  traffic during the 38 lap race, creating situations were the leader would be lapping a car that was in the process of  lapping another car. Some lapped racers would let the leaders go by, making overtaking easier; and others posed more of a challenge, as drivers opted to take corners side-by-side rather than yield to the faster car.
Tapani Linnaluoto (Mario Deliotti Racing) captured the pole position, his first one on a Sunday SoF race of this season. The Finn shared the front row with Fritsche (Lotus JPS). The second row featured Dudognon (Walter Wolf Racing) and Anreus, followed by Nuno Moreira (Lotus JPS) and Ruokola (Godfrey Bilton) on Row Three.
During the first lap, David Wormald (Arrows), who started in seventh place, overtook Ruokola who had to close the door for Arto Ihamäki (Ferrari) on the beginning of the back straight to not fall for the eighth place.  That put Ihamäki with two wheels on the grass, losing speed and making it easier for Marcel Penzkofer (Automobiles Martini) to get closer and overtake in a skilled, side-by-side move in the Chicane.  This was a part of a recovery for Penzkofer, who had suffered a bump from Andre Heggheim (Team Tissot Ensign) in The Esses.   Heggheim damaged his front wing as a result, costing him straight-line speed and losing his position to Jean-Francois Boscus (Lotus JPS) as a result. Heggheim had enjoyed a good start, going from 15th to ninth, but this contact with Penzkofer had placed him at a disadvantage, and now he fell down to 11th place.
Heggheim's situation would go from bad to worse on the second lap as he slipped down the order to P17.   Then, on Lap Five, the Team Tissot Ensign driver left the track after contact with Jesus Pasillas (Walter Wolf Racing), also on the chicane, while defending 19th place. Pasillas, who had started 23rd, would end-up retiring from the race 10 laps later while chasing of John Hill (Tyrrell) for 18th spot. Pasillas made a mistake coming on to the the start/finish straight, as he got his right front wheel on the inside curb at the last corner, lost control and crashed into the pit wall.
Hill, who had started on this same 18th position, was on a recovery race after a poor start that saw him fall five spots before Turn One. His team mate, Thiago Izequiel, now was defending his 12th place from the determined Gregor Thomson (Godfrey Bilton), followed by Klaus Petersen (JC Racing). The three man fight would end on Lap 17, when Izequiel encountered the lapped car of Carl Sampson who suddenly slowed exiting the Chicane, forcing the Tyrrell driver to brake hard to avoid a crash. Thomson and Petersen both dodged the situation, each gaining a place in the process.
As Lap 21 concluded, a leading Linnaluoto was followed by Dudognon, already distant and posing little threat to the leader.  Instead, Dudogon was occupied with a closely-following Fritsche, who needed to get even closer to overtake. Fritsche, in turn, had to worry about Anreus, whose Lotus JPS was threatening his third place while Moreira (P5) was also in the mix.  Further behind, Wormald had to defend sixth place from Arto Ihamäki's Ferrari together with Penzkofer. This was the highlight of that moment, as Penzkofer showed Ihamäki that he wanted to overtake in Turn One, but decided to wait for a safer moment and tucked-in behind the Ferrari.  Later on that same lap, Penzkofer would lose contact with Ihamäki as they lapped the Lotus 79 of Lee Dye (P35) in the Chicane.
Soon after, on Lap 23, Penzkofer missed his braking point after the uphill and was forced to go through the Esses on the un-used part of the road, employing it as de-facto escape zone. Boscus took advantage of this moment to advance one position, leaving Penzkofer ninth  . . . before he had trouble again at the Chicane, falling to 11th before recovering for a 10th place finish.
Linnaluoto thus won at Road Atlanta after leading 38 laps, with Dudognon coming home second six seconds behind but ahead of Fritsche, Moreira and Mattias.  Wormald (P6) and John Hill (P16) finished the race without incidents, while Armando Edwards was the "climber" of the race, coming from a 38th place start to a P19 at the checkered flag.
For Linnaluoto, who is making his return to the CTC after two seasons, it's not news to win a Classic Lotus Grand Prix race. The driver had already participated for a full season (2013 Season 4), achieving 11 victories from the 25 races he started and earning third place in the championship standings.
"As the car got new tyres, being away for a few seasons didn't feel like a disadvantage."  Linnaluoto said. "I didn't need to adjust to changes, (instead) had a clean plate to start from scratch. First week in Silverstone was spent with setup work and familiarizing myself with the car and I didn't quite get the qualifying I wanted, but I had the race pace – unfortunately compromised by track position. In Road Atlanta I managed to build a reliable setup I could drive with confidence and everything went as well as I could hope, although I had a couple of scary moments with all that traffic around. I try to challenge (for) the championship for sure, feeder team or not, but it's a long season and the differences among the top drivers are small and change from one race to the next. It's going to be an interesting season! "
This week, the ground-effect cars head to Texas for their second visit to the Circuit of the Americas. The CoTA was introduced to the series last season, when it first became available on iRacing and it brought a host of new challenges for the drivers. What will we see next Sunday? Linnaluoto winning for the second time in a row? Dudognon taking his first win of the young season? Or again, are we going to be surprised like last week?
Stay tuned for next week, with another review from the CTC.
Versão em Português
O Classic Lotus Grand Prix, após uma ótima semana inaugural, continua em alta. A semana de Road Atlanta, segunda do campeonato, contou com 11 corridas oficias – Duas à menos do que em Silverstone. No total, foram 10 vencedores diferentes: Kalle Ruokola, Jean-Francois Boscus, Michel Dudognon, Sean Wiltshire, Gernot Fritsche, David Wormald, Mattias Anreus, Henri Salminen e Gabriel Linden Amaral, venceram em etapas que precederam a corrida principal de domingo. Henri Salminen foi o único a vencer duas vezes.
O grande desafio de Road Atlanta foi manter o clássico monoposto longe da maioria, senão todas, as zebras do circuito. Dependendo do acerto do carro, qualquer descuido nos limites de cada curva poderiam causar uma perca de controle do carro e o piloto arcaria com um prejuízo razoável, devido o curto tempo de volta. A pista, que oferece muitas alterações de relevo e é repleta de ondulações, também poderia danificar as laterais do Lotus caso ele estivesse muito próximo do solo, ao longo da corrida. Isso poderia prejudicar um pouco a velocidade, mas não prejudicaria nas curvas.
No domingo, a corrida principal lotou Road Atlanta. Foram 42 participantes que estiveram no único split da tradicional corrida SOF. O alto número de carros no curto traçado onde a média de volta era de 1:14.0 (para pilotos intermediários) causou muito tráfego durante as 38 voltas da prova, criando situações onde o piloto líder dava uma volta em quem estava dando volta em outro carro. Alguns retardatários optaram por facilitar a passagem de quem vinha no giro atual, outros dividiam as curvas, como se estivessem competindo por posições imediatas.
A pole position ficou por conta de Tapani Linnaluoto (Mario Deliotti Racing), que conseguiu sua primeira pole da temporada em um domingo. O Finlandês teve ao seu lado, Gernot Fritsche (Lotus JPS), na 1ª fila. Na 2ª fila, Michel Dudognon (Water Wolf Racing) e Mattias Anreus, seguidos por Nuno Moreira (Lotus JPS) em 5º e Kalle Ruokola (Godfrey Bilton) em 6º. Durante a 1ª volta, David Wormald (Arrows), que largou em 7º, ultrapassou Ruokola enquanto a situação à frente não viu mudanças. Kalle teve que fechar a porta para Arto Ihamäki (Ferrari) na entrada da reta oposta para não cair para 8º, deixando Arto com duas rodas na grama, perdendo velocidade e facilitando a aproximação de Marcel Penzkofer (Automobiles Martini), que chegou na entrada da chicane dividindo a pista com Arto e ultrapassou o piloto da Ferrari em uma ousada manobra, por fora, subindo uma posição. Um alívio para Marcel, que havia levado um toque por trás na descida dos esses, de Andre Heggheim (Team Tissot Ensign), que teve sua asa dianteira danificada com isso e também perdeu velocidade na reta, sendo ultrapassado por Jean-Francois Boscus (Lotus JPS). Andre havia feito uma boa largada, subindo de 15º para 9º, passando por Jean na largada, mas o toque acabou prejudicando sua volta inaugural e agora ele era o 11º.
A situação de Andre pioraria na 2ª volta, caindo para 17º. Na 5ª volta, o piloto da Team Tissot Ensign deixaria a prova após contato com Jesus Pasillas (Water Wolf Racing), na chicane, enquanto defendia sua 19ª colocação. Jesus, que havia largado da 23ª colocação, acabaria deixando a prova também, 10 voltas mais tarde, quando o piloto perseguia John Hill (Tyrrell) pela 18ª colocação. Pasillas acabou por pegar a perigosa zebra de dentro da entrada da reta principal, perdendo o controle de seu carro e chocando-se com o muro dos pits.
John, que havia largado nessa mesma posição, recuperava o prejuízo que teve logo na largada. Com uma saída lenta, o veterano da Tyrrell caiu 5 posições antes da primeira curva. Seu companheiro de equipe, Thiago Izequiel, defendia sua 12ª colocação do incansável Gregor Thomson, seguido de Klaus Petersen. O trio só seria desfeito na 17ª volta, quando Izequiel encontrou Carl Sampson uma volta atrás, na 29ª posição, desacelerando subitamente seu carro na saída da chicane, forçando o piloto da Tyrrell à frear para evitar uma batida. Gregor e Klaus o ultrapassaram nesse momento, subindo uma posição cada.
Voltando à liderança, Tapani completava a 20ª volta como líder, agora seguido de Michel Dudognon, já distante e sem oferecer ameaças. A disputa de Michel agora era com Gernot, que o acompanhava mais de perto, mas ainda precisando se aproximar mais para uma ultrapassagem. Mas neste momento, Gernot estava com Mattias Anreus muito próximo de sua Lotus JPS, vindo para brigar pelo 3º lugar. Nuno estava também por perto, em 5º. David Wormald, o 6º colocado no momento, já vinha distante, preocupando-se com Arto, na sua Ferrari que ocupava o 7º lugar. Somado de Marcel, em 8º, essa era a briga do momento. Marcel mostrou que queria ultrapassar Arto na curva 1, mas sem ter a posição ideal, o movimento seria arriscado e este optou por recolher novamente para trás da Ferrari. Ainda nessa volta, Marcel perderia proximidade com Arto, ao chegarem no retardatário (Lee Dye, 35º colocado) na chicane.
Logo depois, na 23ª volta, Marcel perderia a freada após a subida da colina e seria forçado a descer os esses pelo traçado não utilizado na prova, servindo como área de escape. Jean-Francois aproveitou este momento para subir mais uma posição, deixando Marcel em 9º, que após um novo erro na chicane, cairia para 11º, mas acabaria terminando a prova em 10º.
Ao final da prova, Tapani vence com uma liderança intocada, com 38 voltas completadas sem sair da 1ª posição. Michel Dudognon terminou em 2º, seis segundos atrás de Tapani. Gernot ficou em 3º, com Nuno em 4º e Mattias em 5º. David Wormald, o 6º colocado, e John Hill (16º) fecharam a prova sem incidentes. Armando Edwards, que fechou em 19º, subiu 19 posições desde a largada, sendo o piloto que mais escalou o grid na prova.
Para Tapani, que retorna ao CTC após duas temporadas, não é novidade vencer nesta categoria. O piloto já havia participado em 2013 e em sua última temporada completa, colecionou 11 vitórias das 25 provas que disputou e um 3º lugar na pontuação do campeonato.
Entrevistado, Tapani disse:
"Com os novos pneus para o carro nesta temporada, ter ficado longe por algumas temporadas não me pareceu uma desvantagem. Eu não precisei me adaptar à mudanças e tinha uma folha em branco para começar do zero. A primeira semana em Silverstone foi gasta no trabalho com o acerto e me familiarizando com o carro. Eu não consegui me qualificar como queria, mas tinha bom ritmo de corrida – que foi comprometido pela minha posição na pista. Em Road Atlanta eu consegui deixar o acerto do carro confiável e pude pilotar confiante, tudo aconteceu bem como eu esperava, embora eu tenha tido alguns momentos assustadores com o tráfego na pista. Eu vou tentar brigar pelo campeonato com certeza, em uma equipe B ou não, mas é uma longa temporada e as diferenças entre os pilotos da ponta são pequenas e mudam de uma corrida para outra. Será interessante!"
Esta semana os carros de efeito-solo estão em COTA, pela 2ª vez até então. O Circuito das Américas foi introduzido na categoria na temporada passada, quando lançado no serviço e trouxe muitos desafios para os pilotos. O que veremos no próximo domingo? Tapani vencendo novamente? Michel conquistando o topo no traçado americano? Ou teremos uma surpresa como essa semana?
Fique ligado para a semana que vem, com mais uma matéria sobre o CTC.
---
You may also like...
---