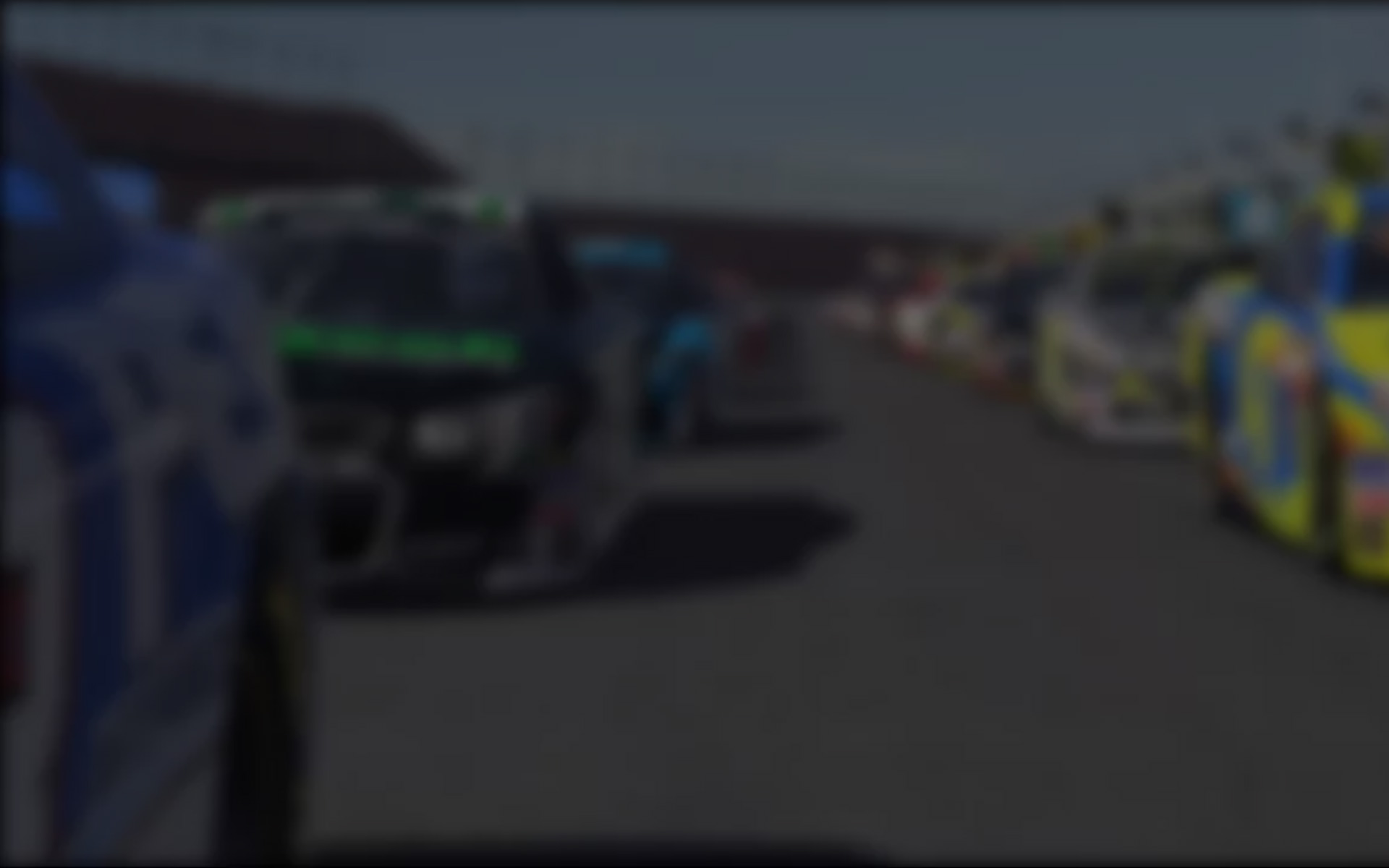 Week Eight of the NASCAR iRacing.com National Series visited the sand dunes of North Carolina. More specifically, Rockingham Speedway. The legendary one mile D-shaped oval consists of four turns with 22 and 25 degrees of banking and straightaways of eight degrees of banking. Though out of the regular NASCAR series rotation in the top tier series, the track has been consistently used by the NASCAR K&N Pro Series and more recently has been adopted into the NASCAR Camping World Truck Series. With the NASCAR K&N Pro Series visiting The Rock with frequency, it would only seem natural for sim-racers to have the opportunity to do the same from the comfort of their homes via iRacing's online system.
This week's 2873 Strength of Field race saw EJ ORourke lead the field to green. ORourke had the handle on the field leading 26 of the 40 laps and posted the fastest lap time of the race at 23.651s. However, ORourke was unable to capture victory as Spangler and Brundies passed him to battle for the lead in the latter stages of the race, with Spangler leading 14 laps en route to a .273s win over Brundies.  ORourke was forced to settle for third position 2.606 seconds behind the winner with Don Stephenson an additional .258s back.   From there the gaps widened substantially with Crunkelton fifth, nearly five seconds behind Spangler's victorious Chevy. Daniel Michler, Travis Braden, Robert Giannini, John Sullivan, Shawn Jolley, and Allen Schroll Jr. also managed to finish on the lead lap.  Meawhile, Russ Ivey, Alfred Terra, Jonathon Tracey, and Andrew Nausley finished a lap or more behind with Daniel Hanniford the only DNF. The competitive pace of the top five was evident with average lap times only separated by a single tenth from first to fifth position. Congratulations to Matt Spangler for his SoF victory.
As for the week's standings, Eric Brundies took the top spot with 170 points. Brundies started in seven races, winning five of them with only one other top five finish as well as a finish outside of the top five. Brundies managed six pole positions and in the course of completing his 280 laps he was able to lead 220. Just behind was Dalton Tucker with 165 championship points. Tucker made just two starts, winning one, and captured one pole position start as well. In 78 completed laps Tucker managed to lead 40. Rounding-out the podium in third position was Spangler with eight starts and six wins. Spangler only had one race outside the top five and captured four poles, while managing to lead 211 of 319 completed laps and leaving Rockingham with 160 championship points in his hauler.
In the overall points championship Stephenson leads with 1020 points while Josh Crunkelton is second with 915 points, one more than CP Allen. Austin Ogonoski follows in fourth position with 841 points while Teddy Gibala rounds-out the top five with 839 points. This marks another week that Stephenson is able to enlarge his point's differential on his competitors, as he captured 143 points at The Rock while Cunkelton only took home a total of 128 points. Stephenson looks pretty set in the first position, but will Allen and Crunkelton clash for the second podium spot or will they ride it out as is?
From Rockingham the National Series regulars head waaay up north to race "Down East" at Oxford Plains.  Be sure and check back next week for the latest developments on the NiNS front
---
You may also like...
---