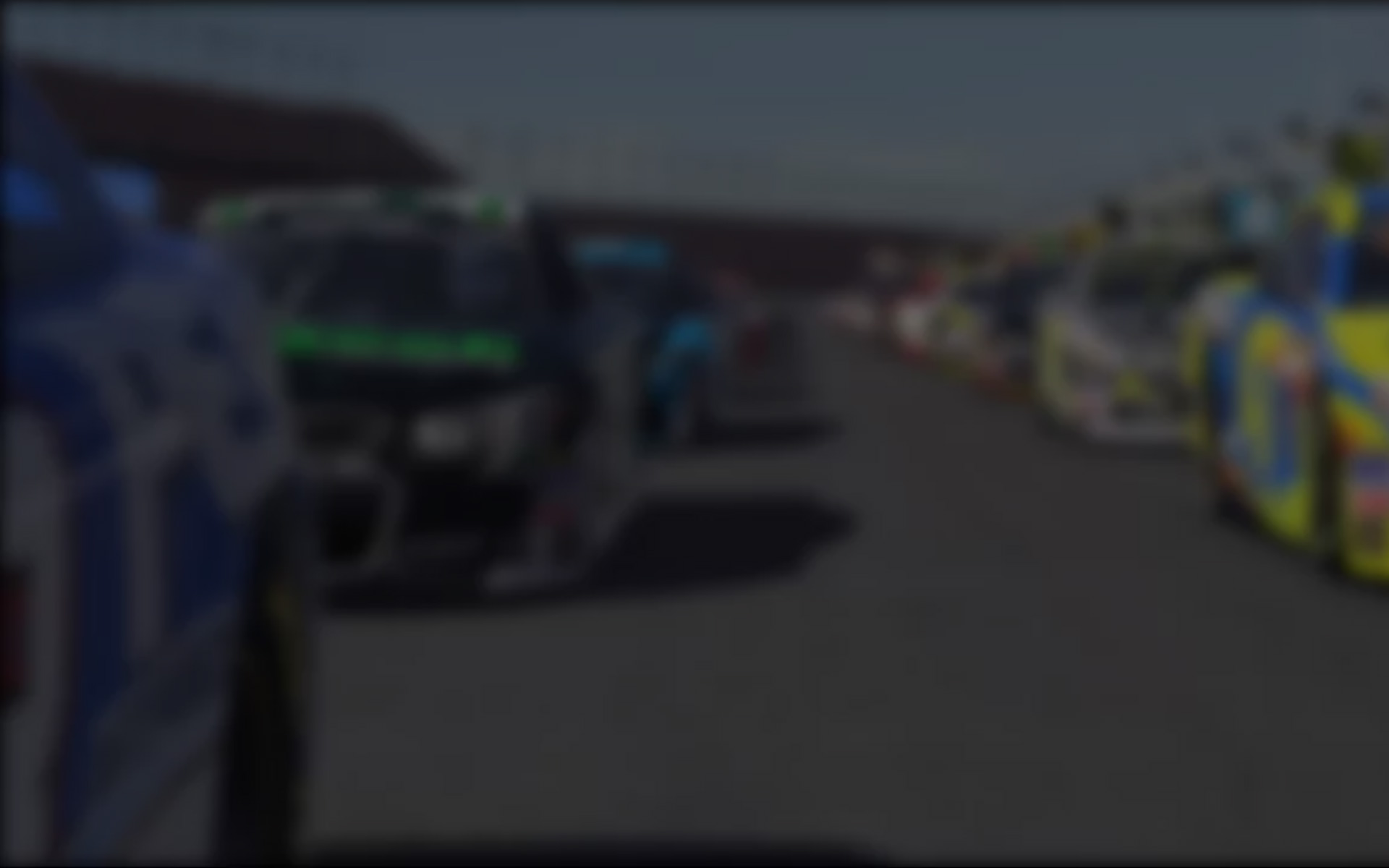 After joining the Red Sox Racing League at the start of its third season of the 2011 calendar, Brad Vincent quickly put veteran league members on notice that he was going to be a force to be reckoned with.  The RSR 2011 Season Three schedule called for twelve races between Sept 15th, 2011 and December 8th, 2011.  Championship points were accumulated throughout the season, but drivers were only scored in their best 10 of 12 events.  The two race cushion allows league members to recover from poor finishes or missed races, but Vincent didn't need the help.  He completely dominated the competition by winning seven races, including the first and last races of the season.
    
The last race of the season, the "Toboggan Des Ardennes F1 GP at Spa", was held at the Circuit de Spa-Francorchamps in Belgium.  Featuring 19 corners along a 4.35 mile layout, the track is full of elevation changes and challenging sections.  Visually stunning, fans and drivers alike often describe the course as the most beautiful place on earth to watch a race.  Vincent earned his league leading ninth pole of the season by posting an incredible lap time of 1:50.136.  Brian Irby (1:50.829) and defending league champion Les Turner (1:50.848) were the only other drivers to post sub-1:51 laps as they earned the 2nd and 3rd grid positions.  Corey A. Wolf, Jim Albertson, John Koscielniak, Jeff Thomas, Andrew Feldman, Terry Daul, Divina Galica, William Kabela, and Ed Sutcliff completed the grid.
 
Feldman entered the race in a tight battle for position in the championship race.  Having been knocked out of the previous race in a last lap incident with Jeff Thomas, Feldman took great care to get himself and his car through the practice and qualifying sessions at Spa.  His strategy appeared to be working, but things went wrong in Turn One on the start and ruined his plans.  At first it looked like he might escape damage when his right rear tire tangled with the left front of Thomas' car, but his car's momentum pushed Feldman into the inside wall with such force that his car was heavily damaged.  Andy retired from the race and ate hotdogs with Wilbur Gildersleeve, Jr. after his crew refused to repair his AppLogic Williams-Toyota.  "Wilbur is a rock star in these parts, so I had more fun with him anyway", said Feldman after the race.
    
Thomas escaped the early incident without having to pit for repairs, but he and the rest of the drivers who slowed for the accident were way behind the lead pack by the time they got back up to race speed.  Irby lost his chance to challenge Vincent for the win when he went wide in Turn One and allowed Turner to take over the 2nd spot.  Forced to play catch up, Brian made a critical error and dropped from 3rd to last place on Lap Two.  After cutting Eau Rouge at the top of the hill, Brian had to go off line and serve a slowdown penalty on Kemmel Straight before over accelerating into the entry of Les Combes.  Hopelessly out of control, Irby's car slid through the grass, across the track surface and into the sand before plowing into the outside wall.  The entire field passed before Irby could return to the track.  Brian never recovered from the incident and eventually retired after Lap Thirteen.
Vincent led the field through the first lap at a relatively safe manner before he began testing their ability to stay with him.  He posted the fastest lap of the race, 1:50.737, on Lap Four to determine who was going to challenge him.  Seeing no takers, Vincent began clicking off consistent laps on his way to an impressive 19 second margin of victory of Turner.
Turner took advantage of the early opportunity and moved into 2nd when Irby went wide in Turn One on the start.   Wolf challenged him early, but Turner held his focus long enough to separate himself from the competition and secure his sixth 2nd place finish of the season.  "We knew catching Brad wasn't in the cards tonight unless he made a mistake", said Turner after the race.  "I've certainly been the league's bridesmaid in Season Three, so I guess it was fitting I finished 2nd again tonight."
Wolf gave it everything he had during his duel with Turner, but he was forced to settle for a third place finish.  He spent most of the race working hard to stay in front of Albertson.  The podium finish was Wolf's 7th top-5 of the season.  "We had a great battle with Jim right from the start and throughout the race.  I was never able to pull away from him, and he began closing the small gap as the race wound down.  Thankfully the checkered flag flew when it did.  All in all it was a great rookie season for me.  Big thanks to all of the RSR bosses."
     
Albertson crossed the line one second behind Wolf to earn his 8th top-5 finish of the season.  "This has been another fantastic season at RSR.  Tonight's race was tight all night.  I only managed to qualify in 5th because of the strength of this field, and then I lost a position early when I had to slow down at the start.  Corey and I had a great battle all race.  We both pitted on the same lap, but he had a great stop and I couldn't gain anything on him during the pit cycle.  I'd like to congratulate Brad on the win and the championship.  He is a tremendous young driver.  The Redhead and I want to wish him the best as he moves upward and onward.  I'd also like to thank our league officials, Les and Jeff, for giving us the tools to have an outstanding year in the Williams F1 car.  Jeff does an amazing job on the race videos, and the recaps Ed and Les produce each week are always fun to read.  Finally, I would like to give a sharp salute to all of the drivers in RSR.  The friendships made off the track, and the courtesy on the track, is much appreciated."
Koscielniak (5th), Daul (6th), Sutcliff (7th), Galica (8th), Thomas (9th), and Kabela (10th), all finished on the lead lap.  Irby's early exit put him seven laps down in 11th place, while Feldman's Turn One exit meant a last place finish.
 
Turner, Daul, Sutcliff, and Kabela completed the race without collecting a single incident penalty.
Twenty-six members of the RSR league competed in Season Three, but Vincent's mastery of the FW31 car and tracks earned him an impressive 146 point margin of victory after the final league championship race.  With nine poles, seven victories, one second place finish, and two third place finishes, Vincent finished the season with an impressive finishing average of 2.3.  He led 68.3% of the laps he completed.
Turner finished in second place in the overall standings with one win, six second place finishes, and one third place finish for 8 trips to the podium.  He had nine top-5 finishes, eleven top-10 finishes, and a finishing average of 4.2.
Albertson finished the season in third place in the overall standings after posting nine top-5 finishes, eleven top-10 finishes and an average finishing position of 5.6.
Wolf (4th), Koscielniak (5th), Sutcliff (6th), Daul (7th), Feldman (8th), Kabela (9th), and Thomas (10th), rounded out the final top ten positions in the championship battle.
Besides Vincent and Turner, three other drivers won events during the season. Irby won at Watkins Glen; Wolf won at Zandvoort; and Christine Marie Tillman won back to back races at Sebring and Road America. 
Of the drivers who completed at least eight races, Kabela and Sutcliff finished the season tied for the least number of incidents with seven apiece.  Kabela edged Sutcliff out in the final calculations for incidents per race at 0.6 to 0.7 because he had one more start during the season.
TeamDraft (Jeff Thomas and Les Turner), won the season team points race by 77 points over Storm Front Racing (John Koscielniak and Terry Daul).  BPS Motorsports (Jeff Sharp and Jim Albertson) finished in third place.  Amplified Motorsports (Brad Vincent and Matt White) finished in fourth place despite the fact White only started two races.  Hacked Domain Racing (Mark Plank and Terry McCuin) finished in fifth place.
Grand Prix Series Overall Final Standings after Race 12:
http://www.ileaguerace.com/champ/show_champ/Red-Sox-Racing-League/187
RASCARR Series Overall Final Standings after Race 12:
http://www.ileaguerace.com/champ/show_champ/Red-Sox-Racing-League/194
RSR YouTube Video Channel:
http://www.youtube.com/user/draftin11
---
You may also like...
---