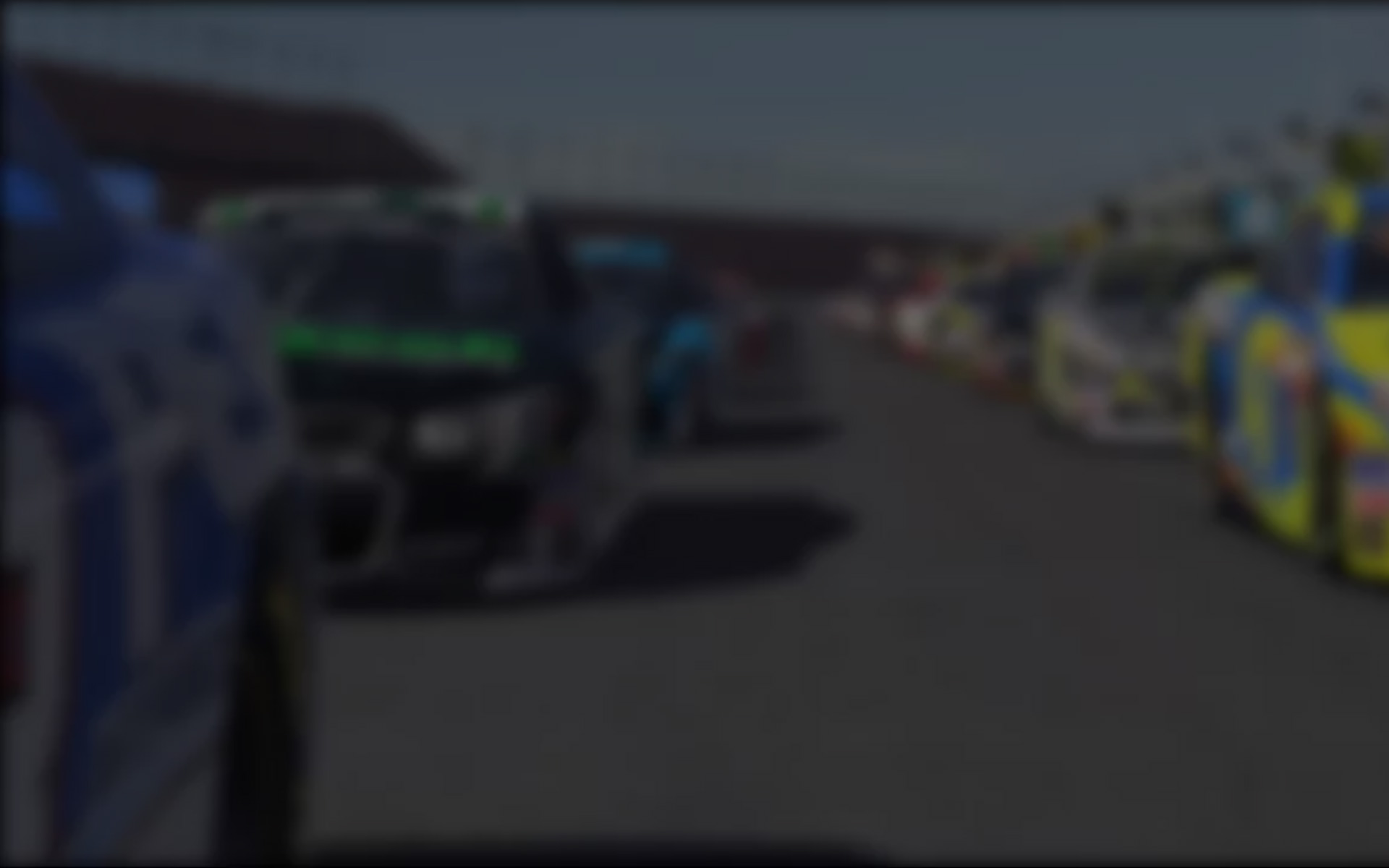 Round 11 of the iRacing.com V8 Supercar Series headed to Lime Rock Park for the first time in a few years. The championship had a new leader coming into New England with Madison Down leading Justin Ruggier by 44 points with Joshua Muggleton still in the hunt just a few points behind Ruggier.
Ruggier couldn't have started from a better position for the main online race, as he posted the fastest time in the final qualifying session relegating Shaun Kelly to second. Rens Broekman and Brad Ryan would start from the second row while Joshua Muggleton was meant to start from the fifth position but a storm in the early race fried something in his computer putting an end championship hopes. Muggleton's absence moved Jon Latham and Troy Cox onto the third row with Down starting from the fourth row alongside Matthew Hill, and Mitchell McLeod and Sean Maher rounding-out the top 10 starters.
Ruggier took full control at the green lights, with Broekman getting the jump into second position behind him. Kelly got a shocker of a start and dropped from second back into fourth by Turn One (aka Big Bend).  At that he fared better than Latham, who snatched the wrong gear going into Turn Three, pitching his Ford Falcon into a spin.  Latham's antics forced Down to take to the grass to avoid contact and dropping two spots to eighth as Latham fell to the back of the field.
Going into Big Bend on Lap Two, Michele Curina got into the back of Luke Graham sending him around.  Four laps later, Cox become the first retirement when he selected the wrong cog going into Big Bend and blew his engine as a result.
Back up front it was Ruggier leading with Broekman starting to push the pace.  The Dutchman closed the gap to within half a second while, back in third, Ryan was within two seconds of the leaders and had no intentions of letting them get too far away.   Lap 11 saw Down go down the inside of Hill into Big Bend to move himself back into the top five. As the laps ticked by it was Ruggier holding a steady gap over Broekman  while the battle for third was heating up between the two V8 Supercar Fan Group Fords of Ryan and Kelly with Down in a world of his own in fifth place some five seconds off the leaders.
Further back, McLeod was chasing-down Corey Henger for seventh place.  McLeod came up over the hill through Turn Five on Lap 28, however, the Tatts.com Ford become really unstable and fired McLeod straight into the outside wall, ending his race with some heavy rear end damage. A very similar scenario unfolded a lap later when Jason Brunton lost control coming up over the hill through Turn Five.   After trying to save it for a few seconds he fully lost control and headed straight into the outside wall.  Unfortunately, a following Maher had nowhere to go but straight into the side of Brunton, ending both of their races.
In the final stages of the race the battle for third was still very much alive but it would end coming into Big Bend when Ryan's strong race ended in the first turn with a blown motor.  Ryan's DNF handed third place to Kelly with Down and Hill promoted to fourth and fifth, respectively.
Back up front there were no such last minute position changes as Ruggier held Broekman at bay all race long to score a much-needed victory and keep his championship chances alive heading into the final round at Suzuka next week.  While Broekman settled for second place, Shaun Kelly earned his first ever podium finish. Down came home in fourth place and heads to the final round with a 26 point lead in the championship lead.
Hill completed a nice run in fifth ahead of Corey Henger with Leigh Ellis just behind in seventh place. Rounding-out the top 10, we had Michael Fabian in eighth, Robert Hartley in ninth and Marlon McMullen in tenth, having moved-up smartly from 19th on the grid.
Top Five Drivers – Championship Points – Overall
1.    Madison Down  – 1999
2.    Justin Ruggier  – 1973
3.    Joshua Muggleton–1948
4.    Vail Riches – 1847
5.    John Emerson – 1779
Split Two Winner: Adrian Stratford
Split Three Winner: Todd Parkes
Split Four Winner: Andrew Wallace
Split Five Winner: Joshua Burdon
Broadcast done by the crew at www.v8sonline.com.au
---
You may also like...
---