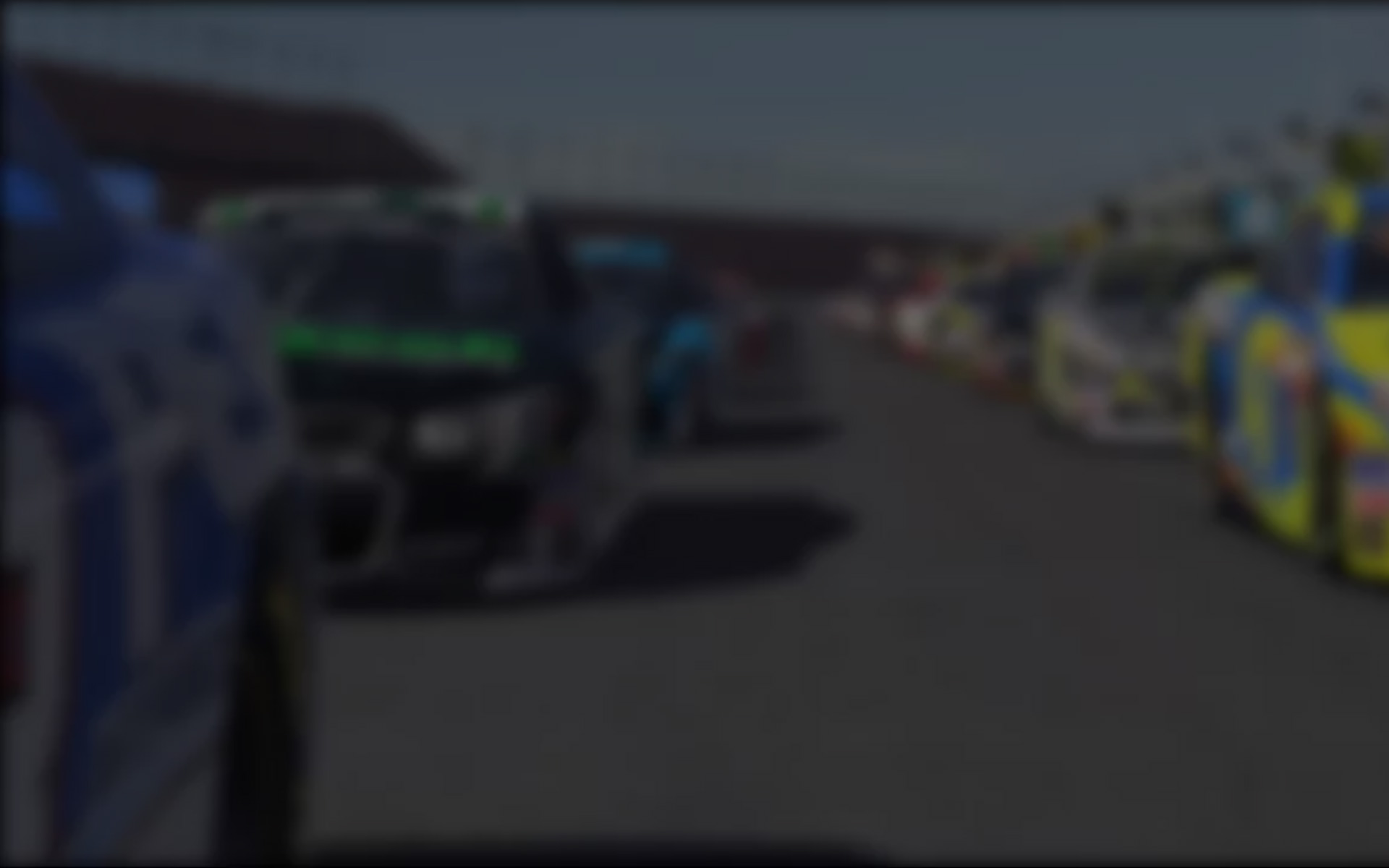 Many of you know the Rumblestrip Racing League for its Tues and Thursday evening clean, competitive, but friendly racing in both open wheel and combined GT3/C-Spec events.  Rumblestrip Race Recaps are often viewed thousands of times each week in the Private and Hosted Forum and on Adam Allen's SIMWITS RACING blog page.
Our goal is to use the SR and people friendly, league environment to encourage all racers to fill the grid while racing hard and having fun.  Members aren't shy about sharing setups or driving tips.  Since each event is built to require one pit stop, you'll even occasionally find a few people engaged in a strategy discussion.  The weekly Ruf C-Spec/GT3 multiclass racing runs a variety of tracks in repeating, six week seasons and produces moderately full grids with exciting sim racing.
We recently finished a lengthy Road to F1! series requiring drivers to first race four different open wheel cars before eventually progressing to the final six races of the Williams FW31.  While our Star Mazda exclusive season begins this week both types of events frequently look like this:
Since the same person would not likely master each open wheel car type, consistency became crucial in the four car, 16 race Road to F1! series.  Roberto Montero would ultimately be crowned champion.
Racing here is not simply about being fast.  Hotlapping won't get you very far and regardless of your speed you'll likely find someone else in the pack to race with at every event.  It's a real lady and gentleman like environment that has managed to find a balance accommodating to both new and very experienced drivers simultaneously.
Asked why he shows up week after week, one driver commented "League racing tends to be very clean.  Even if you don't know the other drivers well, knowing that you'll continually be racing with some of the same people makes you careful not to destroy anyone's race.  You're racing your reputation as well as your car with this group and this mentality adds to the immersion factor.  It makes the driving feel more real-world."
Rumblestrip racers strongly discourage shenanigans, particularly on lap 1, and as spectators at events such as last week's Oulton Park finale will tell you, cars are battling hard but smart from the time the green light goes on.  Sometimes you'll see 3 wide during the opening laps, but nearly always, everyone comes away from the fight cleanly and finishes the race.
It's not unheard of to see the occasional professional drivers (both iRacing and real world) drop in to a Rumblestrip event (shhhhh we like to keep it low key so everyone can focus on driving).  When you field 30-50 cars on a grid ranging from pros to drivers with new D class licenses, and everyone can race side by side through Eau Rouge and Raidillon without ending it all, you know you are on to something.
Yes, accidents happen but after the lessons are learned, we're back to racing.  No malicious texts, no screaming mic conversations, and generally no hard feelings.  We occasionally implement a 3 race probationary period for new drivers just to give them time to see how everyone acts, but in all the years we've been doing this we've only had to remove one driver!  The honor system is so effective that you'll see drivers occasionally self-impose a drive through penalty for mistakes they make!  Rumblestrip doesn't use live stewards although there is an admin at every race.
This can work against you to however as JP found out at another Zolder event.
Even when you have a good thing going you have to occasionally mix things up a little.  In addition to our GT and Star Mazda weekly races, Rumblestrip racers also hold special events, collaborating with other leagues for extended duration events, or league vs league battles.
Rumblestrip has joined forces with other great leagues such as Infinite Sportscar Series, DGFX and ChampionMotorsports to name a few.
Not afraid to branch out, we've even been so blasphemous as to ask ourselves what would happen if we took a bunch of car driving, road racing enthusiasts and dropped them in oval racing trucks at a road course.  Operation RandomRumble commenced!  Since it was the holiday season, and nothing says Happy Holidays like Suzuka, turkey and trucks, we flew the league members to Japan at tremendous expense.  Next we loaded up with tryptophan (the drivers not the trucks – iRacing has yet to implement the in-sim tryptophan).  The event, which came to be simply known as Trucks at Suzuka!? has already been requested again.
Recently a member began channeling his inner Mario Andretti and an intervention of historic levels was required.  By historic we mean we dusted of the RetroRumble league feature and climbed in the L79 for a trip to the 70s and Circuit Zolder.  Some of the diehards who drive that car in the official series supported the event to increase the grid size and as a result of the experience, several Rumblestrip drivers now drive the L79 for official series races in turn.
All of this fun hasn't escaped the attention of other sim racing enthusiasts and hardware/software makers.  With a sharp eye some might note the logos of both MPR Analytics and Derek Speare Designs on many of the cars.  Both companies have graciously sponsored Rumblestrip Racing seasons and offered terrific prizes.  Drivers such as Ryan Wallace, Matt Quinn, and Mikah Barnett have won prizes ranging from the MPR Analytics Setup Analyzer software to a Track Boss button box!  Many prizes are participation based to ensure that its not only the fastest drivers who win!
In closing, following the recent win at Oulton Park in which Troy Schuster claimed the Season 5 C-Spec championship, Troy summed it all up for a RumbleSports 1 commentator with this:
"The experience is so much better when the racing is clean and you have the utmost confidence in the people you are racing with to make it fun for all. Things happen, people crash… I have found even with these variables the racing here has really been some of the most fun I have ever had here at iRacing"
Our newest seasons of racing begin this week!  We hope you will join us!
Combined GT3 and Ruf C-Spec racing begins Jan 22 at Mazda Laguna Seca
Star Mazda racing will visit Long Beach Jan 27th
———————————————————
Rumblestrip Racing events can be accessed via the League Sessions page of iRacing but prerace practice sessions leading up to the event can be found under the hosted racing tab for those wishing to give us a trial run before you join.  PM an admin if you have additional questions.
Rumblestrip Racing invites ALL clean drivers regardless of skill level to join us every Tues and Thursday evening at 10PM Eastern for 45-60 minutes of fun racing .  Our current members range from old to young, and very fast to almost brand new to iRacing.  We pride ourselves on running clean, polite and competitive races while freely sharing setups and tips.  Our goal is to get more clean sim racers on every grid and maximize the fun for everyone.  This is good for drivers, for the league, and iRacing as a whole.
---
You may also like...
---