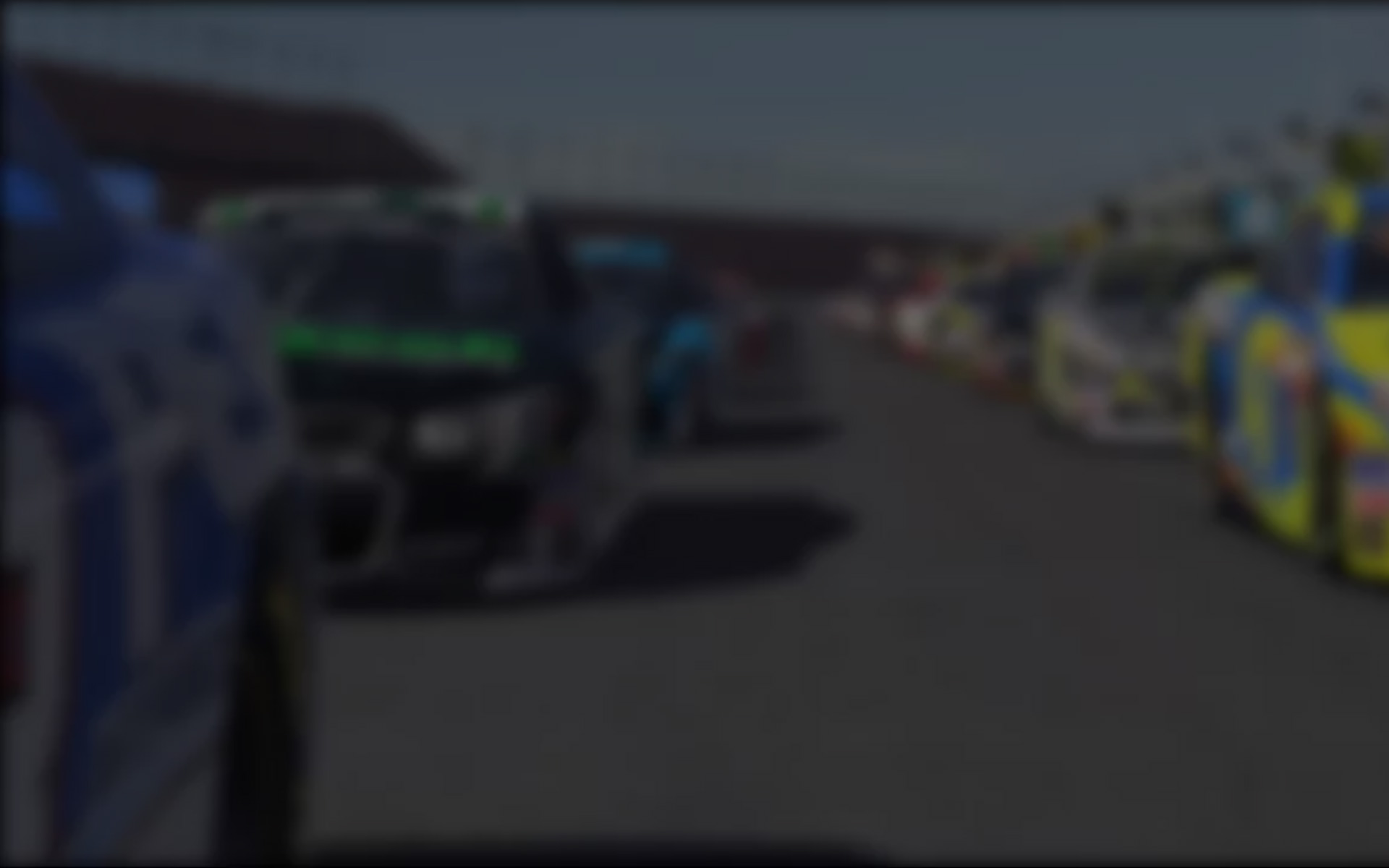 The NASCAR iRacing.com SK Modified Series traveled to Lucas Oil Raceway for Week 2 of the six week season.  Under the virtual lights, this .686 mile track held true to the high profile short track style racing and this feature race would be no different. With the SoF of just 1599 we would see various levels of skill as 14 drivers took the grid, but the sim racing up front was tight and intense for the entire 50 laps.
David Powers and Bobby Sandt Jr led the field to the green with Powers getting a great jump on the field. Sandt Jr and Carl Sunberg quickly went single file and looked to run down Powers while, behind them, Alan Fenhaus and Russel Ieler looked to do the same. The front trio of Powers, Sandt soon brole away from Fenhaus and Ieler and by Lap 13 the race appeared to be a clear three-way battle for the win.
As the leaders approached Lap 20 Powers was under heavy pressure from Sandt Jr, who was looking for the smallest mistake from the leader to make his move. That minor mistake would come in lap traffic, as Powers gave too much room and Sandt Jr would shot the gap taking it three wide, through Turn 3 and 4. They continued racing side-by-side into Turns 1 and 2, forcing another high as the leaders barged through.  Sandt Jr gained the advantage as he held the preferred groove through the corner and was able to power out ahead of Powers.
Although he completed the pass, Sandt Jr was unable to put any separation over Powers, and what little they had gained over Sunberg had eavaoprated; thus the race turning back into a tight three car battle for the final 25 laps. Powers was now looking for an opening while coming under pressure from Sunberg. Powers peaked high, low and in-between but, without any break in Sandt Jr's momentum, he would have a hard time finding a way around.
With 10 laps to go Powers turned-up the pressure yet another notch, hoping to force Sandt Jr into a mistake.  Both sim-racers gave it the all they had, each fighting overtseer off the corners. With just four laps to go the unthinkable  happened for Powers as he encountered heavy lap traffic and Sandt Jr drove in between two lapped cars. In his haste, Powers over drove the corner and found himself tucked behind Mark Gebbie, who bounced off the wall on the high side. Powers had to brake and force the car to the inside, losing valuable time to his nemesis. As they crossed the line for the final time, Powers had made-up a few tenths but still found himself a half second behind Sandt Jr's winning car.  Sunberg followed in third another 0.7s back. while Fenhaus came home fourth ahead of Ieler, the final car on the lead lap.
Top Ten Overall in Points after Week 2
1. Ty Majeski 346                       6. Mike Christopher Jr 276
2. Bill Martin 317                        7. Kevin J Myers 262
3. Stan Bragg Jr 304                  8. OJ Dompier 245
4. Kevin Berg 302                      9. Jeremy Ahlum 244
5. Bobby Sandt Jr 296              10. John Minotto 240
---
You may also like...
---