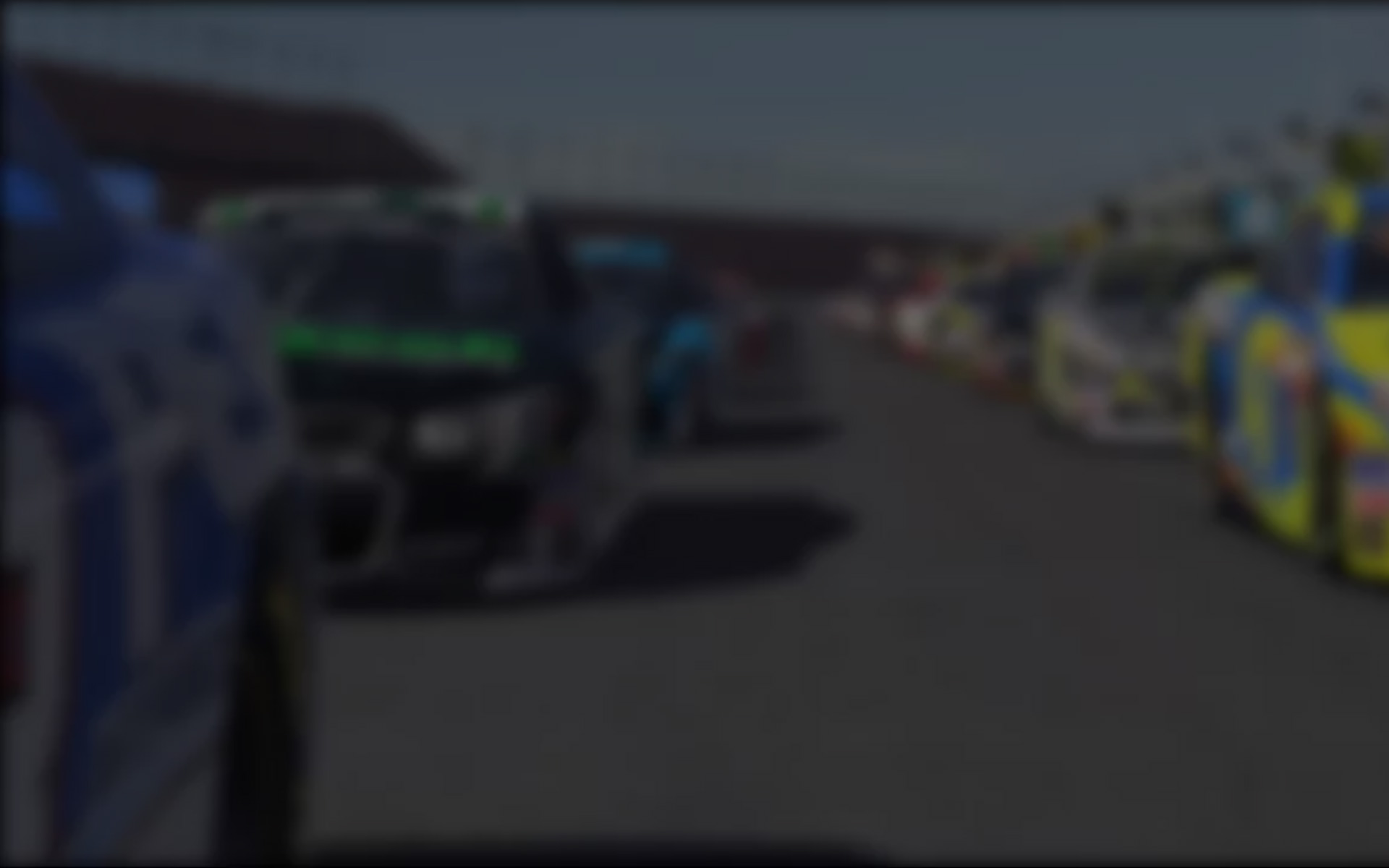 One of the biggest selling points in iRacing for me is the laser-scanned tracks.  As a sim-racer I may not benefit from knowing each bump and nuance of the real-world track, but knowing what I am driving from my living room is accurate down to the millimeter to what I see drivers racing on TV and in person adds to my experience overall. This unique and authentic feel that you can only get from laser-scanning adds so much to each track within the iRacing service.
Tony Gardner, president of iRacing.com, recently provided me with some insights to the process of how the company decided on laser-scanning, the process of signing tracks, what goes into the decision on what tracks are brought into the service for the members and the status of tracks signed, along with what could be coming down the road.
First off what made iRacing decide on laser scanning tracks?
When we started iRacing, a high priority was to make the tracks on par with the physics. If the physics are great but the tracks are not correct, than it is really not a true simulation and frankly makes accurate physics less meaningful. Therefore, getting the tracks physically and visually spot on and millimeter accurate in terms of the surface, the bumps etc, is very important to us.   Even things like objects are extremely important to make a track visually perfect for a driver.  For example, although there are some great driving games available, something often does not feel quite right while you are driving those games. Often times that is caused by more than the just the physics. It comes from the objects and tracks not being scaled properly so although they may look good in a static situation, when driving at high speed you almost get an awkward sensation. Anyway, Dave Kaemmer headed-up this effort to look for the best possible solution to accurately simulate tracks visually as well as physically.
Actually, let's take a step back to help understand why laser-scanning a track is so important to us.  What did Dave's old company, Papyrus do before laser-scanning and what many other companies still do? Well, it was basically a lot of estimating based on information available. Papyrus took it very seriously and actually went to the tracks to get them as close as possible. They would go to a track with a measuring wheel and level and simply measure everything they could. For example, measure the width of track, measure the elevation changes, where a curb is in relation to everything else or measure how tall a building is, etc.  Also they would use photographs to try and piece everything together. If they were lucky, they might also get their hands on a topo map if the track had available.  They would take all this information and using track building tools patch everything together best they could, but at the end of the day there was some estimating going on and frankly human error involved.
That was OK in getting a track to look pretty close to the real thing, at least as far as the graphics and computing speed of the day would let you, but it fell far short of physically and visually simulating the track. We felt it was critical to come up with something much better. It was not the case that we knew exactly that laser-scanning was the answer.  We didn't know what would be best.   We tested a bunch of things, including mounting cameras to cars to try and get a true picture of the track from the driver's perspective, then trying to figure a way import that or do something with that complete picture of the track.
We looked at a number of other photographic methods for a while. Some companies had developed technologies using photographic methods that you could possibly import or build a model from that.  None of the photographic methods turned out to be that great. We looked at lidar from airplanes and other things as well.  However laser-scanning looked to be the most promising and have the most potential so we kept coming back to that. We had laser-scanning reps come and we explained what we were trying to do. Not surprisingly, the sales reps immediately felt they had the perfect solution for us so long as we could figure out a way to convert the massive 3d data scan to a full point cloud of the track. Based on our own research and them trying to convince us, we decided to hire a contractor from Leica to scan Lime Rock park for us. It was great of Lime Rock to let us do it at the time as a complete experiment. The Leica contractor scanned about 34 hours straight and the iRacing team was pretty excited about it at the time because they could see the potential of laser scanning.
"If the physics are great but the tracks are not correct, than it is really not a true simulation."
The team was down there at the track for the scan and at the same time we started to get trained on how to do the scanning ourselves should this work.  I think it was more out of curiosity that we started to get trained, as we had a bunch of technical people at that scanning headed-up by Dave K.  We were not sure we could make it work at the time.  Shawn Nash, one of our engineers who seems like he can make anything work somehow, was mainly responsible for figuring out how to take that massive data file and make a program to convert the data to work with our proprietary track tools.  I am over simplifying it, but it worked!   We came out with a perfect digital representation of the track and objects.  From that point there is still a the whole track building process which takes months that our members have probably heard about or seen videos of featuring Greg Hill, who heads-up our art and production teams.  We have a group super talented people, all with different skills that work on each track and there are a lot of steps getting to the finished product you see including some incredible art work that puts the vital finishing touches on each track. Once we finished this test and it worked so well, we went out and bought our own scanners (big money initially) and started doing it ourselves because it was more efficient than using contractors.
Actually, I should mention we then took this another giant step forward from the old days.  Not only did we visually model the tracks perfectly, but we also connected the tracks directly to the physics so, essentially, you are driving on a perfect point cloud of the actual track and feeling everything and having the car react to everything on the track to millimeter accuracy. We actually have moved much further than we originally intended or thought possible, and are light years ahead of where any simulation was even five years ago in this regard. I think to this day we are the only ones with laser-scanned tracks although some companies are starting to do a few or considering doing them here and there.
The way we do the laser scans is also unique, more detailed and more time consuming than the way even an F1 team might laser-scan a track for their in-house sim. It is an expensive and time consuming endeavor to create tracks the way we do them, along with developing all the technology and process that goes with it, so I'm not sure laser-scanned tracks will ever be an industry standard.  But it will always be an iRacing standard.
Anyway, it's pretty cool I guess that we really started this and that people appreciate the difference it makes in a simulation. In the future I see us working further on the actual various physical surfaces of the tracks along with working more on the tracks' visual realism. It will be cool to think what all this will look like even two or three years from now with continuous advancements of computing speed and techniques for creating tracks and cars.
What is the normal time line for signing a track, from the beginning of talks to a deal being signed? Are international tracks harder to sign than tracks within the United States?
It could take years or it could take a week. International tracks are typically harder to sign.  Countries often have different standard legal language, there's less chance they know who we are so we're starting from scratch; there are language and time zone barriers, so it's more difficult to meet face to face, etc.
Do the series and cars we have play a big role in what tracks iRacing pursues? Will the partnerships that iRacing has with different series eventually help get more tracks that these series run?
Everything is a consideration, and series and cars is part of that. However, usually we try to build cars and tracks and get a decent inventory before we consider some type of partnership with a real-world official series like we have done with NASCAR, IndyCar, Super V8 and Grand Am. You could say we almost have the virtual series before the real world official series gets involved. If not, it is just talk and a fancy press release because it takes years to finish the tracks and cars. Once we've reached a decent point with the cars and tracks, if possible, I do think adding a real world official series to the party can add a lot for everybody, most importantly our members.  I think we are getting close in that regard for a European and Asian Series.
"Adding a real world official series to the party can add a lot for everybody, most importantly our members."
At the end of the day what tracks we build is market driven, plus factors such as the cost of building the tracks and what  licenses we can obtain since we officially license everything and consider each track a partner. It is very important to the tracks that we properly represent them as well. It is a balancing act. We try and do the best we can to please the most amount of people we can. From short tracks, upper level NASCAR tracks, to road tracks and F1 tracks. The F1 tracks have proved to be probably the most difficult tracks to get and also it can be very difficult when the tracks are owned by a municipality or public entity.   Montreal and Bathurst are good examples of that.  Obviously language barriers and standard legal language country by country often can slow down the licensing process as I mentioned.
Has iRacing had an easy time getting contracts with tracks now that it is more known within the racing world, has this helped getting any tracks that you could not when the service was just starting up?
It is much easier now than when we first started. We have smaller regional tracks calling us every week to do their tracks. Before we would have to beg and plead for any track. I wish we could do them all.
Where does rescanning tracks fall on the priority list? Daytona we know is coming, but what about Silverstone, Lime Rock Park, Phoenix, and other tracks that will have changes through the years?
Pretty high but each track is an independent decision. Rescanning a track in many ways is almost like doing a track from scratch, but we usually can use some of the existing assets. If we are redoing a track that means less time and resources to spend on doing a new track, so it is a balance. Let's say on average it is in between 50-75% of the work of an original track to do an existing track over.  We obviously have to scan the whole thing again for starters.
Daytona is coming early next year, before the 500.  We will do the Daytona 500 next year on the new track but plan on keeping the old track so members can still drive it if they want.  Not sure we will always do that, will be a case by case decision.   Lime Rock will be scanned this Fall or next Spring and we will scan Phoenix next year and, more than likely, start work on it because it has changed pretty significantly. Will also probably scan Pocono next year again and get back to Silverstone some day. Because of our NASCAR relationship and frankly because of our members, we like to keep the Sprint Cup tracks pretty up to date.
Frankly, we would love to not scan a track again – ever.  But we do have a loose five year rule to try and not go back and do all over, just from a business model perspective. However, if we feel it is a significant track for our members, we might consider scanning again in three years or less like we did for Daytona. In general, that is why we often wait, talk to as many people as we can, and even listen for rumors to make sure tracks are not changing before scanning them. For example there are rumors and real plans about Kansas and Auto Club Speedway so we have not scanned those yet. We also update tracks all the time that don't involve a scan. Little things that you might not notice or big things like we did at Charlotte. For example at Charlotte, along with changing the name of the track and all the signage, we added the huge video screen, changed the walls (yellow) and all that, which was a lot of work even though it was not a rescan.
Street circuits are a big part of motorsports, but seem to bring up many issues when laser scanning and recreating the tracks, has iRacing considered alternatives that would help bring more of these types of track into the service?
We are going to get Long Beach done over time and have talked to other street course circuits recently, but Long Beach is a scary big project.  There is so much going on around the course and even directly on the course, so it's not just the buildings and big city, you have the marina and boats, the amusement park, it has every object you can think about, and lots of each. There are so many details with the buildings and uniquely shaped buildings. Then you have to consider all of the lights and street lights, and fencing.
As most people would guess, street courses generally take the longest to build followed by road courses. Objects on the courses are extremely time-consuming as well and, obviously, the more objects on a course the larger the project. We have considered some alternatives for street courses but do not want to sacrifice quality. Who knows, maybe we will change our stance on that to some degree — take some background objects for example — but I can't see us ever doing a real-world track that is not laser scanned unless another method of that quality presents itself.
iRacing is branching out around the world, with its latest scan trip in Japan, is it your goal to hit every continent? Will Europe be looked at more now that most major American venues are in the service?
I don't know that we have defined a goal to hit every continent.  It's more of a goal to offer a wide variety of great tracks around the world. Certainly would like to get more European tracks and we will.
Nordschleife, Monaco, Circuit de la Sarthe, Bathurst, is it even possible for iRacing, or would these projects be too massive and time consuming compared to a regular circuit?
I think we would do some of those if we could get a license and we are trying to do that on some of them. I bet we would have already scanned and maybe done Bathurst if we could have gotten a license, and we are still trying. We are also trying to get a license for Monaco. Nordschleife is a different animal. We would have to tackle that one differently if we ever did it. Talking about big tracks, and not sure if and when we would do itm but we would like to get a license for Le Mans as well, at least as a starting point, but that would be another massive project.
Fantasy tracks seem to be discussed once in a while, is this something iRacing would ever think about?
Yes it comes up. Maybe someday we will mess around with a fantasy track for fun. Papyrus had a couple in the old days.
What is the status of these tracks that are currently signed?
Auto Club Speedway (aka Fontana) – Not scanned yet – rumors about it changing.
Autodromo Jose Carlos (aka Interlagos)  – Working on getting a scan, some progress. Would love to get this track done.
Kansas Speedway – Making sure no changes to track before scanning.
Langley Speedway – Scanned, will finish this track in 2012.
Long Beach – Production was started and stopped as some members know. The spline is completely done. We will pick up working on this track again in 2012! It is big so not promising releasing in 2012!
Lucas Oil Raceway (aka IRP) – Production has started.
Miller Motorsports Park – On list to do at some point.
New Jersey Motorsports Park – Scanned, on list to do at some point
New Smyrna Speedway – Releasing next month – December 2011 – both night and day versions!
Oran Park Raceway – Will finish in 2012.
Tsukuba Circuit – Some production has started; would expect it will be done in 2012.
Willow Springs International Motorsports Park – Scanned, some production work done, but put on hold for now.
Circuit Zolder – Spline started; will finish in 2012.
Twing Ring Motegi is next road course that will be done and, I might add, a great track!
Daytona rescan is also coming before the Daytona 500.
Recently a member of an F1 team offered to put iRacing in touch with the company that does the scans for the teams.  Is this something that could work with iRacing, or are there major factors that would prevent this?
We have talked with some contractors that do scans and sell them to race teams, etc.  There are not many of them and we have not built any tracks with laser-scans that we have purchased from someone else. They want to get paid for the scans, obviously.  The dollars are about as much or more than it costs us to do the scan ourselves and then we have to deal with someone else's data which we may or may not be able to work with.  Either way that adds additional time and work. None of the contractors that we have talked with have anywhere close to a full inventory of laser scanned tracks for any particular series.  Plus the way we do our scans is different and probably of higher quality and detail, so I'm not sure how much it helps us to consider laser scans from third parties unless we just can't get the scan for some reason.   We also would still need the license from the track.   Typically getting a scan done is not the problem in getting a track done.  Probably the most important thing we need is simply the time to build all the tracks our members want.  It also does not make sense for us at this point to build tracks that only a small percentage of people are interested in. I think we come out with tracks at probably just about the right rate. They are very expensive to build in both money and time, and there are thousands and thousands of tracks in the world, so something has to give.  We can't build everyone's "home" track.
"The most important thing we need is simply the time to build all the tracks our members want."
Final question, as you know members love to speculate what is coming next, any hints you can give us about tracks currently in the process of being signed?
Really no big secret. What you would guess is what we are probably working on as high level targets, plus it's always nice to add in some smaller lesser known tracks because people like that type of racing as well.   Some tracks we work on for years before we close a license, so I don't want to mislead anyone by saying we are working on getting a license.  I mentioned a few already that we are working on. We have been working on the F1 track in Hungary as another example, and we have been working on Montreal for years. As you can see from the list of signed tracks above we have lot of work already to do, so honestly we're not running around signing every track we can. If we did that, it disappoints the tracks and members when we don't work on it on a timely basis. But I promise, as we work down the list we will keep signing more.
---
You may also like...
---