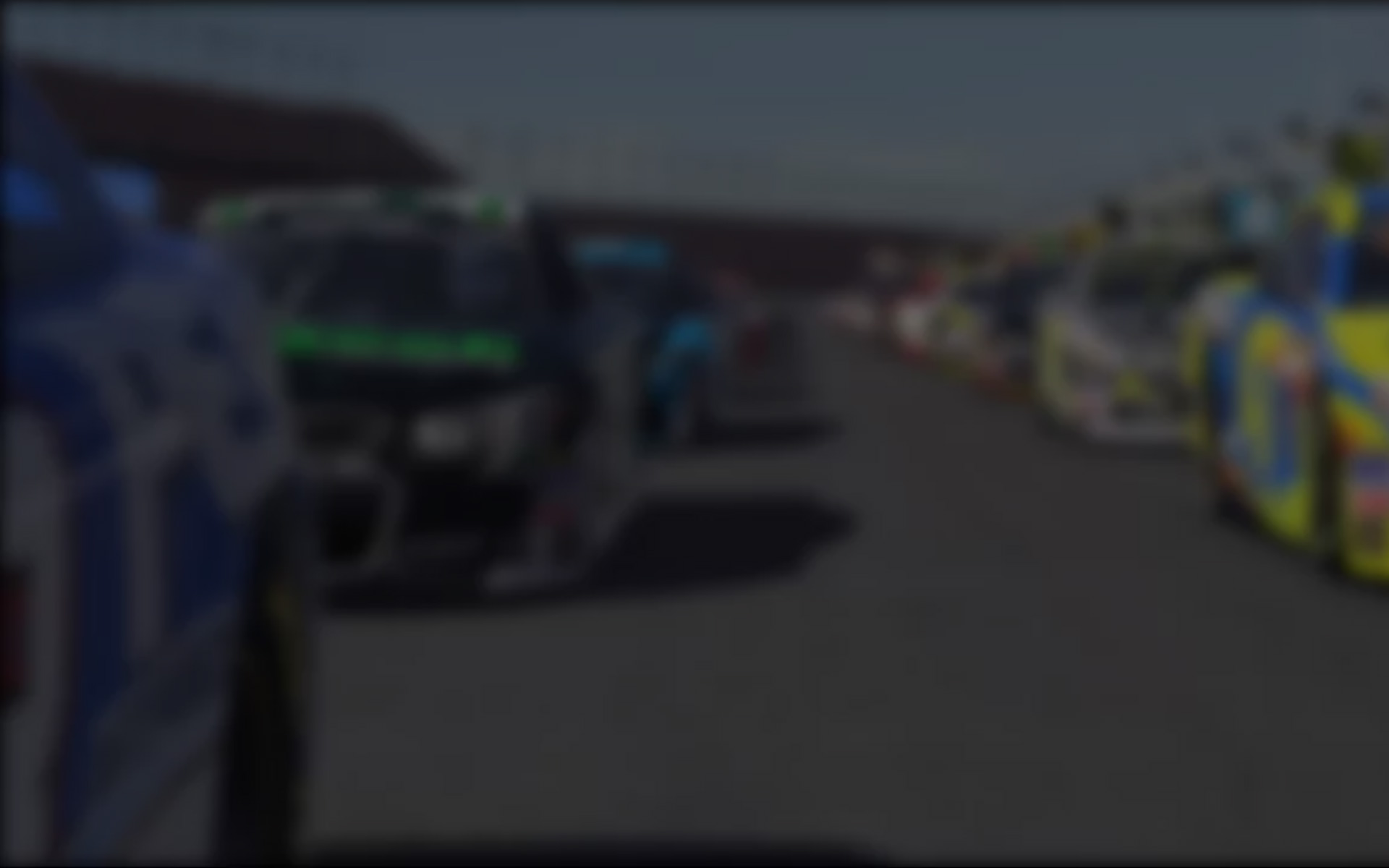 Homestead, Florida was the site for the "Sanchez 30 at Homestead B", a 25 lap shootout which finally allowed the Class B Corvette drivers a chance to compete for podium spots with the Class A HPD drivers.  After being dominated by their HPD counterparts in the first seven weeks of competition, Corvette drivers were eager to show they could keep pace in a road course event.
The 2.3 mile, eleven corner lay out at Homestead's Road Course B includes two long straight sections in the infield, and over half the speedway section of the main oval.  The result is fast racing and plenty of opportunity for the powerful Corvettes to keep pace with the more nimble HPD cars.
Showing just how close the racing would be, Les Turner and Andrew Gantman were the only HPD drivers  fast enough to keep Dustin McGrew from putting a Corvette on the overall pole position.  Turner's qualifying lap time of 1:09.934 secured the pole, while Gantman's 1:10.136 qualifying effort gave him the 2nd starting position.  The rest of the HPD field was forced to start behind McGrew after he posted an incredible lap time of 1:10:674 on his last lap of the qualifying session.
HPD drivers Andrew Feldman, Jim Albertson, William Kabela, Kevin Kyle, Divina Galica, and Bill Pawluckie completed the Class A grid.  Corvette drivers Dean Moll, Tommy Rhyne, Scott Husted, Bill Hadden, Jeff Thomas, James Prostell, Jr., Larry Krupp, and Ed Sutcliff completed the Class B grid.
Racing action was fast and clean as Turner held the top spot coming off the front stretch and entering the infield section of the course on Lap One.  Husted was the first driver to make an unforced error when he spun out in Turn Six on Lap Two.  Hadden was close behind and lightly tapped the rear of Husted's car, but both survived the contact without having to pit for repairs.
McGrew kept pace with the HPDs and moved into the 2nd place position when Gantman spun out in Turn Six on Lap Three.  McGrew held onto the position until he executed an early pit stop on Lap Ten.
Corner six continued to cause headaches when Kyle, Moll, and Galica collected damage in an incident on Lap Four.  The trouble began when Kyle spun out, got clipped by Moll, and then backed into the path of Galica.  Divina suffered the worst damage and was nearly collected again when she got out of sorts getting back up to speed on the straight section between Turns Six and Seven.
Gantman rear-ended Kabela in Turn Six a lap later.  Things settled down considerably after that as drivers concentrated on maintaining track position before the pit cycle.  Although Galica appeared to have recovered from her early race mishaps, she was forced to retire after an off-track incident at the exit of Turn One resulted in hard contact with the inside wall.
Taking advantage of the clean racing and fast track conditions, five Corvette drivers completed the race in the top-10 finishing positions.
Overall, the race turned out to be one of the cleanest events of the 2012 schedule to date.  Seventeen drivers collected only 51 incidents during 369 laps of competition.  The 0.138 incident per lap average was the best showing of the season.  Turner, Albertson, Feldman, and Pawluckie earned bonus points for completing the race without an incident. 
Class A results:
Turner led all twenty-five laps on his way to a dominating victory.  He crossed the line twenty-four seconds ahead of Albertson.  Feldman earned his first podium finish of 2012 with a third place finish.  He and Albertson raced each other hard all night, but neither could keep pace with Turner.
"We wanted this win tonight bad." said Turner after the event.  "I want to dedicate this one to my Dad, who has been battling health problems for the past several months.  He has shown tremendous courage throughout his ordeal and his never give up attitude has been a great inspiration to me."
Albertson felt fortunate to have earned the 2nd place finish.  "We got to the track late this week, had a sub-standard qualifying effort, and then had to battle a lot of traffic in the early going.  A bit of bad luck for Gantman and Kabela allowed us to pick up spots, then we chased down Andy after the pit cycle.  The POW/MIA team did a great job of keeping us in the hunt tonight.  Congratulations to Les and Dustin on their wins tonight."
Gantman (4th) and Pawluckie (5th) were the last HPD drivers to finish on the lead lap.  Kabela (6th) was scored one lap down, while Galica (7th) and Kyle (8th) both retired early due to accidents.
Turner enjoys as sixteen point lead over Gantman in the championship battle, while Kabela, Albertson, and Daul round out the top five positions.
Class B results:
McGrew continued his dominance over the Corvette field by earning his league leading 7th pole and 6th victory of 2012.  Outgunning many of the HPD cars at the green flag, McGrew climbed into 2nd place on Lap One of the race and only gave up his top-three overall position by pitting early.  Rhyne finished 2nd in the Corvette class.
Prostell earned his first podium finish when he crossed the line ahead of Hadden.  "We definitely needed a finish like this after the poor finishes we've had in the past couple of races", said Prostell.  "It almost feels like the Alzheimer's Association Corvette stole a podium spot, but I'll take it.  I hope we have the same kind of luck at Brands next week!"
Krupp (5th), Husted (6th), Thomas (7th), and Sutcliff (8th), all finished one lap down to the leaders.  Moll (9th) retired after spinning out in Turn Eight on Lap Fifteen.
McGrew enjoys an eight point lead over Rhyne in the championship battle, while Moll, Sutcliff, and Husted round out the top five spots.
RSR drivers travel to the United Kingdom for next week's race, the "Glover Excavating 30 at Brands Hatch, at Brands Hatch Circuit on March 8, 2012.  
Race Results:
https://ileaguerace.com/champ/show_event_result/Red-Sox-Racing-League/1095
League Standings:
https://ileaguerace.com/champ/show_champ/Red-Sox-Racing-League/227
League Video Site:
http://www.youtube.com/user/draftin11
---
You may also like...
---