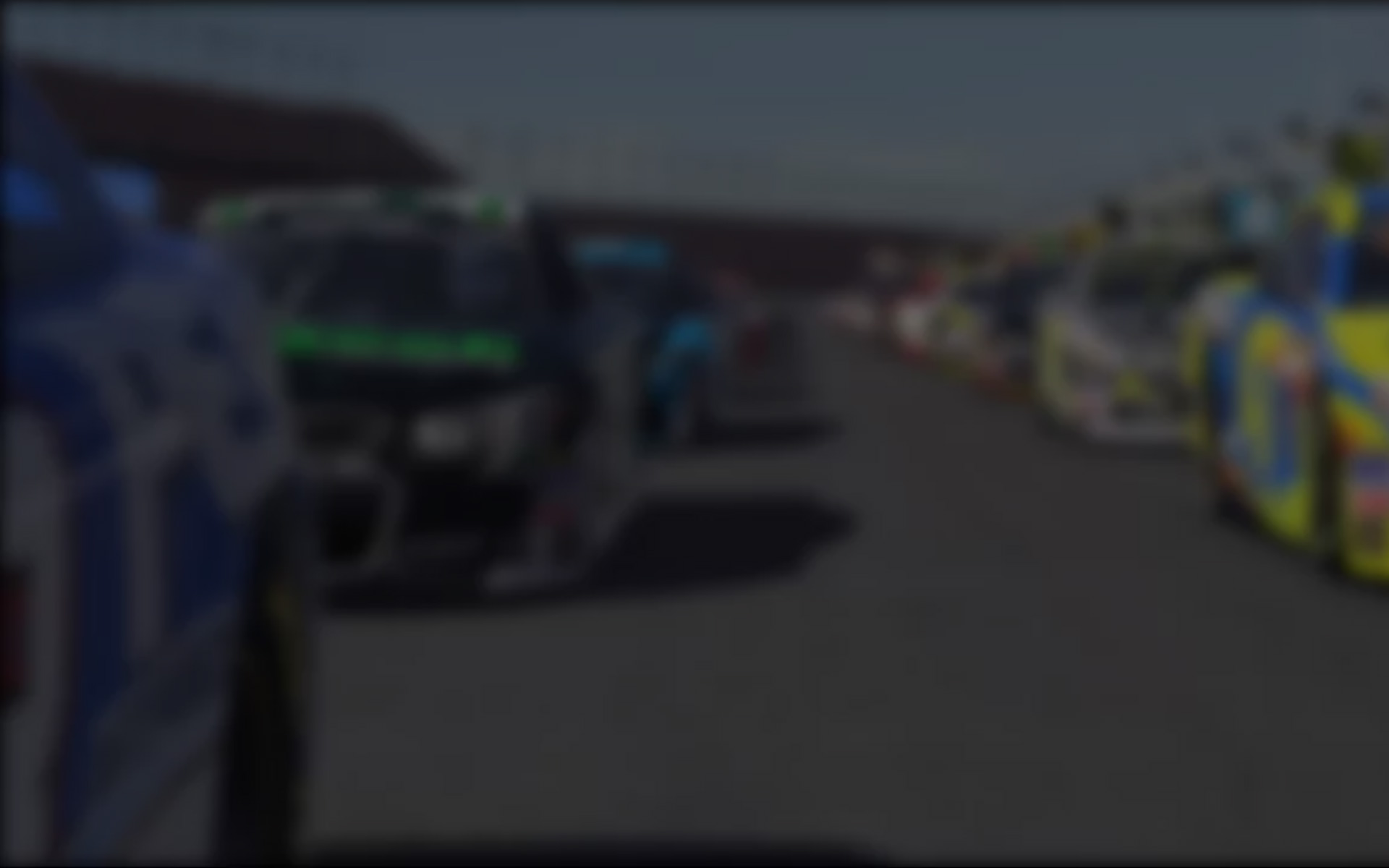 A true short track car at a true short track; it doesn't get much more exciting than that. Whether you call it Marty, The Paper Clip or Martinsville Speedway, NASCAR's Bull Ring is a great playground for the sim-racers competing in the NASCAR iRacing. com SK Modified Series. Week 2 saw the SK Modifieds tackle Martinsville in good fashion and show just how short track online racing should be done.
In the 2019 Strength of Field, John Minotto led Parker Traves, Cody Erskine, and Matt A Kingsbury to the green flag and as the field charged into Turn One the two outside starters managed to sneak by the sleeping Erskine. Minotto led with Traves and Kingsbury knocking on his door. Meanwhile, at the back of the pack the #10 of  Travis Butler2 and the #12 of Christopher Hiatt were involved in a wreck after the former slid into the latter's rear wheel. Just in the first lap we already had some major carnage and four laps later Joe Perry self-spun entering Turn One, creating
a few scary moments for the leaders.
With Minotto checked-out and Kingsbury, Erskine slowly chipping away at the second-placed Traves, things looked like they could get interesting. However, no one expected the #14 of Perry and the #13 of Schamp to create a moving chicane on the front stretch, as Schamp hit the wall and Perry moved to the bottom. At the same time Traves dodged left but just barely clipped the injured Schamp before being forced to dive back to the right and avoid Perry. Kingsbury and Erskine also narrowly survived and got through unscathed as Schamp managed to pull his car to the middle, enabling them to go high.
As the battling continued Traves eventually made an error allowing Kingsbury to make it to the inside with overlap. However with a block and a pinch maneuver Traves was able to survive and Kingsbury was soon passed by Erskine for third. However, it was not said and done, as Kingsbury got up on the wheel and drove by the #8 machine to retake the last podium step.
Meanwhile the #7 of James M Elmendorf was slightly gaining from the battle between Kingsbury and Traves as he closed into just a half of a straight away behind. However he was looking to be a non-factor unless something big happened. It almost did when Traves tagged the curbing out of Turn Two, sending the #3 car into a slide into the high groove. Although he executed a nice save, Traves lost a spot position to Kingsbury by the time he gathered it all up.
Meanwhile, Elmendorf had further closed the gap and was looking a possibility. Just a few laps later Kingsbury had started to check out and now Erskine and Traves were left to duel with Elmendorf in their wake. Erskine's #8 eventually made it to the inside of Traves and was able to battle through, but not without a valiant effort from the #3.
However, Erskine's advantage was shortlived as Schamp blocked the low line, resulting in a collision as Erskine attempted to lap him and enabling Traves and Elmendorf to get past.  A clearly frustrated Erskine weaved across the track into Schamp,  causing a hard collision and knocking himself out of the race for good measure.
Traves and Elmendorf had quite a battle until they hit a large pack of lapped traffic that broke-up the action and, a few laps later, Elmendorf tagged the wall and lost touch with his competitor.  Although Elmendorf stayed on pace it just wasn't enough to get Traves.
Meanwhile the #6 of Ryan Borges started to reduce the gap to the battle for third and, by the time he was through the lapped traffic, had made-up a significant amount of ground. It looked as if he would have a shot at the podium but he simply didn't have enough laps; likewise Elmendorf, who ran out of laps after a late resurgence.
When it was all said and done it was Minotto on top after a dominating performance. After getting by Traves and setting fastest lap of the race, Kingsbury came home just three and a half seconds behind Minotto.  Traves retained third over Elmendorf who had to settle for fourth. Borges came home fifth position ahead of Michael Scott Parker, the final driver car on the lead lap.
Brian Williams and Jeff Vance finished a lap down, while ninth placed Robert Weiss was three laps in arrears as Schamp completed the race four laps down in tenth ahead of Butler2 and Hiatt, the last car running. Erskine and Perry failed to finish  and were classified thirteenth and fourteenth respectively.
---
You may also like...
---