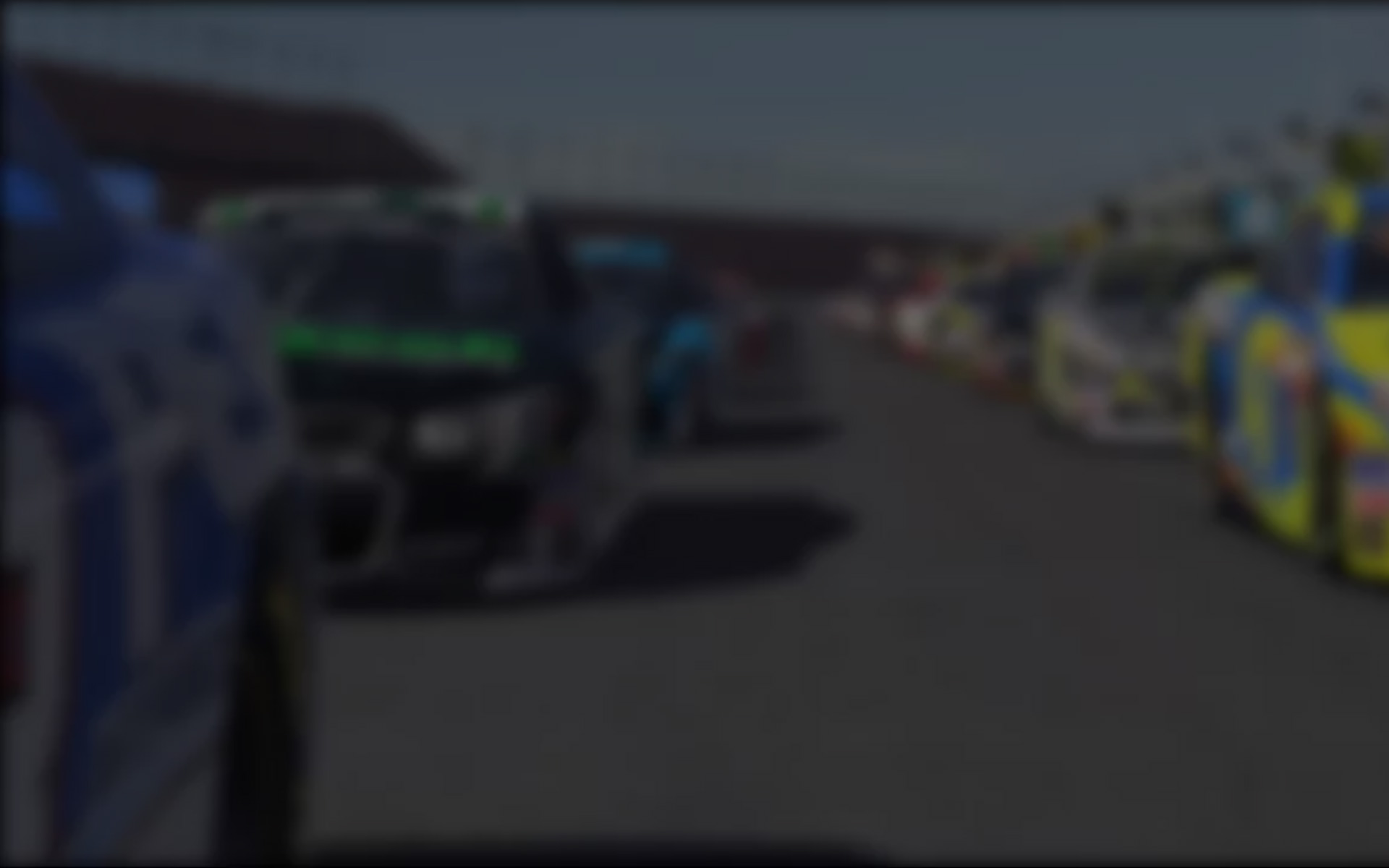 2014 Season 1 in the NASCAR iRacing.com Late Model Series schedule made its first stop at the famed New Smyrna Speedway in New Smyrna Beach, FL. This nearly half mile oval produced plenty of great side-by-side online racing all week long. Along with the new season, iRacing brought out a new tire for the Late Model, which has teams working overtime to make all new setups.
The race of the week took place on Tuesday, January 28th under partly cloudy skies and a scalding 87 degrees, and saw Levi Sluder mount a late race charge to overtake race-long leader Scott Schrader for the win.  Sluder's victory did not come without its moments, however, as contact with Schrader while battling for the lead resulted in a spin by Schrader who was subsequently collected by Tyler Lavallee, ending both drivers evenings.
Schrader and Sluder took to the front row of this 2096 strength of field contest, with Schrader taking advantage of his pole position to jump to the lead from Sluder and Jeff Rogers as the field sorted itself out in their wake.  Kyle Pitts spun after making contact with Sebastian Winterflood on the opening lap, with Tyler Lavallee getting turned around by Dana DiMatteo in the ensuing melee.
Schrader proceeded to stretch his lead over Sluder to a full straightaway while DiMatteo got around Rogers for third.  Rogers now found himself defending his fourth place from the advances of David Siegler and Pitts.  Pitts was on the bumper of Siegler for several laps before grabbing the preferred groove when Siegler missed his mark.  Siegler didn't give up without a fight, holding strong on the high side for several laps before conceding the position to Pitts.
Meanwhile, Sluder was starting to chip away at the interval to Schrader, but still found himself half of a straight away behind at the half way point. For his part, Pitts applied the pressure on Rogers for several laps before getting a nice run out of Turn Four, enabling him to make a pass through Turns One and Two on Lap 36.
Making up ground through the center of Turns One and Two, Sluder continued closing ground on Schrader and, by Lap 43, was just five car lengths off the leader's bumper.   Two laps later the gap was down to half a second and Lap 49 saw Sluder take a peak low into Turn Three only for Schrader to shut the door. Two laps later, Sluder tried the high line to no avail but, at this point, he was stalking Schrader through every turn.
Lap 55 saw Sluder get a great run off Turn Two.  Schrader looked to shut the door again into Turn Three, but Sluder was not giving up the bottom. The cars touched, if ever so slightly, but it was enough to send Schrader around.  Worse was in store for Schrader as, sitting in the middle of the track, he was collected by Lavallee ending both drivers' nights on the spot.
Any thoughts Sluder may have had about coasting to the win vanished as the oncoming DiMatteo had taken advantage of the battle for the lead to charge to within striking distance.  However, Sluder had enough in the tank to take the win from DiMatteo by .6s while Pitts, Rogers, and Siegler rounded out the top five.
Finishing Order
1.    Levi Sluder
2.    Dana DiMatteo
3.    Kyle Pitts
4.    Jeff J Rogers
5.    David Siegler
6.    Sebastian Winterflood
7.    Scott Schrader
8.    Tyler-Jason Lavallee
9.    Tanner Cook
10.    Brian Cross
Next week, the Late Model tour heads to Lanier Speedway, in what is sure to be another exciting week. You won't want to miss any of this fast paced action!
---
You may also like...
---