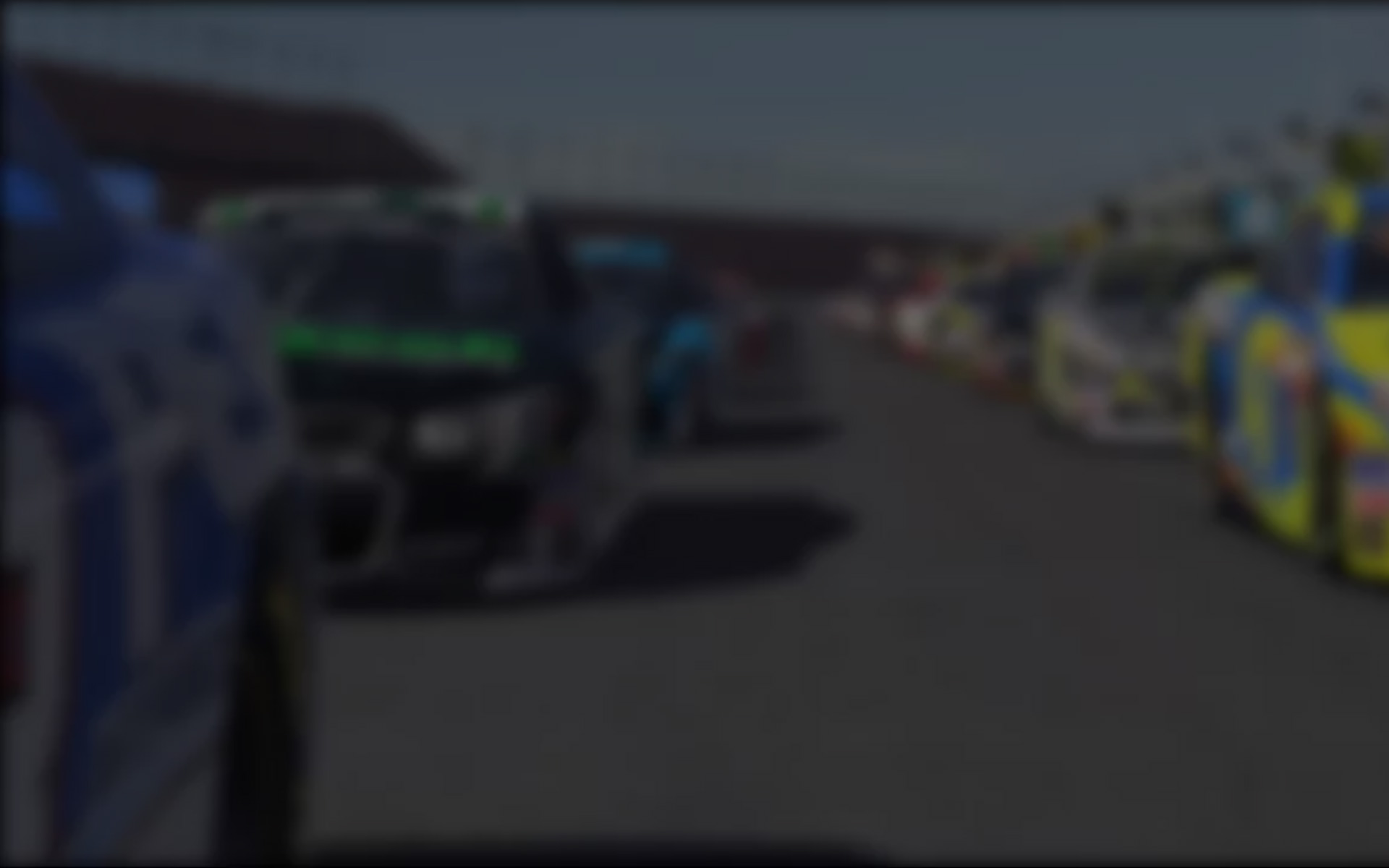 So you think you can drive, huh? Well, you're only as good as the people you race against.
Racing, whether sim or real, is a challenging sport which is meant to push you to your limits. When you're NOT challenged, however, the sport can become too easy, less rewarding (or not rewarding at all) and can oftentimes give you a false sense that you're a "great driver."  Let's face it; if you have an iRating of 1750+ and you're winning multiple races against a Strength of Field (SoF) of around 1000, you're not really pushing yourself and your victories are not much to speak of. True victories come from mastering both car and track while battling against the best and coming out on top. If you're not being challenged, you're only lying to yourself. But if you're looking for a challenge, I've got the answer you may be looking for.
Welcome to the iRacing.com V8 Supercars Series!
By now, I've already instilled images into your mind of a big heavy sedan driving sideways even though you're holding the wheel straight. I may have even brought you back to a memory of that very first turn you tried to take with the car only to loop it around and find yourself looking the opposite way on the track.
That, my friends, is the Ford Falcon. Although this is the last season of the current Falcon model (Season 4 is slated to bring the new Car of The Future [COTF] Ford and Holden), there is no denying it's a handful to drive. The Falcon (aka The Beast) is a front-engine, rear-wheel-drive design and features a five-liter "Boss 302" SVO capable of producing around 635 brake horsepower. With a six-speed sequential gearbox, the Falcon has a top speed of just over 300 kph (190 mph). Although the V8 isn't as heavy as the NASCAR Gen6 cars (nor do they have the 800+ bhp grunt) they're surprisingly nimble for such a heavy sedan. Weighing in at 1355 kg (2987 lbs.), it's undeniably a lot of car to be sending through a road course.
Drawing on the comparison to the Gen6 cars, many often equate the V8 Supercars (V8SC) to their NASCAR counterparts. Although they have several glaring differences, the V8SCs are, in a nutshell, a road course version of NASCAR. Both series' feature sedans which are made to "visually" replicate their respective road car variants and they race in close but very intense door-to-door action.
Many active drivers in the iRacing V8SC community are well aware of the reputation of the current Ford Falcon. In the words of KustomImage Motorsports driver, Jake Burton, "The car is basically an overpowered, under-tired, heavy beast that has to be ragged around that track just to put in a fast lap. Of all the cars I have driven on the service, it certainly requires the most practice. The challenge that this car provides is one that can only be tackled by the most committed sim-racers. But with practice, anyone can do it, and it is incredibly rewarding."
"Of all the cars I have driven on the service, it certainly requires the most practice." -Jake Burton
Recently, I asked around in the active V8SC community about how people felt about the series and the car. Here's what a few of the drivers had to say:
"The two main highlights of this series are the reward and feeling of accomplishment when you finally tame the beast of a car, and the huge amount of respect shown by the majority of drivers on and off track." –Jake Burton
"For me it is akin to dedicating yourself to getting comfortable with the Lotus 49; patience, respect and determination are all required in equal measures. When you finish a race in this car you know you have been in a race." –Mark Warmington
"The best thing about racing the V8 is that the amount everyone practices. It makes for a great time on the track. There is so much respect shown on track (with) minimal stupid decisions by people. This is what makes for great racing." –Sam Compton
With the recent addition of the New Tire Model version 5 (NTMv5), the series is seeing several new faces as many are stating their satisfaction with the changes. Jay Kennedy of V8s Online said, "The new car has got some love back for a whole heap of guys who haven't run for two years or more." The changes have even earned the endorsement from actual V8 Supercar driver, Shane Van Gisbergen, who said, "Recently, I've started working on iRacing's V8 Supercar with their new tire model and data acquisition program to actually overlay data from the iRacing V8 compared to my real V8 at Phillip Island. Unbelievable. The new tire model has such huge potential and is already a massive step forward for iRacing."
As an active member of the community, myself, the main question I see the most is, "How come there are never any races?"
The V8SC community, although strong and committed, is relatively small when compared to the massive participation numbers seen from the GT3 Challenge Series. With that being said, the V8SC community is very structured and has created several SoF races throughout the week. Most notably is the main SoF race which occurs on Monday at 8:15PM AEST. This official race is considered the "Championship split" and it's where the top drivers such as Richard Hamstead, Madison Down and Jarrad Filsell can be found. This race typically splits three or four times. For those of us who want to race on a more "American friendly" time slot, there's the V8 Supercars Americas Series which is run as an official race on both Thursday and Friday nights at 10:15pm EDT. The Friday night top split is also broadcast by V8s Online and commentated by JD Smith and Kane Kraft.
The community is very structured and has created several SoF races throughout the week.
In closing, allow me to reiterate how much of a blast this car is to drive. I personally own every road car on iRacing and you will not find a series with a greater challenge/reward factor anywhere else. Along with the great community which is always helping out new drivers with setup advice, there are several hosted leagues for beginners (OSR Development) and even an AUSCAR league which combines the V8s and oval tracks. However, if you're looking for advice on the car and how to make it drive better, let me be the first to tell you what you'll hear from just about every driver:
Get more seat time.
This car takes practice. It's not a GT3 car where you can jump in, throw in a forum setup and, so long as you know basic racecraft, be relatively successful in the lower splits. They call the Ford Falcon "The Beast" for a reason because the car is a challenge to drive. It's not uncommon for drivers to practice all week only to have one or two races they participate in at the end of the week. It takes practice but you'll soon find your lap times shortening and your satisfaction increasing with this awesome race car.
So you still think you can drive? Take the next step and attempt the challenge of taming The Beast. You'll want pull your hair out the first few attempts (or more) but don't give up. Ask for help in a practice session or in the forums and, most importantly, keep practicing. If you're looking for a series that you can commit to which has a regular and dedicated following, look no further than the iRacing.com V8 Supercars Series.
---
You may also like...
---