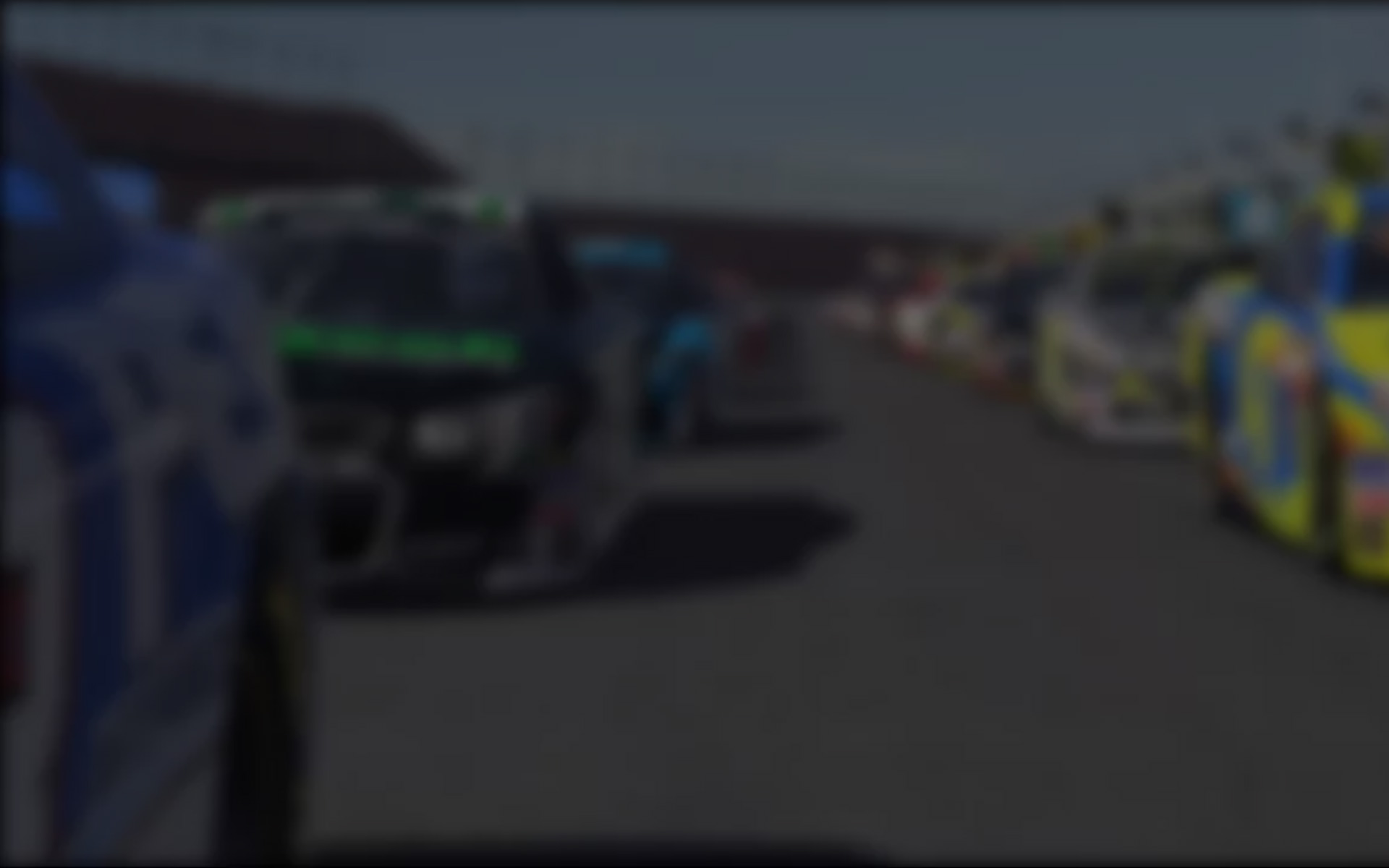 The fourth round of 2014 Season 3 for the UK&I Skip Barber League returned to New Hampshire Motor Speedway for 21 laps of sim racing on the road course with South Oval.  In qualifying the front row was dominated by the Simons of Team SSR with Povey taking pole by 0.111s from Hulbert.  Richard Avery took third only nine thousandths behind Hulbert, while Marc Mercer and Fahim Antoniades rounded-off the top five.
When the lights went green Mercer stayed to the outside of Avery for Turns One and Two which gave him a higher exit speed and the inside line for Turn Four for good measure, moving him into a podium position straight away.
Graham Carroll had a great start as well from eighth on the grid after grabbing the inside line at Turn Four on George Lambert to take P7.  Carroll didn't stop there, however, and with a good exit speed was able to grab the inside line for Turn Six to commandeer a second position from Clive Armstrong.
Carroll wouldn't have to do all the work on Lap One as it turned out, however, as Antoniades went wide at the exit of Turn Ten.  His left rear tire dipped ever so slightly in the grass at over 70mph and sent into a 180 spin near the middle of the track, promoting Carroll to fifth before the end of the first lap.
Antoniades wasn't the only sim-racer affected by his spin, unfortunately, as over a dozen F2000s approached at high speed.  Lambert, Armstrong, and Rob Green only had a few moments to react to the car ahead pointing at them, and had to make quick decisions with their steering wheels to get them out of danger.  Clarke Williams had a bit more time to react and his foot went on the brakes rather than just swerving.  Stuart Adcock had even less time to react to the braking Skippy ahead of him than the three sim-racers ahead of Clarke had "enjoyed" and the inevitable contact sent Williams into a slide and eventually to the grass.
Not long after Lap Two started a real shocker came from the front of the pack when Povey had a massive case of the corner-cuts at Turn Four forcing him to give up loads of time to his competitors.  Initially Povey only lost positions to Hulbert, Mercer, and Avery before Turn Six but the penalty persisted and he lost three more positions at Turns Nine and Ten to Carroll, Lambert and Green, dropping him from the lead to seventh
The very next lap Carroll had his own corner cut at Turn Four but he managed his penalty well and only lost a single position to Lambert.
Povey was clearly a bit irked about taking pole and dropping to seventh because of a corner cut, and quickly dispatched of Green.  Povey's next target was Carroll, and he eliminated his target at Turn Four of Lap Eight to take sixth spot.
Lambert in fourth held off Povey's advances for nine laps but eventually he too fell into the clutches of the charging front-runner.  When Lambert went deep into Turn Four on Lap 17 Povey pounced.
A measly ten corners after losing fourth to Povey, Lambert came under attack at Turn One from Carroll, who got the inside line and breezed past, past, dropping him to sixth.
Povey was pretty far behind Hulbert, Mercer, and Avery at the front, but luck was on his side and not Mercer's as Mercer slipped up at the outside of Turn Six, spun and dropped to seventh behind Lambert.
Carroll had been sticking with Povey, but struggled finding a way around him.  But when Povey had a surprise encounter with a back-marker at Turn Nine on Lap 19, Carroll took advantage.  After side-by-side racing through Turns 10, 11, 12, and 13 Carroll took third with only two laps remaining.
As the sim-racers crossed the finish line to start their final lap Povey was attacking Carroll while Mercer was thinking about the possibility of taking both of them.  What Mercer had not factored-in was Lambert's fantastic line through Turn Four which gave him the inside line for Turn Five.  In the ensuing contact, Mercer came-off worse and dropped to sixth before the checkered flag fell.
Hulbert won narrowly ahead of Avery with just over two tenths separating them.  Avery had made some attempts at taking the lead, but effectively Hulbert led the entirety of the race once Povey lost the position and got his first victory of the season, moving him up seven positions to fourth in the championship with 55 points.  Sebastian Job maintains his lead over Avery despite Job's absence from New Hampshire, but his lead has been cut down to just 10 points with Avery's second place finish this week.  George Wiseman could only managed P9 at the Roval, but maintains his third place position as well with 60 points.
---
You may also like...
---