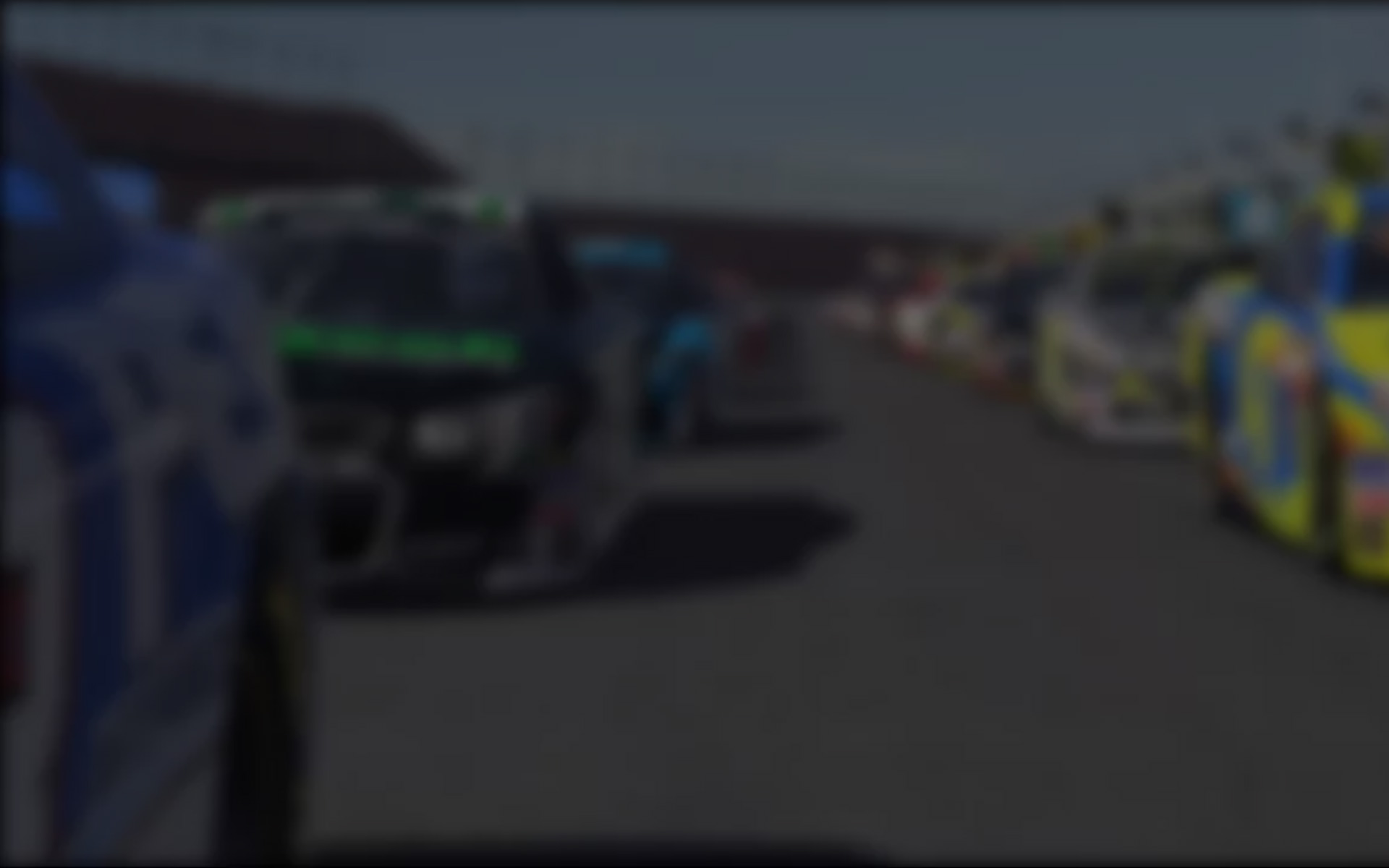 Making it two consecutive wins in as many weeks, Richie Stanaway clawed his way to the top step of the iRacing.com Road Pro Series podium at Philip Island, a result that now sees the top-three in the iRPS standings separated by a mere one-point. It was no easy feat for the New Zealand based sim-racer (and member of Lotus F1 young driver), who had to chase his way to the front and avoid on-track dramas ahead of him to seal his Philip Island victory.
Starting from second to pole winner Mogar DG Filho, Stanaway launched an immediate attack on the lead at the green flag. However, in his endeavours to move to the front of the pack, the Team Redline pilot left the door open for Aleksi Uusi-Jaakkola to snatch second position on the opening lap. Fortunately for Stanaway, contact between Filho and Uusi-Jaakkola saw the latter spin off the circuit at the high speed Turn One a couple of laps later. Heading the chase to catch the leader, Stanaway kept Filho in his sights, with the margin between them remaining at just a second until the first round of pit-stops; this was when the race turned to the Kiwi's favour.
Electing to take less fuel on his first service, Stanaway exited pit-lane just ahead of Filho to grab the lead. Making the most of a less weight-laden virtual Williams-Toyota FW31, Stanaway immediately pressed home his advantage and carved-out a lead that extended to five seconds by the time he headed to the pits for the second time. Despite Filho's ability to run extra laps during his second stint, the Brazilian was unable to make any dent on the leader's position by the time his final pit-stop was completed, and the deficit remained at five seconds.
Stanaway dropped his pace in the closing stages of the 69 lap contest, allowing Filho to reduce the gap to less than three-seconds.  Nevertheless, the Kiwi was able to bring the Team Redline entry to the chequered flag comfortably ahead of his rival and make it two Pro series victories on the bounce.
"I pushed hard on the pit-lane entry and got just onto the back of DG Filho coming down the pit-lane," Stanaway wrote on his blog this week. "I slid into my pit box quite late and nearly overshot but was just on the limit, which also gained me another metre or so.
"I thought about running perhaps 21 or 20 laps for the middle stint but decided in the end it was best to stick to my original strategy . . ." — Richie Stanaway
"My normal strategy was to run laps of 25-22-22, but while being so close to Mogar, I thought about running perhaps 21 or 20 laps for the middle stint but decided in the end it was best to stick to my original strategy as I didn't want to ruin the third stint too much. Mogar took fuel for 24 laps in the middle stint so with mine being 2 laps less worth of re-fuelling it enabled me to exit my pit box slightly before and take the lead. From that point onwards I just ran at my own pace and extended my lead out to 5 seconds which was enough to cover myself for Mogar's shorter re-fuel for second pit stop."
As for Filho, the Radicals Racing sim-driver still has yet to take that illusive first win of the season, despite being so close several times. "First pit stop round I got traffic ahead on the flying laps before the stopm" Filho told inRacingNews. "So the gap I had for Stanaway of 1.5 seconds became 0.7s.   Also, since the pit entry road is bumpy and narrow, and I had some kind of damage to the car, I went conservative. Stanaway put fuel for a 21 laps while I put fuel for 23. The extra fuel made him exit from pits earlier and get the lead. Also, the fuel difference made his car faster and easier to negotiate traffic than mine (which) gave him a big advantage."
Securing his second podium finish of the season was Orion Racing's Davy Decorps, who appeared to make no net gain from his third place grid slot. However, the statistics fail to reflect the opening 30 laps of the race, where the Frenchman had an unrelenting battle to reach the podium. Losing positions in the opening laps of the race, Decorps dropped down to fifth behind Uusi-Jaakkola and Enzo Bonito. With the demise of Uusi-Jaakkola on Lap Three, Decorps was up to fourth and shadowing Bonito. Once the first round of pit-stops was completed, Decorps continued to trail in the wake of the third placed Williams-Toyota FW31 until lap 33, when he executed a pass on Bonito through the tricky Turn Ten. Although Bonito hassled and harangued to try and regain the place, Decorps' fate was ultimately sealed during the second round of pit-stops, when his main challenger was penalised for speeding in pit-road, allowing him a clear run to the flag unfettered.
"My position [at the start] was OK but as I braked carefully for the hairpin, Enzo used that to dive bomb on the inside and now I was fifth," Decorps defiantly wrote this week. "I was really upset with that, each start I lose positions being too careful. I promise on next one, doors will be closed, gaps will be filled by my car, no matter what! Then as always was blocked by the car in front, but this time I could do my first pass of the season, getting third position on the outside line of Enzo."
"I promise . . . doors will be closed, gaps will be filled by my car, no matter what!" — Davy Decorps
The additional time penalty in pit lane for Bonito ultimately cost the iNex Racing Team member a top five finish, as he plummeted to sixth as a result of his speeding error.
Feeling the benefit of Bonito's punishment, Joni Tormala earned his fourth place finish by steering clear of trouble, and bringing his My3id car home to the finish. After starting seventh, the Finn made an immediate gain of one position thanks to a disastrous start from Yudai Narumi, who dropped from his top-five grid slot within a few corners of the opening lap. Then Uusi-Jaakkola's fall from grace and Bonito's extended pit-stop handed Tormala a relatively simple run to his first top-five finish of the season.
A blistering star for Vasiliy Zaitsev saw the Russian make the leap from twelfth on the grid into the top-ten by the end of the opening lap. A couple of laps later, tenth became seventh as he followed in the wake of  Marcus Caton, where he remained until Lap 45. That's when Canton's engine decided to give way in a plume of black smoke, forcing him to retire – then a lap later, Bonito's 'run in' with pit-lane stewards handed Zaitsev fifth for his run to the finish line.
Paul Ilbrink's seventh place finish at the virtual Philip Island was no easy feat for the Dutchman. Starting sixteenth, the Radicals Racing team driver worked his way past Jana Cardosa on the opening lap, and then took advantage of several cars going off to move into ninth by the end of Lap Three. Subsequently he had to deal with the presence of Emil Spindel who, in his first attempt to take the spot from Ilbrink, ended-up pirouetting and not making the move stick. On his second attempt, a handful of laps later, Spindel was side-by-side with Ilbrink, when contact seemed to be made. The Scandinavian was sent careering into the barriers, whilst Ilbrink continued unscathed. By the time Ilbrink had completed his first pit-stop, Cardosa had reclaimed what was now eighth position, but by running longer on fuel for his second stint, the Pro Series débutante was able to leap-frog back. With Caton's engine giving up the ghost, this handed Ilbrink seventh spot, for his best finish of the season so far at the chequered flag.
"When he [Cardosa] pitted after Lap 43 I still had four laps to go till my stop and I pushed hard trying to leapfrog him," Ilbrink explained post race. "I got a bit distracted a lap or so later when Marcus Caton was deploying a smokescreen which was a bit distracting, but I managed to pass his dying car when he left some room at Turn Eleven. The extra four laps proved to be enough to leapfrog João again and after everyone made their stops I was occupying seventh position."
It was a battle to the finish line to decide the final top-ten placings of the fifth round of the iRacing Road Pro Series, with several drivers leaving it until the last moment to gain positions ahead of the chequered flag. Although Cardosa had been occupying eighth position, his AB Racing team-mate Joao Pinho slipped past the sister car with a handful of laps to go. Then with two-laps left on the board, it was Andrea Baldi dropping Cardosa to tenth spot, before a daring pass on the final circuit of the 2.76 mile track by Jesper Pedersen, scuppered his chances of a top-ten finish.
"Andrea made a move into the chicane and I had no tires to hold him off with. Meh, at least I'm still in the top-ten," Cardosa shared this week. "No, I'm not. Jesper was behind me and I thought he was too far to try a move. He thought so too. By his own admission he out-braked himself and accidentally put in a massive dive-bomb. Luckily I saw it and just kind parked before turning into the corner, otherwise we'd both end our races right there."
With the iRacing Pro Road Series at its half way stage, Bonito holds a slender one point advantage in the championship standings over Stanaway and Filho, who both have 164 points to their name. A further 14 points back is Decorps, who is 22 marks clear of Spindel.
Round Six of the championship heads to the expansive Road America. With the leader-board so tightly packed, it's anyone's guess who will be leading the most competitive Pro Racing Series in iRacing history by the end of the weekend. You can find out live on GlacierTV.com next Saturday and read all about it here, at inRacingNews.
---
You may also like...
---