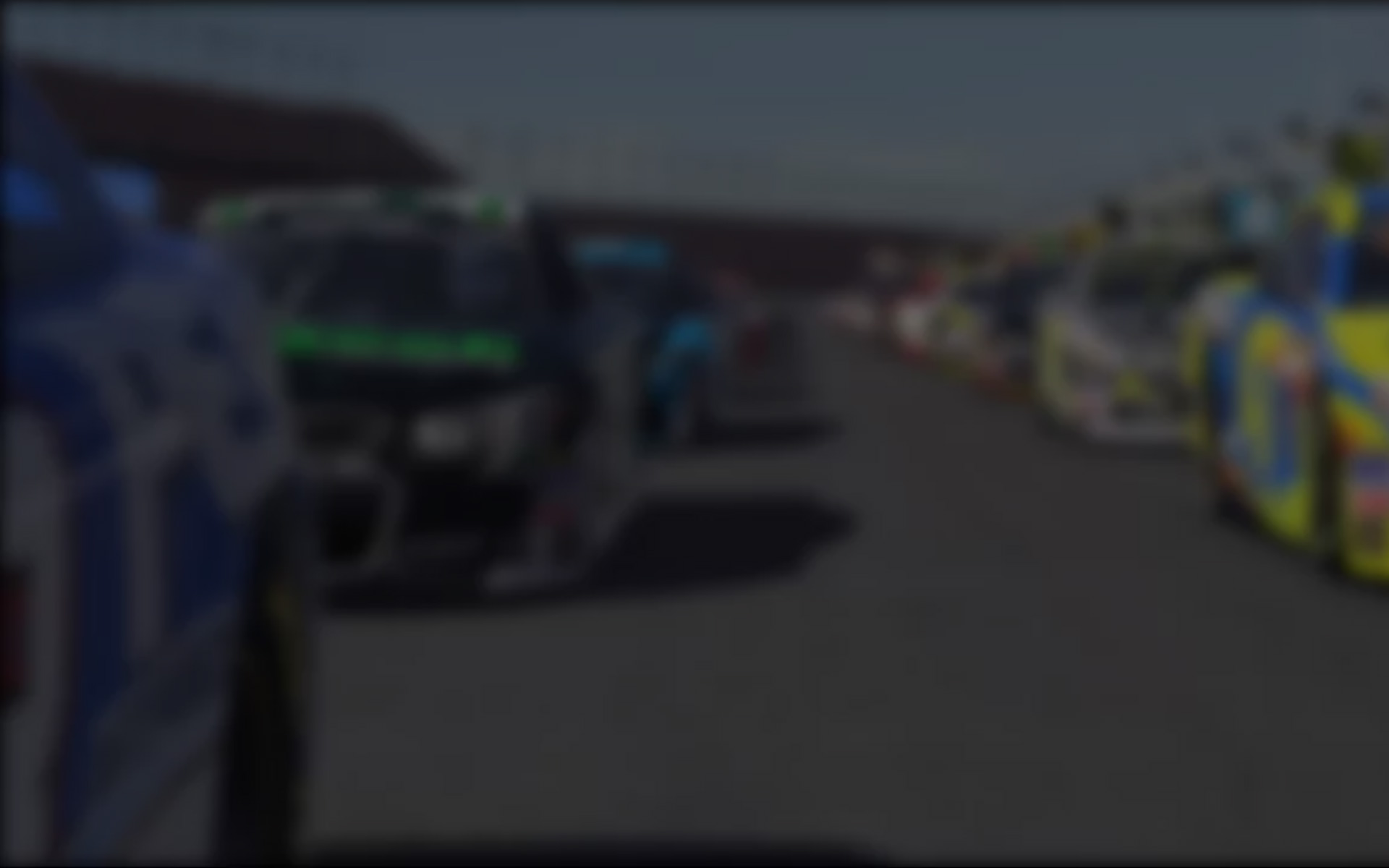 April 13th, 2016 by Jason Lofing (French translation by Renaud LACROIX follows)
PJ Stergios (ineX Racing Team) became the first multiple race winner in the 2016 NASCAR PEAK Antifreeze Series Powered by iRacing by passing Slip Angle Motorsports' Ray Alfalla for the lead with 15 laps to go at Texas Motor Speedway. The two were clearly the class of the field, leading a combined 148 of 167 laps, but Stergios got the best of Alfalla on the long run to the checkers.
The battle for third came down to the wire with Nicholas Johnston (HPM) holding-off Jake Stergios by less than two tenths of a second. Logan Clampitt, making his series debut, finished an impressive fifth.
Stergios trailed Alfalla by around half a second after the two made their final pit stops under green but quickly closed to the leader's bumper in only a handful of laps. Stergios hounded the former series champion for nearly 20 laps, waiting for a rare mistake.  His chance finally materialized when a lapped car on fresher tires passed Alfalla on the outside entering Turn Three. The pass forced Alfalla to compromise his entry, enabling Stergios to draw alongside down the front straightaway. The pair battled side-by-side for a couple of laps before Stergios cleared Alfalla and began pulling away.
"The last stint was pretty crazy . . . so well done by everyone." – PJ Stergios
"The last stint was pretty crazy with guys on all sorts of different strategies, so well done by everyone for keeping it going for so long despite some very close moments," said Stergios.
Alfalla took control of the race early on, needing just six laps to assume the lead from his outside pole grid position. However, the race was not without incident for Alfalla. On Lap 82 he brought his car to pit road for routine service and, since he pitted early in the window, found himself in heavy traffic after returning to the track.
Not even a lap later, Dylan Duval got loose and slammed the wall off Turn Four, forcing Alfalla to dive to the grass in avoidance. Fortunately for Alfalla the off-road excursion did not damage his car, but a caution for another crash four laps later robbed him of valuable track position.
While Alfalla had unlapped himself after his green-flag stop, having fresh tires was so critical he pitted again under the caution and restarted eleventh on Lap 92. Alfalla had little trouble with traffic and by Lap 126 he was already back in the runner-up spot behind Stergios. Knowing passing Stergios on track would prove difficult, Alfalla chose to pit a lap earlier than his rival.  While that enabled Alfalla to take the lead, in the end he could not hold it.
Stergios' win broke the tie with Alfalla atop the championship standings. Stergios now leads by three points over Alfalla as the two have begun distancing themselves from the rest of the field. Jake Stergios is third, 21 points back of his brother. He is followed closely by Allen Boes, who is only a single point back in fourth after an eighth place effort at Texas. Chris Overland still holds fifth despite finishing thirty-seventh in the Lone Star state, but he is now 58 points behind and just two in front of Andrew Fayash III, who is in the running for 'biggest surprise' of the sim racing season thus far.
Next up on the NASCAR PEAK Antifreeze Series schedule are the tight confines of Richmond International Raceway. The .75-mile short track is the only venue on the schedule less than a mile in length and will force teams to build a much different setup than the last two races.
With the 2016 season quickly turning into the PJ Stergios v Alfalla show at the front, can any other sim racers challenge their dominance? The uniqueness of Richmond may play into the field's hands but Stergios and Alfalla will be bringing their A-games to the virtual Virginia track – as usual. Who will find their way to victory lane? Find out in two weeks on iRacingLive!
Stergios remporte le duel contre Alfalla au Texas
(traduit par Renaud LACROIX)
PJ Stergios (ineX Racing Team) est devenu le premier pilote à plusieurs victoires dans le championnat 2016 de NASCAR PEAK Antifreeze Series d'iRacing en dépassant Ray Alfalla (Slip Angle Motorsports) à quinze tours de l'arrivée, sur le Texas Motor Speedway. Les deux hommes ont clairement dominé l'épreuve en menant 148 des 167 tours, mais Stergios s'est montré le meilleur sur la distance par rapport à Alfalla.
La troisième place s'est décidée sur la ligne : Nicholas Johnston (HPM) devançait Jake Stergios de moins de deux dixièmes de seconde. Pour ses débuts dans le championnat, Logan Clampitt terminait à une impressionnante cinquième position.
Stergios affichait près d'une demi-seconde de retard après le dernier arrêt aux stands sous drapeau vert, mais il parvenait à revenir dans le pare-chocs de son adversaire en seulement quelques tours. Stergios maintenait ensuite la pression pendant une vingtaine de tours, attendant une éventuelle erreur. Il saisissait sa chance quand un retardataire avec des pneus frais passait Alfalla à l'extérieur, dans le virage 3. Alfalla se voyait contraint de compromettre son entrée, permettant à Stergios de se porter à sa hauteur dans la ligne droite avant. Les deux hommes restaient côte-à-côte pendant deux tours avant que Stergios ne se débarrasse d'Alfalla et creuse un écart.
            « Le dernier relais était plutôt fou… alors bien joué tout le monde. » – PJ Stergios
« Le dernier relais était plutôt fou, avec tous ces gars en stratégies décalées, alors bien joué tout le monde pour avoir évité les incidents malgré quelques moments très chauds » commentait Stergios.
Alfalla prenait le contrôle de l'épreuve très tôt, arrachant la tête au bout de six tours, après être parti de la position extérieure sur la première ligne. Cependant, Alfalla n'a pas échappé aux incidents de course. Au 82è tour, il rentrait aux stands pour un arrêt de routine, assez tôt dans la fenêtre de ravitaillement, et ressortait ainsi dans le trafic.
Moins d'un tour plus tard, Dylan Duval survirait et percutait le mur dans le virage 4, obligeant Alfalla à passer dans l'herbe pour l'éviter. Heureusement pour celui-ci, cette excursion hors-piste n'endommageait pas sa voiture, mais une neutralisation causée par un autre accident, quatre tour plus tard, lui faisait perdre de précieuses places sur la piste.
Bien qu'il se soit dédoublé après son arrêt sous drapeau vert, Alfalla rentrait de nouveau aux stands sous régime de neutralisation au 92è tour, tant les pneus frais étaient décisifs dans cette course. Il se débarrassait facilement du trafic et se retrouvait deuxième derrière Stergios au 126è tour. Sachant qu'un dépassement en piste serait difficile, Alfalla choisissait de rentrer aux stands avant son adversaire. Cette stratégie lui permettait de reprendre la tête, mais il ne parvenait pas à tenir sur le long terme.
La victoire de Stergios le départage d'Alfalla en tête du championnat. Il mène désormais de trois points et les deux hommes ont commencé à se détacher du reste du peloton. Jake Stergios est troisième, 21 points derrière son frère. Il est suivi de près par Allen Boes, un point seulement derrière lui, en quatrième position, grâce à une huitième place au Texas. Chris Overland se maintient cinquième malgré une arrivée en 37è place, mais il accuse maintenant 58 points de retard et n'en a plus que 2 sur Andrew Fayash III, la plus grande surprise de ce début de saison.
La piste étroite du Richmond International Raceway sera la prochaine étape de la NASCAR PEAK Antifreeze Series. La short track de 0,75 mile est le seul tracé de moins d'un mile au calendrier. Les équipes se verront obligées de mettre en place des réglages bien différents de ces deux dernières semaines.
La saison 2016 tourne rapidement à l'avantage de PJ Stergios et Ray Alfalla en tête, mais d'autres pilotes réussiront-ils à remettre leur domination en cause ? Le caractère unique de Richmond pourrait jouer en faveur de leurs adversaires, mais Stergios et Alfalla seront à leur meilleur niveau sur la piste de Virginie, comme d'habitude. Qui se fraiera un chemin jusqu'à la Victory Lane ? Vous le saurez dans deux semaines sur iRacingLive !
---
You may also like...
---