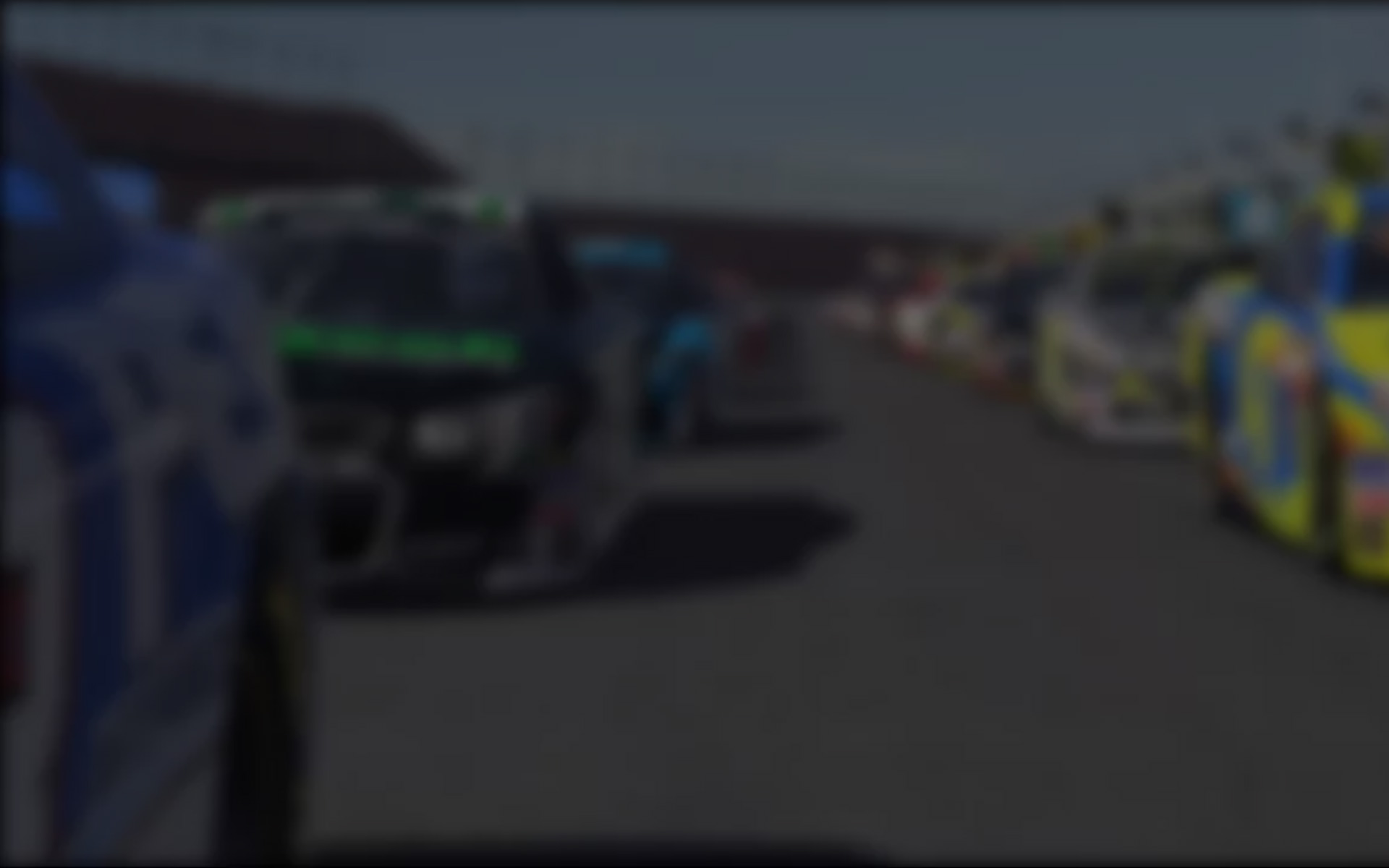 Stafford Motor Speedway played host to week 8 of the iRacing.com Super Late Model Series. At a half mile in length and hosting various forms of racing, Stafford has survived the test of time, starting with horse racing and moving on to automobiles on dirt then later being paved to its current configuration.  The racing here is as action-packed as any other track in the series as, with varying corner lengths, different approaches are made in car set-up and driving style.  This week's feature event saw a field of 12 sim-racers take the grid with a SoF of 3246.
Ty Spearman and Joe Quinn would led the field to the green flag, with Spearman going on to lead the first 25 of the 70 laps.  On Lap 25 Spearman, however, drove in hard going into Turn One trying to hold PJ Stergios back.  But but the rear end of Spearman's SLM broke loose and Stergios wasted no time and put his nose under Spearman.  The pass went uncontested as Spearman had to try to gather the car back up.  A late caution would give Spearman a final opportunity to make a charge at Stergios, with a green white checker restart.  But Stergios got on the throttle at the apex of Turn Three and Four causing Spearman and a host of other drivers to spin their tires.  By the time they crossed to take the green flag Stergios would have a solid .5 tenths lead, all but sealing the victory while Spearman would come home in second ahead of Quinn.
Race pace was slowed by a pair of cautions for 10 laps, the final caution coming on Lap 64 when Joseph Pittman and John Kennedy3 got together in the apex of Turn One.  Kennedy3 pushed up the track and Pittman followed but Kennedy3 slowed more then Pittman expected resulting in contact and spinning Kennedy3 to the inside of the track.  The final restart though would have mayhem only matched by a restrictor plate race.  With four of the top five runners spinning their rear tires, the rear of the field was forced to bottle up.  The mayhem was unleashed on the front stretch when Zachary Bozanich and James Poleske got together.  As they commenced to wreck Quinn made a bold dive to the inside in avoidance the but Pittman was unable to check-up in time and piled into the back of Bozanich with Kennedy3, Eric W Purcell, and Cameron Hobbs also involved in the melee.
The final running order was decided by whoever could get going first as there were only six cars on the lead lap by that time. Hobbs would get going before Poleske to capture P4 while  Poleske was able to limp it back around for fifth.  Bozanich, who was on the lead lap, suffered so much damage he was  lapped before he was able to cross the start/finish line and was credited with sixth place.  Pittman and Kennedy3 would drag race back to the line — both cars one lap down — with Pittman getting the edge for P7.
1. PJ Stergios                               7.  Joseph Pittman –1L
2. Ty Spearman                             8.  John Kennedy3 –1L
3. Joe Quinn                                 9. Eric W Purcel –2L
4. Cameron Hobbs                       10.  Jose Mejia –8L
5. James Poleske                        11.  Cody Thompson –46L
6. Zachary Bozanich –1L              12.  Joseph Yakes –57L
Langley Speedway is the next track for the Super Late Model Series.  At .395 miles and with only six degrees of banking this relative flat track will challenge the cars and sim-racers as the sim-racing will be bumper-to-bumper and one mistake has the potential to take out multiple competitors.  Keep the sheet metal guys on speed dial as this weeks race will feature all of what short track racing is about.
---
You may also like...
---