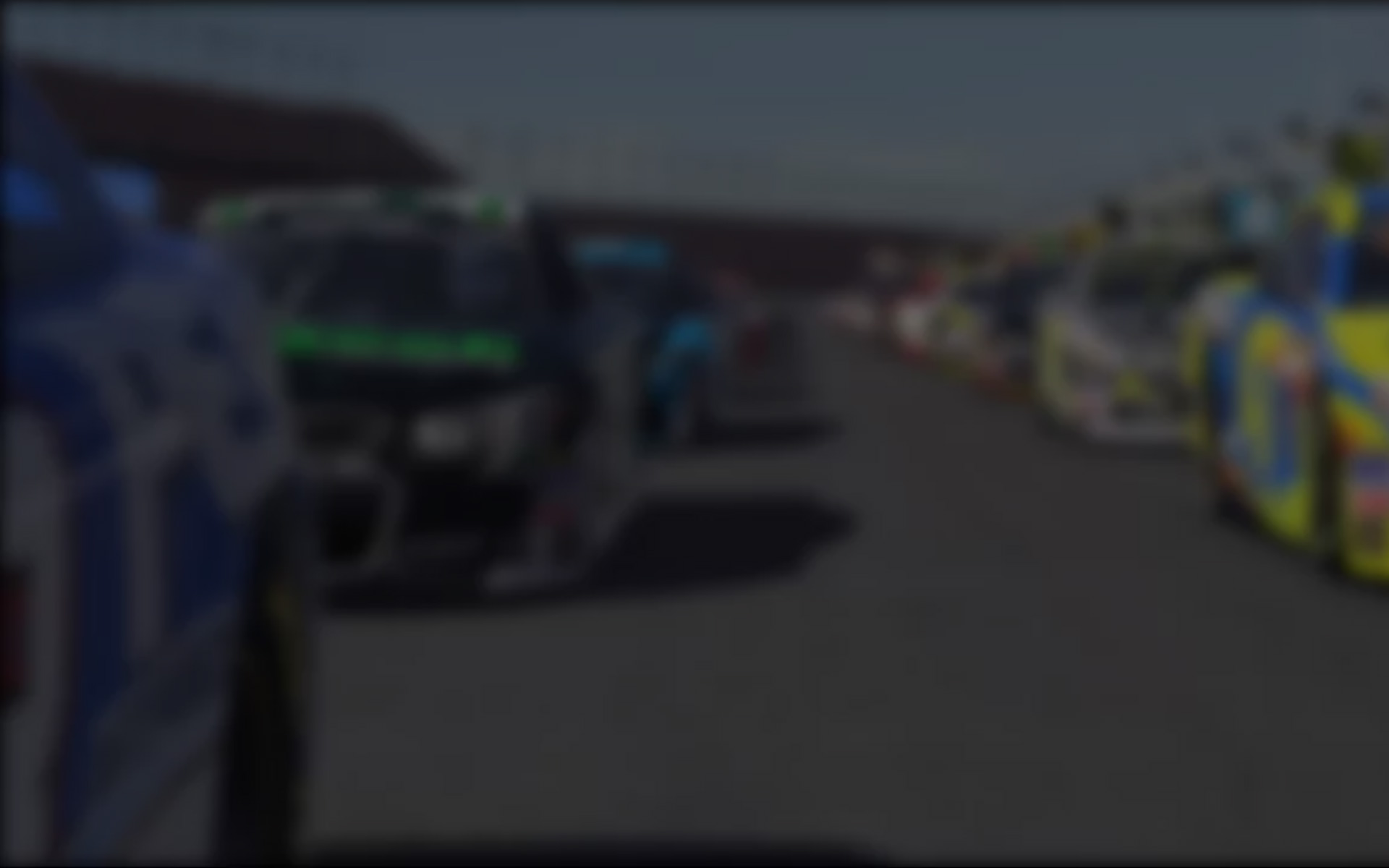 South Boston Speedway in Virginia was host to the first of twelve weeks of online racing in the  2011 Season One iRacing Street Stock Series.  The track commonly called SoBo is a 4/10-mile oval with 12 degree banking in the turns.  SoBo, as it's commonly nicknamed, opened in 1957 and has been the proving grounds to several NASCAR stars including Jeff Burton, Ward Burton, Elliott Sadler, all three Bodine brothers as well as the first African-American driver to compete in NASCAR's highest series, Wendell Scott.
Nick Ottinger (Carolina Club) is a name you are probably familiar with if you have paid any attention at all to the Street Stock Series since its inception back in the later part of 2010 Season Four.  Ottinger racked up 182 championship points after having a perfect start-to-win percentage for the week placing him in position one for Week One.  He started five races, all being from the pole, and picked up the win in all five as well all while leading all 200 of the 200 laps he competed.  Cody Stickler (Florida Club) was a very close second for the week scoring 181 points in his one start of the week.  Richie Hornsby (Atlantic Club) and NASCAR iRacing.com Series World Championship rookie Richie Davidowitz (New York Club) tied for third place in Week One championship points both scoring 180 points.  Casey Pierce (Carolina Club) rounds out the top five in overall points for the week as well as in Division One standings.
Michael McGuire (Virginias Club), Scott Hensley2 (Mid-South Club), Kevin Thomas (Mid-South Club), Andrew Morrissey (Midwest Club) and Bryan Cross (Texas Club) make up the top five after Week One in Division Two.  All of the drivers were able to win at least one race throughout the week with Cross taking home two wins, the most in Division Two.
Division Three has John Fidler (Ohio Club) on top after Week One followed by Brandon Hubbard2 (New York Club), Brad Vincent (Pennsylvania Club), Bill Fiske (New England Club) and Wanda Roberts (Mid-South Club) rounding out the top five for Week One.  Ricky Smith (Plains Club) earned the most wins in Division Three with four on the week.
Cody Byus (Pennsylvania Club) leads Division Four after Week One with Brazilian Guilherme Alvares coming home in second.  Devin Shorter (Virginias Club), Stephen Shore2 (Carolina Club) and Brian Crammer (New Jersey Club) round out the top five for the week with Alvares, Shore and Crammer capturing wins.
Brad Cornthwaite (California Club) leads Division Five standings after Week One with Carolina Club member Scott Blackburn hot on his tail.  Josh Williams (Florida Club), Robert Heckel (Ohio Club) and Tim Pawlak (Indiana Club) make up the remainder of the top five after Week One.  All of the previously mentioned drivers had two wins during the week, making for a very competitive Division Five.
Division Six ended Week One with Carolina native Jason Moates on top of the championship standings by a slim margin of one point over two drivers who are tied for second place.  Eric Jones2 (Virginias Club) and Christopher Walker2 (New York Club) both are one point behind heading into Week Two.  Gregory Frament (Georgia Club) and Michael Reding (Mid-South Club) complete the top five in Division Six.  All drivers except for one, Moates, who is also the point leader, were able to win one race during the week.
Kyle Sellner (Midwest Club) leads the championship standings for Division Seven after Week One with Graham Moore (Mid-South Club), Joshua Gayman (West Club), Jon Sorensen (Plains Club) and Michael Melwicks (Western Canada) making up the remainder of the top five for Week One.  Sellner also led the Division with three wins in four starts.
Division Eight ended the week with two drivers tied for the point lead.  It was a battle of the Chris's as Chris Shafer2 (Ohio Club) and Christopher Burgess (New England Club) both have 89 points and a win to end the week.  Dustin Salley (New England Club), Giovanni Giarratana (Connecticut Club) and Vincent Cooper (Illinois Club) make up the remainder of the top five.
Massachusetts native Andrew Wood took home top honors for Division Nine during the week with an 11 point margin over Will Stickler Jr (Florida Club).  Shane Tatro (New England Club), Dexter Canipe Jr (Carolina Club) and David B Jackson (Midwest Club) close out the top five for Week One.
Division Ten saw a battle of the West with club members Cole Roberson and Cory Volkenant making up the top two positions for Week One.  Clint Woolbright (Carolina Club), Casey Powell (Carolina Club) and New Englander Scott Keefe conclude the top five for Division Ten.
Ohio Club member Richard Luckey was able to use luck and skill to gain top honors for the Rookie Division during Week One by scoring 129 points in two starts.  Susan Latour (Carolina Club), Denise Exum (Georgia Club), Tucker Scanlon (Carolina Club) and Chris Luckey (Ohio Club) round out the top five in points.
The overall point leader for Week One was also the top qualifier for the week as Nick Ottinger set a blistering pace of 17.669 in qualifying, over three hundredths faster than second place Stevie Minson (Virginias Club) who turned in a time of 17.703 seconds.  Justin Strumpf (New York Club), Scott Hensley2 (Mid-South Club) and Christopher Ginn (Mid-South Club) made up the top five in qualifying for Week One.
Tanel Tallermo (Central-Eastern Europe Club) was able to beat the famed Nick Ottinger in something for the week.  Tallermo claimed the Week One time trial title with a 10 lap average of 17.750 seconds, besting Ottinger by .015 seconds.  Former NASCAR Sprint Cup Series competitor Doug Heveron (Florida Club) came home in third followed by Jason Robinson and Greg Hooks who rounded out the top five in time trial for Week One.
Tune in next week as the stars of the Street Stock Series head up to Connecticut to battle at the half-mile Stafford Motor Speedway.  Just a friendly reminder, if you think you have what it takes to hang with the best of them, visit https://www.iracing.com to get started racing immediately.
---
You may also like...
---