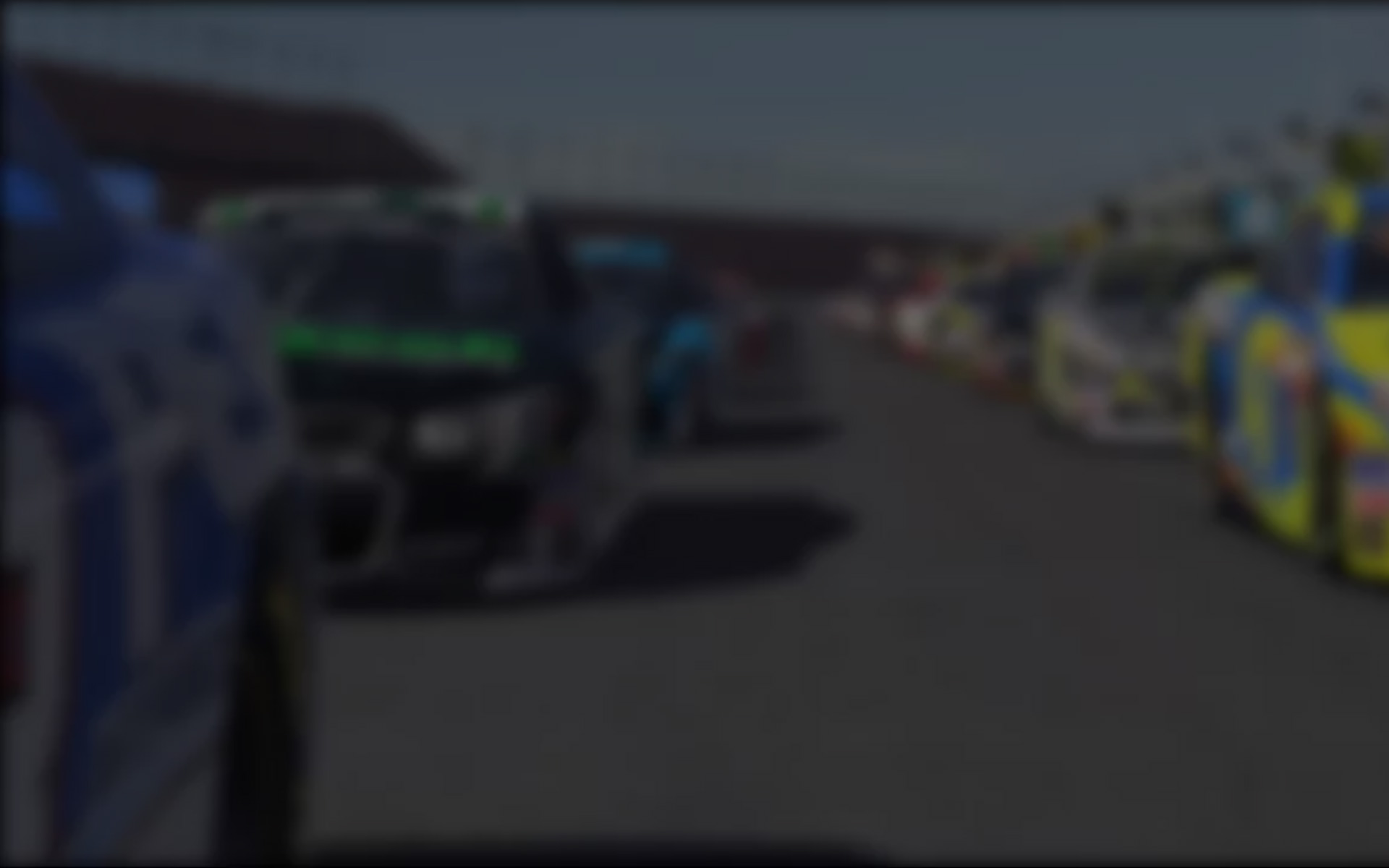 Week five saw the 2012 Season 1 iRacing.com IZOD IndyCar Series head to Dover International Speedway for the first time ever in series history.  With only 22 drivers showing up, it was also the lowest car count of the season.  With no official online races ever being scored, it was anyone's guess who would come out on top at the Monster Mile.
In qualifying, Shaun Stroud grabbed the pole with a lap time of 19.452s around the fast one mile oval.  On the outside pole was Jonathan Goke, with a  best lap of 19.498s, followed closely by Jeffrey Koolbergen (19.501s).  Randy Crossno slotted into fourth (19.502s) with Doyle Johnson just another one thousandth of a second behind (19.503s).  Very tight!
The green flag waved only for action to quickly come to a halt as Koolbergen lost control when he put his left side tires on the apron, resulting in a spin and contact with the inside retaining wall.  Fortunately he came away otherwise unscathed, but fell to the rear of the field as a result.  This would be the first of five caution periods in the event.
Once the race resumed on Lap Four, 18th-starting Pete Nolin got loose entering Turn One.  No yellow appeared and Nolin was able to safely make it to pit road.  He sat there for eight laps before the race's second yellow flag flew for John Ahles' spin in Turn Four.  Ahles was yet another driver who dared to put his left side tires down on the apron.  As a result, he too self-spun, only this time into the path of Koolbergen who had managed to work his way up to 16th before being collected by Ahles.  Both were finished in the race.  During the yellow flag period, Nolin returned to the track.
The race resumed on Lap Nine, but not before Bud Weissert suffered the same fate as Koolbergen on the initial start, self-spinning after putting his left side tires on the apron.  This resulted in a black flag for passing before the green for Robert Bohanek who was just behind.  Bohanek retired from the race on Lap 20 when he hit the pit wall attenuators while trying to serve his black flag penalty.
Lap 24 spelled doom for two of the top five runners Nolin got loose exiting Turn Four after making contact with the backstretch wall off of Turn Two, then looping it off Turn Four on the same lap just as the leaders putting him another lap down.  Aawg, who was now up to third place after starting seventh, narrowly avoided Nolin's spinning car, but Johnson and Crossno were left with nowhere to go.  Both were forced to retire from the event after having great runs.
This caution period saw a few sim racers calling at the pits for the first time, including second place Goke.  This was a risky move on a track where overtaking is problematic, at best.  After the green flag reappeared on Lap 29, the drivers enjoyed a long run of green flag racing that lasted until Lap 70.  That's when Brazilian Marcelo Clemente, running an impressive sixth his first start ever in an official IndyCar series event, put his left side tires on the apron, only to lose out and crash hard into the Turn Two wall . . . all this with the top three just behind him.  Race leader Stroud, as well as Aawg in second and Chris Cahoe in third, all managed to tiptoe their way past Clemente's spinning Dallara.  Not so Aaron Malerich, who was running in tenth on the lead lap and spun on the apron while trying to avoid Clemente.  Malerich managed to continue after making slight contact with the inside wall, albeit after losing a lap as a result of the spin.
Clemente's misfortune triggered a timely caution for many of the frontrunners in need of fuel.  Goke leapfrogged his way from fourth to second during the ensuing pit stops ahead of Aawg and Cahoe.  Rounding-out the top 10 on lap 74 were Terry Matthiensen, Cary Bettenhausen, Weissert, David Sockrider, with Philip Ohlemeier in ninth and Malerich in tenth, both one lap down.
Once back under way on Lap 75, the top eight remained unchanged with the exception of Bettenhausen slotting into fifth ahead of Matthiensen on the restart.  It remained follow-the-leader until Goke and third place Aawg made contact on Lap 107.   The top four had been running nose-to-tail with Aawg unsuccessfully trying to go around the outside of Goke as they approach Warren R Rodgers now four laps in arrears.  While Stroud's lead Dallara went around Rodgers high off of Turn Four, Aawg almost pinned Goke down low behind the slower car.  With Dover's narrow groove and Rodgers and the top three nearly four wide off Turn Four, contact was inevitable.  Goke and Aawg both crash hard into the outside wall at the Start/Finish line and retired from the race.
The departure of Goke and Aawg left just six cars on the lead lap with eight laps left to run.  Stroud was able to remain in the lead on the final restart, cruising to his second win of the season and jumping into the point lead as a result.  Cahoe was second, just .059 seconds behind.  Bettenhausen brought home a solid third place finish, with Matthiensen eventually working his way to fourth after starting 11th and Sockrider fifth, followed closely by Weissart, the final car on the lead lap.  The rest of the top ten were Malerich, Ohlemeier, Dave Jinks and Rodgers.
Race Stats
Laps:  120
Pole: Shaun Stroud
Lead changes: 0
Cautions: 5
Caution laps: 20
Lap leaders: Stroud 1-120.
Margin of victory: 00.059s
Hard charger: Philip Ohlemeier (11 spots)
Biggest loser: Jeffrey Koolbergen (19 spots)
Laps lead: Stroud (120)
Fastest lap: Stroud -19.339s (Lap 95)

Top Five
1.  Shaun Stroud
2.  Chris Cahoe
3.  Cary Bettenhausen
4.  Terry Matthiensen
5.  David Sockrider
Cars finishing: 9
DNF: Koolbergen, Ahles, Nolin, Daniel Gutiérrez, Bohanek, Johnson, Crossno, Nicholson, Clemente, Goke, Aawg.
---
You may also like...
---