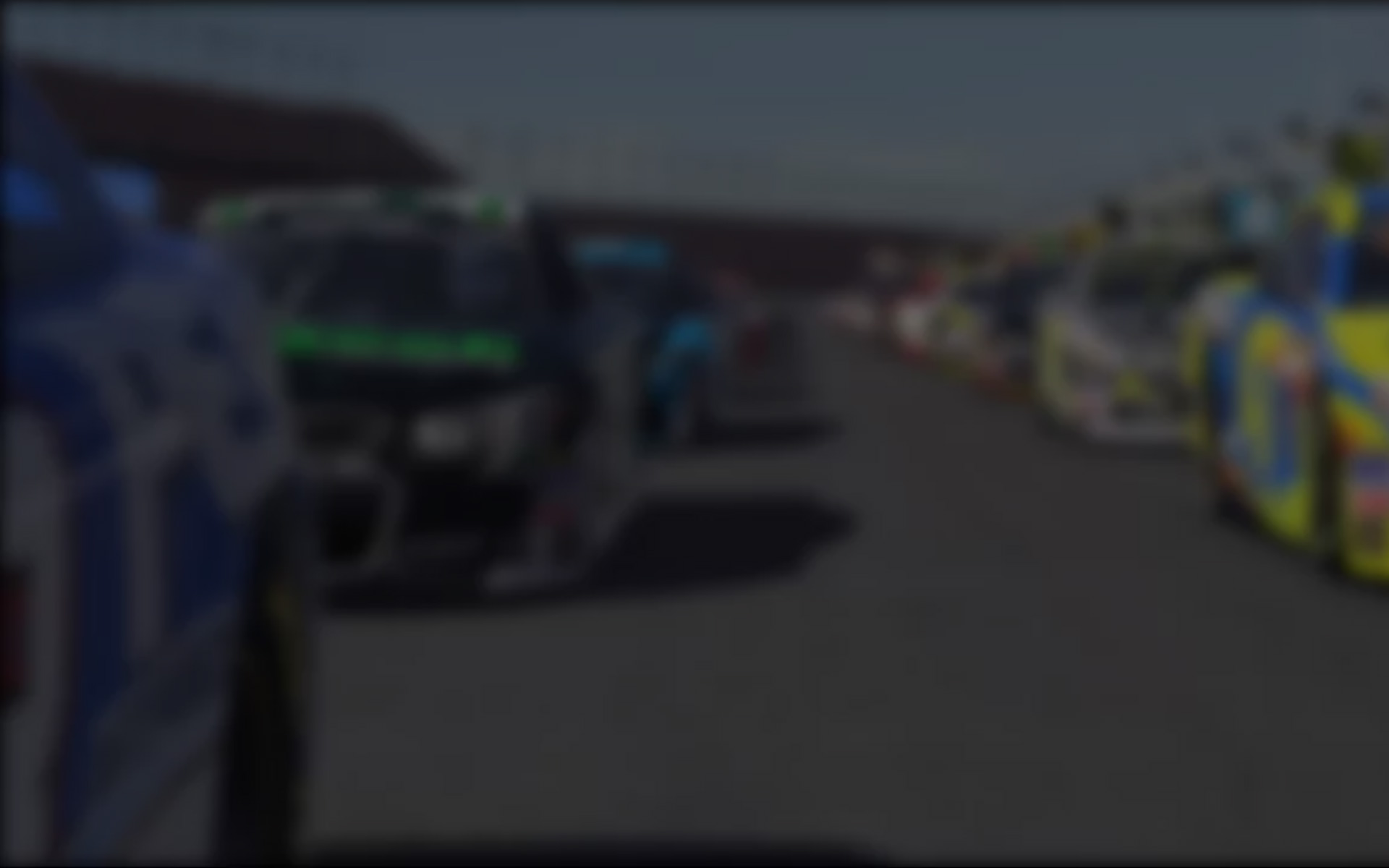 Kent, England's Brands Hatch Circuit hosted the "Glover Excavating 30 at Brands Hatch", a 23 lap test of patience and endurance in week nine of the Red Sox Racing League's 2012 Season One schedule.   Featuring a nine corner, 2.30 mile layout, the track was a welcome break from the flat courses driven in Florida during weeks seven and eight.
Brands Hatch is full of elevation changes, sharp corners, and straights with just enough room to allow for daring passes.  Drivers and fans alike love coming to the track because there isn't a bad spot on the circuit when it comes to seeing racing action.  The track was originally used as a dirt track motorcycle track, but was eventually paved and groomed into a world class road course which was selected to host twelve British Grand Prix races between 1964 and 1986.
Coming off a week when the Class B Corvette drivers were able to contend for podium spots against the more nimble Class A HPD cars, things returned to normal at Brands.  HPD drivers dominated qualifying and the race as their cars held a huge advantage through the rolling hills and off-camber corners.
Chad Peterson won the pole with a blistering lap time of 1:13.327.  Les Turner earned the outside position of row one with a lap time of 1:14.071.  Terry Daul, Andrew Gantman, Andrew Feldman, Divina Galica, William Kabela, and Bill Pawluckie completed the Class A grid.
Dustin McGrew earned his eighth pole of the season with a lap time of 1:20.948 to lead the Class B drivers.  Tommy Rhyne, Dean Moll, Reed Rundell, Scott Husted, Ed Sutcliff, Larry Krupp, John Koscielniak, Bill Hadden, Jeff Thomas, and James Prostell, Jr. completed the Corvette grid.
Things got off to a bizarre start for a couple of drivers.  First, RSR veteran driver Jim Albertson inexplicitly showed up for the race in a Corvette.  After eight weeks of fast racing in his HPD, the unforced error cost Albertson valuable championship points as league rules prevented him from racing in the wrong car.  The mistake dropped Jim from forth to seventh place in the overall standings.
Moll was the next to suffer a pre-race disaster when his engine blew during the pace lap.  Moll was one corner away from getting the green flag when his car let out a huge blast of black and gray smoke.  "We don't know what happened, but it was our first engine failure ever.  We'll be back strong next week", said Moll after the race.  Perhaps hesitant to begin his race in the crowded Brabham Straight, Prostell was still on pit road when the race went green.
Peterson won two of the three RSR events he entered in 2012, but five missed races meant the former league champion was out of contention for this season's championship when he arrived in England.    Eager to show the competition he wasn't rusty from the absence, Peterson led the field as it screamed through the first couple of laps.  Turner kept Peterson in his sights as the two fought the track and each other.
Koscielniak was the first driver to experience the hazards of the track's technically challenging corners when he spun in Turn Four of Lap Two.  Undamaged in the incident, Koscielniak was able to continue racing.  Gantman spun out exiting Turn Seven on Lap Three.  His momentum carried the car back across the track and onto the right shoulder of the road as traffic passed by.  Gantman almost took out Kabela and Pawluckie during his attempt to rejoin the racing action.
Peterson gave up the lead when he spun exiting Turn Two on Lap Four.  Turner had just enough room to make the pass as Peterson came to a stop on the track surface.  Peterson remained calm despite the error, then recovered quickly enough to lose just one more position before getting back up to speed.  His calm reaction to the incident eventually allowed Peterson to regain the lead.
Husted made a terrific save during a scary entry into Turn Eight on Lap Four, but the slow-down penalty he was forced to serve caused a group of drivers to catch him on the straight leading to the final corner.  Like a pack of hungry wolves eyeing wounded prey, the drivers behind Husted mistook his off-pace for an easy pass as they accelerated along Brabham Straight towards Turn One.  Hadden tagged Husted from behind as Husted slowed for Turn One, starting a chain reaction which sent both drivers hard into the walls on either side of the track.  "We didn't intend to have a team meeting during the race", said Husted afterwards, "But I guess that was how it turned out when the dust settled and our cars were sitting next to each other while the rest of the field passed by."
The rest of the race was fairly uneventful as the Corvette drivers did a good job giving room to the faster HPD cars.  Turn Two was the most problematic spot on the track as Pawluckie and Gantman both had minor scrapes when failing to brake in time to safely negotiate the sharp right hand turn.
         
Kabela and Rundell received bonus points for completing the event without collecting an incident.
Class A results:
Turner led eight laps after Peterson's early mistake, but gave up the lead when he short pitted.  By then, Peterson had made up the lost ground and was already hounding Turner for top spot.  Daul was able to lead a lap when Peterson pitted a lap after Turner, but Peterson regained the top spot.  Turner chased down and caught Chad negotiating traffic on Lap Twenty. With Peterson trapped behind Koscielniak's C6R, Turner took a stab up the inside into Turn Six but hopped the curb and lost the back end.  The resulting trip through the grass sealed the deal for Peterson who crossed the line with a 10 second margin of victory.
Gantman barely held off Daul to claim the last podium position.  Daul crossed the line in 4th place, missing 3rd by .02 of a second.  Feldman finished in 5th place.  Galica (6th), Kabela (7th), and Pawluckie (8th), completed the Class A scoring.
 
Turner enjoys a nineteen point lead over Gantman in the championship battle, while Kabela, Daul, and Feldman round out the top five positions.
Class B results:
McGrew won his 7th race of the season by once again dominating the Class B field.  Rhyne tried hard to challenge McGrew's stranglehold over the Corvette drivers, but once again fell short as he was forced to settle for 2nd place.  Rundell returned to the podium after missing several races when he crossed the line in 3rd place.  Koscielniak recovered from his early mistake to finish in 4th place.  Sutcliff (5th) held off a furious challenge by Thomas (6th) in the closing laps.  "I knew Jeff was faster than us tonight", said Sutcliff.  "I was very lucky the HPD traffic slowed his effort to catch me."
Krupp (7th), Prostell (8th), Husted (9th), Hadden (10th), and Moll (11th) rounded out the Class B scoring.
Next Event:
   
McGrew maintains an eight point lead over Rhyne in the championship battle, while Moll, Sutcliff, and Thomas round out the top five spots.
RSR drivers travel to the United Kingdom for next week's race, the "Nederlandse Automobiel 30 Zandvoort GP", at Circuit Zandvoort on March 15, 2012.  
Results / Standings / Video coverage
Race Results:
https://ileaguerace.com/champ/show_event_result/Red-Sox-Racing-League/1095
League Standings:
https://ileaguerace.com/champ/show_champ/Red-Sox-Racing-League/227
League Video Site:
http://www.youtube.com/user/draftin11
---
You may also like...
---