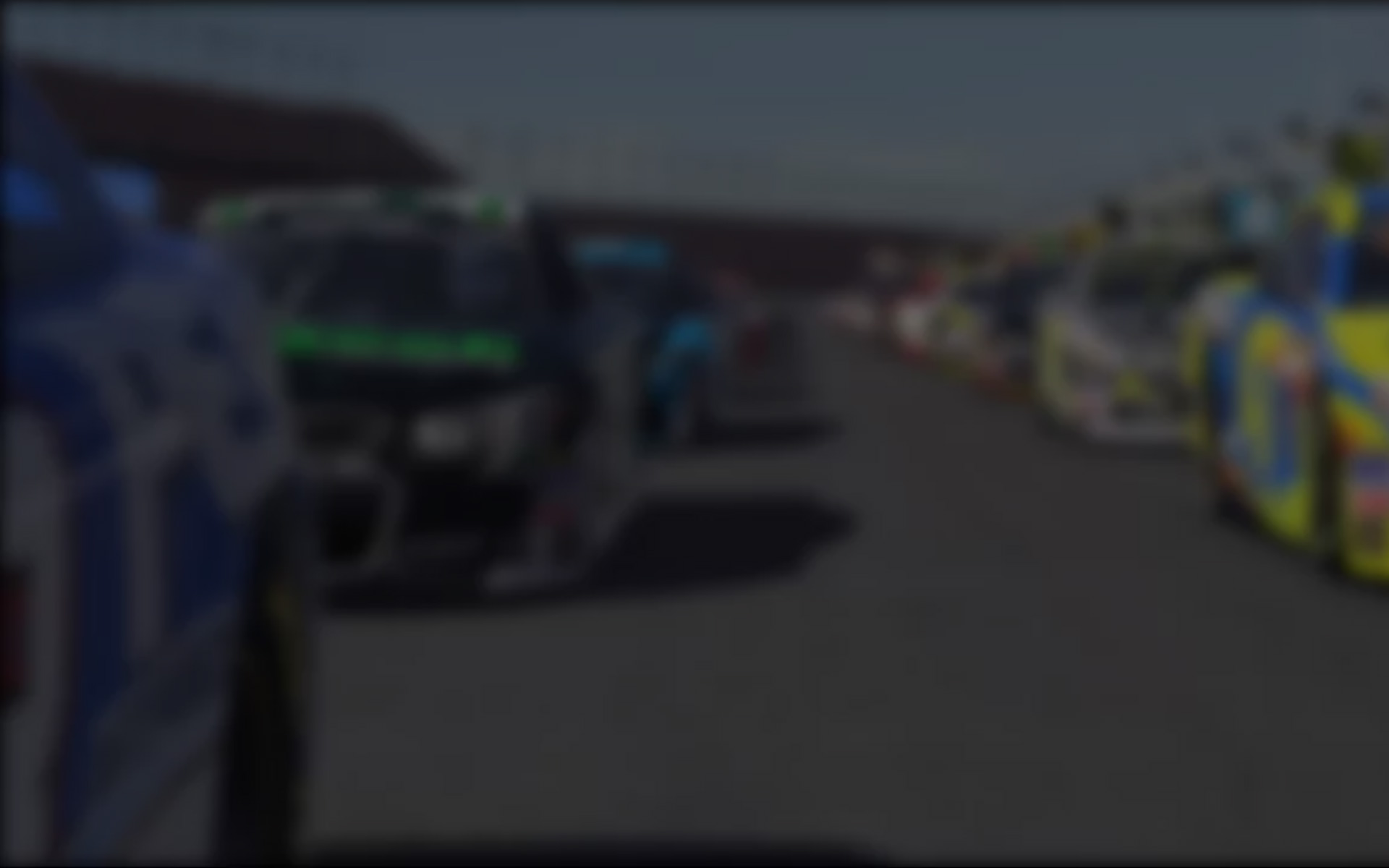 Think Sunday was a long day for Dale Earnhardt Jr, Denny Hamlin, Brad Keselowski & Company – not to mention millions of TV watchers or the tens of thousands of fans who endured slashing rain, tornado warnings and hours of track drying to witness a Daytona 500 that lasted 10+ hours from start to finish?
That was nothing compared to the Iron Men of the iRacing Daytona 500, three of whom ran 2000+ miles of sim-racing last weekend.  You read right:  J.C. Arnold (2483), Mark Beech (2480) and Patrick McCullough (2363) each topped the 2000 mile mark in the opening round of the 2014 NASCAR iRacing Series by competing in a multitude of races in both the Open and Fixed setup categories.
The Iron Men were just some of the 2800+ entries in the seven race weekend (three for Open, four for Fixed) that saw Pro drivers Adam Gilliland and Michael Conti bolt to the head of the NASCAR iRacing Series Open standings with 405 points apiece ahead of the similarly matched twosome of Malik Ray and Tyler Hudson (391), while Eugene Mozgunov took an early lead in the NASCAR iRacing Series Fixed standings with 309 points, just ahead of  Connor Anton (307 ) and Matthew Wright2 (299).
Although none of the Iron Men made it to the Winner's Circle at Daytona, they all gave good accounts of themselves with Arnold earning three top six finishes (including a P3) in six races, Beech taking a pair of top sixes in five tries and McCullough recording a pair of eighth place finishes in five outings.
"Being from Jacksonville Beach, about an hour and 30 minutes north of Daytona, the 500 is one of my favorite races to not only watch but run on iRacing," said Arnold.  "Of course I was going for a win or two. I had a few good races with a couple of top tens, but the best race was the Saturday Noon race.  I ran in the back most of the race, went down a lap and raced a couple of guys for the Lucky Dog when the caution came out at 180.
"Then another wreck Lap 194 took-out the second through fifth place cars, which put me into the second place spot for restart.  With it being a one lap shootout to the end, I thought, 'I'm going to end up on my roof.'   We finished with a little paint traded, but unfortunately I sort of got hung out by the low line of cars, and ended-up fourth.
"All and all it was a really good iRacing Daytona 500."
Hearing he was one of the iRacing Daytona 500 Iron Men capped a great weekend of sim-racing for McCullough.
"Wow Iron Men and I am one of three," he said, "pretty cool, first off, and second it was A BLAST!!!! Over 2k miles and I could have gone another 2k before I was tired of Daytona . . . I just got caught up in the fun and excitement of it all. I met a lot of good drivers and made some friends in those miles too.
"Best moment this weekend was a blown engine!!!! Yes a blown engine… I was running really well with Denny McCullough and Stacey Miller.  We were running fourth, fifth and sixth before we had to come in for last pits.  Steve had trouble in and out and lost the pack by five or six seconds which in Daytona with no drafting partner is 'Bye-bye!  See ya when we come up to lap you.'
"Being the nice guy I am, I dropped back to get Steve back up and as we got back to the lead pack after about 20 laps of seriously intense pushing.  Denny took damage (Daytona + front end damage is very bad) and I told him to fall in between Steve and I so he could stay at speed. Long story short: I blew my engine so my buds could finish up front.   Stacey won, Denny was fourth and I still finished 12th… but part of a winning team in my eyes!!!"
"I met a lot of good drivers and made some friends in those miles . . ." — Patrick McCullough
Beech couldn't be reached for a post-weekend comment, which may have something to do with the fact that he hails from The Yukon.  But another iRacer from the Far North – Finland's Teemu Iivonen – finished P5 in Daytona 500 miles at 1988 (just seven miles behind P4 on the mileage list Michael Leiby).  And given the fact that he's on European time and so ran two of his four races between 3am and 5 am, he qualifies for a "first in class" award.
Not surprisingly, Iivonen is more of a "road racing specialist" than oval racer – 2014 will be his third season in the iRacing World Championship Grand Prix Series – but that is slowly changing.
"I've started to run more and more oval as of late and it just felt natural to run as many of the great Daytona 500s as I could," he explained. "If it wasn't for work – I would've done the last one as well. Even though SS is more about being lucky then actual 'racing skill,' it still requires a certain kind of ability to read situations good, and place your car in the best place possible towards the end to give yourself the best chances to win.
"It was a shame what happened in the Saturday open race: I was in the lead with about 10 laps to go, and made a switch with two teamspeak friends with about five to go so they could push and we could finish upfront (I would've been happy with 300+ points the top five got in that race).  But instead that put me in the middle of the danger-zone.  And the same lap we made the switch – the guys next to me wrecked and took me with them. I guess I should have been more egoistic there." 
Like his fellow Men of Iron, Iivonen was unable to make that final left turn into victory lane  . . . but that won't stop him from having another go — or five — in 2015.
"I only managed to finish one race without getting caught up in something during the last 10 laps in three of the four races, which is a shame," he says.  "It happens when people put their elbows out coming to the finish.  But there's always next year!"
Images courtesy of J.C. Arnold
---
You may also like...
---