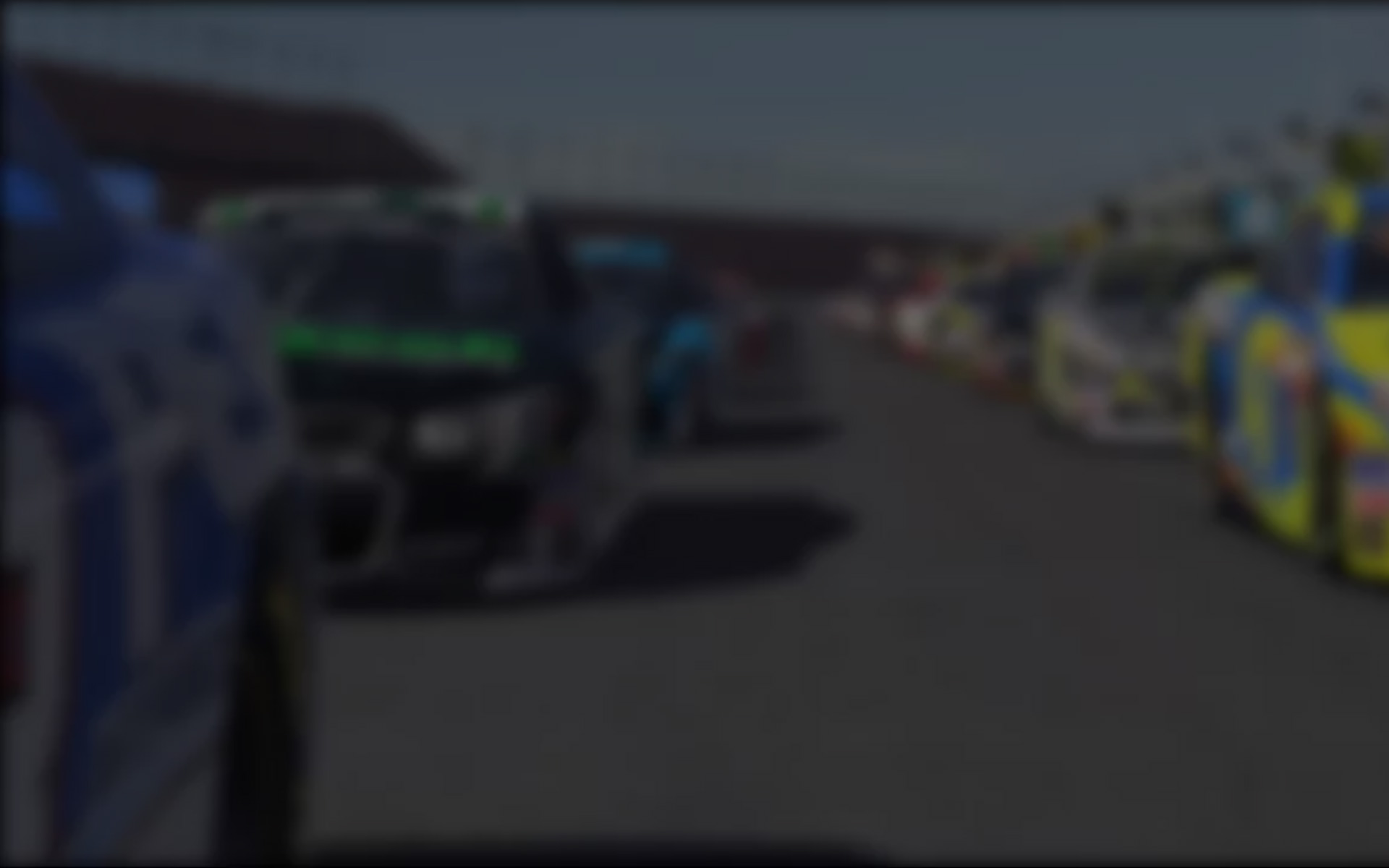 Continuing his seemingly unstoppable charge towards the iRacing.com Pro Series Road Racing title and entry into the 2012 iRacing.com NVIDIA Grand Prix Series, Atze Kerkhof put on another flawless display of online-racing at the digital rendition of Australia's Philip Island on Saturday. With five victories from as many starts, the 'Flying Dutchman' has maximum points to his name, led 263 of the Championship's 329 laps raced so far, and now holds a 107 digit advantage in the series standings table.
A time of 1:06.141 in the two-lap qualifying session placed Team Redline's Kerkhof at the front of the grid for the third time this season, a position he maintained at the drop of the green flag, despite a strong challenge from Martin Krönke through the opening corners. With a clear track ahead, Kerkhof gingerly carved-out an advantage over Krönke's My3id Williams-Toyota FW31, and by the time he headed to pit-lane for his first scheduled stop on Lap 24 his lead was up to nearly five seconds.
"After five laps I was completely in an 'Obutto zone,'" Kerkhof enthused post-race. "It was a great feeling, because everything went automatic and smooth within the safety limit. With some four-seconds gap over Martin before the pit-stops I had a safe margin on him to stay clear from any leapfrog attempts."
With Krönke electing to run heavy on fuel for his second stint, Kerkhof extended his lead to thirteen-seconds over the next 23 laps, before heading for his final service of the race on his forty-seventh circuit of the virtual Philip Island.  "I decided to go for a heavy first and second stint and go very light into stint three. It didn't pay off though, " Krönke explained at the end of the 69 lap race. "The race wasn't really interesting in terms of fighting for position. I never was near any opponent which made the race boring to some extent."  As Krönke surmised, with all the scheduled pit-stops completed, Kerkhof found himself with a commanding lead of eight-seconds – a gap he maintained to the chequered flag. "After Martin pitted he had much fresher tires and he was slightly gaining time on me. I tried to push harder and the gap after that increased again to over ten seconds," added Kerkhof.
"After five laps I was completely in an 'Obutto zone." – Atze Kerkhof
Whilst Kerkhof and Krönke had a relatively serene path to the flag, Emile Spindel had a white knuckle ride to his first iRacing.com Pro Series Road Racing podium finish. Starting sixth, the CST Ajira sim-racer was immediately into the top five, following the demise of Andre Boettcher's engine on the inside of Row Three as the green lights shone.  By the time five-laps were registered on the board, Spindel had been joined by Roland Ehnström and this pair had moved-up to the gearbox of Sebastian Schmalenbach, who was chasing Simon Crochart in third position. For the next ten circuits Spindel searched high and low for a way past the German, all the while parrying Ehnström's advances, until slipping into the fourth position on Lap 15 through Turn Four. Unleashed like a greyhound from the starting-traps, Spindel ate-up the three second gap to the Frenchman and, by the time of his first scheduled stop on Lap 28, was swarming over Crochart's gearbox.
"As soon as I got by Seb I quickly started catching Simon," Spindel told inRacingNews. "After only a few laps I was right behind him. Again I was stuck and losing time."
Just a couple of laps later, the Spindel found himself battling just to retain his first stint gains, as Schmalenbach exited the pits ahead of him following service. With the advantage of warm tyres, however, Spindel made easy work of the Twister Racing FW31 by repeating his earlier pass on Schmalenbach at the slow Turn Four. Yet again Spindel had to charge around the twelve corners of Philip Island in a bid to catch Crochart, who had held onto the third position and increased the gap at the end of the first scheduled pit stops. However, a momentary lapse from Crochart, out-braking himself into Turn Four, handed immediate promotions to both Spindel and Schmalenbach – who was not inclined to hand the position back to the Frenchman. Over the ensuing laps and final round of pit-stops, Spindel maintained possession of the final podium spot.  He was closely shadowed by Schmalenbach, who was clear of fifth placed Crochart and pushing Spindel to the finish line.
"I kept pushing and was again closing the gap [to Krönke], despite a miscalculation of fuel which meant I had three to four laps too much. With Seb just behind in the final stint kept me on my toes too so I had no choice but to push anyway!" Spindel said.
Further back, Ehnström bested Twister Racing's Jeremy Bouteloup to the chequered flag, who kept the Swedish racer – and sixth place — in his sights throughout the race. "The Perfect Pedal Williams FW31 was very fast tonight, and the combination of running a low down-force set-up and braking hard into tight hairpins suited my driving style," Ehnström explained. "So I must say I am disappointed with the outcome of this race. In the final stint I drove in clean air and tried in vain to close the gap to Simon Crochart, who was running fifth, but the gap was too big. So in the end I finished a disappointed and slightly upset sixth."
"The combination of running a low down-force set-up and braking hard into tight hairpins suited my driving style." — Roland Ehnström.
A blistering start and a smattering of good luck resulted in Jaroslav Honzik earning his second top-ten finish of the season a mere three-tenths of a second ahead of Ken Leach.  Fifteenth on the grid, Honzik was up to ninth by the end of the opening lap, with Australia's Ian Lake just ahead of him, and the likes of Dave Gelink, plus Samuel Libeert following closely behind. With eleven circuits complete, Honzik called on Lady Luck, when an innocuous tap from Lake sent Steve Kasimatis' lapped car spearing into oncoming traffic.  Honzik and Kasimatis just missed one another, but Gelink and Libeert weren't so fortunate and found themselves embroiled in race-ending carnage.   For his part, Lake had to nurse his damaged car to an eventual twelfth place finish as a result of the initial contact.
The incident not only relieved some of the pressure for Honzik, it left a clear track for Leach who was now up to ninth spot, and progressively closing the gap on the Czech Republican. This was to be the story of the race for Leach:  As each stint drew to a close the New Yorker would be on the coat-tails of Honzik, who even let him have track position before the first stops.  But he was unable to find a way past the European by the time they reached the chequered flag.
"Jaroslav got past me again as the first pit stops cycled through," Leach conceded. "I had started to close the gap again during the final stint but I wasn't able to get close enough to attempt a pass. Still, I'm happy with ninth in a field like this."
Not to be out done, Martin Macjon made a net gain of 22 places to take his first 2011 iPSRR top ten finish. Starting from the sixteenth row of the grid, the My3id sim-racer piloted his Williams-Toyota FW31 through swathes of cars on the opening lap, only to have to start again, after dropping back down the field following contact with Norbert Wolf.  Undeterred, the German clawed his way back from twenty-seventh to secure tenth position, 68 laps later.
With a maximum 250 points to his name, Kerkhof now holds a 107 point lead over Krönke, who is just five clear of Ehnström.  A further seven marks back, Crochart occupies fourth in the standings, with Schmalenbach an additional seven points away. Round Six of the iRacing Pro Series Road Racing heads to the championship leader's 'home' circuit of Zandvoort in the Netherlands.  Will anybody be able to spoil the Kerkhof party?
---
You may also like...
---