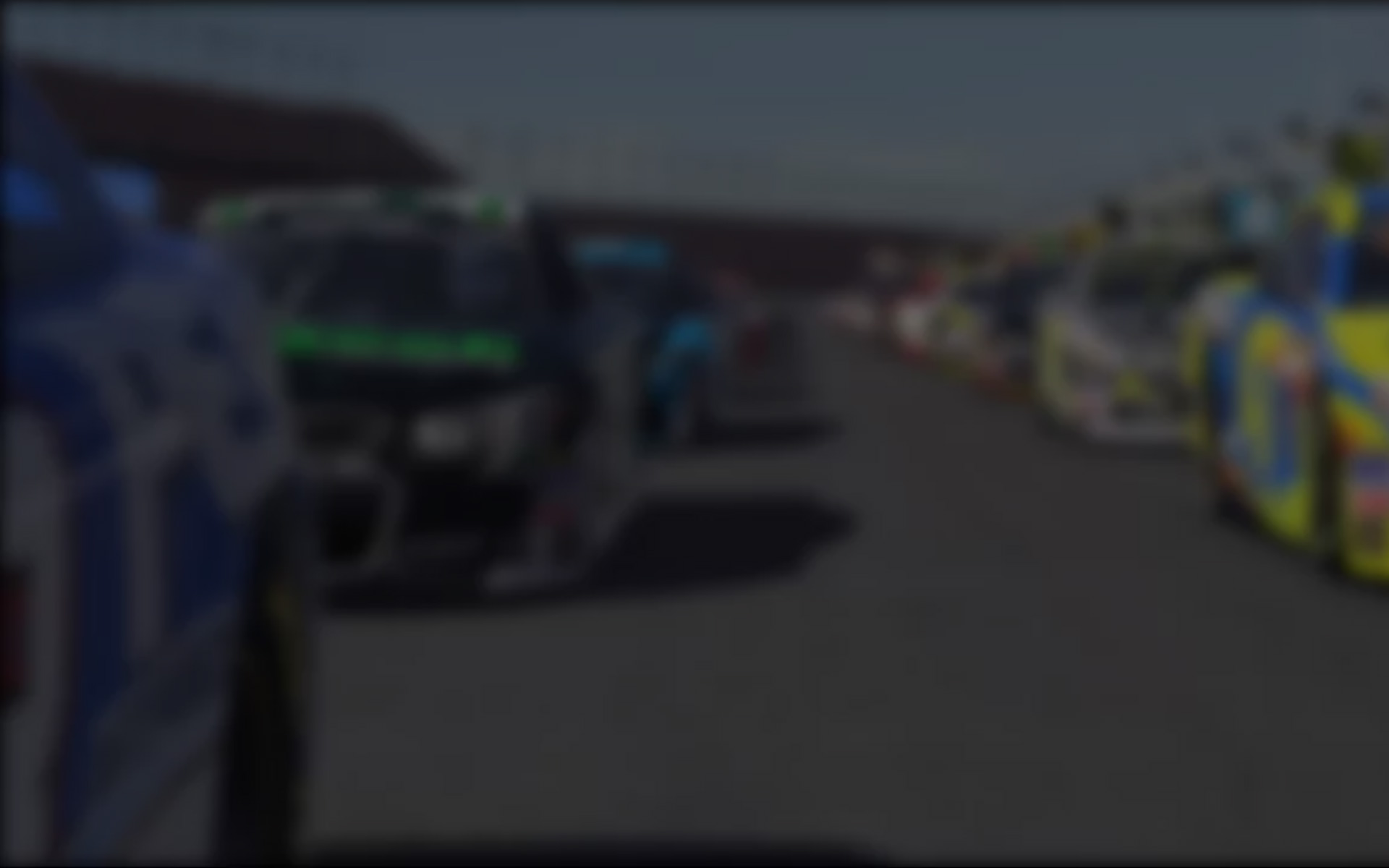 Although it was a gloomy overcast day in Narellan, New South Wales, Australia, that didn't stop some of the top iRacing.com V8 Supercars drivers from showing up for Week 9 of the 2014 Season 2 Championship battle. With 50 laps to complete on Oran Park Raceway's slippery surface, the stage was set for an excellent race filled with many challenging battles and close sim racing. Starting on pole was Trans-Tasman Racing (TTR) driver and defending series champion, Madison Down, with a 1:05.382. He was followed closely by Team TTL driver Richard Hamstead as Leigh Ellis, Beau Cattell and Shaun Kelly rounded out the top five starting grid.
As the lights turned green, Hamstead wasted no time getting things started as he got the jump on Down and tried to press the advantage early on. Down defended hard as the two went side-by-side for the first half of the lap with Down finally yielding as they led the field over the Dunlop Bridge. By the time Lap 10 rolled around, the two drivers had already created a large gap over the rest of the field.
Around that same time, there was an intense three-way battle going on for tenth position between SDC Motorsports driver James McKnight and Kamikaze Racing Team drivers Michael Fulcher and Samuel Collins. Fulcher and Collins were close on the back bumper of McKnight but as the laps progressed, he slowly began to pull away from the two Kamikaze drivers. At the end of Lap 14, however, McKnight made a critical error as he put his left side wheels into the grass on Recaro Corner. This all but destroyed the gap he had created over Fulcher and Collins and the two were quick to pounce on this mistake.
McKnight, on the other hand, wasn't willing to hand over his position so easily and was able to keep Fulcher at bay as they entered pit lane together on Lap 16. This battle resumed as they exited the pits but McKnight made a second mistake at the end of that same lap. Coming out of the dogleg too fast, McKnight hit the wall at Recaro Corner which allowed Fulcher to finally slip by. Succumbing to the damage, McKnight eventually retired as Fulcher and Collins finished seventh and eighth respectively.
A close call for Corey Preston on Lap 20 almost ended his race prematurely. Defending against Collins just before his pit stop, Graeme Phyland exited the pits directly in front of Preston and effectively cut him off. With nowhere to go, Preston was forced to take the long way around as he drove his Falcon through the dirt to avoid hitting Phyland.
Taking no damage, Preston re-entered the track after both Collins and Zac Baker were able to go around him. To Preston's credit, he was able to complete the race in ninth after overtaking Baker but couldn't catch up to Collins. Phyland ultimately finished a lap down in fifteenth.
Back up front, Hamstead was hanging on to the effective race lead on Lap 25 with Down still hot on his tail. Running an impressive pit strategy of his own, however, was Beau Cattell of ANZ Motorsports. Staying out as the leaders made their pit stops, Cattell led several laps before having to pit on Lap 20. He exited pit lane directly behind Down and immediately began challenging for position. This battle raged for five laps until Cattell made a costly mistake. Rounding the first corner too wide, Cattell's Ford Falcon plunged into the dirt just before Coca-Cola Corner. This caused him to get sideways and, unable to regain control, he skidded off the track into the tire barrier. A lap later, Cattell parked it in the pits and retired from the race.
As we entered the closing laps of the race, it was a three way battle up front between Hamstead, Down and his fellow TTR driver, Ellis. Hamstead and Down had been playing cat 'n mouse for the past 20 laps or so with Down overtaking Hamstead and then vice versa.
With five laps to go, however, Hamstead dropped the hammer and began pulling away from Down and Ellis. With his competition unable to keep up, Hamstead crossed the finish line to secure the win for Week 9. Down and Ellis finished three seconds behind to complete the podium with Jake Burton and Sam Sutton completing the top five.
This Australian Strength-of-Field (SoF) race had a strength of 3389 and was split three times. The top five finishers from the other splits are as follows:
Split 2/SoF 1747
1- Sam Compton
2- Glenn R Boyd
3- Joshua Sawtell
4- Ian Bird
5- Craig Jones
Split 3/SoF 1093
1- Benjamin Syron
2- Jonathan Beikoff
3- Taranto Twinrow
4- Richard Byrne
5- Tony Lynch
With three weeks remaining in Season 2, the battle for the championship remains close. Kelly holds onto the lead with 1652 points followed by Cattell (1612), Hamstead (1603), Ellis (1578) and Marlon McMullen (1575).
As we enter Week 10, the iRacing.com V8 Supercars Series packs up and heads back to North America for 25 laps at the Canadian Tire Motorsports Park (aka Mosport). Located about 50 miles east of Toronto, this 10 turn road course features a single configuration of just under 2.5 miles in length. A favorite among the top level drivers for its fast corners and elevation changes, Mosport will undoubtedly see in increase in participation as many drivers will look to conquer this challenging track.
Be sure to follow iRacingNews as we continue our coverage of the 2014 Season 2 iRacing.com V8 Supercar Series.
---
You may also like...
---