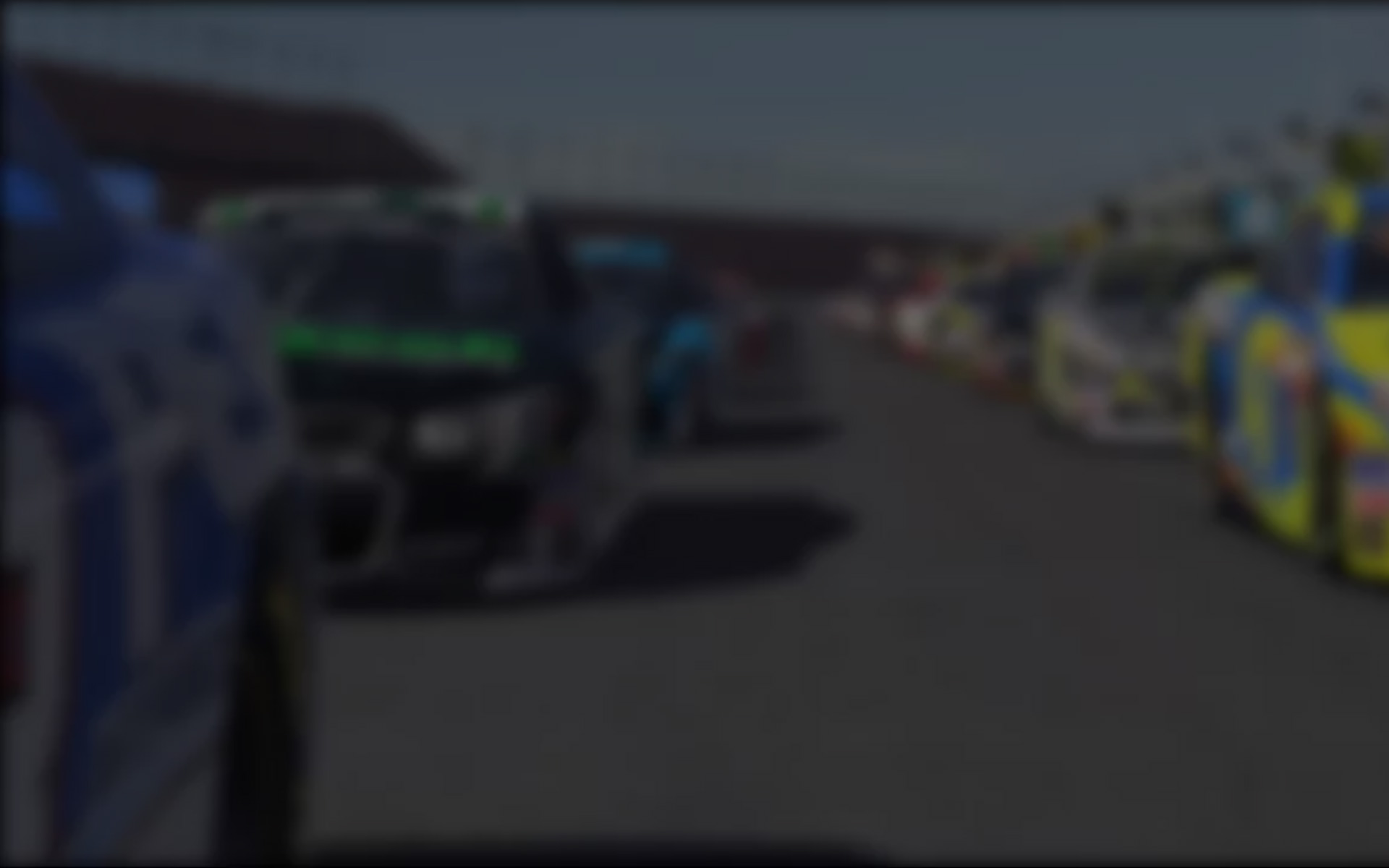 After watching three different drivers take top spot in the first three events of the Red Sox Racing League's 2011 Season 3 schedule, defending league champion Les Turner returned to winning form when the series visited his favorite track for the "Fall Festival F1 GP at Mosport".  Mosport has always been a great home track for the talented Canadian and this week was no different. 
Turner has always been fast and clean at the hilly road course located in Bowmanville, Ontario Canada.  Mosport's 2.45 mile layout includes several severe elevation changes and ten corners with varying degrees of difficulty.  Repaved in 2003, the track was widened to allow for more side-by-side racing and additional passing zones for the daring.  The track has hosted a variety of series since racing began there in 1961.  RSR's own Divina Galica has participated in real world events at the track during her racing career.   
Turner showed a glimpse of his winning form during the pre-race practice and qualifying sessions, but stiff competition by Andrea Ventura and Brad Vincent kept Turner from thinking the race was his to lose.  All three drivers battled hard during both sessions to secure the top spot on the grid. 
Ventura led the way in qualifying with an incredibly fast lap time of 58.711.  Turner and Vincent were nearly as quick, but had to settle for 2nd and 3rd place with lap times of 58.814 and 58.819 respectively.  Wolf (4th) and Thomas (5th) rounded out the top-five grid positions.
The remaining grid positions were filled by; John Koscielniak, Jim Albertson, Jeff Sharp, Andrew Feldman, Terry Daul, Divina Galica, Bill Pawluckie, William Kabela, Gary W. Clark, and Wilbur Gildersleeve Jr.  Gildersleeve failed to start the event as he was just too exhausted from his extracurricular activities in the Netherlands last week. 
The race began very well for Turner once the green flag dropped.  Using his experience at the track to maximum effect, he was able to launch himself into Turn One with enough momentum to take the lead position from Ventura as the rest of the field safely negotiated the narrow corner. 
Moss Corner is usually the location of many off-track incidents, but the entire field managed to get through it without trouble on the opening lap.  The tricky corner reared its ugly head the next time by however, and Wolf was the unsuspecting victim.  His trip through the grass dropped him from 4th place to 12th place.
"We never saw that one coming", said Wolf after the race.  "I'd driven over 40 laps to prepare for this event and thought I had that corner figured out."  Wolf would eventually recover from the early mistake and finish the race in 5th place.  "I had a good battle with John for 4th place and finally got past him with about seven laps to go, but he tailgated me until I buckled under the pressure and made enough of a mistake to let him retake the position.  I'd like to thank Jim from BPS Motorsports for helping us calculate how much fuel to take in the pits."
While Moss Corner has a reputation for ruining races, Turn Two is the most feared corner on the track.  Drivers with ideas of a podium finish know they must take the corner full throttle, but the sweeping downhill takes no prisoners for those who blow the corner entry.  A trip through the grass here almost always results in race ending damage.
Daul was the first to succumb to the dangers of Clayton Corner when he slid off the track on Lap Five and buried his car in the tire barrier.  He was forced to call for a tow and lost valuable time as his team tried to repair the damage.  The mistake would eventually cost Daul two laps to the field and a disappointing 12th place finish.
While Turner managed to avoid the dangers of those corners in the early going, he could not shake the hard-charging car of Vincent.  Brad has been near the front of every event on the schedule, but his aggressive driving style has also cost him valuable track position in past events.  Turner gambled that Vincent would be unable to complete the Mosport event incident free when he decided to relinquish the lead on Lap Five at the top of the Andretti Straight.
"I made the decision to let him go, and made that clear by not defending the inside line into the Esses early in the race.  Andrea and I had a great battle for second going for a long time after that.  He never let me rest, but he short pitted when we were catching lap traffic and I put my head down and took advantage of the draft."
His strategy worked as Vincent spun in Moss Corner on Lap Thirteen, and went off track in Clayton Corner on the next lap.  The second error sent Vincent to the pits for repairs and all the way back to 11th place and out of contention. 
Turner regained the lead after the Lap Fourteen incident and never looked back.  "Ventura kept us honest tonight until he bobbled in Moss late in the race and that sealed the deal", said Turner in Victory Lane after the race.  "You need to attack Mosport aggressively if you want to be fast, but there are also four or five danger zones that need to be respected if you plan on being there at the checkers."
The track did not discriminate in dashing the hopes of drivers throughout the field.  Thomas, Sharp, Clark, Pawluckie, Vincent, and Wolf all lost valuable track position during incidents between laps nine and twenty-seven.  Sharp's incident dropped him from 5th place to 12th place.  Turner, Koscielniak, Feldman, Galica, and Kabela were the only drivers to complete the race without collecting an incident.    
Turner's experience at his home track earned him a nine second margin of victory over Ventura.  According to reporters on pit road, Turner offered to treat everyone to a post-race party including a BBQ at Tuna's camp site cooked by Gildersleeve in the Turn Two camping area. Wilbur's decision to cook buck naked went terribly wrong and he was treated by the first aid team for minor burns.
Gildersleeve was humble in his post race comments. "We hit the nude beaches at Zandvoort and did not make it back till just before qualifying at Mosport. KK and I decided to watch the race and get the victory dinner started. Everything was going fine until someone threw a rubber Tuna at the grill and there was some grease splatter that made contact with my sensitive parts. We will try to make it back for the next race, but for sure we will not be 100 percent."
Albertson was two seconds behind Ventura when he crossed the line to secure 3rd place.  Albertson was pleased with the podium finish considering he had only qualified in 7th place.  "We got off to a clean start and enjoyed a tough battle with Jeff and John in the early going.  I had the fastest pit stop of the season and got back onto the track ahead of John.  I had to work hard to stay in front of John and Corey, but I didn't have anything for Andrea."     
Koscielniak finished alone in 4th place after battling hard to beat Wolf for the position.  Wolf's 5th place finish felt like a win after his early race trouble. 
Feldman (6th) and Galica (7th) battled hard throughout the race.  They were still neck and neck as they negotiated the final laps and crossed the finish line as the last cars on the lead lap.  Both capitalized on the Lap Twenty-Five incident which collected Thomas and knocked him out of 6th place.
Thomas (8th) Vincent (9th) Kabela (10th) and Sharp (11th) all finished one lap down.  Daul (12th) was alone two laps down.  Pawluckie's incidents caused so much damage that he was forced to pit twice for repairs.  He would have to settle for 13th place after the Lap Twenty-Five incident in the Esses.  Clark finished 14th and was the last car to score points in the event.     
Vincent leads the championship race after four events.  He has an 11 point lead over Turner, and a 32 point lead over Koscielniak. 
RSR drivers travel to sunny California next week for the "Monterey F1 GP at Laguna Seca".
Grand Prix Series Overall Standings after Race 4:
http://www.ileaguerace.com/champ/show_champ/Red-Sox-Racing-League/187
RASCARR Series Overall Standings after Race 4:
http://www.ileaguerace.com/champ/show_champ/Red-Sox-Racing-League/194
RSR YouTube Video Channel:
http://www.youtube.com/user/draftin11
---
You may also like...
---