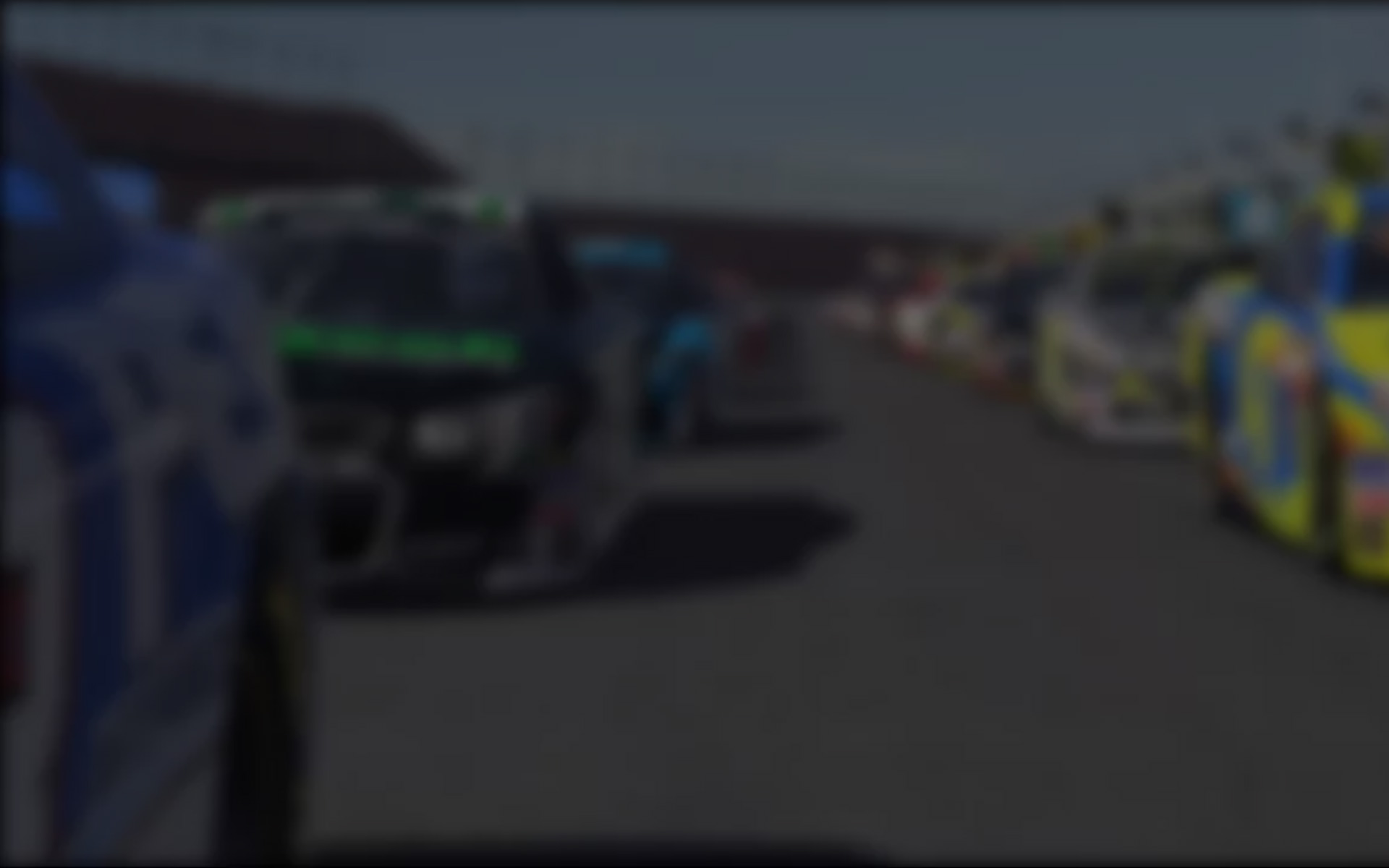 Season Two of the Red Sox Racing League's 2011 calendar has been a roller coaster ride for fans and drivers alike.  After two races which saw new comers Justin Kirby and Brian Irby outpacing league veterans for wins at Spa and Watkins Glen, the season's championship point race was as tight as anyone could remember in years.
Week Three of the season saw sixteen drivers traveling to Canada for the "Panoz 36" race at the Mosport International Raceway.  The track is an exciting venue with a history of providing close races in past RSR events.  The incredibly fast 2.459 mile, ten corner track layout ensures high speeds and forces drivers to pick their passing spots with care.
Mosport is the home track for defending four time league champion, Les Turner.  It is also the track where he cemented his most recent league championship in March of 2011.  Tied for fifth in current point race, Turner was eager to return to winning form at one of his favorite tracks.
Turner put the field on notice that he was the car to beat as he posted the fastest laps during practice and qualifying.  Turner's qualifying lap time of 59.115 secured his third pole of the season.  Jim Albertson earned the outside position of row one with a qualifying effort of 59.467.
Rows two through five of the starting grid were occupied by Terry McCuin (59.678), Brian Irby (59.821), Jeff Sharp (59.951), Justin Lukes (1:00.047), Clifton Cockrell (1:00.057), Jeff Thomas (1:00.410), Divina Galica (1:00.440), and Ed Sutcliff (1:00. 672).  The remaining grid spots were filled by Robinson Shields, Greg Harris, Andrew Feldman, William Kabela, Bill Pawluckie, and Mark Plank.  Mechanical problems forced Harris and Lukes to retire before the green flag dropped.
The close qualifying times amongst the top drivers should have meant the battle for the win at Mosport would be decided in the closing laps of the race.  Turner had other ideas.  Les used his pole position to get a great jump on the field and then went on to one of the most dominating performances of his career.  "We knew the field was going to be fighting hard to keep our car off of the podium again this week", said Turner's crew chief.  "After the disappointing way our race ended last week, we just wanted to stay out front and away from danger."
The team's strategy worked to perfection.  Not only did Turner lead every lap in the race, he also lapped all but three drivers on his way to a thirty-four second margin of victory.  While Turner treated the challenging course as his personal playground, the rest of the field tried hard to keep him in sight.  Their efforts proved futile as many of the fastest cars once again found themselves retiring early after on-track incidents.
Robinson Shields was the first driver to fall victim to the track's dangerous corners when he went off track and into the wall exiting Whites Corner on Lap Two.  He was able to continue for several more laps, but eventually retired after contact with the wall in Moss on Lap Eight.  Shields finished 28 laps down in 12th place.
Jim Albertson was once again, one of several pre-race favorites to succumb to mistakes which ended their night.  After an excellent start, Jim found himself in a tight battle with Terry McCuin.  Starting in the third spot, McCuin made a daring pass on the opening lap to overtake Albertson for 2nd place.
The league veterans tried hard to keep Turner in their sights as they battled for position.  Brian Irby was also in the mix as he held onto 4th place in the opening laps.  He was following Albertson when the normally clean driver collided with McCuin on Lap Six.  The contact knocked McCuin out of the race.  Jim tried to continue, but went off in Turn Two the next time by and stuffed it in the tire barrier ending his night.
"I thought I had Terry's braking points figured out", said Albertson after the race.  "But I completely missed it and drove right into the back of his car."  The incident resulted in Albertson's second DNF in a row.  "We apologize to Terry and the fans for that one.  I promise everyone a clean race next week!"
Cockrell was one of the fastest cars on the track during the race and had climbed five positions to earn 2nd place before his night ended when he hit the wall exiting Whites Corner on Lap Thirteen.  He was the only other driver besides Turner to post a sub 1:00 lap time during the race.  "I'm not sure what happened there, we ran the same line through that corner every lap." said a dejected Cockrell after the race.
Irby was another top driver to give away a podium finish when he wrecked on Lap Nineteen.
RSR veteran drivers Ed Sutcliff, Jeff Thomas, Divina Galica and Andrew Feldman found themselves in the top five as the pit cycles began.  Galica lost the chance to battle for a spot on the podium when her crew was forced into a very long pit stop.  Her misfortune cost Galica valuable track position as she exited the pits in 8th place.
Jeff Sharp was forced to retire with damage after stuffing his car into the wall exiting the pits on Lap Twenty-One.  Jeff had worked his way up to 2nd place before his pit stop. Galica's chances at recovering from her poor stop ended when she missed the turn at Moss and hit the wall on Lap Twenty-Four.  While positions two, three, and four fought for the two remaining podium positions, Turner treated the last half of the race as a parade as he calmly lapped car after car on his way to victory.  He was a full thirty-four seconds ahead of Thomas when he crossed the line to take the checkered flag.
Turner's TeamDraft teammate, Jeff Thomas recovered from an early race mistake to earn 2nd place.  "I thought it was going to be a terrible evening as it seemed "Mr. Murphy" was riding shotgun with me in Qualifying.  It seemed like what could go wrong did go wrong, and what couldn't did also.  Once we took grid we just slowly started picking them off one by one after overdriving the horseshoe early in the race. We had some fantastic racing with Ed and Divi tonight.  We're proud of our 2nd place finish even though it was somewhat of a gift after losing a couple of really good drivers through the evening. Teamdraft is looking great at Mosport once again this season. Congrats to Les Turner on the win, keeping the trophy and the flag in Canada."
Sutcliff crossed the line three seconds behind Thomas to earn his first podium of the season.  "Wow, what a race!  I love this track.  Congratulations to Les and thanks to Jeff and Andy for some great racing."
Feldman's 4th place finish was his first top-5 of the season.  "This track is very demanding.  I focused on racing a clean line every lap because I knew a number of drivers would have incidents and fall out of contention.  I was lucky to get past Divi in the pits."
Kabela also earned his first top-5 of the season when he crossed the line in 5th place.  Pawluckie followed in 6th place.  Both drivers were scored one lap down to the leaders.  Galica (7th place) and Plank (8th place) were scored three laps down.  Sharp's early exit meant a 9th place finish, and Irby earned 10th place.
Cockrell, Shields, Albertson, and McCuin rounded out the final finishing positions.  Six drivers (Turner, Sutcliff, Feldman, Kabela, Pawluckie, and Plank), completed the race without incident.
The race for the championship is still very close as drivers travel to England for next week's event, the "Hawthorne Hill 33" at Brands Hatch Grand Prix Circuit.  Turner's victory allowed him to climb back into the top position from 6th place in the overall standings however the top 11 drivers are still only separated by 94 points after 3 events.
TNT Rags to Riches Series News
May 31st, 2011 – Story by Mark Plank
This week's oval race the "Spring Sizzler 40" was held at Stafford Motor Speedway.  This was the 3rd race out of a 4 event Street Stock mini-series in the Tuesday Night Thunder Series "Rags to Riches Quest for Fame", and the 3rd race out of 12 in the "Rags to Riches" overall Oval Championship comprised of events in three different type stock cars.  Three racers put down sub-23 second laps during practice; Terry McCuin, Les Turner, and Mark Plank.
Terry McCuin captured the pole with a blazing 22.964 followed closely by Les Turner sitting once again on the outside lane.  The race started without incident as the drivers screamed into Turn One lining up for what seemed to be another good clean RSR short track start.
Brian Irby quickly put the pressure on Mark "sheepherder" Plank who qualified 3rd this week.  After 7 clean calculated laps, the sheepherder took Turn One a little too hot and left an opening for Brian to take over the 3rd position.  Wilbur Gildersleeve Jr. also took over a spot from the Sheepherder two laps later.
Andy Feldman got loose coming out of Turn Four on Lap Five and started to come around but was saved by Chad Tracy who happened to be in the right place at the wrong time.  The slight contact resulted in lost momentum for both drivers, but saved Andy from an early race spin.  Jeff Thomas wasn't so lucky on Lap Twenty-Five when his lazy spin in Turn One was slowed by wall incurring damage and valuable time.
Terry and Les continued to pace each other closely until they came up on slower lap traffic which gave both of them some close calls and held them up for a few laps.  On lap 25 Les had to live up to his name by tickling his peddle for all it was worth when lap traffic put a fright into his night.  After he regained his composure there was too little time and too much gap to be made up.  On lap 36 Jeff Thomas caught up his lost ground and made a very beautiful text book pass to regain his lost position on Andy Feldman.
The Race Ended with Terry McCuin, Les Turner and Brian Irby on the Podium this week.  Chad Tracey was overheard saying to the Sheepherder after the race "I am tired of watching your bumper each week!"   Next week brings the "New England 30" at Thompson International Speedway, then the oval racers will move up to some Chevrolet Monte Carlo Late Model racing!
---
You may also like...
---