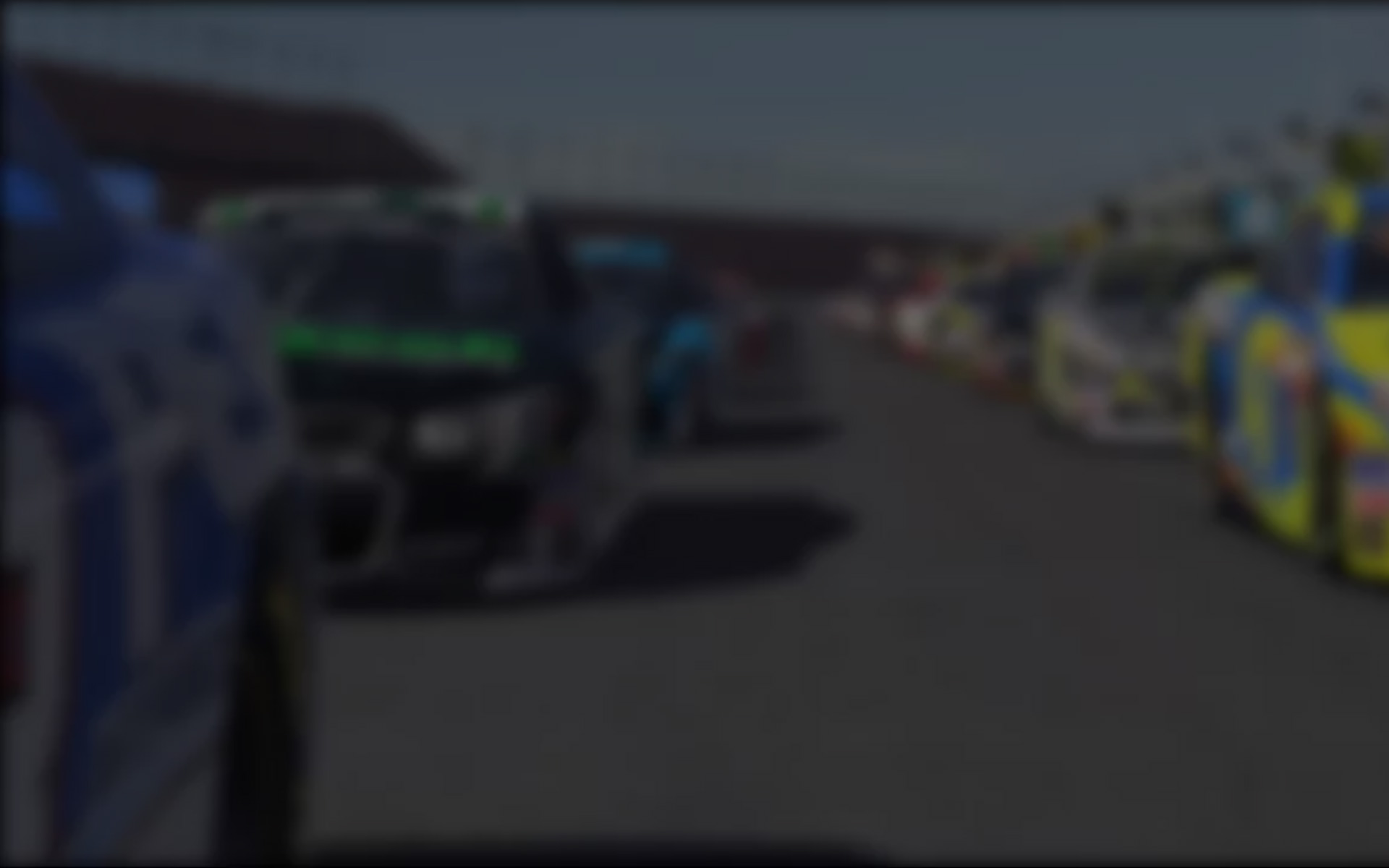 Definition: change – To make different in some particular way; to replace with another; to make a shift from one to another.  Members of the Red Sox Racing League could be forgiven for believing the league's recent change of vehicles from the Star Mazda to the Williams-Toyota FW31 would mean someone other than defending Three-time Points Champion Les Turner would contend for victory in the first online race of their 2011 season at the Silverstone Grand Prix circuit.  They would be forgiven yes, but wrong nonetheless.
Racing from the pole on a track which has given him fits in previous events (second place in May of 2010, 19th place in July of 2010), Turner was dialed-in as he calmly led all but one lap of the 21 lap race to earn yet another victory for TeamDraft.  Darren Kersey, who had won both races at the track during 2010, managed to lead one lap during the pit cycle before falling back to a sixth place finish due to a last lap mishap.
Turner was clearly the fastest sim racer at Silverstone.  He posted the fastest laps in practice, qualifying, and in the race.  His qualifying lap time of 1:23.323 was over a full second faster than the second place qualifier, Terry McCuin (1:24.598).
Jim Albertson secured third place on the grid with a lap time of 1:24.993.  He was followed on the grid by Andrew Gantman (1:25.012), Darren Kersey (1:25.154), Jeff Thomas (1:25.500), Robinson Shields (1:25.537), Divina Galica (1:25.678), Ed Sutcliff (1:25.696), Chuck Johnson (1:25.731), Jeff Sharp (1:25.904), Scott Husted (1:25.958), Andrew Feldman (1:26.228), David Holzwarth (1:27.464), Gary Jorgensen (1:27.709), William Kabela (1:28.015), Kevin Kyle (1:28.055), Bill Pawluckie (1:28.557), and Mark Plank (1:29.139).  Greg Harris and Robert Magee began the race on the back row after failing to post qualifying times.
The race began in typical RSR fashion as everyone in the field successfully navigated the first lap without major incident.  Making passes at Silverstone is tough, so most drivers realized their passing opportunities would be few and far between.  Some drivers hoped tail-gating their competition would create passing opportunities, while others used a more cautious approach and hoped to take advantage of mistakes the track is known to cause even the most skilled drivers to make.
Holzwarth got a scare, but managed to escape serious injury when Magee spun directly in front of him exiting Becketts on Lap Two.  Shields went off track on Lap Six, but drove like a madman as he charged back through the field en route to a third place finish.  Lap Six was also trouble for Jorgensen as he found the wall trying to get the power down exiting Luffield.  He pitted for repairs but was forced to retire due to extensive damage.  Kyle was the track's next victim when he hit the wall exiting Abbey on Lap Nine.
McCuin, who had been keeping Turner in sight throughout the early going, saw his chances for victory evaporate after a spin on Lap 11.  Both Gantman & Kersey took advantage of Terry's mistake to move into second and third places respectively. McCuin put his head down and fought back hard, finally taking the spot back from Kersey exiting the pits on Lap 16.
Albertson practiced hard for the event and looked like a legitimate contender for the win, but a last minute change to the positioning of his seat and foot pedals gave the crowd favorite fits once the race got started.  Normally calm, cool, and collected, "Gentleman Jim" was heard screaming at his team over the radio.   Asked about the incident after the race, Albertson declined to identify the culprit.
I'm not saying TeamDraft had anything to do with this, but whoever repositioned my cockpit is going to pay for their actions!"
The five off-track incidents dropped Albertson from his third place starting position, to a 14th place finish.
Feldman also had several issues with the track as he started and finished the race in the unlucky 13th position.  Only his car number (14) prevented Feldman from completing the trifecta for the evening.
Final standings at Silverstone saw drivers finishing in the following order; Turner (1st), McCuin (2nd), Shields (3rd), Gantman (4th), Thomas (5th), Kersey (6th), Johnson (7th), Harris (8th), Galica (9th), Sutcliff (10th), Sharp (11th), Husted (12th), Feldman (13th), Albertson (14th), Holzwarth (15th), Kabela (16th), Pawluckie (17th), Magee (18th), Plank (19th). Kevin Kyle (20th) and Gary Jorgensen (21th) were the only drivers who failed to complete the event.
Turner was happy about his first race in the Williams FW31.  "What a great start to the season for Teamdraft taking first, second and fifth place at Silverstone.
I am looking forward to next week's event at Road America which is a fantastic circuit for these fast cars."
McCuin was equally excited with his effort.  "It felt good to be behind the wheel again.  I am looking forward to this season.  Was a great race overall.  I had one slip up on my part, but was able to overcome it and finish second.  Congratulations to Les on the win."
Shields had a rough start to the race weekend.  "We felt good coming into the event, based on the pre-season practice race, but that warm fuzzy feeling didn't last long.  I missed the entire practice session due to a mechanical issue that was sorted out just in time for qualifying.  Qualifying was eventful. I could never get a complete good lap. I would either blow a corner, or come upon traffic at a bad spot. This put me seventh on the grid to start. Everything was good until Lap Six, when I went off, but luckily didn't hit anything. I got back on track and was able to catch up to the field by Lap 12, so I decided to pit and try and jump a few spots. I went in eighth and came out fifth. Not sure how that happened, but I will take it. I was eventually able to run down fourth.  The third place driver spun out with three laps to go, so I ended up on the podium."
Gantman started and finished in fourth place, but knew he had a car capable of earning a spot on the podium.  "I had a solid qualifying run.  I was able to get a good launch at the start, but had to check up when Terry McCuin and I were trying to be at the same place on the track at the same time.   I was able to get past Albertson in Turn Two for third place and held it for several laps until he passed me to take the position back.  On Lap 12 before heading into the pits for fuel and tires, I had dropped down to fifth place due to a few costly mistakes.  After pitting, I fell off the pace that I had been running at the start of the race and in the final couple of laps, I had Thomas, Kersey and Johnson breathing down my neck.  I was doing all that I could to keep my eyes on the track in front of me instead of in my mirrors!  Overall, I am really pleased with my fourth place result in my first race with the RSR league, and I'm looking forward to Road America next week!"
Turner's TeamDraft teammate, Thomas, rounded out the top-five.  "This was a great start to the season for me.  I raced hard for fifth with Andrew and Chuck at the end of the event.  I'm pretty excited about the rest of this season because it looks to be an outstanding one.  Just hope I'm in good enough shape for it though, these cars are a work out!  Congratulations to Les Turner of Teamdraft.
Overall, everyone at the track agreed Silverstone was a great first race for the 2011 season.  15 of the 22 starters managed to stay out of trouble and finish on the lead lap.  Six drivers (Turner, Gantman, Harris, Galica, Sharp, and Kabela) completed the event without a single incident.  Harris won the "Hard Charger" award for climbing 12 positions during the race.
RSR drivers travel to Road America for the "It's cool to be Cheesy" 18 lap event next week.
In other Red Sox Racing League-sanctioned events this week, The Tuesday Night Thunder Series, (RSR TNT), ran its opening race at Lanier National Speedway in the Street Stocks. Terry McCuin edged Turner off the pole by 5/1000s of a second and went on to lead all 60 laps and take the checkers.
RSR F1 Standings: http://www.danlisa.com/scoring/season_standings.php?season_id=639
RSR YouTube Video Channel: http://www.youtube.com/user/draftin11?feature=mhum
---
You may also like...
---