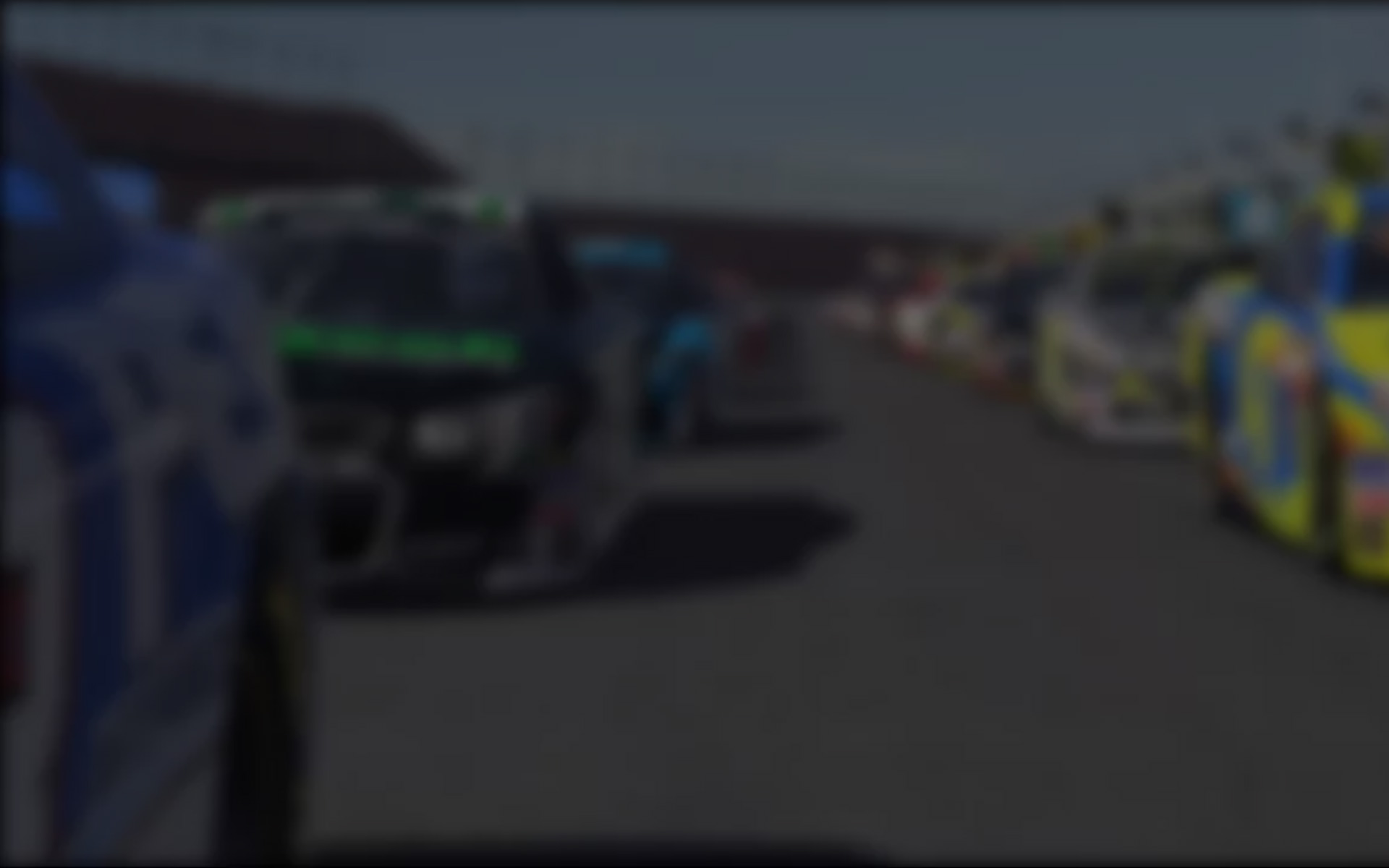 Week Three of the UK&I Skip Barber League's second season in 2014 headed to New England for 21 laps of sim-racing at New Hampshire Motor Speedway.  The field was a bit smaller than other races with 34 F2000s lined up on the "roval" and championship leader Marcus Hamilton starting from pole position with an impressive 1:10.143, two tenths faster than second qualifier Wojciech Swirydowicz.  Behind them came Wojciech Rabsztyn, Tom Ward, Graham Carroll, Richard Avery, Stuart Adcock, Martin Peck, Simon Hulbert and George Lambert with an impressive five tenths of a second separating P2 from P12.
As mentioned in previous articles, starting a race with the Skip Barber F2000 is as simple as flooring the throttle and shifting as quickly as possible.  The peak horsepower of the engine is such that it's impossible to get wheel-spin off the line, meaning the cars pretty much all slot into place at the start.  One could argue that many of the race starts are actually rolling starts given the nature of the car . . .
So as the field of nearly three dozen rounded the banked oval corner and approached the start of the road course it was game on for overtakes (and mistakes).  Avery played it cautiously under braking for Turn Four, losing a position to Adcock and nearly losing another spot to Peck (who ended-up losing a position to Hulbert in his haste to pass Avery).  A bit farther back in the field and several drivers got it all wrong under braking for Turn Four, resulting in a multicar pileup.
Just about every car below P17 (Tim Adcock at the time) was affected, if not with damage than at the very least valuable seconds lost to the leaders while navigating the carnage.  At least a half dozen cars were damaged enough to require a pit stop, while many others opted to continue on, some suffering so much front end damage that the (virtual) feet of several drivers were exposed to the open air.
At the front things were pretty close, and on Lap Three Hulbert seemingly ran straight into the back of Avery through Turn One.  They took different lines for the corner with Hulbert turning in a bit earlier and caught off guard by Avery's late entrance and "hard" angle of attack.  Avery was unaffected (possibly to the point he didn't even know it happened) but Hulbert was sent into a 360 spin at some 100mph and nearly had contact with Peck and Lambert behind before dropping to P18.
Only a few corners later in Lap Three and a visible gap had already started to form between Carroll and Ward, and the drivers behind could sense Carroll's struggles.  They didn't have long to wait, however, as Carroll lost the back end at the entrance of Turn Six and spun himself out of a possible podium down to P17 just ahead of Hulbert who had his own Lap Three issues earlier.
A couple of laps later and Swirydowicz managed to pull alongside Hamilton in Turns One and Two and take the inside line for Turn Four and, in a completely uneventful yet textbook maneuver, grab first place from the championship leader.
At this point in the race it appeared that two groups of four had emerged, with Swirydowicz, Hamilton, Rabsztyn, and Ward locked in battle for the lead, while Adcock, Avery, Peck, and Lambert were left to deliberate P5.  On Lap Seven Adcock went defensive for Turn Four and braked a bit too late which allowed Avery to take fifth spot.  Four laps later Ward managed to reel-in his target and when Rabsztyn went deep into Turn Four Ward needed no invitation to grab third.
Lap 11 marked the halfway point of the race, and proved a popular lap for overtaking as Avery struggled with oversteer at the entrance of Turn 12, severely hampering his speed coming onto the Start/Finish straight and giving Adcock a perfect opportunity to retake the fifth place he'd lost four laps prior.
As the battle for fifth raged it allowed George Li Wright to catch the foursome and as they started Lap 15 it looked like it could become a quintet until contact with Peck sent Li Wright into a spin at Turn One.  Clive Armstrong was in P11 at the time, and either out of sympathy or pure panic ended up spinning at the same location just behind Li Wright.
The two spins ahead gave both positions and optimism to Peter Cowan and Alex Gillon who had been battling with Rob Green eleventh spot.  Both Gillon and Cowan cleared Armstrong while Green slotted in behind.  Gillon then used the opportunity to take the fight to Cowan (who he'd been following since Lap Six) at Turn Six with the outside line which then gave him the inside line for Turn Seven and eventually tenth after starting P22 on the grid.
A bit farther up the road and positions changed between Peck and Lambert when Lambert seemingly conceded his seventhposition to Peck, possibly in an effort to let Peck have a shot at overtaking Avery in the closing laps.  Peck made the most of his opportunity and on Lap 20 of 21 passed Avery at Turn One, and then sealed the deal at Turn Four, moving up to sixth where he would finish the race, ahead of Avery, Lambert, Li Wright, Gillon, and Cowan.
In the end Swirydowicz expertly defended the lead of the race and came home with maximum points ahead of Hamilton, Ward, and Rabsztyn (and separated by less than 1.2 seconds).  Adcock managed to pull a gap to the battling cars behind and finished over two seconds ahead of the Peck/Avery/Lambert battle.
In the championship Swirydowicz's victory moves him up two places ahead of Adcock and Ward and into third with 58 points (Adcock having 52 and Ward having 50).  Rabsztyn (who was tied with Hamilton going into this race) is now officially second in the points with 73, and Hamilton maintains his lead with 80.  Unfortunately BSRtv was unable to cover the race so there is no video available to watch on YouTube.
---
You may also like...
---