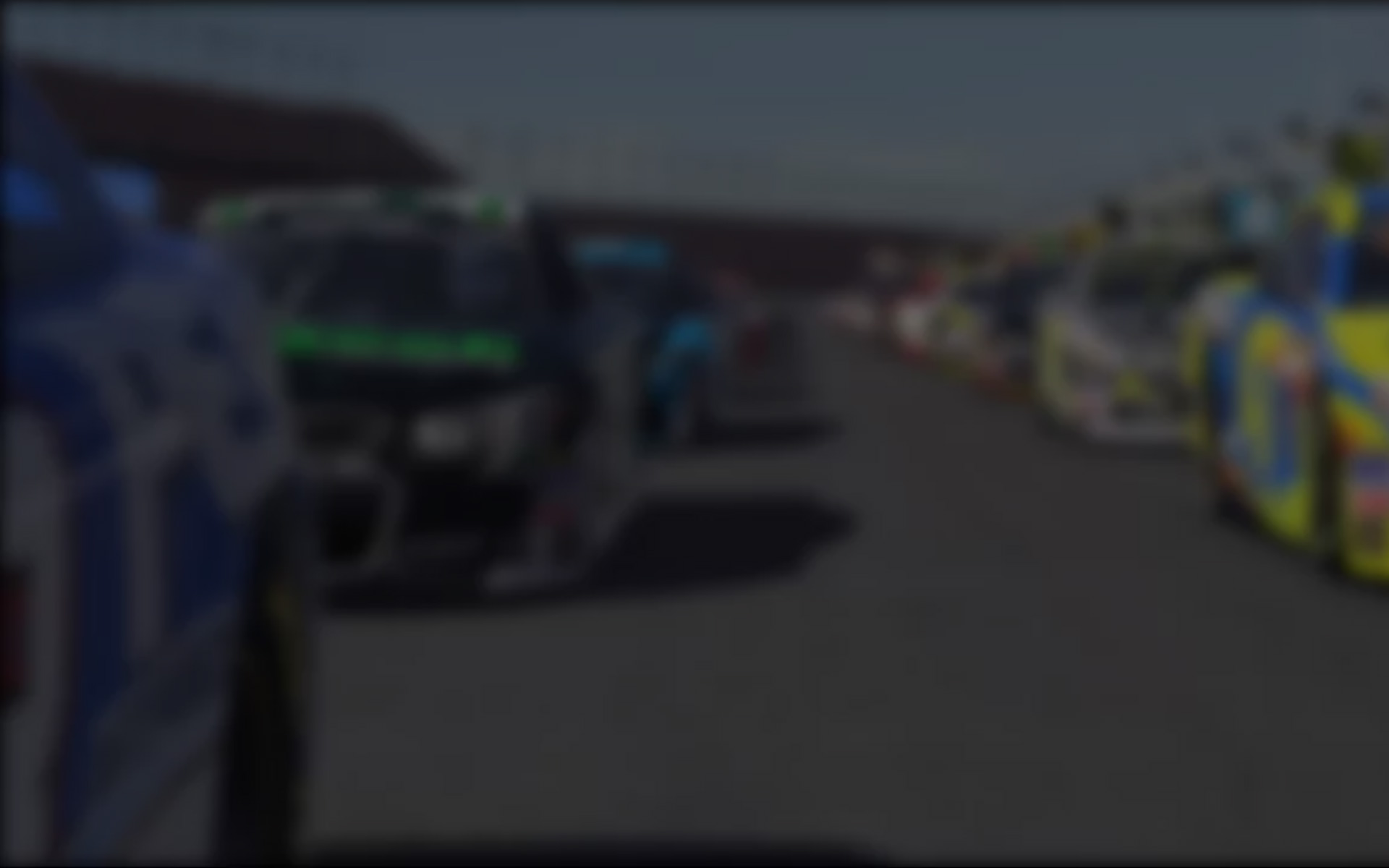 Conventional wisdom has it that races are not won on the first corner, only lost.  Evidently Hugo Luis has never heard of conventional wisdom.  Round Two of the 2012 iRacing.com Grand Prix Series World Championship at Circuit Park Zandvoort saw the defending champion make a blinder of a start to grab the lead from pole-sitter Luke McLean into Turn One (aka Tarzanbocht).  From there, Luis motored into the distance, leading all but a handful of laps during the pit stop shuffles in an emphatic rebound from a disappointing result in the opening act in his title defense at Watkins Glen.
Rest assured, McLean didn't take Luis' surge lying down.  Having thrown away a potential podium finish at the Glen, the Aussie never put a wheel wrong at Zandvoort and kept Luis in his sights the whole way before coming home 1.87s adrift of the Brazilian, with Team Redline partner Greger Huttu taking a third place which, in concert with his opening round win, left him firmly atop the 2012 iGPSWC standings.
Tight and technical, Zandvoort's 13 turn, 2.671 mile Grand Prix circuit offers few overtaking opportunities in any car, let alone the Williams-Toyota FW31.  Thus a strong qualifying performance figured to be vital to anyone harboring hopes of collecting big points at the seaside circuit.  McLean duly announced his intentions of doing just that, recording a superb lap at 1:09.981 to become the lone sim racer to crack the 1:10 barrier, albeit just .038s quicker than Luis' best effort.  Huttu was in the thick of things at 1:10.048 with Atze Kerkhof at 1:10.128 to give Team Redline a 2-3-4 sweep ahead of an impressive Jake Stergios with Ben Cornett also right there in sixth.
Alas, Cornett would not be right there at the start, at least on the grid, as connection issues forced him to start from the pits.  He thus had a bird's eye view of a start that saw Luis surge past McLean into the lead the moment the lights turned green.  Luis easily maintained his advantage into Tarzan from McLean, Huttu, Kerkhof, fast starters Samuel Libeert and Roland Ehnström, and Stergios.
"I got a decent launch," said McLean, "but Hugo and also Greger got quite a good one.   Hugo got me and Greger was on my outside going into Turn One.  I held-off Greger and tried to settle into a grove behind Hugo. I felt quite uncomfortable in the first stint, really was worried about putting it into the barrier especially after Round 1."
"I felt quite uncomfortable in the first stint, really was worried about putting it into the barrier especially after Round 1." — Luke McLean
Luis took advantage of McLean's discomfort to quickly go about consolidating his lead, pulling to a two second advantage in the opening laps with Huttu a fixture in the Australian's mirrors.   Kerkhof trailed at a discrete distance in fourth, well clear of Libeert and what would evolve into a race-long scrap between Ehnström and Stergios.
"My first few laps were tentative," said  Ehnström.  "I drove well within the capabilities of the car, making absolutely sure I did not throw this great start away with a stupid mistake, not caring too much about trying to hang on to the pace of Samuel. I also wasn't overly concerned about having Jake on my tail, because passing is very difficult on this track anyway, and I know Jake as an intelligent driver who will not risk a crazy move to gain position early in the race."
Any thoughts that Luis was running "light" on the opening stint evaporated when he went to Lap 28 before calling at the pits, followed by Huttu and Libeert.  McLean was in for service the next time 'round, resuming in Luis' wake but now well clear of Huttu after a slow in-lap by the 2010 champion.  Of the front runners, only Kerkhof much deviated from the norm, assuming the lead when the top three stopped and running all the way to Lap 31 before calling at the pits for fuel and fresh rubber and rejoining just ahead of Huttu.
Libeert continued on in fifth ahead of Ehnström v Stergios, while the Orion tandem of Ilkka Haapala and Jaroslav Honzik had worked their way up to eighth and ninth from 16th and 17th on the grid with Jeremy Bouteloup completing the top ten.
The lead order at the front remained much the same through the middle stages of the race as Luis stretched his margin to five, six seconds and, ultimately, seven seconds.  However, a bobble by Kerkhof in Arie Luyendukbocht gifted Huttu with third place while an off by Libeert dropped the Frenchman down the order and promoted Ehnström and Stergios to fifth and sixth.
A clue to the leading My3id car's pace surfaced when Luis pitted again on Lap 48, evidently having short-filled on his initial stop.  McLean and Huttu duly went to Lap 51 before making their final scheduled stops, with the Australian returning to action now just 3.3s adrift of his prey.
Having gone several laps further than the rest before his first stop, Kerkhof was poised to follow suit this time around.  However, as he was about to head to pit lane on Lap 54 he realized a gaggle of lapped traffic ahead was about to do the same and opted to stay on track.  He paid the price some 2.5 miles later when his car ran dry on the run to the pits, costing him a couple of seconds and any chance of regaining third from Huttu.
"After everybody went into the pit, it was my turn to make up ground to the guys in front," explained Kerkhof.  "I had some six laps left of fuel, but very soon I hit heavy traffic. Dion (Vergers) was fighting hard with the guys in front and my understeery setup made it very hard to get close to even backmarkers. I lost so much time behind those guys and on the finish I had 0.9 laps of fuel left.
"Seeing Dion pitting in front of me in combination with 0.9 laps left of fuel I tried to give it a shot to at least leapfrog the backmarkers, because they were simply costing too much time. This was a bit too much of an enthusiastic call from my side, because despite saving fuel in my in-lap, I ran out of fuel at the entry of the pit, losing valuable seconds and gave my third place back to Greger."
"This was a bit too much of an enthusiastic call from my side…" — Atze Kerkhof
Back at the front, Luis was in no such danger.  For while McLean carved the margin down to two seconds in the next 15 laps, the leader remained tantalizingly just out of reach.
"Once we did our first round of stops I felt a little bit more at ease and started to get a rhythm going," said McLean. "At stop two, Hugo pitted four laps earlier but I got mega traffic in every one of those laps . . . I lost between 3-4 seconds in those laps where I may have gotten out ahead or a lot closer to maybe put some pressure on Hugo by the end."
Whatever traffic remained was on its best behavior and Luis had little difficulty keeping a useful margin to his pursuer, taking the white flag with 1.8s in hand and gaining 1/10s on the final tour as McLean accepted the inevitable.  Huttu came home a further eight second behind, with Kerkhof just missing out on a podium on home turf but securing a Redline 2-3-4 finish.
Behind the top four came Ehnström and Stergios, the Swede having survived a momentary fright to draw a couple of seconds clear of the American in the final stint.
"On lap 67 there was a small scare," said  Ehnström, "as I had to almost come to a full stop to avoid my team-mate Dion Vergers who was battling hard with Darren Marsh for 17th position a lap down. This allowed Jake to close the gap to just over a second again, but there were only four laps to go, and he never got into a position to try anything."
Haapala and Honzik were likewise rewarded for their hard day's work with seventh and eighth ahead of Bouteloup and Martin Krönke, the latter having clawed his way back up the charts after an off-course adventure on Lap 28.
Although the results put Huttu and his unblemished record of podium finishes atop the standings, Luis' superb Zandvoort victory vaults him to the head of chase group ahead of Honzik and McLean as the iGPSWC heads back to the United States for dates with the Indianapolis Motor Speedway and Sebring International Raceway in the coming weeks.  Rest assured the battle between the two previous champions – and a slew of challengers — has only just begun.
---
You may also like...
---