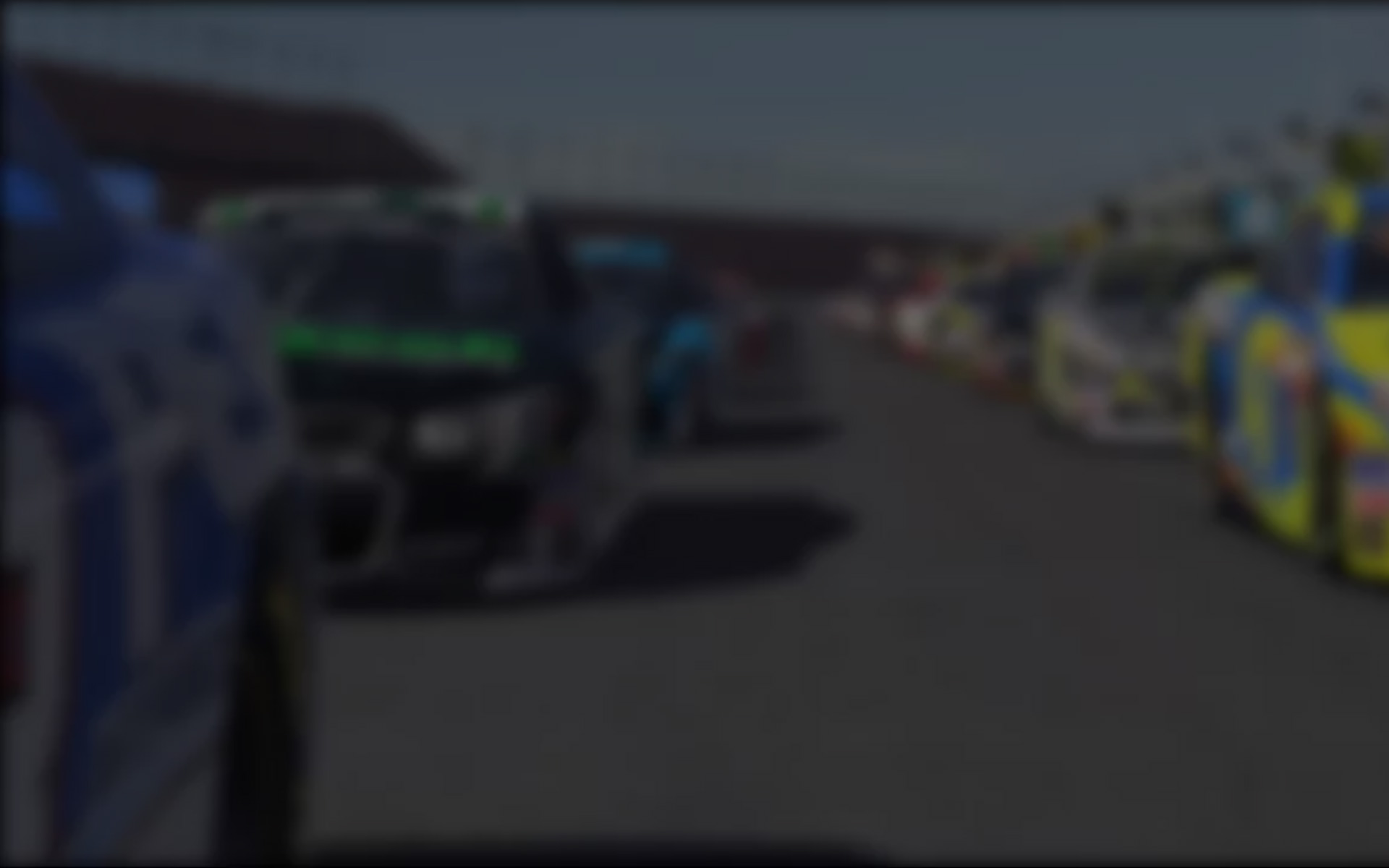 The final week of the NASCAR iRacing.com Late Model Series traveled to Midland, North Carolina to race at Concord Speedway.  This unique track is easily comparable to Pocono due to its triangular configuration, but with one very significant twist: it's only a half mile in length, shorter than 2.5 mile Pocono's front straightaway alone.
Sim-racers were tested all week in the setup department and tire management area; if you over-drove the track or had an ill-handling machine you either burned-up the right front tire or melted-off the right rear.  The final featured race of the 2013 season saw a couple Tys in the front row with Ty Majeski starting P1 and Ty Spearman on his outside, while Kevin Berg gridded in P3 ahead of William Harrington.
Majeski got a clean start with Spearman hesitating slightly, allowing Berg to jump to his inside and clear before Turn One.  The competitors wasted no time jumping single file and showing patience on a track that demands it.  Lap Eight saw Rob Baskett drift high in Turn One, allowing Michael Carpenter and Troy Talman past, dropping Baskett to P7.  Three laps later the tandem of Carpenter and Talman would get under Harrington who let them go without a fight, dropping him to sixth.
As the miles ticked away it only took 15 laps for Majeski to catch the tail end of the field, thanks to the fact that he was lapping a full second faster then the tail enders.  Majeski's scorching pace enabled him to stretch his lead to just over a second from Berg and the third-placed Spearman, who was nestled tightly to Berg's bumper.
The first major incident of the race came on Lap 31 when Ronnie Shirk Jr.  hit the wall exiting of Turn One. Before he had a chance to get off the wall, Joshua Rich got into his left rear quarter panel, spinning both cars.  Rich's machine came to rest in the groove entering the Dog Leg but, wasting little time, he quickly took a tow to avoid further incident.  For his part, Shirk came to resting on the high side of the Dog Leg, safely out of the way and waited for a break in traffic to safely turn his car around.
The complexion of the race changed dramatically on Lap 21 as Majeski brushed the front stretch wall, tweaking the right front toe-in and making his march through the lap traffic all the harder.  With the leader now experiencing handling issues, Berg and Spearman started reeling him in and using the Majeski as "the pick" in traffic.
By the half way point Majeski had a mirror full of Berg who had been measuring-up the series champion for the past 10 laps.  Berg was keeping an eye on his own mirrors so he didn't leave open the door for a patient Spearman, who was waiting for a mistake by the two leaders.
Opportunities to pass Majeski opened-up for Berg as the laps ticked away, but each time the leader quickly slammed the door before he had a chance to fully utilize them.  That is until Lap 55, when Berg got a massive run on Majeski coming out of Turn Three and pulled to the inside down the front stretch.  But Majeski refused to yield the top spot  — potentially two spots actually — and raced Berg hard on the outside for three laps before Berg was able to safely clear him.
Spearman duly attempted to follow Berg through but face with the same issue the new leader had, as Majeski raced just as hard for second as he did for first.  This battle was only destined to last for a lap, however, as Majeski turned-in to Turn Three too low and made slight contact with Spearman.  The champion quickly rolled-out of the throttle and drift high, while Spearman continued into P2 without missing a beat.  Majeski, on the other hand, would fall back and with his handling issues would be a non-factor in the closing laps.
With 10 laps to go Berg knew he would have to be perfect if he was to pull- out the win as Spearman appeared to be slightly the faster of the two, perhaps as the result of Berg's having overheated his tires getting by Majeski.
On Lap 64 Spearman saw his opportunity and jumped to the inside coming out of Turn Three and down the front stretch.  But before he could fully get in position to make a pass, Berg drove it in deep and shut the door going into Turn One.  Lookin to avoid contact, Spearman rolled-out of the throttle and allowed Berg to keep the preferred low groove .
Lap 68 saw Spearman make one final effort to snatch the victory away from Berg.  As before, Spearman saw his opportunity down the front stretch but Berg was fully aware of the move and changed his line to cut-off his rival.  Once again, Spearman had to roll out of the throttle into Turn One after coming within inches of Berg's bumper, ruining any hope of a last lap pass.  Berg went on to take the checkers 0.288s ahead of Spearman with Majeski coming home another three seconds back.  Carpenter came fourth an additional six seconds behind with Talman in fifth and the final car to go the distance.
1.    Kevin Berg                           9. Brandon Furr –2L
2.    Ty Spearman –0.288           10. Ronnie Shirk Jr –3L
3.    Ty Majeski –3.218               11.  Moises Lomas –3L
4.    Michael Carpenter –9.429    12.  Greg Roe –5L
5.    Troy Talman –15.760           13.  Shayne Therrien –6L
6.    Rob Baskett –1L                 14.  Joshua Rich –17L
7.    William Harrington –1L        15.  Jeremy Morrison –38L
8.    Tal Davidson –2L
Watch for the championship overview/article later this week.  I would like to personally thank every Late Model competitor for a very successful season and wish everyone the best of luck in 2014.
---
You may also like...
---