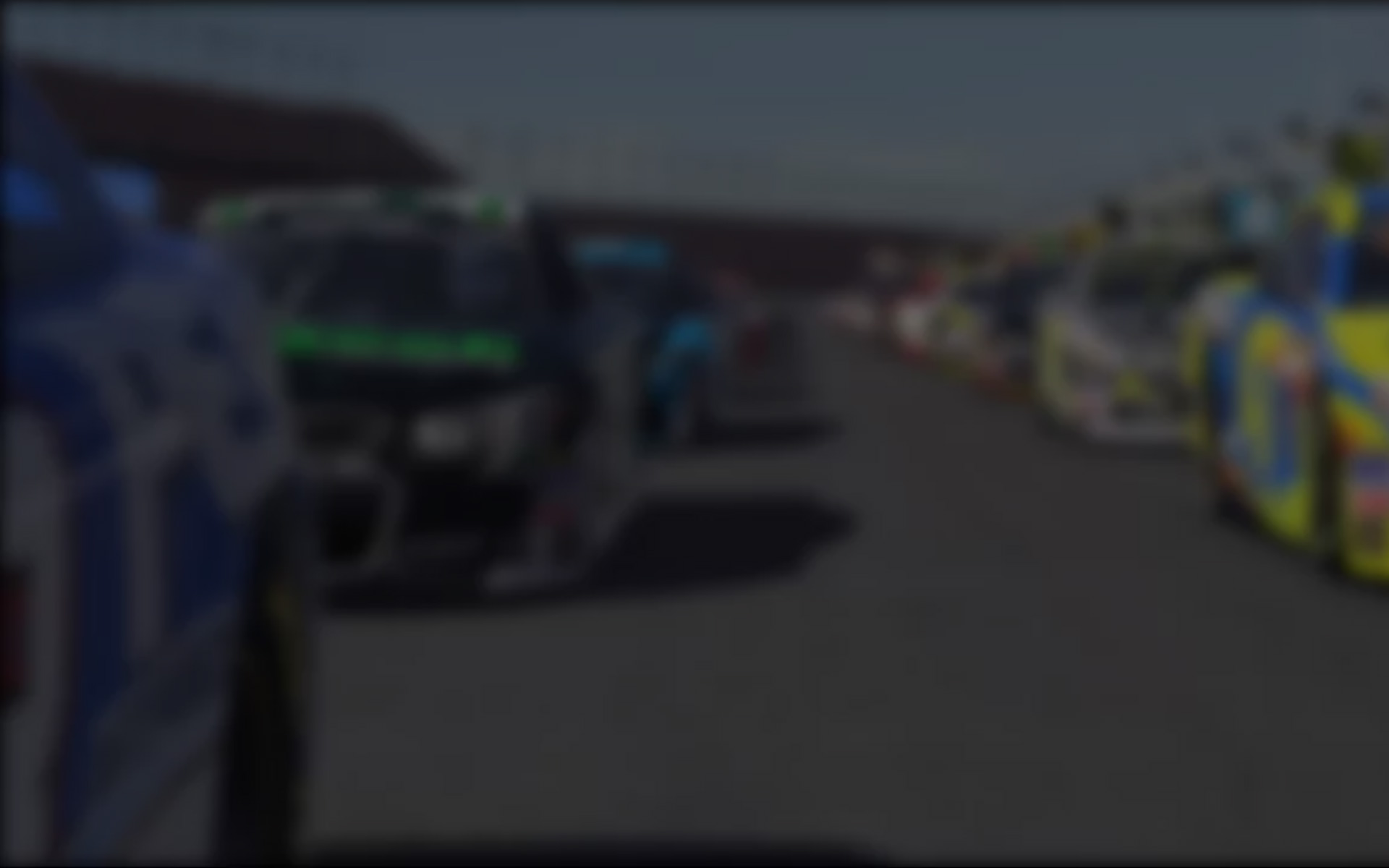 Approaching the mid-point of the season Tuesday at Kentucky Speedway, the top of the standings of the 2013 NASCAR iRacing.com Series World Championship is dominated by the usual suspects: veterans Tyler Hudson and Brian Schoenburg have finished in the top ten in points the past two seasons while Nick Ottinger is coming-off a fourth place finish in 2012.  Then there's two-time champion Ray Alfalla.   'Nuff said?
So what is Marcus Lindsey doing holding down fifth in the standings, he of the P20 in a 2012 rookie campaign that produced just three top ten finishes, none in the top five?   What he's doing is running up front every race, having only once qualified outside the top ten and gunning for his sixth front row start of the season in the virtual bluegrass state.  What's more, Lindsey has translated that speed into results with a win at Las Vegas and a trio of top fours to his credit.  Did we mention that while the senior at Rose Hulman Technical Institute would love to get behind the wheel of a real race car (like any sim-racer worth his/her salt), he has no plans to use his degree in mechanical engineering as a springboard to a racing career?
An unusual suspect indeed.
"I have absolutely no idea what I am going to do after college," says the 21 year old from Terre Haute, "but a lack of involvement in SAE-style programs makes it highly likely that it won't be in anything racing-related. I have debated producing sim-racing components, but, without capital, starting a business is highly unlikely as well.
"I have zero real world racing experience, and can't see myself gaining any in the near future. That doesn't mean I wouldn't love to, we all would.  But I'm not sim-racing, or racing in NiSWC, to try and go real world racing."
Which isn't to say Lindsey isn't plenty serious about his sim-racing, witness the fact that, in addition to his NiSWC exploits, he's also active in the NASCAR iRacing Series and NASCAR iRacing.com Class A Series, with five wins in seven starts in the latter so far this season.  As much as he enjoys his Class A and NiRS racing, there's a greater purpose – and method – to his sim-racing.
"I try to race the Class A car quite a bit outside of the NiSWC, including Official Fixed/Open Series, and the The Real Competitive Racing League Main Performance Pro Cup League (RCRL MPPC)," he says.  "All of them have helped me in the NiSWC. If I had to pick one thing that has helped me a lot in the NiSWC though, it would be The RCRL MPPC. The league is composed of some current and former NiSWC drivers, as well as some guys I used to race with at United Sim Racing Association prior to the 2012 Pro Series.
"The league is a class act . . . the series has seen a variety of races, including 200 laps at Charlotte, go caution free.  When the NiSWC race went nearly caution free, the experience of having a caution-free race less than a week earlier really helped and the Class A SOF races have allowed our team to get a benchmark for our open setups prior to the NiSWC races. This helps us find our faults prior to the start of the NiSWC races."
An alumnus of the SimChassis team, Lindsey's current allegiance is to a Wheelmen Incorporated squad that includes fellow NiSWC competitors
Jared Crawford, Richard Dusett, Jason Karlavige and Kevin King, together with Chad and Joshua Laughton.
"Teams are huge in iRacing, but they are even more important in the top level series," Lindsey says.  "My performance this year is 100% because of my teammates, both at SimChassis and Wheelmen. There are multiple drivers in this series who could probably show the improvement I have from 2012 to 2013 if they had the help I have had over the past year. For what sim-racing lacks in physical teams composed of crews, it more than makes up for in teams of drivers that help one another get faster. Then we go out on Tuesday night and try to beat each other!
"Our team is active on Teamspeak throughout the week discussing possible strategies. Come race time we stick together in one channel and continue to discuss the race as it develops. No one goes lone wolf in a separate channel, but no one is forced to discuss pit strategy under caution. Typically as soon as a caution flies we begin to discuss strategy and how long since we last pitted.
"Teams are huge in iRacing, but they are even more important in the top level series."
"For setups, everyone on the team gets equal and fair treatment. At the end of the day, as long as everyone is continuing to put forth some amount of effort, everyone gets the best setups. We don't show up every Tuesday and try to beat our own teammates with a better setup; we all try to build the best setup to go out and beat everyone else in the series. It takes a full team effort to run competitively in this series, and you won't get anywhere without some help.  So our team focuses on keeping everyone happy and involved."
Never was Lindsey happier than when he utterly dominated the proceedings at LVMS, leading 153 of 167 laps to take the first of what he hopes will be many NiSWC wins.  Underlining his comments about the importance of teamwork – and the quality of the teamwork at Wheelmen – is the fact that some of his closest competition came from teammate Kevin King.
"Las Vegas was an awesome race," he says.  "Pat Baldwin built an excellent setup for the race and we had excellent speed. We won the race in qualifying though. By beating Kevin (King) for the pole, I was able to control the start of the race, and hold on to the lead. Kevin had a slightly faster race setup, but it was extremely hard to pass at Vegas. Kevin, Ray Alfalla and Steve Sheehan had quicker cars, but holding pace it was nearly impossible to get passed without getting moved. And what was great about Vegas was that it was only the beginning of our 2013 success, which we followed with two more top fives."
That said, Lindsey is coming-off a disappointing P23 at Pocono.  Although the results weren't what he wanted, Lindsey was again ultra-competitive – qualifying on the front row and running in the top ten before catching the wall on Lap 44.  He is confident of showing the same speed – but earning better results – at Kentucky and, in the coming weeks, Talladega and the Indianapolis Motor Speedway.  He hopes . . .
"Indy is the track I need to run good at if I want to prove I can run competitive in the series," he says.  "A lot of the season's 1.5 miler performance is dictated by setup and qualifying proficiency, but Indy is going to require a lot more than setup to run good. Kentucky is going to be dictated by whatever speed we find this week in the setup. I feel with our team we can run top 10 at Kentucky, but I really want to get a top 10 at Indy as well. Talladega is going to be a lot like Daytona, and I don't have high expectations for a plate race. I will probably try to tandem with a teammate in the back of the large pack and hope for the best."
And beyond Indy?  Not unlike his post-college outlook, Lindsey does not have any particular plans or expectations at this stage.
"My goals for 2013 are short term and have stayed the same for each race," he says.  "I just go into the next racing wanting a top 10, and hoping for a top five. I try to not even think about the championship, not because it isn't possible, but because it's dependent on a lot more than what I can control. The championship will fall however it does after Homestead, but I'm not going to race any differently trying to force the championship into my hands and out of someone else's  To me a successful season is one where I run competitively and finish how I deserve to finish."
If the second remainder of the 2013 season bears any resemblance to the first half, Marcus Lindsey will deserve to be counted among the prime suspects to win the NASCAR iRacing.com Series Championship.
Be sure and catch all the action in Round Nine of the 2013 NiSWC at Kentucky Speedway on iRacing Live and Motor Racing Network, Tuesday, June 25 at 9 pm EDT (01:00 GMT Wednesday).
---
You may also like...
---