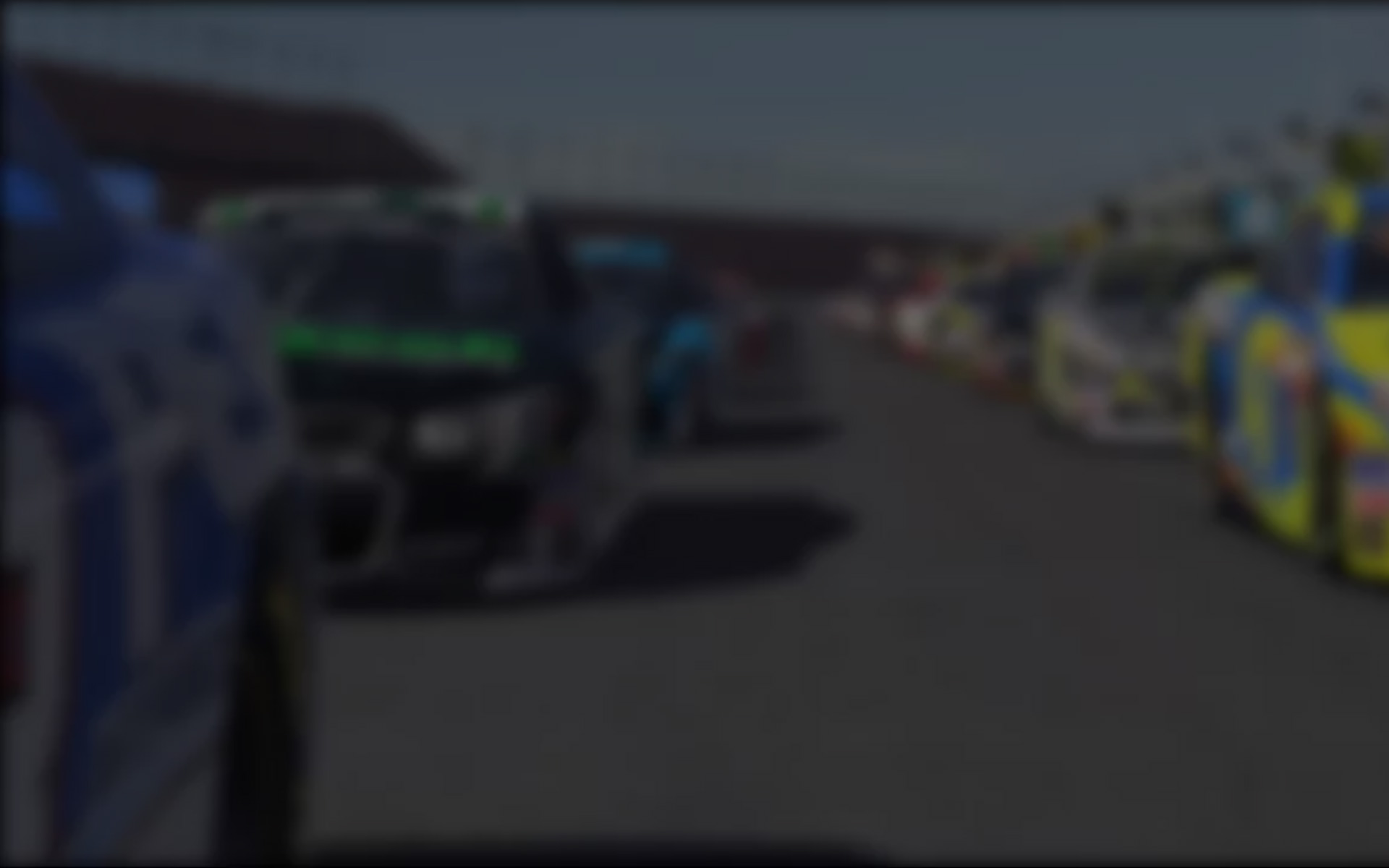 Hi everyone! Just wanted to introduce myself as a new contributor for inRacingNews. Over the next couple of months I'll be covering up and coming drivers from the road and oval side of iRacing. I'm not going to just write about people with the most wins or anything like that, but how they give back to the iRacing community. iRacing is about making friends and enjoying racing on tracks that maybe some of us will never have a chance to race at or ever see in person. — Andrew Mitchell
When you think of up and coming drivers in iRacing you mostly think 'Who do I see most of the time in victory lane or leading the points championship in either the oval or road side of iRacing.' Sometimes we do forget that it's not just about wins but how the sim-racing community sees you as a driver. For Justin Chase it's different. Yes he has a 137 wins in 2919 starts since he became an iRacing member back in 2009. What sets the Monroetown, PA native aside from the other drivers is that he doesn't care about winning but giving back to the community in regards to helping people with setups or just being a clean driver.
When I spoke with Justin earlier this week he said he was very surprised to be featured in any article in iRacing. He also brought up a good point that sometimes we do forget.
"I try to be the cleanest driver I can be," he said.  "I'd rather be respected for being clean and helpful than being known for winning races."
I believe that statement is not something made-up for an article but his true belief. Just before we ended our conversation he added, "I have won more races and certificates than I ever thought I would, so if I never win another, I'm OK with that".
Justin isn't just known for racing in the oval series, witness the fact that he has just over 800 starts in a variety of iRacing's road series to his credit," variety" being the key word.
"I really pride myself in the variety of cars I race," he says. "When I'm not doing the oval courses you can always find me in the Mazda Cup or even in the inRacingNews Challenge MC. I've driven most every car in the sim which is pretty amazing considering a lot of drivers just stick to a select few cars."
"I'd rather be respected for being clean and helpful than being known for winning races." — Justin Chase
It's that approach that makes a lot of veteran sim-racers consider Justin a real up and coming racers. Like a Brad Davies, Jake Stergios or, for that matter, a Simon Pagenaud, Justin Chase knows how to race – and win — in any car on any track.
Currently a resident of  Avon Park, FL, Chase's greatest moment came when he was crowned Florida's Region 2 Club Champion. Still, he doesn't like to brag about his wins or how high he is in the standings; he just continues to work hard on setups and turning laps on the track to gain more experience.
There is one series where Justin focuses a lot of his attention, namely the NASCAR iRacing.com Tour Modified Series where has won his fair share of events. When you race in the series and see him on the grid, you think this is going to be a hard but clean race.
It is always a battle trying to find more speed than Justin because he has turned so many laps on these tracks he knows them like the back of his hand. When I first got into iRacing Justin was a pretty awesome person to talk to about the ins and outs of sim- racing. He would try and help me and other new drivers to the SK or Tour Modified Series with setups and even certain tips on where to run the car on the track and where not to go unless you're looking for trouble. He has shown me that it's not how fast you are that counts, it's your ability through the long runs to keep up with the rest of the field. I'm sure that I am not the only one who would say Justin is the type of person we need more of in iRacing: someone who will put others in front of himself just to see iRacing succeed as one of the tops racing sims in the world.
"Most of my time is spent on iRacing working on setups or just getting track time with some of my friends." — Justin Chase
Before iRacing Justin used to race off-road radio controlled cars in Florida from 2002 – 2010.
"Once I started iRacing I stopped racing RC cars and the only hobby I have now is iRacing," Justin says. "Most of my time is spent on iRacing working on setups or just getting track time with some of my friends".
Final thoughts: When it comes to iRacing it's not just about the racing, it's about the personal relationships you develop with other individuals from all over the world. It's about what the other drivers think of you, because if you give them a hard time most of the time they will be the same with you. So just be yourself like Justin does, and have fun racing cars that some of us will never, ever get to race in the "real" world.
---
You may also like...
---