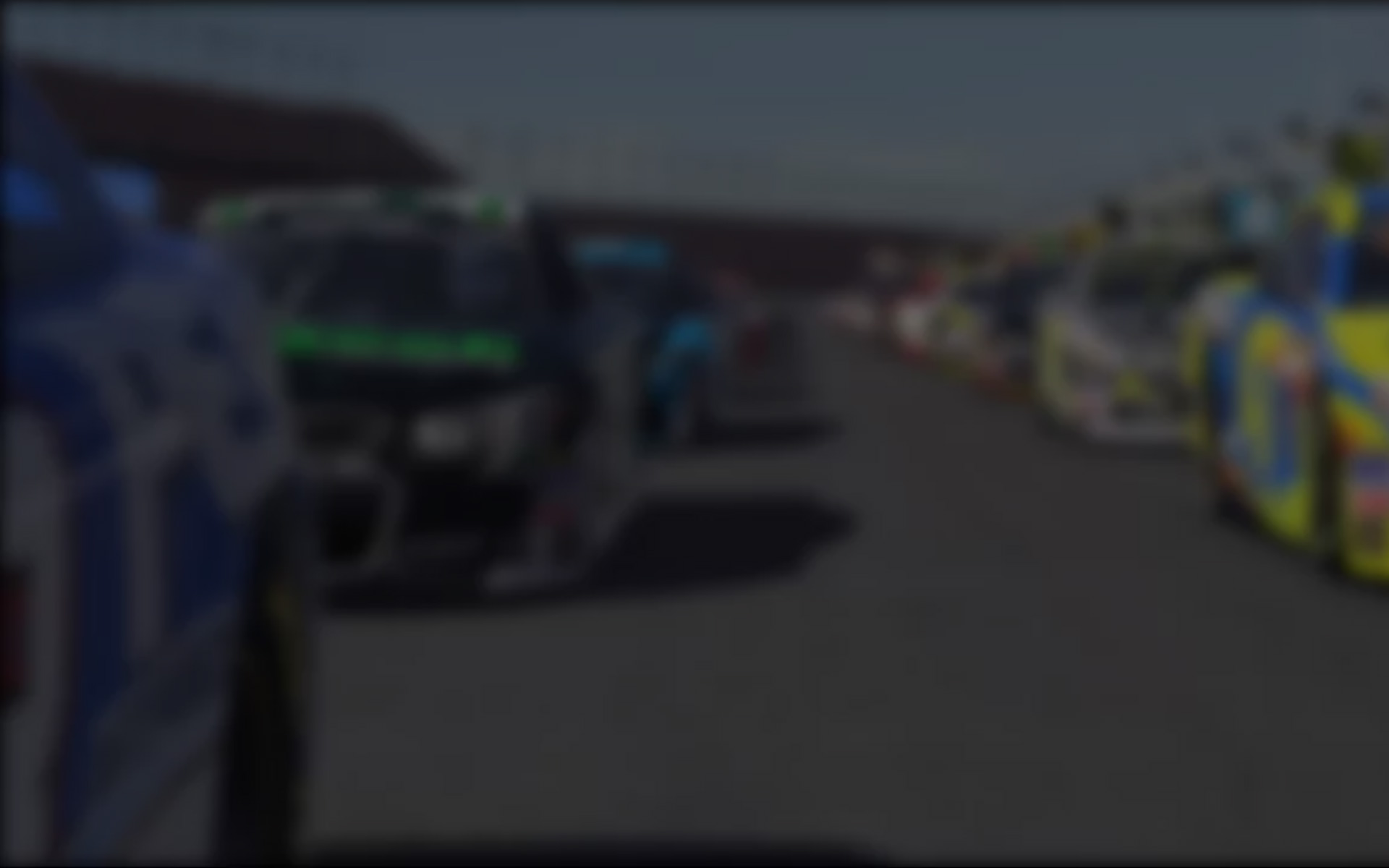 Round Eight of the iRacing.com V8 Supercars Series presented by BigPond visited one of the world's most famous tracks: Circuit de Spa-Francorchamps – aka Spa.  Located in Belgium's Ardennes Mountains, Spa is 7km in length with a total of 20 turns.
After missing the last round owing to Internet trouble, Madison Down celebrated his return to the series by topping the qualifying charts.  Down put the TT-R Ford Falcon on pole with a lap of 2:23.234 with ANZ Motorsports sim-racer Shane van Gisbergen the only other driver near Down with a 2:23.261.  TT-R and ANZ locked-out the second row of the grid as well with Joshua Muggleton qualifying a tenth quicker than Justin Ruggier, these being the only four drivers under the 2.24 mark with Vail Riches rounding-out the top five.
When the lights went green it was Down getting the jump with team mate Muggleton in tow after edging past van Gisbergen heading into Turn One (aka La Source). But with a tricky and tight first turn there was bound to be some early drama.  Tenth fastest qualifier Chad Chastain got on the power too quickly and spun into the side of Troy Cox, spinning the latter around into the path of the oncoming cars. An unlucky Christopher Osborne couldn't avoid the spinning TT-R car, and resulting collision damaged both cars too much to try and continue. Curtis Chippeway was another unlucky victim, as he was right behind Osborne, and his race also ended within the first 20 seconds of the green flag.
No sooner had the carnage had stopped in La Source, than Mitchell McLeod lost the rear end exiting the blindingly fast Eau Rouge.  Unable to save it, McLeod smote the wall and rebounded across the track luckily not hitting anyone but ending his race and making an already problematic season that much worse.
Muggleton's time near the front would prove short-lived.  Van Gisbergen made the move up into second place through La Source, putting Muggleton off-line and down on speed into Eau Rouge.  This gave Richard Hamstead a run and he duly motored around the outside of Muggleton into Les Combes.  Into Malmedy, Ruggier took a look under Muggleton as well.  Contact ensued, propelling Muggleton into the back of Hamstead and eliminating both them from contention for the win as Ruggier continued with very minimal damage.
Lap 12 saw van Gisbergen pit in an effort to undercut Down who duly headed to the pits the next time around to fill-up the tank and start the run home.  However, while he was waiting for his pit crew to top-up his Falcon, van Gisbergen was on a charge and took the lead as Down exited pit lane.
In hot pursuit of van Gisbergen, Down out-braked himself into the Bus Stop chicane, ran wide and lost valuable time to the leader.  Down quickly recovered and, with each passing lap, took a tenth or two out of van Gisbergen's lead.
Van Gisbergen had matters firmly under control however, and duly took the win just under a second ahead of Down with third placed Ruggier joining his victorious ANZ Motorsport teammate on the podium in third.  Muggleton held-off Hamstead to take fourth while Riches continued his fine form of the past month to come home sixth place with team mate Greg Stewart finishing in a very strong seventh place. Chastain finished eighth place while Ian Travis clawed his way back to ninth after getting spun in Turn One and Mitchell Abrahall completed the top ten.
Top Five Drivers – Championship Points – Overall
1.    Richard Hamstead – 1882
2.    Madison Down – 1734
3.    Justin V Ruggier – 1725
4.    Joshua Muggleton – 1544
5.    Scott T McLaughlin – 1333
Split Two Winner: Matthew Nethercote
Split Three Winner:  Stewart Stirling
Split Four Winner:  Adrian Stratford
You can watch all the race replays on www.v8sonline.com.au
---
You may also like...
---