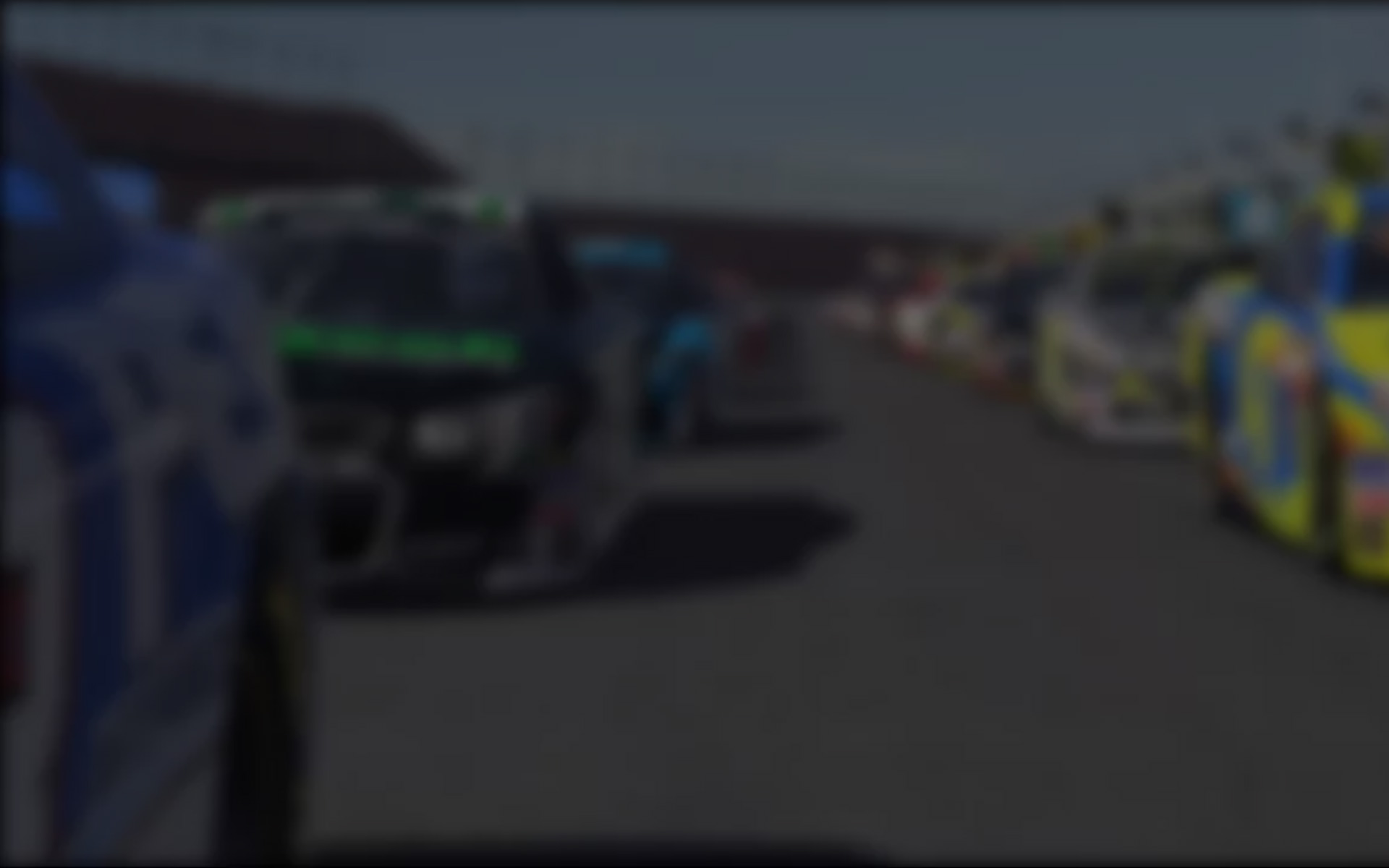 Nineteen members of the Red Sox Racing League traveled to Francorchamps, Belgium for the "Armco Crash Barriers Presents Circuit De Spa 30"at the world famous Circuit De Spa-Francorchamps road course of the seventh race in the 2012 Season Two schedule.  The track's modern configuration offers a scenic 4.35 mile layout containing nineteen corners.  Home to more than 40 Grands Prix, an annual 24 hours endurance race, and the Fun Cup's 25 Hours of Spa, the twisting and hilly track is one of the most technically challenging circuits in the world.
Brad Vincent, leader of the Class A HPD championship points race, arrived in Belgium with an impressive six race winning streak and confident his success would continue at Spa.  Corey Hastings, leader of the Class B Corvette championship points race, has six straight top-5 finishes, but was yet to score a win.
Vincent's qualifying lap time of 2:05.547 nudged out Les Turner's 2:05.957 for the Class A pole.  John Koscielniak, Terry Daul, and Jeff Sharp, Andrew Feldman, Divina Galica, William Kabela, David Weiss, Ed Sutcliff, Joshua Friedrichs, and Terry Schmidt completed the HPD grid.  Schmidt was forced to begin the race from pit road after failing to post a qualifying time.
Leading the Class B field, Patrick Guerin secured his fourth pole in a row with a lap time of 2:14.669.   Corey Hastings was almost as quick with a lap time of 2:14.701.  Tommy Rhyne, Scott Husted, Casey Carpeniere, Dean Moll, and Greg Harris completed the Corvette grid.
With nearly perfect weather and track conditions, drivers were eager to start racing when the green flag finally waved.  Seasoned drivers knew the race would not be won in the opening laps, but that fact did not prevent several from pressing the point in the early going in the hopes of creating the extra space needed to recover from mistakes.
Perhaps too eager to make up ground, Harris lost control of his car entering turn fourteen after venturing too far over the curb.  Harris tried valiantly to correct the car, but spun off track and backwards into the outside wall.  Despite his damage, Harris was able to continue driving, but was soon forced to retire after hard impact at Raidillon.  Harris was able to walk away from the accident, but was still sore after the race.  "I don't think I've ever been in a wreck that violent.  The car is a complete loss.  I'm glad nobody else got caught up in our mess."
Schmidt was the next driver to lose focus and suffer the consequences.  In hot pursuit of Sutcliff  and Friedrichs battling for a top 10 position Terry spun the tires exiting La Source and made light contact with the inside wall exiting the corner.
Vincent gave up the lead to Turner on lap five when he spun sideways across the track while getting up to speed exiting the chicane.  Undamaged, Vincent was able to rejoin the racing action once Turner got past him.  A lap later, Moll lost his chance for a podium finish when he spun at Les Combes and allowed Husted by for third.
Vincent nearly regained the lead on lap seven, but again had trouble in the chicane when his brakes appeared to fail and he overshot turn eighteen.  Turner and Koscielniak both blew past Vincent as he recovered from the mistake and dove into the pits to top up his brake fluid reservoir.
Sharp, Feldman, and Weiss entered the pits nose to tail on the next lap.  Feldman brushed the inside wall but got away with only cosmetic damage.  He then overshot his pit stall and was forced to reverse his car in order to take service.  The seconds he lost cost him his best chance to get past Sharp who ran a solid race.  Daul inherited the HPD lead when Turner and Koscielniak pitted on lap nine.
Daul would have surrendered the lead to Turner when he pitted on lap eleven, but mistakes by several drivers upset the running order before the lead change could occur.  Turner's chance for his first win of the season was foiled by the black cloud of bad luck which has been following him all season long.  Entering turn fifteen with Vincent a mere four seconds behind, Turner tried to pass Husted's Corvette.  Entering the corner 20 mph faster than Husted, Turner had no time to react when the two drivers both went for the same spot on the track at the same instant.
Vincent could not have scripted a better story line for his seventh win of the season.  Far enough behind the Turner/Husted incident to see both cars sliding off course, Vincent never lifted as he powered through the corner and regained the lead position.  Daul was 20 seconds behind the leader after his pit service on lap 10 but his chances for a podium finish ended on his out lap when he overshot turn 14 and allowed Sharp through.  Feldman ducked in behind Daul, who fought back and regained 4th position from Sharp on the following lap.  But by then he was too far back to challenge Koscielniak for 3rd.
Class A results
Vincent overcame several uncharacteristic mistakes to earn his seventh win in a row.  His twelve second margin of victory over Koscielniak was impressive given the time he lost early in the race.  Koscielniak scored his 6th podium in 6 outings, and finished 2nd for the fourth time this season.  Turner recovered from his late race incident to cross the line in third place.
The battle for the forth through seventh positions was hotly contested, as all four drivers crossed the line within four seconds of each other.  Daul secured 4th place when he made a daring pass on Sharp as the two drivers barreled through turns sixteen and seventeen on lap twelve.  A lap earlier Sharp slid wide in the chicane nearly letting Daul and Feldman through, but he was able to regain control of his car and rejoin the track to complete the corner and maintain his lead over Daul and Feldman.
Sharp hung on for 5th place, barely beating Feldman (6th) and Weiss (7th) to the line.  Weiss gained 2 positions from his 9th starting position to finish 7th, but several off track incidents prevented him from moving higher.  Friedrichs (8th), Galica (9th), Sutcliff (10th), Kabela (11th), and Schmidt (12th), completed the HPD scoring.  Kabela was the only HPD driver to complete the race without incident.
Vincent enjoys a nineteen point lead over Daul in the championship battle.  Turner, Koscielniak, and Feldman round out the top five championship spots.
Class B results
Hastings completed the race without incident and just held off Rhyne and Guerin to win his first race of the season.  The Spa finish produced one of the closest 1-2-3 Corvette finishes in RSR history, as all three drivers were within sight of each other at the finish line.  Rhyne and Guerin both led laps during the event, but neither could get past Hastings once he took the lead on lap 10.  "Our car felt great again tonight" said Hastings.  "It has been a rocket all season long, so I was not surprised to finally get it into Victory Lane!"
Rhyne did everything humanly possible to stay with Hastings, but fell just a bit short at Spa.  "It felt good to be back on the podium after the Watkins Glen race.  Congrats to Corey on his first win!" Guerin also finished the race without an incident and was pleased with his third place showing.  It was his forth podium finish of the season.
Moll (4th), Husted (5th), Harris (6th), and Carpentiere (7th), completed the Corvette scoring.
Hastings increased his lead over Husted to sixteen points in the championship race.  Moll, Rhyne, and Guerin round out the top five.
Next Race
RSR returns to action at the at the Mosport Road Course in Canada for the "Strawberry Fields Festival at Mosport 30" on June 28, 2012.
Results / Standings / Video coverage
Race Results:  http://rsr.ileaguerace.com/champ/show_event_result/Red-Sox-Racing-League/1550
League Standings (2012 – Season One):  http://rsr.ileaguerace.com/champ/show_champ/Red-Sox-Racing-League/285
League Video Site:  http://www.youtube.com/user/draftin11
---
You may also like...
---