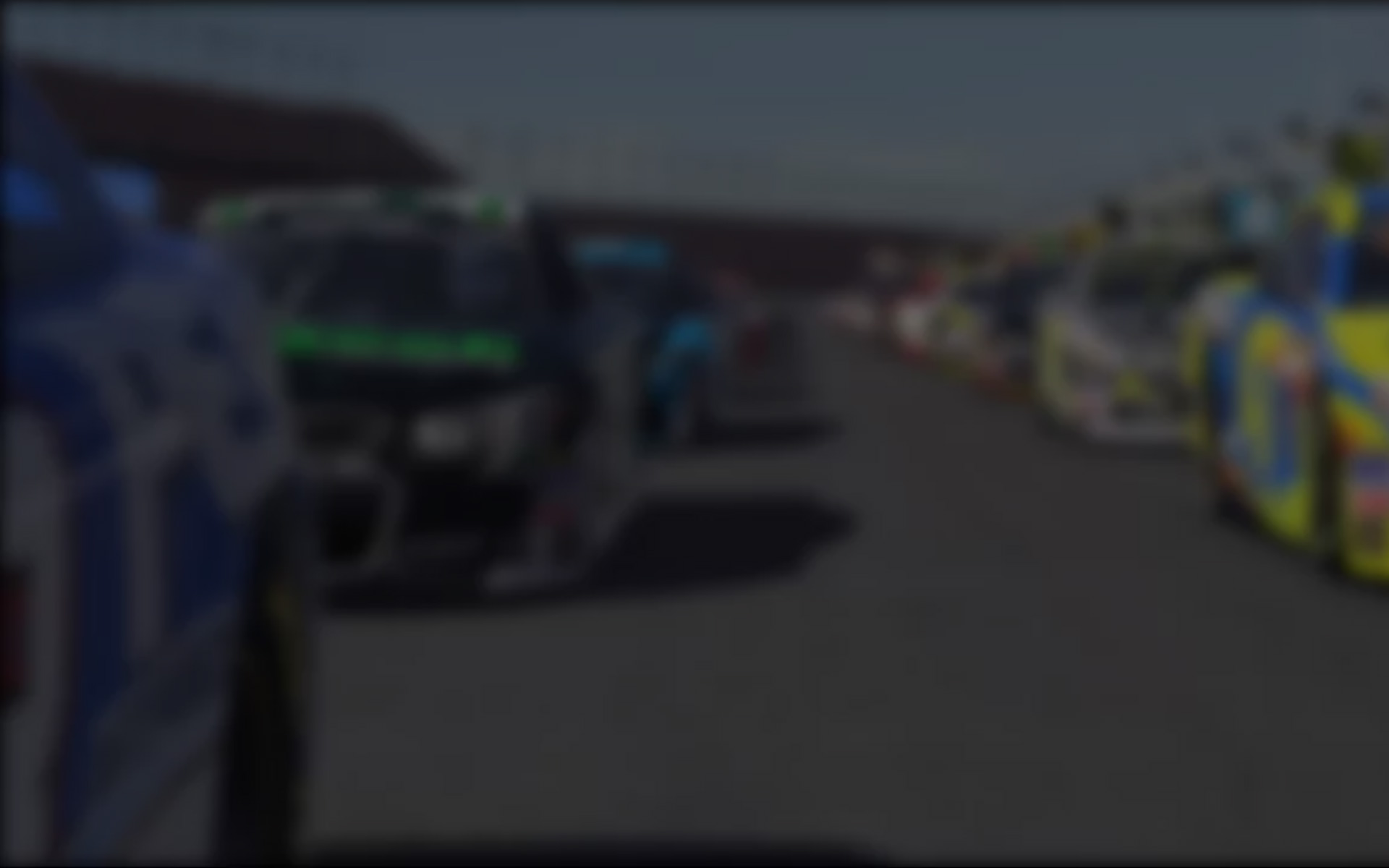 Brad Vincent put on one of most dominating performances of the Red Sox Racing League's 2011 Season Three schedule at Road Atlanta this week. When drivers showed up for the "Panoz F1 GP at Road Atlanta", they knew Vincent would be riding a wave of momentum due to his victory at Laguna Seca the previous week. What they couldn't have known however, was just how futile their hopes of knocking him off the top spot would be in Georgia.
Vincent used the practice and qualifying sessions to serve notice that anyone hoping to earn a win at Road Atlanta would have to go through him.  He was the only driver to post a sub-1:02 lap time in either session, and his qualifying lap time of 1:01.428 was a full second faster than the 2nd place qualifier, Andrea Ventura.
Les Turner (3rd), Corey A. Wolf (4th), John Koscielniak (5th), Jim Albertson (6th), Ed Sutcliff (7th), Jeff Thomas (8th), Divina Galica (9th), Terry Daul (10th), Bill Pawluckie (11th), Patrick Guerin (12th), and William Kabela (13th), filled the remaining starting positions.
Similar to the hilly, curving layout of last week's event at Laguna Seca, Road Atlanta is a thrilling track for drivers and fans alike.  The course boasts twelve corners in a 2.54 mile layout.  RSR drivers are known for safe starts and relatively incident free races, but the Laguna Seca race nearly destroyed that reputation as only one driver was able to complete the event without incident.  Everyone hoped the Road Atlanta event would see things returning to normal.
Lap One started cleanly, as all drivers got good starts and proceeded through Turn One without incident.  Ventura got a terrific jump on Vincent and led the field through Turn One and into the Esses.  Climbing the hill towards Turns Two, Three, and Four, the rest of the field quickly sorted themselves into a single file line to allow them to maintain speed into the Esses.  The speed gained in that downhill section of the course often gives drivers a false sense of confidence as they approach Turn Five, but veterans of the track know the seduction can be deadly.  Staying off the curbing in Turn Five is one of the keys to success in that section of the track.  Anyone who forgets that truism will usually be watching the competition from pit road while they wait for their car to be repaired.
Corners Six and Seven are also very challenging spots which require drivers to abuse their brakes.  Even though the cars are slowing dramatically for the double corner section of the track, passing opportunities are few and far between.  The best strategy is to get a smooth corner exit coming out of Turn Seven in the hopes of carrying enough speed to catch and overtake slower cars along the long uphill back stretch. 
If drivers haven't completed passes before they crest the hill at the ninth corner, they can risk a late braking zone going downhill into Turn 10A.  The move is dangerous though, and the slightest mistake will result in a significant loss of track position.  The smarter move is to maintain the proper angle of attack for 10B in the hope of exiting it with enough speed to hold off the competition heading back to the start finish line.  Eager to lead every lap of the race, Vincent ignored the dangers posed by Turn Ten as he used a bold move to pass Ventura for the lead.  Vincent never looked back after making the pass.
The uphill climb leading to Turn Eleven, forces drivers to approach the slight right bend full throttle as their cars crest the hill and begin a breakneck dive towards the final corner.   The entrance to pit road is just past the hill crest at Turn Eleven, so communication between drivers and their spotters is crucial.
Turns Three and Seven proved to be the most difficult corners of the event.
Pawluckie was the first to succumb to the dangers when he spun in corner seven on Lap Three.  The off track incident led to contact with a tree and costly repairs, but Pawluckie was eventually able to continue racing. 
Thomas got into trouble on Lap Six when he got out of sorts in Turn Three and hit the tires.  Like Pawluckie, Thomas was forced to pit for substantial repairs before returning to the race.
Wolf and Turner were running in 3rd and 2nd places respectively when they tangled on Lap Nine.  Wolf miscalculated Turner's braking point into Turn Seven and almost ended both of their races.  Luckily, Wolf was able to slow his car just enough to avoid disaster when he tapped the rear of Turner's car.  Neither of their cars were badly damaged, and both drivers continued after recovering from the incident.
Galica got a little sideways after a very aggressive approach to turn 10A on Lap Ten.  "I had been running that corner the same way all night and just got a little distracted by the traffic", said Galica after the race.  I'm happy nobody got caught up in the incident."
Even the normally machine-like Albertson couldn't escape Georgia without a scare.  He spun after getting back onto the gas a little too early in Turn Seven on Lap Fourteen.
Daul had a scare on Lap Twenty-Five when he jostled for a safe route around Kabela and Pawluckie.  Pawluckie's tough night continued a lap later when he missed Turn One and nearly hit the tire wall.
Vincent's complete mastery of the track earned him a huge 46 second margin of victory over Wolf.  Just as quick off the course as he was on it, the speedy driver was too fast for our pit road reporter to catch up with for post-race comments.  His pit crew wasn't camera shy though, so we were able to get a few quotes from the team before they loaded up.  "Our driver is the cream of the crop", said fuel man Jeff Holder.  "He will definitely give Turner a run for the championship if we can keep giving him mistake free pit stops".
Wolf and Turner battled hard throughout the event, but Wolf was able to cross the line with a one second cushion over the defending league champion.  "It was a tough, but great drive in order to finish 2nd.  I had a good fight going with Les in the first 8 laps until I made contact with the rear of his car causing me to lose a bit of front down force.  This caused me to have to adjust my pit strategy and pit early to get a new front wing.  It was a real quick stop by The Wolf Pack Racing boys who must of had their 5 hour energy drinks before the race.  Thankfully when everyone cycled through the pit stops I ended up 3rd right behind Les.  Couple of laps later I was able to complete a pass on Les for 2nd.  I would like to thank Jim Albertson for helping with the fuel strategy for the race."
Turner's third place finish helped him stay within striking distance of Vincent in the overall point race, but Vincent's lead has grown each of the past three weeks as he has found a way to balance speed and safety to secure wins.  "We had a good car tonight, but Brad was just too strong.  I'm glad we survived the early contact and were able to collect another podium finish. Congrats to Brad on his win."
Albertson crossed the line in 4th place after an evening full of adventure.  "The POW/MIA car gave it everything I asked of it tonight. We qualified 6th and finished 4th in the race. I did have a great race with John K. Special K was tough tonight. He ran a good race and the only way I could catch him was in the pits, and once again the Redhead had the pit crew hyped and ready. Good fun race by all, with battles throughout the field once again. RSR is the league for clean tight races."
Koscielniak recovered from a disappointing race in California to earn 5th place in Georgia. Ventura finished in 6th place after electrical problems forced him to lose pace with the leaders.  He was the last car to finish on the lead lap.  Feldman (7th), Sutcliff (8th), Daul (9th), and Galica (10th), were all scored one lap down when they finished the race.  Kabela (11th), Pawluckie (12th), and Thomas (13th), crossed the finish line two laps.  Guerin did not complete a lap in the race.
RSR drivers travel to Japan for next week's race, the "Spooktacular F1 GP at Okayama", at the Okayama Road Course.
After collecting three wins in the first six events of the season, Vincent has a 57 point lead over Turner in the championship race.  Turner's 5 top-5 finishes give him a 29 point cushion over Wolf.  Koscielniak (128 points behind the leader), and Albertson (134 points back), are the only other drivers with a realistic chance of staying in the hunt for a league championship.
TeamDraft continues to lead the team competition, but their lead over Storm Front Racing is only 41 points.
Grand Prix Series Overall Standings after Race 5:
http://www.ileaguerace.com/champ/show_champ/Red-Sox-Racing-League/187
RASCARR Series Overall Standings after Race 5:
http://www.ileaguerace.com/champ/show_champ/Red-Sox-Racing-League/194
RSR YouTube Video Channel:
http://www.youtube.com/user/draftin11
---
You may also like...
---