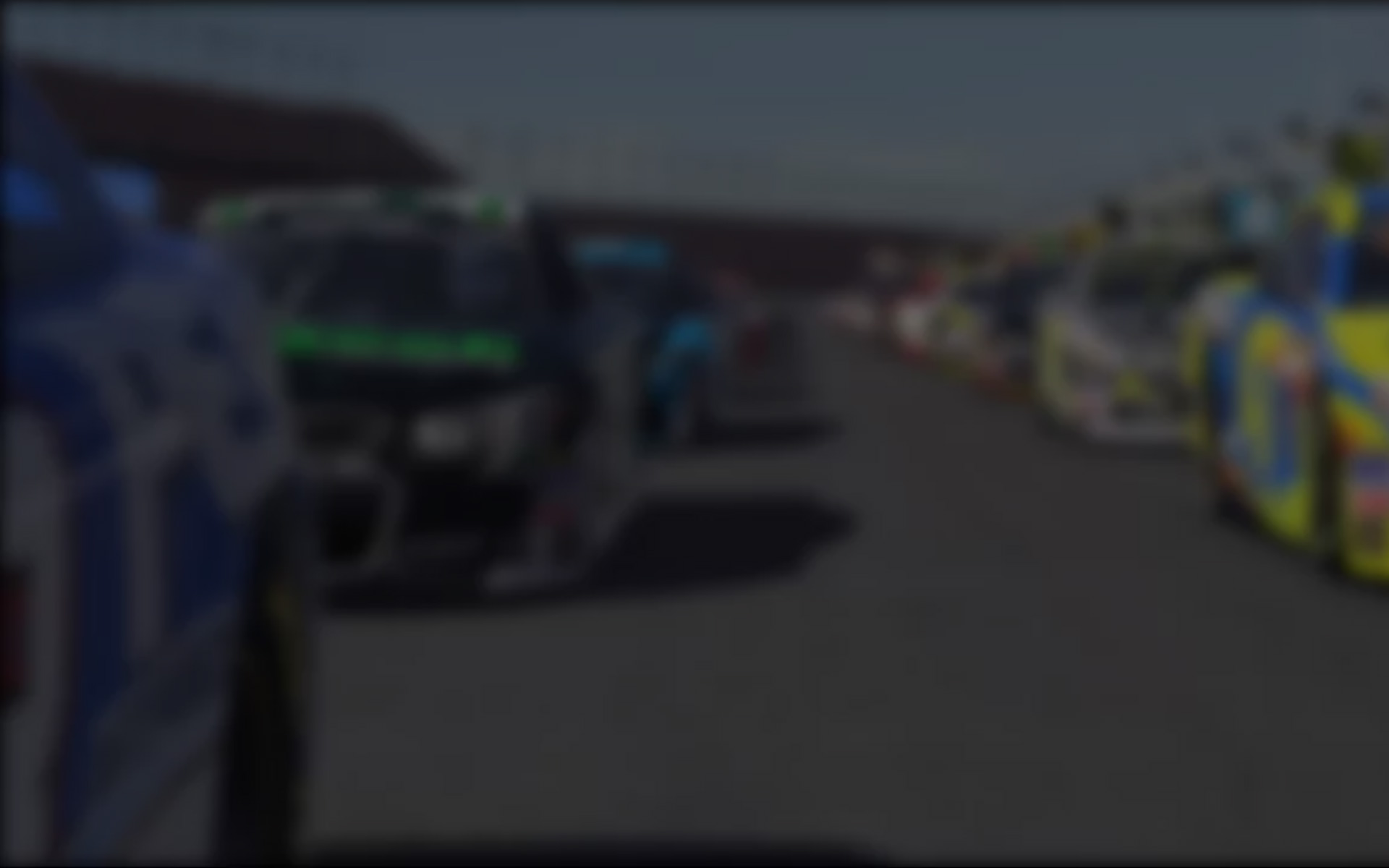 Jeff Ward's  'STIHL Timbersports' #89 Chevrolet Silverado out of the Steel Horse Racing stable took home its second straight win in Real Sim Racing Outlaw Truck Series competition Wednesday evening. Ward, who is not a major player in the championship after missing a start early in the eight race season, took home his second win on the year in r5/8 from Iowa Speedway, the 'Get to Know Newton 125'. This immediately on the heels of his first win on the season two weeks prior in r4/8 from the Kentucky Speedway, where Ward finished atop the pile in a special Kentucky Derby themes Silverado.
The race was one of attrition, as trucks at lower speeds in close quarters are sure to always provide a race full of action. With 125 laps on the board, the online race was not going to be over very quickly. The biggest challenge the drivers found was the tightness they were experiencing in their trucks. Instead of bouncing off each other, the majority of incidents began with just solo trucks hitting the walls on corner exit , then collecting others as they would spin across the track leaving minimal spacing for anyone to try to get around it. The opening half of the race was chaotic, and the second half featured the longest of the green flag runs on the night.
The race did have its fair share of yellows, however there were handfuls of green flag stints in-between caution periods setting up an interesting strategy down in the pits throughout the race. Trucks throughout the course of the race would stay out under a caution flag to advance track positions, while others pitted, many only taking two tires. This meant that each and every restart on the evening was crucial to taking advantage of whatever advantage a driver may have had. A two tire stop, or a no tire cycle under yellow, would force a driver to take four fresh Wranglers the next time through, while those that previously took four could gamble a little.
For many drivers it did not work out, sliding back once trapped on the bottom of the track, but for many they slowly progressed throughout the race for top 10 finishes. Sometime big incidents would come as the result of these varying strategies with fast trucks trying to pass slower ones, especially late when it became evident that time was getting shorter and shorter by the lap. In the end, it was Ward, who has been without a doubt the hottest driver in Real Sim Racing, who capped off the evening on a final run of 25+ laps to take home the win, his second in a row in Outlaw Truck Series competition. Ward qualified in the second positions but took his first lead of the race within the first five laps, showing how strong that team continues to be. He took the win over Jose Gonzalez who was 3rd on the start of the event in second, and Matt LaCross rounding off the podium in his 21 truck.
"I knew if we could get up there (early) and get away a little bit, we would be a lot safer." – Jeff Ward
Ward described his recent success as "crazy", and admitted he was thankful that they are able to get the results he feels the deserved without any bad luck in the way in recent weeks. "I knew if we could get up there (early) and get away a little bit, we would be allot safer" he said after being asked about the beginning of the race where Rollo beat him out for pole position. Throughout the evening he found with the tight conditions the top was the place to be, as the 89 was nearly up at the wall on the last stint. Jeff used that outside to protect his track position which was nearly top five all night, and only leave a bottom open which was very difficult to complete passes on all night. Three intermediate 1.5 miles remain, and Ward is confident that he and the Steel Horse stable will compete as they have all year.
Jose Gonzalez exits r5 third in the championship hunt, 28 points behind leader Stephan Marinak after tonight's runner-up finish. The "meatball mobile" struggled with everyone else on getting the truck to rotate in the corner. "I'm happy with second place…. I'm battling for points, great finish" said Jose who knows a championship is still well a possibility with three races to go. Jose, who is a regular in all three RSR touring series, and who has yet to win a truck race, said the hardest part of adjusting to each vehicle is really is personal preference. "Besides the wheel, everyone has the same setup, it comes down to what wheel you use, the setting you like, and where that sweet spot is and how much longer it takes to find it when driving multiple vehicles."
"I'm happy with second place…. I'm battling for points, great finish." – Jose Gonzalez
Matt LaCross, who sits one spot ahead of Gonzalez in the points, 24 behind Marinak at the top, finished one spot behind him, rounding-out the podium in the QuickCar Racing Products Chevrolet. "We tried two tires on the right to loosen it up, but once we got to the front we had to do whatever Jeff was doing" said Matt on pit road after the race. LaCross, who held onto second until late in the race, caught the wall out of Turn 4 late and subsequently allowed Jose by for second, falling to his finishing position of third. "I used up my tires, way way way to tight at the end", a condition almost all drivers said was the biggest challenge on the night.
"We tried two tires on the right to loosen it up, but once we got to the front we had to do whatever Jeff was doing." – Matt LaCross
The win marks the third triumph for Ward in four starts; however, with five races down and only three to go, Ward finds himself still deep in the points after missing a start early on in the campaign. The series will resume next Wednesday evening, May 20th, from Concord, North Carolina at the Charlotte Motor Speedway. The race broadcast can be found on LSRTV at 9:30pm EST/6:30pm PST. The Outlaw trucks trade weeks on Wednesday's for race days with the RSR Asphalt Assault Series. AAS competition is in Newton, Iowa this week, Wednesday, May 13th for the Get to Know Newton 125 in the B class cars from the Iowa Speedway.
For more information on Real Sim Racing, visit realsimracing.com and for more information on upcoming LSRTV broadcasts, visit livesimracing.com, or facebook.com/livesimracingtv
RESULTS:
=RSR= Outlaw Truck Series Get to Know Newton 125
Iowa Speedway; May 6, 2015
1. Jeff Ward
2. Jose Gonzalez (-2.65)
3. Matt LaCross (-7.44)
4. Mitch Rollo (-8.27)
5. Christopher Hurlow (-12.27)
6. Stephan Marinak (-12.59)
7. Nicholas Kohan (-15.13)
8. David Cammara (-17.99)
9. Jared Comeau (-18.65)
10. Wyatt Wolfe (-20.15)
11. Doug Roth (-22.02)
12. Paul Williams II (-23.49)
13. Steven Haring (-1L)
14. Harrison Widelitz (-2L)
15. David Moran (-10L)
16. John Klickner (-22L)
17. David Killough (DNF)
18. Jimmie North (DNF)
19. Jason Swann (DNF)
20. Julio Terzado Jr. (DNF)
21. Kevin Linden (DNF)
22. Scott Simley (DNF)
23. Bryan Clark (DNF)
24. David Gibson (DNF)
25. Mark Bratcher (DNF)
26. Anthony DeBaro (DNF)
27. Bryan Harvey (DNF)
---
You may also like...
---