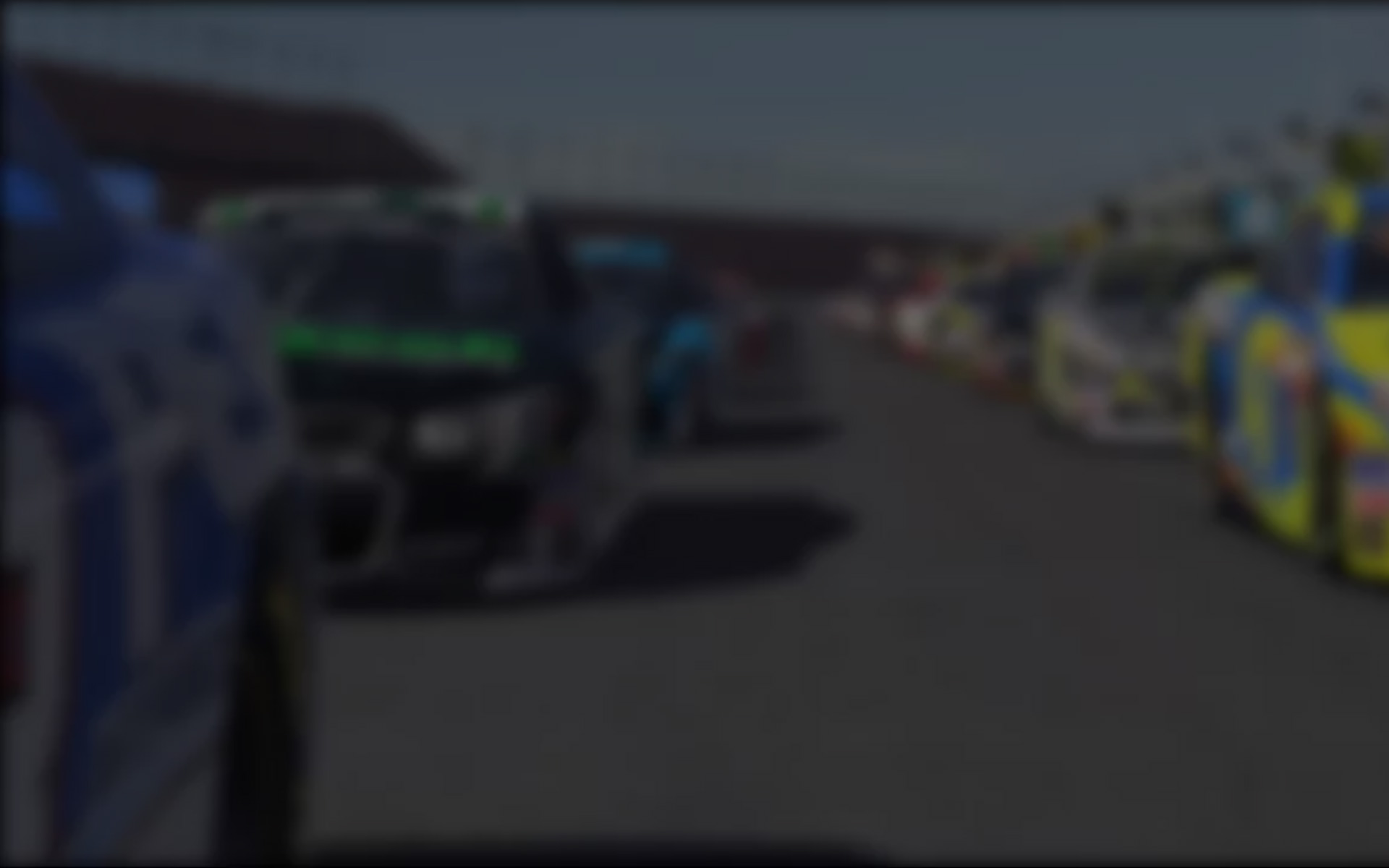 Week 11 of the NiCCF Series brought 1,200 plus sim racers to the high banks of Rockingham Speedway for 50 circuits around the 1.017-mile facility. Those 50 laps proved to be a struggle for some and a blessing for others. Since the series does a lot of racing on big, fast speedways, it was a blessing for some drivers to get back to what they call "a driver's racetrack".
Grant Winchester (Carolina) started off the week with a bang as he won the week's top Strength of Field event on the first day of Week 11 by almost one and a half seconds over Darrel Wilson (Carolina). Winchester started from the third position and led a total of 13 laps en route to his victory. Third place in the event went to NASCAR iRacing Series World Championship competitor Michael Conti (New Jersey) who started from the ninth position and worked his way into the top five as the checkered flag flew. Blake Brown (Midwest) finished off the event in the fourth postion after starting deep in the field (14th). The final spot in the top five belongs to Tom Moustakas (New York). Moustakas started from the outside of row one, but after leading 12 of the event's 50 laps was forced to settle for a fifth place finish. The 3620 SoF was slowed twice for cautions for a total of six laps and saw three lead changes among four drivers.
Although he did not go to victory lane in the week's top SoF event, Moustakas was able to earn the most championship points for the week with 225. Ohio native James Hudson2 ended a successful week in the second position, scoring 211 points after making two starts and finishing in the top five both outings. Conti made three starts during the week, resulting in three top five finishes, one victory, and 206 championship points. Anthony Kernich (Australia/NZ) continued a trend of three starts as he also made three starts and recorded three top five finishes which netted him 198 points for the week. Nicholas Goertzen (Canada) started an incredible 22 events during the week, finishing in the top five 16 of those, earning the victory in 13, and amassing 194 total points.
A man all too familiar with the top spot in qualifying is once again on top of the charts. Simon Crochart (France) set the fastest time of the week with a lap of 23.577 seconds around Rockingham Speedway. The second position went to Darrel Wilson (Carolina). Wilson has only been around iRacing for a month, but has quickly found his way to the top of the leaderboard in many categories (it's like he's done this before). Winchester topped off a successful week by placing his name into the top three in overall qualifying for the week with a time of 23.615. The final two spots in the top five went to Goertzen and David Krikorian (California) with times of 23.627 and 23.629 seconds, respectively.
After 11 weeks of online racing, Josh Berry (Mid-South) holds an 83 point cushion over second place Brodie Kostecki (Carolina) heading into the final week of action at Talladega Superspeedway. Goertzen sits in the third spot, just 135 points behind. Normally that would be a large gap to overcome, but since Talladega is viewed by many to be a lottery, you never know who may get lucky. EJ O'Rourke (New England) is currently 299 points behind Berry and without some type of magic, O'Rourke is officially out of the title hunt heading into Week 12. The final spot in the top five is held down by Ross Tatum (Virginias) who is also out of the title hunt, but is fully capable of moving up a position or two after next week's action.
After what some would call a rollercoaster week at Rockingham, the NiCCF Series heads to Talladega Superspeedway for 25 laps of high speed chess to cap-off the season. Check back next week to see who was able to escape the big one that has become famous at Daytona and Talladega.
---
You may also like...
---