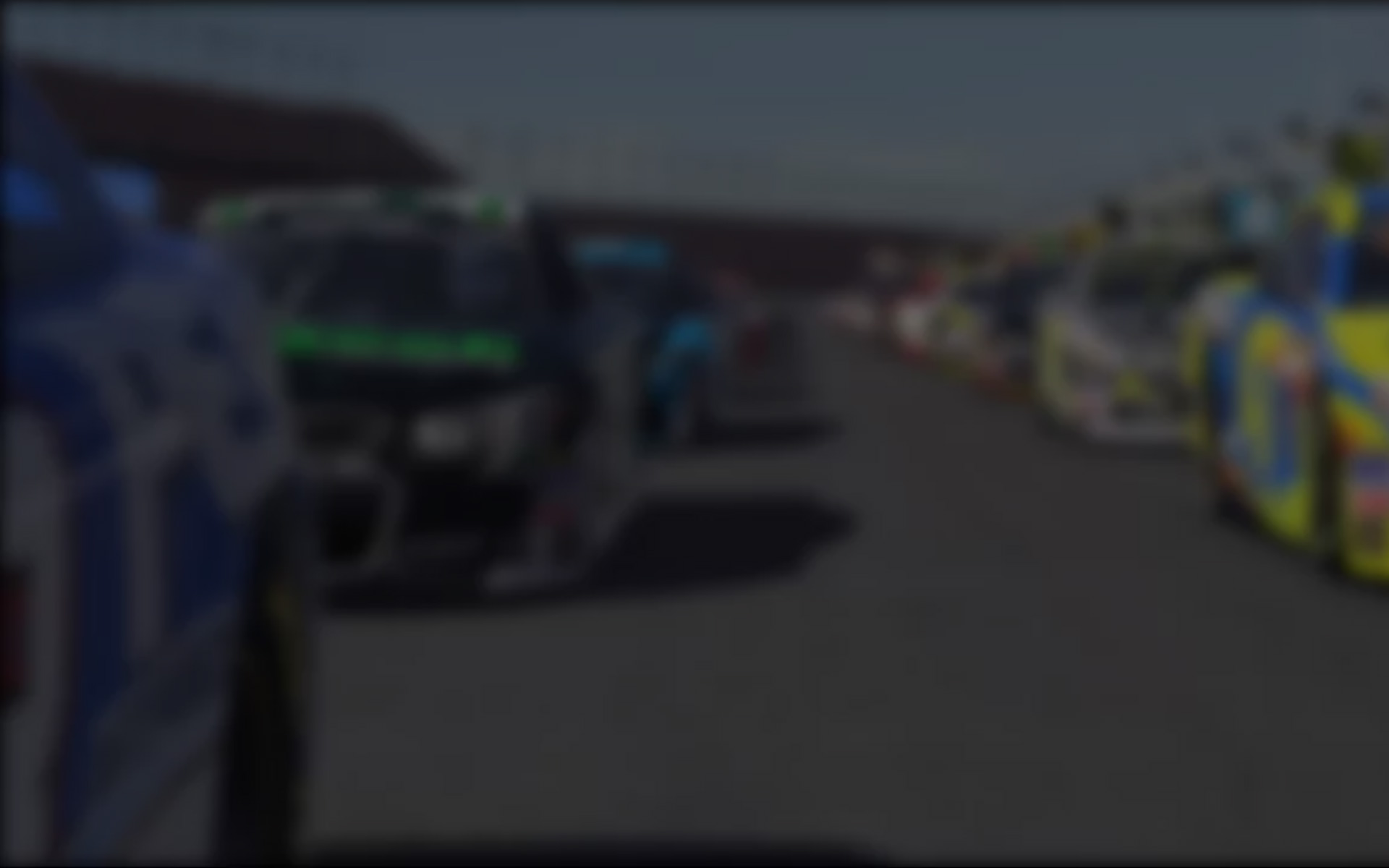 Former Champ/Pro Driver Buie Gets Back to his Roots, Takes Charlotte Victory
As expected, iRacers came out in force for a chance to run their Chevrolet Impalas and Ford Mustangs around the ever popular Charlotte Motor Speedway.  With 76 official races going off during Week 4 of the NASCAR iRacing.com Class B Series, there were plenty of opportunities to pocket some huge points as the season gets past the 1/3rd mark.
After Rockingham and Iowa produced just 21 and 25 official races respectively, the 1-5 mile tri-oval in Charlotte — coupled with a Memorial Day weekend — pushed points-counting races to a total of 76.
Lowline Motorsports' Trent Ringler entered the week with an 18 point lead over Jeff Dukehart.  When the dust settled on the active week of sim-racing at Charlotte, the results were basically a wash between these two as Dukehart was only able to cut into Ringler's lead by one marker, scoring 173 points, good for 13th place overall at Charlotte.  Ringler finished one spot and point back of Dukehart.
The 2013 Season 2 Class B Series champion made a one-off appearance at Charlotte and although it was not the highest strength of field race of the week, Brandon Buie walked off with top honors scoring 205 points in Saturday's 10:00 pm SoF event.
Buie, 28, who hails from Baltimore, MD held-off of horde of Fastlane Motorsports drivers to earn a .236s margin of victory after starting the race from the 14th position on the gird.  By the 16th lap of 90, Buie had worked his way into the top five.  After leading Laps 60 and 71, Buie was able to get the lead for good on Lap 74 while setting the fastest lap of the race on Lap 84 with a time of 28.839s.  Fastlane drivers, Logan Kress and Allen Boes, finished a tight second and third respectively while Steven Mattocks and another Fastlane driver, Blake Bryant, rounded-out the top five a little over a second behind Buie.
"Getting the win at Charlotte was just icing on the cake but it wasn't easy." — Brandon Buie
"The B car is by far my most favorite to drive on iRacing and always has been," said Buie.  "Getting the win at Charlotte was just icing on the cake but it wasn't easy by any means.  Logan and Allen were strong and we all put a good fight for that win.  I just have to thank my team, Buie Motorsports, and my crew chief, Tom Romig, for giving me a fast piece for Charlotte.  I look forward to running more races here in the near future."
Although Bryant did not get the top spot for the week, he did take the top SoF race of the week earlier in the day on Saturday winning the 2:00 pm 90 lapper at CMS with the SoF set at 3286.  Bryant, who started the race in 12th, was able to score 208 points with the win, leading 31 laps in the process.  Kress finished second while Michael Vanosdol took third.  Another Fastlane Motorsports entry, Logan Clampitt, took fourth while Michael Guest rounded out the top five.
Bryant started seven races at Charlotte, taking two wins and four top-fives.  However, some of the other results cut into his 208 points earned in the high SOF race dropping him to seventh overall for the week.
"The guys at Fastlane Motorsports built me a great setup this week," said the 17 year old driver from Rutherfordton, NC.  "The setup allowed for me conserve my tires to prolong the speed of my car and maintain the lead on the long run."
Buie's lone win was enough for the week, scoring him 205 points.  Kress put in six races and scored top fives in every one of them along with a win for a total of 196 points.  Premier Motorsports Group driver, Corey Vincent, grabbed two wins in four starts for a 195 point third place finish while Boes took fourth with one win in three starts scoring 192 points.  Larry Scott Jr. with Galeforce Racing and Brian Lovingood with BRB Motorsports rounded-out the top five for the week with 189 points apiece.
Although not having his best week of the season, Ringler saw his championship points lead shrink by a single point.
"I was happy to come out of the week not giving up too many points to the competition." — Trent Ringler
"Charlotte is one of the tracks that normally brings pretty big races," said Ringler.  "I figured we would see a few more of the tops guys pop in for a race than what we did.  I still really struggle at the mile and half tracks.  I haven't figured out how to not burn up the front tires on the long run.  Even before this new tire, I struggled with that.  I was happy to come out of the week not giving up too many points to the competition."
Justin Prater took the "Sore Rump" award of the week turning 2227 laps in 25 starts while earning three wins and 13 top fives.  A host of drivers earned four wins for the week including: Anthony Price, James A Mullins, Thomas Romig, Shannon Segler, Logan Clampitt, and Kemonric Little.  Romig also took nine poles in 16 starts.  Clampitt lead the most laps with a total of 579 in 11 starts.
The top five in the overall championship features the same cast of charters coming out of Charlotte with Ringler's points lead shrinking to 17 points over Dukehart.  Lowline's Brian Ammerman reclaimed third place cutting into Ringler's lead by nine points and is now only 52 back of his teammate.  Iowa week champ, Jonny Reed Foley, lost ground by nine points dropping to fourth overall and is now trails the leader by 66.  BRB's Anthony Price also gained ground eating up eight points of the lead and continues to hold down fifth place trailing by 93.
Division winners for Week 4 at Charlotte were: 1 – Brandon Buie 205 (Atlantic).  2 – Michael Dewell 187 (Plains).  3 – Michael Wells 172 (Florida).  4 – Danny McCune Jr. 122 (Virginias).  5 – Travis Browder 136 (Carolina).  6 – Michael Sabie 101 (New Jersey).  7 – Tomas Romig 106 (Georgia).  8 – Joseph Grijalva 80 (Texas).  9 – Noel Koewers 76 (Michigan).  10 – Lee Ridge 78 (Mid-South).
Division leaders coming out of Charlotte are: 1 – Trent Ringler 726 (Indiana).  2 – Galen Gidman 572 (Plains).  3 – Randall Drake 416 (New York).  4 – Thomas Conheady 396 (New York).  5 – Loren Arden 343 (Northwest).  6 – Justin Hirst 214 (Ohio).  7 – Jeremy Gannon 280 (Mid-South).  8 – James Hollern 192 (Australia/NZ).  9 – Noel Koewers 76 (Michigan).  10 – Scott Martin 114 (New York).
100 laps on the high banked Dover International Speedway await the NASCAR iRacing Class B Series drivers in Week Five. Better known as "The Monster Mile," the challenging track in Dover, Delaware will sure play a part in the Championship chase.  The corners, banked at 24 degrees along with nine degrees of banking in the straights coupled with a concrete surface will surely lead to some torn up race cars as Miles the Monster loves to feast on safety ratings.
---
You may also like...
---