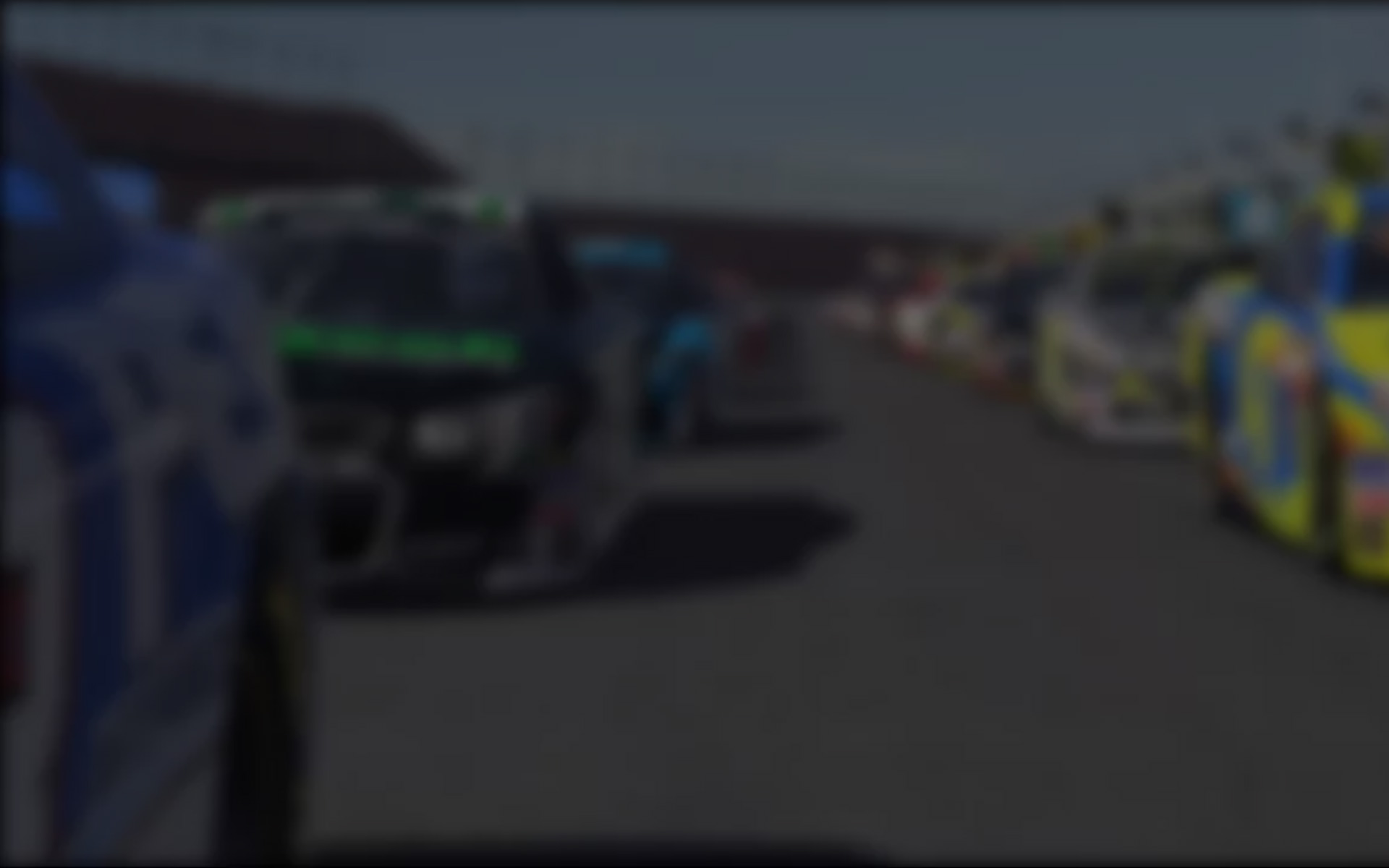 So. After  a thriller in Homestead, the 16th Street Racing League entered Sebring on a high. The league would come to its first road course of the year, and it was sure to shake things up. Not a single sim racer could predict what could happen in this race.
Sebring has been used almost as a testing ground for the prestigious 24 Hours of Le Mans for many years. Why? Because it is a bumpy, fast, flat and grueling track known for breaking man and machine. It is generally thought that if you can survive Sebring in one piece, you can survive Le Mans. In the 16th Street League, the principle of running to the limit was the same. Who was the toughest of the competitors? Who could handle the bumps, cracks and speed of Sebring?
Coming into Sunday's main race, nothing was to be taken for granted. A single bad bump, a single bad moment, can end a race. You can go from having a 10 second lead to having 10 minutes worth of repairs . . . in a few tenths of a second. It would not be a competition of raw speed. It would be raw speed, car control and patience.
Starting on the pole was the Dallara DW12 of Chad Peterson, who turned a best lap of 1:40.112.  Second quick was Brandon Lichtenberg with a lap of 1:40.271, with Christopher Demeritt lining-up third after posting a 1:40.343.
Your top three starters had a mere two tenths between them… over the course of a 100 second lap. They were absurdly close in pace, and a barnburner promised to follow.
Peterson would led them to the green and immediately started to get away, completing the opening lap about two and a half seconds up on Lichtenberg. The field was clean and well behaved for the most part, at least until Lichtenberg spun and hit a wall on Lap Two, ending his race.  With Lichtenberg's departure, Demeritt up the chase of Peterson with Tim Holgate running third. Behind them, Ryan Norton allowed Courtney Terrell through into the hairpin for sixth place.  On exit however, Terrell push up into Gary Borkenhagen enabling Norton to grab fifth, momentarily, before overcooking a corner and slipping to seventh.
Up ahead, Holgate put his low downforce/drag setup to good use and moved past Demeritt on the Ullman Straight even as the Sebring gauntlet was claiming three 3 cars behind them in a single lap. They were part of an even larger group that had to have numbered nearly a dozen Dallaras involved in an off at one point during the race!
Around Lap Five the event began calming down with the exception of a weird incident on Lap Six. Demeritt spun out of Cunningham and, as if there was virtual oil down, Andreas Werner spun out of P4 in the same spot.  Their issues enabled Michel de Jonge and Norton to get through as Werner got going before Demeritt, who would fall to seventh. Werner would only fall to fifth.
Undaunted – or perhaps unhappy —  Demeritt began a charge in the ensuing laps, flying back into sixth spot and beginning to catch Werner.  All his efforts came undone,  however, when he (again) overdrove Cunningham, spun and fell to ninth. He would fight his way back to 7th, before his yo-yo of a day ended (badly) on Lap 10  out of Tower.
Up ahead, Norton made an absolutely incredible pass on de Jonge going into the Le Mans complex of turns. He put one wheel on the grass and shot a tiny gap, all the while masterfully controlling his car on the brakes. Even though there was slight contact, Norton made it through for the most part cleanly and took third place.
Lap 11 saw Peterson would lead the field to what would be the first of two pit stops, with Norton &  Co. following on the same lap.  Holgate stayed out an extra lap but, by the time the cycle was over on Lap 14, no key positions had been changed.
At this point the field had settled into a groove. The rough Sebring pavement had claimed its main victims, and the current competitors thought it prudent to race smart and not provoke the monster.
Further back, positions nine-12 were locked in a fierce battle featuring Neffry Auwg, Austin Espitee, Terry Matthiensen, and Jon Porzuc. Porzuc had caught Matthiensen and was working on him for P11, whilst those two caught Espitee and Auwg battling ahead. They would all gain a spot from Erick Davis, who gained it right back over pit stops.
Espitee and Auwg swapped ninth place twice over the course of Lap 20, and Auwg would hold it until the final stop three laps later. All the parties involved would separated on the run to and from pit road, only to resume the fight later.
As the race neared its Lap 35  conclusion, a number of great battles raged. Borkenhagen had caught Werner for fifth and on Lap 34-35 the two went side-by-side through Sunset Bend, Turn One and Turn Three with Borkenhagen gaining the advantage in the end.
Further back, Espitee's Lap 31 spin allowed his entire battling group through. Porzuc would then capitalize on Awg's Lap 33 "off" to get by both Auwg and Matthiensen for ninth spot. Similarly, Espitee took advantage of an "off" Matthiensen to grab 10th on lap 35, with Auwg coming back home in 12th.
Throughout this Central Florida slugfest, one thing was certain: Peterson absolutely dominated the event. But for a shuffling of the order on pit stops, he led almost every lap en route to victory. As a result of his win, iRace4Life would make a $5 dollar donation to Orphan Secure in his name.
Holgate came home to a well-earned runner-up spot and was followed on the podium by an equally impressive Norton. Following the top three, in order, were de Jonge, Borkenhagen, Werner, Joe Branch2, Davis and Porzuc with Espitee completing your top 10.
The road courses will shake things up, especially a course as rough and tumble as Sebring where we saw many of last week's dominant oval parties struggle on the runways, taxiways and connecting roads. Next week brings us to Phoenix International Raceway, complete with its fresh repave. The roughly 1 mile oval will provide a stark contrast to the rough and bumpy Sebring road course. Will Holgate continue his string of good runs? How about Norton? Will he shake-off the demons of Homestead and take Phoenix? Could a different person strike? Will Peterson show-up and take the victory? What about at Barber in two weeks? Will we see different road drivers show-up to the smoother circuit?
All this comes to a head on Sundays at 7:30 EST. Wil Vincent will lead the Racespot TV stream team, and the race will be covered live with commentary on Racespot. Phoenix promises to be a thriller, and the tension continues to build. One of the most grueling tracks on the schedule has finally been run, and yet, the series hurtles into the grueling demands of 16th Street League. The league unceasingly takes to their circuit, pushing man, machine and talent to and beyond the breaking point. All this in order to crown one man or woman. One champion. One winner of the 2014 16th Street Racing League.
---
You may also like...
---