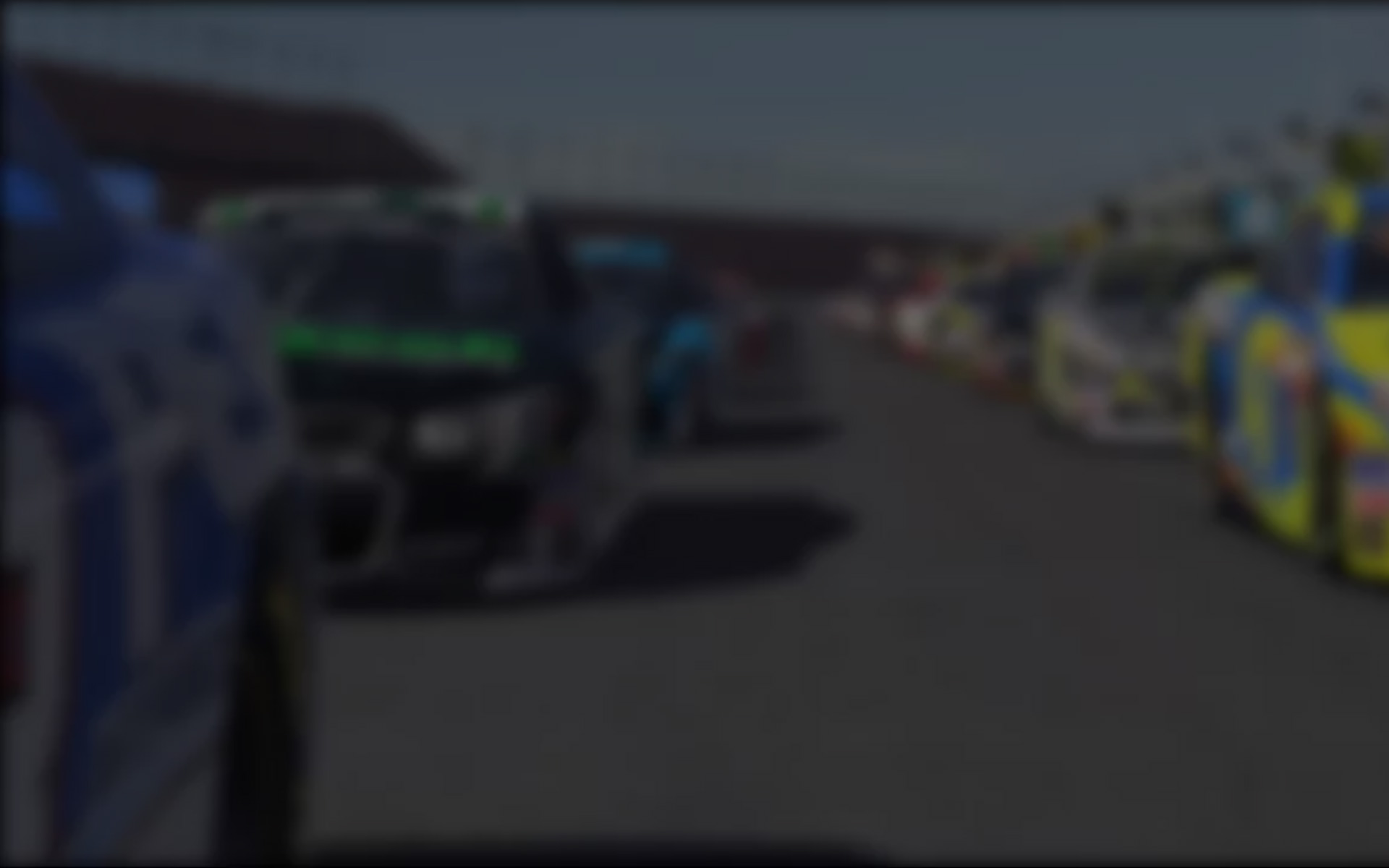 Week 3 of one of the most prestigious IndyCar leagues – the 16th Street Racing League — on iRacing was staged at a wide, flat, and smooth mile in the desert known as Phoenix International Raceway. Long host to some form of major American motorsports, this storied track is originally synonymous with open wheel racing. As of late, however, it is moreso a NASCAR track, with its fresh repave a constant reminder of that recent history.
Tim Holgate has simply been whipping the regulars in this series. Coming into Phoenix he held the points lead as, even though he hadn't won, a third and second place, coupled with a load of laps led, was enough to gain the points lead. It was obvious he was the driver to beat at PIR. The rest were almost racing for seconnd, or racing for an opportunity to capitalize on a mistake.
Having captured the pole, Holgate lead the field to the green, followed by Erick Davis and Christopher Demeritt, respectively. As soon as Holgate took said flag, the field immediately fanned out into an absolute free-for-all with drivers going three and four wide all over the track. Almost all got through this breathtaking first lap cleanly — the key word there being "almost."   Going into Turn 3, Matt Pawelski made it three wide, and Gary Borkenhagen gave room accordingly. Cary Bettenhausen, unfortunately, was left with a choice of either the wall of Borkenhagen, and ricocheted off of Borkenhagen into the wall (it is at this point that I would like to apologize for whatever role I had in the wreck). Collected with him would be Michel de Jonge, Steve J Richardson, Ray Kingsbury, Mark Johnston,5, Mike Testa, and Tim Miller. In a separate incident ahead, Randy Crossno spun into the inside wall off of Turn 4.
On the Lap 7 restart, all was initially clean. The field was dicing and diving and duking it out until Lap 13.   Pawelski was being crossed over by Neffry Aawg, and Aawg had the inside. Going into Turn 1, Pawelski thought that Aawg was further down the track than he was, and began his turn. Aawg was actually higher, and Pawelski came down across the front end of Aawg's Dallara DW12, taking them both out of the event (and it is also at this point that I would like to apologize to Neffry, completely my fault! Sorry!).  They would be the only two to wreck, but the field still thinned.
Holgate still lead to the restart on Lap 18, with Demeritt in second and third placed Davis under fire from Ryan Norton. However, on Lap 21, Mike Testa would spin alone off of Turn 2, bringing out yet another yellow.
Restarting once again on Lap 26, Holgate was again followed by Demeritt and Davis. However, off of Turn 2, Matt A Kingsbury got into the back of  Ellis Stephens, spinning Stephens and collecting Chuck Eisenbarth, sending the latter into the catchfence.
The green waved again on Lap 31, with the leading edge of the field in the same order as before. However, once again the amber lights blinked before a single lap was complete. Gary Borkenhagen came down into Brian R Simpson through the dogleg, wrecking Simpson and bringing-out the fifth caution on the day. Under the ensuing yellow, Brandon Trost broke league rules by putting all four tires way below the apron in Turns 3 and 4. His reward would be a prompt "end of line" penalty, demoting him from eighth to 15th. In what would end-up being a great move, Trost pitted immediately for fuel and tires, putting him off sequence from the field.
On the Lap 37 restart, your top three would still be the same. The most incredible action came in the back of the field where Trost was driving with desperation in an effort to gain time back and regain his original spot. He was in a huge four way dice with Borkenhagen, Ray Kingsbury and Austin Espitee that saw Espitee pass Trost and lead him through the pack. On Lap 43, Trost passed Espitee and continued his march to the front. However, a lap later Mike Testa would once again bring out the caution.
At this point, the race directors and commentators were understandably becoming simply furious with the competitors. Many took note and it was hoped the race's mood would change . . .
Holgate took advantage of the yellow to pit and was followed onto pit lane by everyone except Demeritt and Trost, with Kernich stopping a lap later.
On the lap 50 restart, Demeritt and Trost duly lead Holgate to the green. By the mid-point of the race (Lap 51), Holgate had moved past Trost and was zeroing in on Demeritt. Behind them, Norton was also on the move and, by Lap 60, had take third spot from  Trost by Lap 60. The running order remained unchanged until Lap 69, when Demeritt finally pitted. He fell a lap down in the process, and would beg for the run to go green so he could regain the lead. There'd be no such luck for as soon as he exited the pits, the caution flew for a solo spin by Kernich.
Everyone pitted except those cars a lap down, with Demeritt getting the wave around.  The Lap 77 restart saw Holgate leading from Trost and Norton in what would develop into a epic, three-way dogfight for the lead — something no one had expected given Holgate's dominance on the ovals.
The top trio stayed clean until a bad moment with Ray Kingsbury on Lap 88. Kingsbury let Holgate past only to come back across the track right in front of Trost, who slowed down hard and was nearly rear ended by Norton for his troubles. The commentators were not fans of Kingsbury's move and unfortunately, it would prove to be one of the more controversial moves of the race. According to the race directors on Sunday, there would be a 10 point penalty and probation against Kingsbury as a result of the incident.
As for the sim racing action . . .   The incident enabled Holgate to extend his lead, leaving Trost, Norton and Brandon Lichtenberg (in his satirical DPRK car) battling for second.  Matt A Kingsbury then spun on Lap 100, and his brother Ray was forced to stop in avoidance, nearly hitting the wall in the bargain ahead of the oncoming Holgate. Holgate would back his car down, but a following Trost did not and came flying through the scene about 35 mph faster than the lead car, nearly collecting Holgate.
The field would take the green on a Lap 105 that saw Matt A Kingsbury's eventful race continue with a spin that collected Rob Unglenieks.  Although the incident did not immediately bring out the yellow, the damage Unglenieks suffered induced a spin one turn which did result in a caution.
The field came back to  the green on Lap 111.  Although Holgate once again scurried away, Trost fell into the clutches of Norton who duly took second. Seven laps later the field would once again go under the yellow flag when Unglenieks spun and was hit by an unsighted Paul Jennings a few seconds later.
Holgate, Norton and Trost lead Lichtenber and Terry Matthiensen to the Lap 122 restart, with the top five rapidly consolidating into single file and a static state of positions. Behind them, however, after much dodging and weaving, Demeritt would gain the inside of Jon Porzuc in sixth place. Porzuc  held the outside for an incredibly tight three laps, before Demeritt finally cleared him coming to Lap 129 with Vick Caudill taking P7 from Porzuc on the back straight.
The top five had gapped Demeritt, who saw almost no hope of catching Matthiensen, who was in the midst of a very strong  run. Although Demeritt worked to within a few tenths of Matthiensen, he  just not get to him.
The race finished with Holgate taking a dominant victory over Norton, who was followed by Trost with Lichtenberg and Matthiensen rounding-out your top five. For his win, iRace4Life would send a $5 donation to Orphan Secure in Holgate's name.
Unfortunately, the focus was not on the winner of the event; rather, the carnage of the race was at the forefront. Many called for a 107% rule to be instituted for next race at Barber Motorsports Park in order to avoid awkward situations involving a damaged car. Others called for penalties to be issued against many of the perpetrators of incidents, while still others believed there simply had to be fewer drivers in the field.
Whatever the case, 16th Street still looks up. The drivers are fast, the racing is tight and fun to watch, and it is still a very clean league. The drivers look forward to the fast, tight, and twisting 17 turn course in Alabama. Many believe that yet another road course will shake things up. Can Holgate continue his stellar season and not finish worse than third, his worst finish on the year? Will one of this week's casualties come in with a surprise win? Will a road course ringer spoil the party and take the laurels? Find out on Sunday at 7:30 PM EST on Racespot TV!
---
You may also like...
---